With these Low Sodium Baked Beans you can bring baked beans back to the table for a cookout or weeknight meal. These beans are cooked in the Instant Pot and can all be ready in a little over an hour. Using a Instant Pot, no pre-soaking of the beans is required or hours long simmering all day. And with just a few minutes prep and about an hour cook time, you'll have cooked dried beans that are ready to eat. Plus you'll have the most tender, flavorful baked beans you ever had with a huge sodium savings.
| | |
| --- | --- |
| Typical sodium amount per serving = 1/2 cup | 410 – 570+ mg |
| Sodium per serving for this recipe = 1/2 cup | 28 mg |
| Calories per serving | 223 |
I have been finding more and more canned bean varieties with no salt added available in the store lately. But unfortunately not for baked beans. There is a reduced sodium version that has 410 mg per ½ cup, but that is still too much for our particular diet. And with a regular can at about 570 mg, per ½ cup does not really seem like much of savings.
That is unfortunate as this recipe proves you can have baked beans at a fraction of the sodium level of canned beans. My low sodium baked bean recipe checks in at just 28 mg of sodium per half cup. With sodium this low you probably can allow yourself to have another serving of easy to make delicious baked beans.
COOKING BEANS IN INSTANT POT = TIME SAVINGS
If you don't have an Instant Pot, I highly recommend getting one. I wasn't that big on having different kitchen appliances when I wasn't cooking fresh food all the time. But with a low sodium meal life style change, I didn't necessarily want to be in the kitchen all the time either. Well, the Instant Pot helped me save time along with being easy to use. I use at least once or twice a week. It truly is a good investment with all that you can do with it for a busy person who wants to cook home cooked meals.
USE PORK BELLY FOR LOWEST SODIUM BAKED BEANS
Even using low sodium bacon will add 70+ mg of sodium per serving to this recipe. So one of the biggest keys to making this recipe low sodium targets the bacon. And to do that you need uncured pork belly. Pork belly is really just bacon that has not gone through a curing process (think salted), is un-smoked and may be unsliced.
If you can purchase pre-sliced pork belly, that will be the easiest, or you could ask the butcher to slice up a slab of pork belly. Either way you get it though, you will most likely have to cut the skin or "rind" off. This is easily cut off with a sharp knife or some kitchen shears. The pork belly is also easier to cut and slice if it is "firmed" up in the freezer.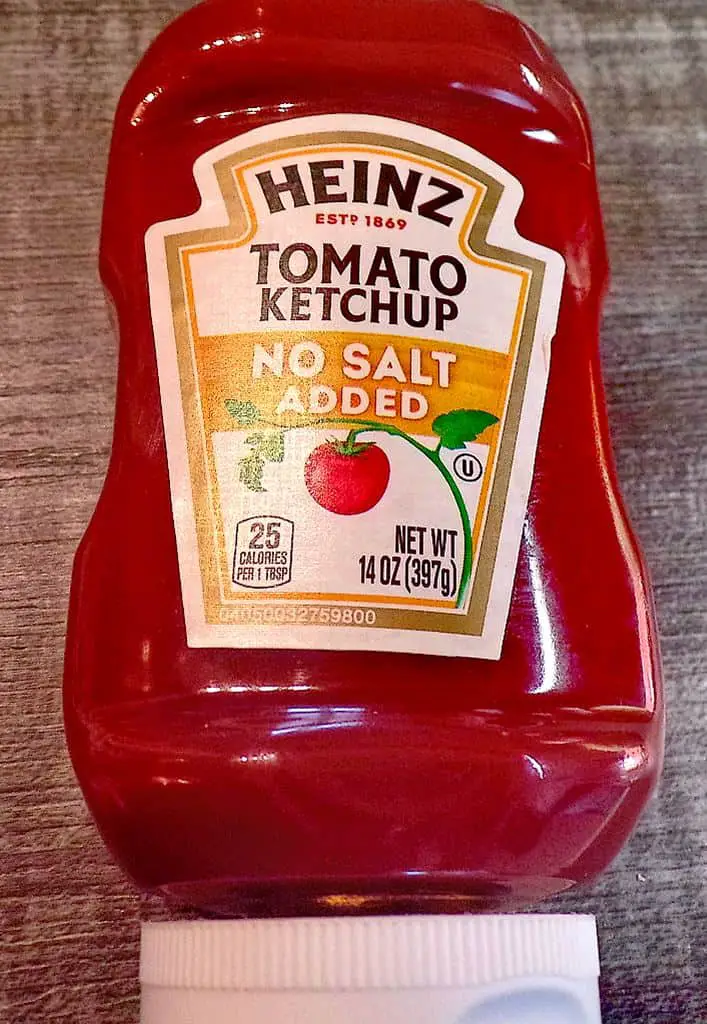 HOW DO I KNOW HOW MUCH DRIED BEANS TO COOK FOR A RECIPE?
While navy beans are the traditional bean for baked beans, you may want to use another bean. Most dried beans will effectively triple in quantity when cooked. So for a 1 pound bag, or 2 cups, of dried beans, you will have 6 cups cooked beans. And if you use a recipe and can find canned no salt added beans of choice, most recipes call for 15 ounce cans of beans which is equal to about 2 cups cooked beans. So you would need 3 – 15 oz. cans of bean variety of your choosing. Then just skip step #8 the first pressure cook cycle.
TOO MUCH LIQUID IN COOKED INSTANT POT BAKED BEANS?
Don't be concerned if there seems to be a lot of liquid in the Instant Pot at the end of the cook cycle. The age of the bean can affect how much liquid will be absorbed. Fresh beans will continue to absorb more liquid after they are cooked. You can always simmer off some of the liquid to reduce, if you feel the beans are too watery. Or if you like lots of thick sauce like I do just add a tablespoon of corn starch and stir in at a medium boil. Add more cornstarch as desired. Remember though, beans will continue to absorb liquid after they are cooked, so add sparingly.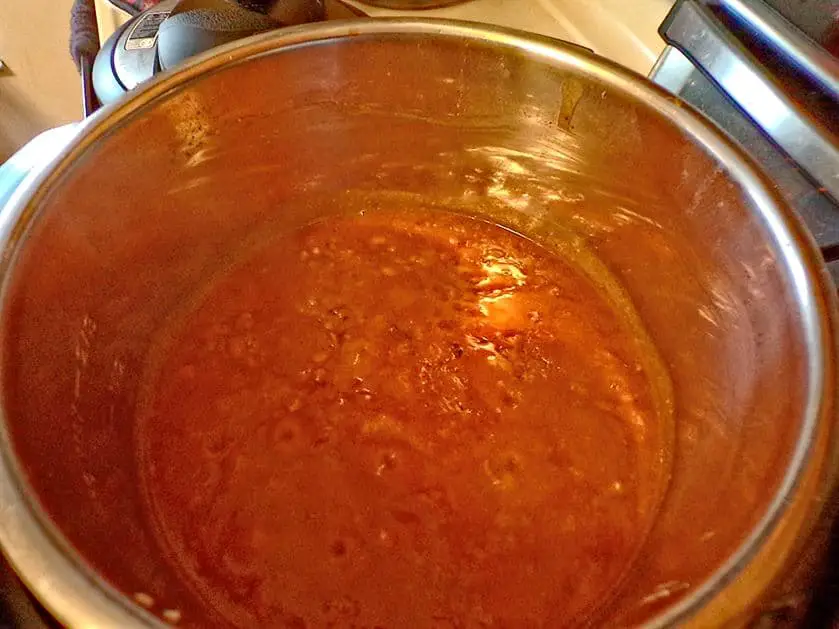 Occasionally when making Instant Pot Baked Beans, you may find the beans are still hard and there is excessive liquid, it is probably due to beans being old. Hard beans just don't absorb the liquid properly, though I've only had this happen once.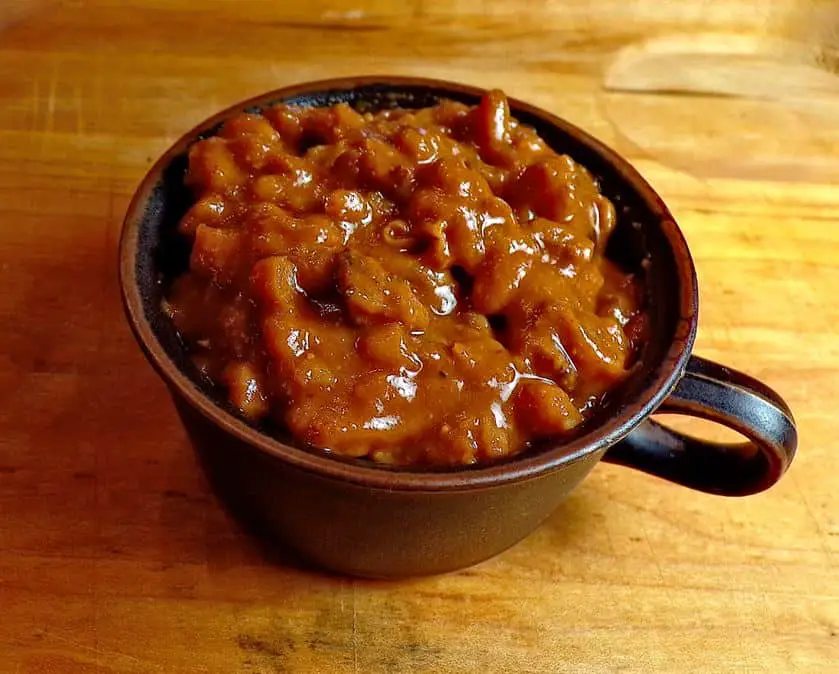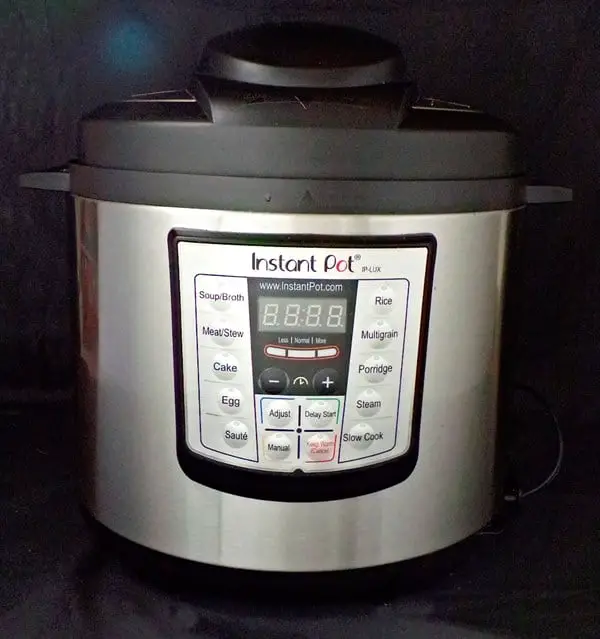 MY INSTANT POT
To make this awesome Instant Pot Low Sodium Meal I used my 6 quart Instant Pot LUX60V3 6 in 1*. The Instant Pot multi-cooker, combines 6 kitchen appliances in one, pressure cooker, slow cooker, rice cooker, sauté, steamer, and warmer. This Instant Pot is one of the very few appliances that stay on my counter since I use several times a week. It's super easy to use and clean.
A few of my other great side dishes to enjoy!
As always, please let me know how you like this recipe in the comments! I get motivated when I hear from you and am interested to learn about how you liked and served your Low Sodium Baked Beans. And please leave a comment or rating and share any tips you might have.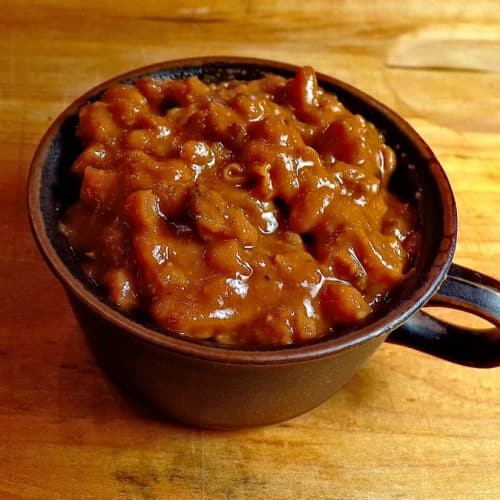 Thick and Saucy Low Sodium Baked Beans
This thick, saucy low sodium baked beans recipe quickly cooked in the Instant Pot can save you 100's of mg's of sodium!
Ingredients  
16

ounces

dry navy or pinto beans

8

cups

water

8

slices

pork belly

remove and discard skin. chop to bits.

1

yellow onion

finely chopped

1/2

green bell pepper

cored, seeded, and finely chopped

1/2

cup

ketchup

¼

cup

cider vinegar

1/4

cup

maple syrup

real is best has no sodium

1/3

cup

molasses

1/4

cup

brown sugar

packed

2

tsp

liquid smoke

1 1/4

tsp

mustard seed

ground

1

tbsp

yellow mustard

2

tsp

garlic powder

1

tsp

smoked paprika

1

tbsp

chili powder
Instructions 
Rinse and sort beans, removing any debris.

Remove skin or "rind" from pork belly strips and discard. Chop remaining to bits.

Set the Sauté function to high on Pressure Cooker and allow to heat.

Add pork belly and onions to the pot and cook until bacon begins to render, stirring and scraping brown bits from bottom of cooking pot.

Add 1/4 cup of water and continue cooking until water has evaporated, bacon fat is rendered and onions are semi-soft. Scrape brown bits from bottom of cooking pot, until water has evaporated.

Gather and mix remaining ingredients in small mixing bowl to combine.

Add in order on top of sautéed ingredients beans, water, and the remaining mixed and combined ingredients. Do not stir at this point.

Lock on lid and close pressure valve. Cook at high pressure for 60 minutes. When cycle is done, let it naturally pressure release for 10 minutes and then carefully release the rest of the pressure.

Stir the ingredients in the pot well. Check some of the tenderness, if beans are still hard, cook for another 15 minutes. Add more molasses if a sweeter taste is desired now.

Set the Sauté function for low or medium and simmer until desired sauce consistency. Beans will continue to absorb liquid as they cool.
Recipe Equipment & ingredients
Nutrition
https://tastyhealthyheartrecipes.com/a-la-cart/appetizers-sides-snacks/low-sodium-baked-beans-instant-pot/
Nutrition Information – The information shown is provided by an online nutrition calculator. It should not be substituted for a doctors or nutritionist's advice. Please understand that not everyone's sodium requirements are the same, therefore some recipes may be higher than you're allowed. Always consult with your doctor for your recommended daily sodium allowance.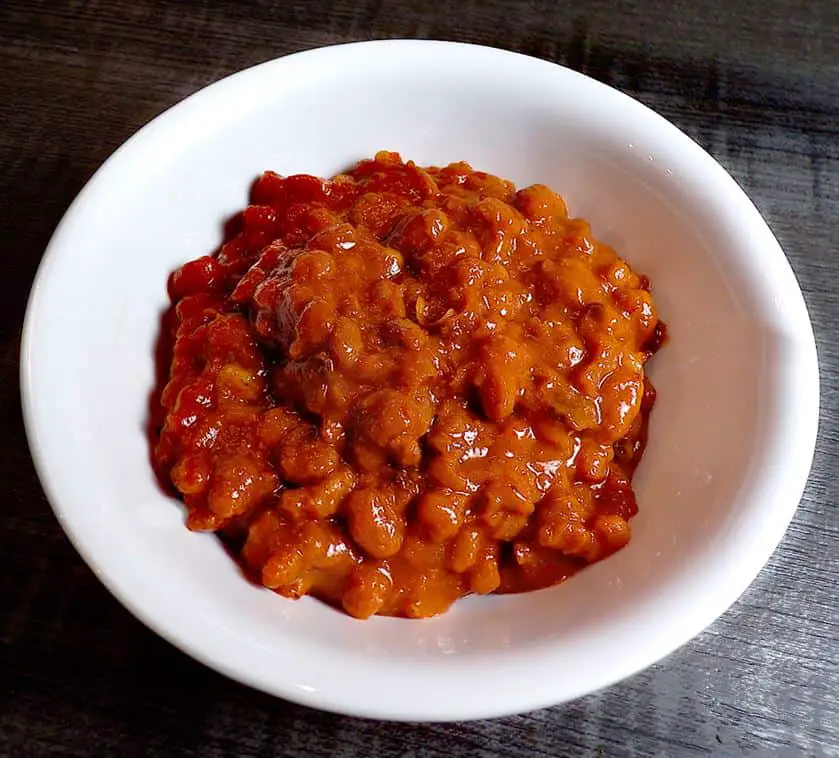 *Tasty Healthy Heart Recipes is a participant in the Amazon Services LLC Associates Program, an affiliate advertising program designed to provide a means for sites to earn advertising fees by advertising and linking to amazon.com.