Is the high sodium content in tuna slowing you down from enjoying a meal with tuna in it? Follow the tuna preparation steps in this Low Sodium Tuna Salad recipe to reduce sodium and enjoy one of my old school classic favorites. The great thing by using this simple method is it can be applied to any meal that uses canned tuna.
| | |
| --- | --- |
| Approx. 1 Cup Serving Size | |
| Typical sodium amount | 824 mg |
| Sodium for this recipe | 116 mg |
| Calories per serving | 322 |
I'm not a big fish lover but tuna and salmon are the exception, I could easily enjoy a mouthwatering serving of either every day. One of my favorite ways to enjoy fish is a low sodium tuna salad and the several different ways it can be served. All of which help you get the benefits of more fish in your diet. It can be served as a side by itself, on a sandwich, in a salad or even on a cracker as an appetizer.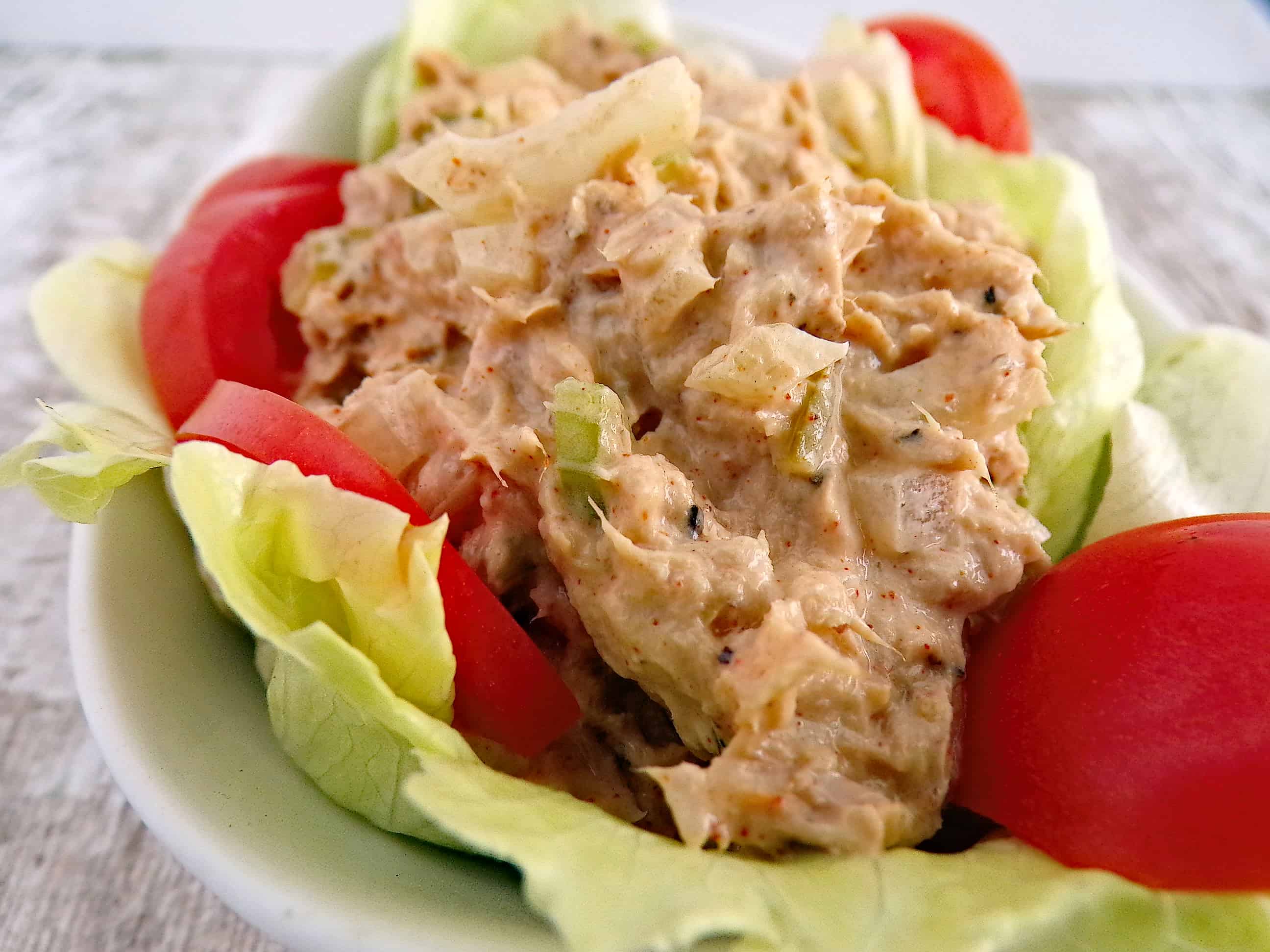 CANNED TUNA WAS NOT AS HEALTHY AS I THOUGHT
Back in my early 30's, I worked at a job where it was not convenient to get out for lunch. And with my schedule, making lunch for the next day was not the high point of my day. But I loved tuna, I had a stash of canned tuna in my drawer and would eat a whole 12 oz. can three times a week. I would usually spread tuna on a slice of bread, cracker or Triscuit with pepper and a little square of cheese. 
Even though I used tuna in water for the lower fat content, it was 810mg of sodium total per can with additional sodium from the crackers and cheese. All the while being unaware at the time how much sodium each can contributed to my diet. It was an "easy" meal that tops my current day sodium level goals by far, just for a super simple lunch.
HOW TO REDUCE SODIUM IN TUNA SALAD
There are three main ways to reduce the sodium in your low sodium tuna salad.
One is to obviously not add salt and spices containing salt. And also replacing the prepared store bought prepared mustard with a powdered ground mustard spice.
Tuna constitutes the majority of sodium and can be rinsed so that it contains less than 20% of the canned tuna sodium content. I describe this more in-depth below.
The second-highest sodium content ingredient is usually the store bought mayonnaise. I have a low sodium mayonnaise recipe (link) if you wish to read more about it; otherwise the basic ingredients and instructions are included in the recipe below.
LOWER THE FAT AND CALORIES IN YOUR TUNA SALAD
While I was first preparing this recipe, I was shocked and disappointed as I was working up the nutrition label and saw the fat and calorie totals per serving. Certainly 514 calories and 59% daily fat content as originally made even with low sodium mayo, for a supposedly healthy meal was flabbergasting.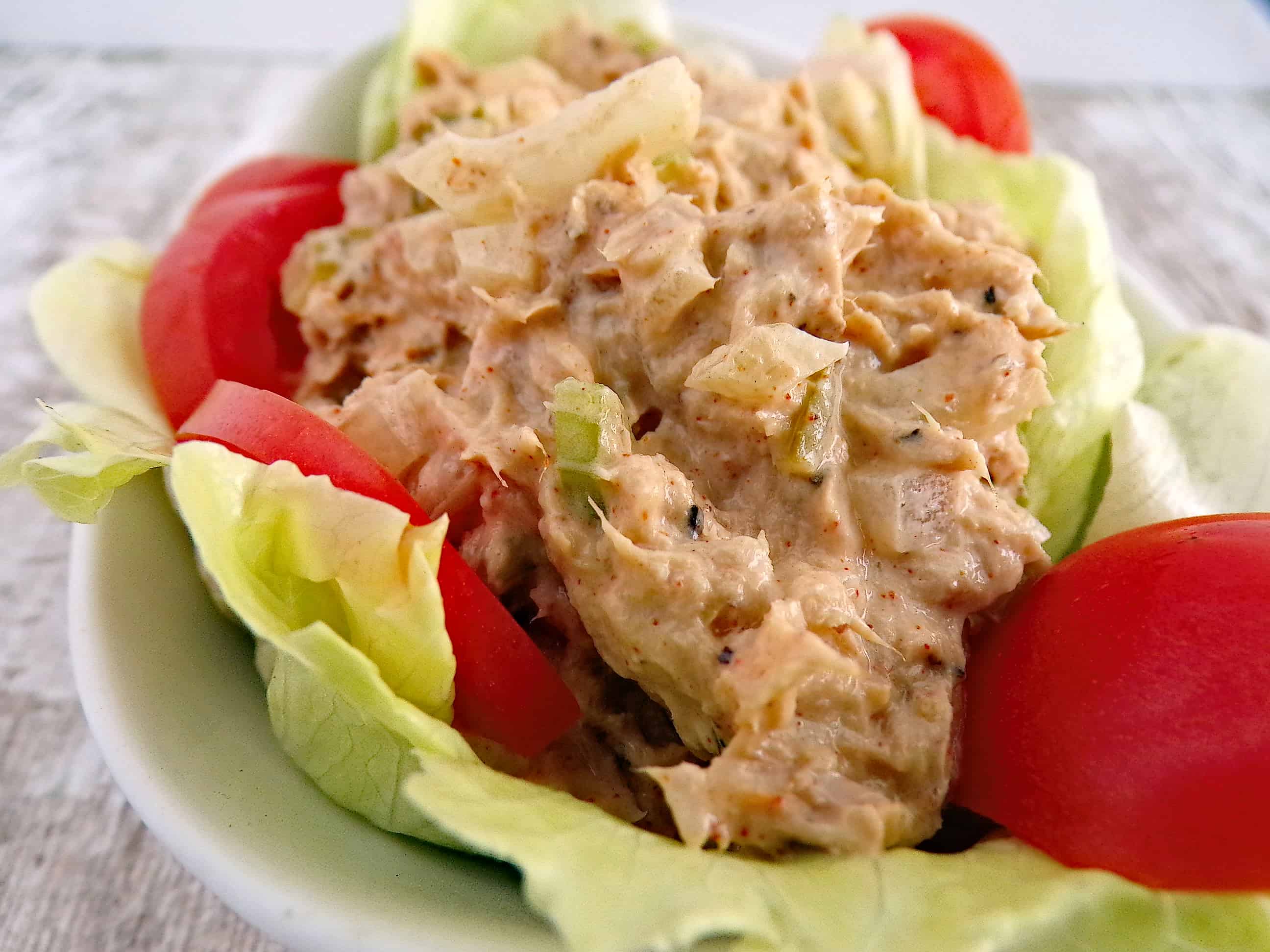 So I replaced half the mayo with Greek yogurt. You still get the mayo twang with less than half the fat at 30% and a more reasonable 322 calories. And it still tastes great! A teaspoon or two of apple cider vinegar may help if you're still missing a bit of twang.
You could also replace all the mayo and make a very low fat version with plain Greek yogurt. I have not explored that option yet as I enjoy it with my homemade mayonnaise that gives more the "twang" I'm looking for.
NO SALT ADDED CANNED TUNA?
As you probably know, tuna lives in naturally salty sea water, which means it will have a naturally higher sodium content infused in its flesh than say a land based meat source. There is simply going to be a higher concentration of sodium in salt water fish. However, you can purchase a "no salt added" canned or pouch variety to lower sodium intake to a minimum.
A few tuna manufacturers have now come out with canned tuna without adding any extra salt for "preservation". I mean really, how much salt do you need for canned foods? Just look for the ones that are labeled "no salt added". The famous brand is about 52 mg per 3 ounces. Not bad….
But unfortunately all of them appear to be in the small or 5 oz. can and I have not seen the "no salt added" variety available in my regular local stores at all. Possibly you would have to order it online to get it.
Being that I have not seen it in the stores locally I have chosen to do an easy prep at home to reduce the sodium.
HOW MUCH SODIUM IN CANNED TUNA?
Canned tuna in water has 270 mg of sodium per 3 servings in a 12 oz. can or 810 mg total per can.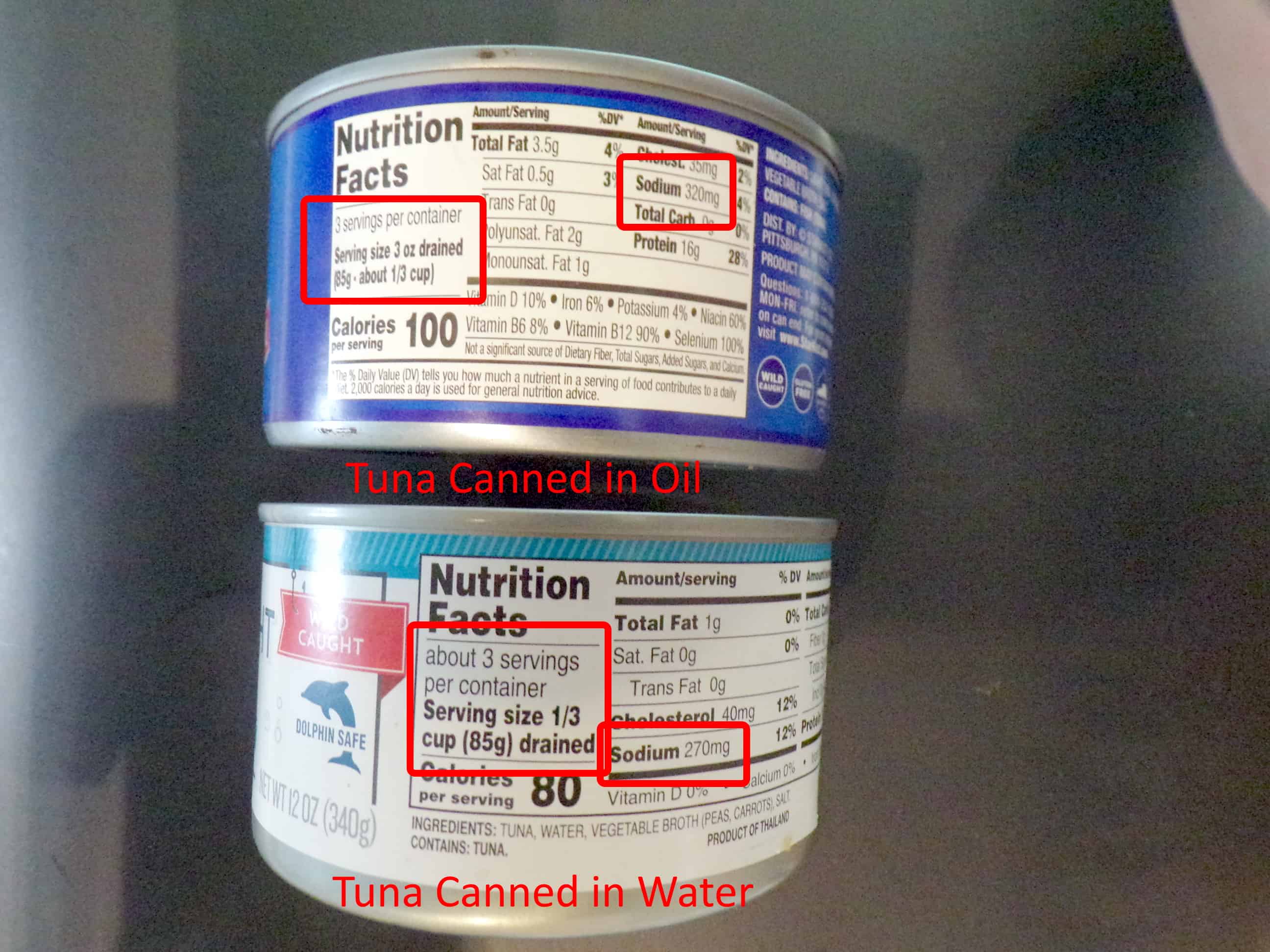 Tuna canned in oil has even more at 340 mg of sodium per serving, totaling over 840 milligrams of sodium per 12 oz. can. Why have more sodium and fat from oil in your diet? Who needs it? Not me!
But with some simple prep that hardly takes longer than to drain a can of tuna, you can reduce the majority of sodium of a standard tuna can. Here is how…
DRAMATICALLY REDUCE SODIUM IN CANNED TUNA
A study published in the "Journal of the American Dietetic Association" measured the sodium content in tuna after rinsing. Researchers found that rinsing canned tuna for three minutes removes up to 80 percent of the sodium. When rinsed, instead of getting 270 mg of sodium from 3 ounces of regular canned-in-water tuna, you'll only get around 54 milligrams, or 162 mg for the whole can. If you can find and rinse the "no salt added" variety, you can reduce the sodium to just 20 mg per 3 ounces.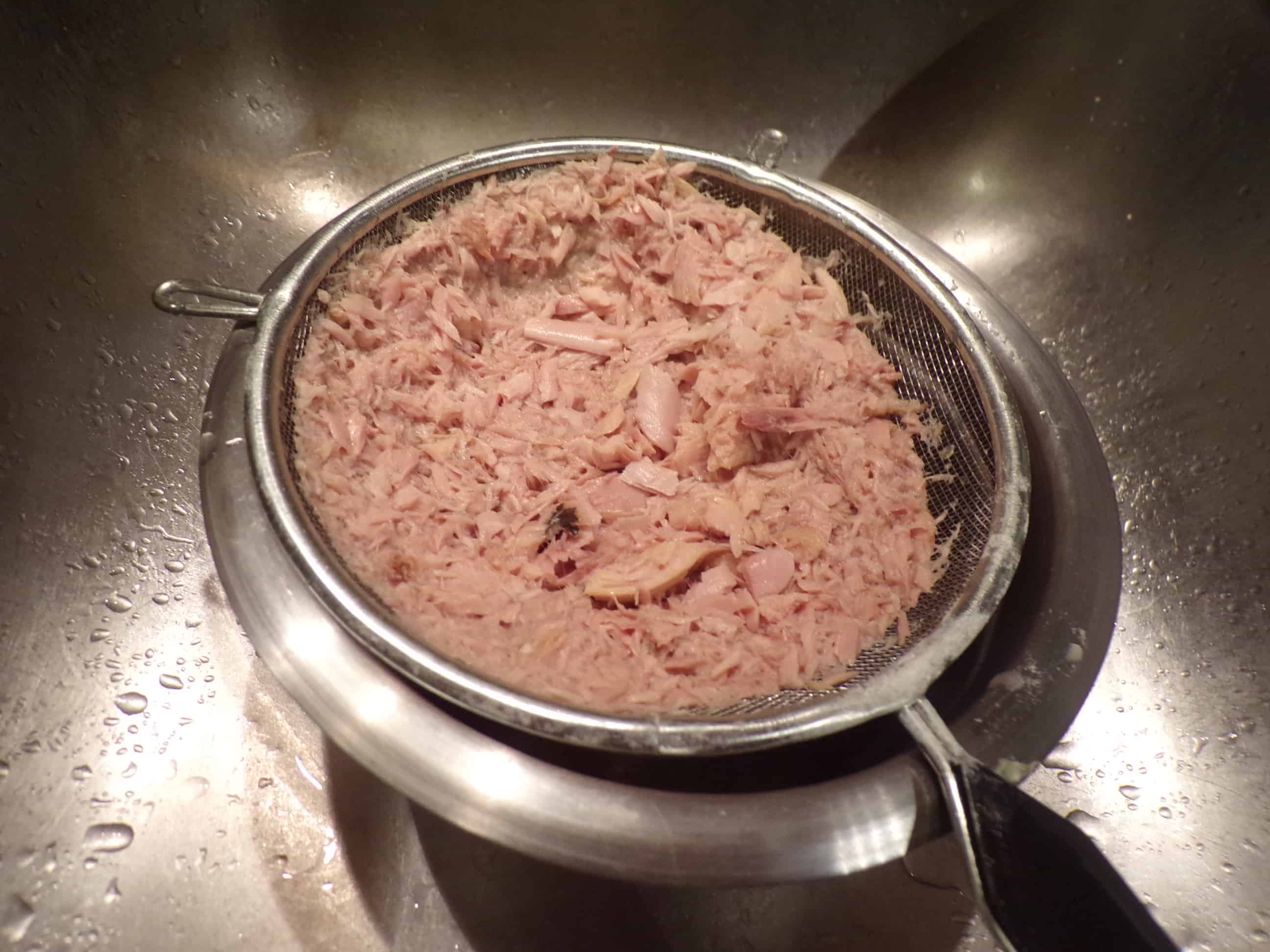 To rinse the tuna, I use a fine mesh strainer and a bowl that it fits into nicely as shown in the picture. Just let the water run over to fill up the bowl and lightly spill over. Gently give the tuna a stir a couple times when the bowl is filled with water to loosen up the tuna. It does not need to be blasted with high pressure water!
I let this run and then drain while cutting up and measuring out the other ingredients. The timing is almost perfect. I was worried that the tuna would stick in the mesh but it didn't at all. Just turn the strainer over and give it a good whack into your mixing bowl and you are all set to mix!
ADD SWEET PICKLE RELISH?
I really like to add sweet pickle relish to my low sodium tuna salad. The one I use is 65 mg sodium per tablespoon, 130 mg total for the entire recipe. That's almost half the standard relish and only adds about 32 mg per serving. I find that is enough relish to enhance the taste I am looking for and since I am generally well within my sodium budget – I add it in.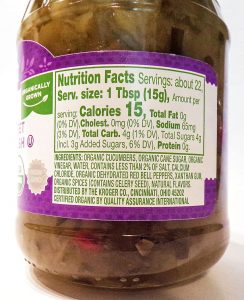 You may leave it out if you want a really low sodium 84 mg version. It's all up to your sodium budget and taste. I have listed both nutritional labels with and without pickles. 
If you use store bought pickles, compare labels carefully and find the lowest sodium product available. I say "carefully" because I have found the labels, I hate to say deceptive, but not very easy to compare in serving size and sodium level. One listed a serving size as 2/3 of a pickle! Huh?
I am looking forward to trying some chopped avocado in my next batch of tuna salad and leaving the pickles out.
A few of my other great dishes to enjoy!
As always, please let me know how you like this recipe in the comments! I get motivated when I hear from you and am interested to learn about how you liked and served your Low Sodium Tuna Salad. And please leave a comment or rating and share any tips you might have.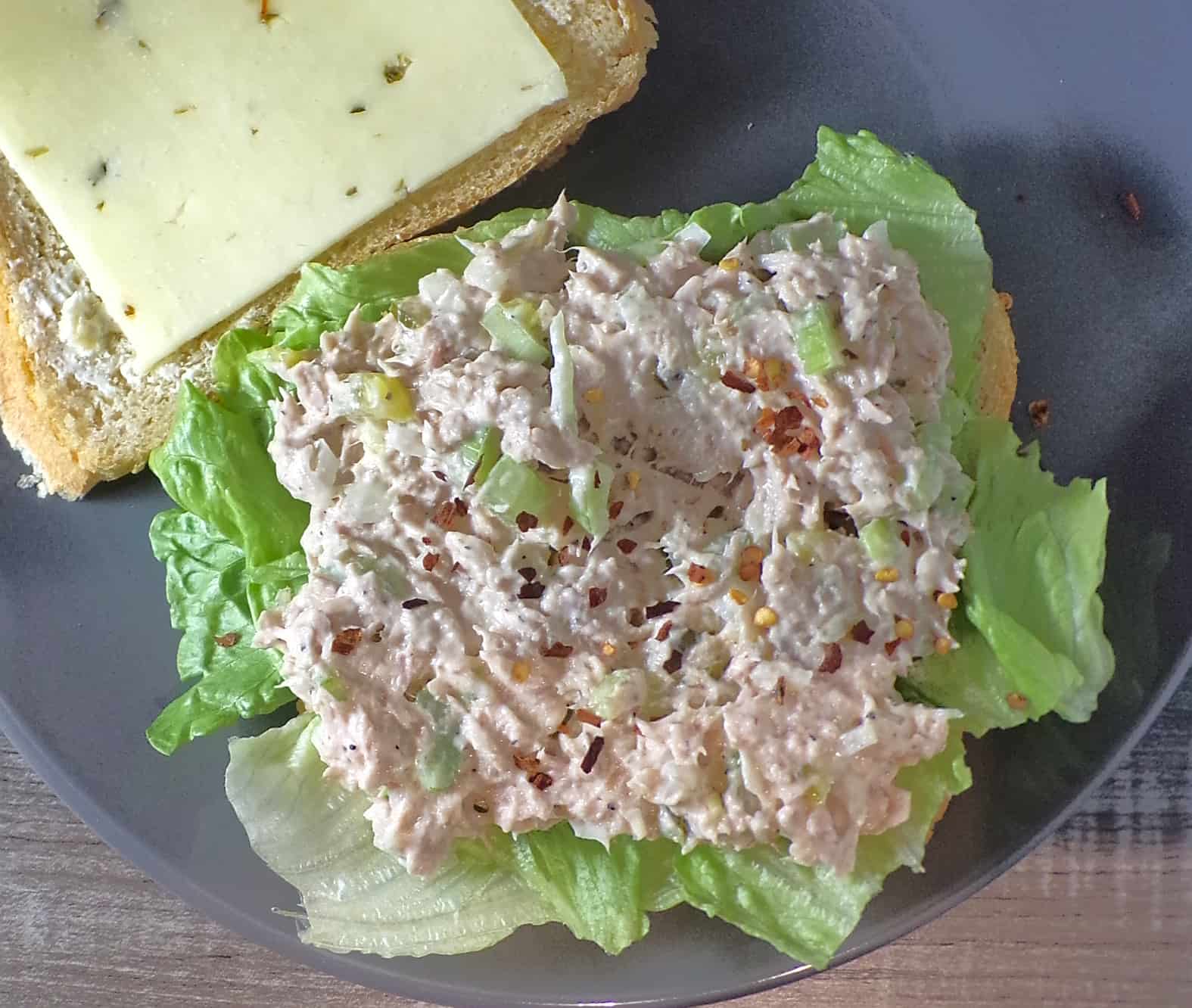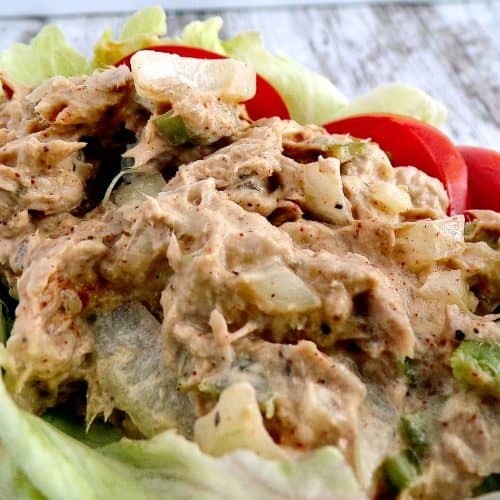 Low Sodium Tuna Salad
This easy low sodium tuna salad recipeis one of my favorite go-to lunches. It's perfect for sandwiches, salad or onlow sodium crackers!
Ingredients  
Ingredients for the low sodium Tuna Salad
1

12 oz

white flaked tuna in water drained

– Rinsed in water

2

stalk celery finely diced

2

sweet pickle relish (optional)

– Lowest sodium you can find or omit.

1

onion chopped

– I like to use red onion

1/3

cup

mayonnaise low sodium

– See notes

1/3

cup

plain Greek yogurt

– See notes

1

tsp

lemon juice

1 or 2

tsp

smoky paprika to taste

1

tsp

ground black pepper
Ingredients for the Mayonnaise
1

large egg room temperature

1

cup

extra light olive oil

1

tsp

Mustard Seed yellow ground

1

tbsp

distilled white vinegar

1

tbsp

apple cider vinegar

1/4

tsp

Pepper Red Or Cayenne
Instructions 
Instructions for the Tuna Salad
In a fine mesh strainer immersed almost fully in a bowl that nicely accepts the strainer, rinse and drain the tuna well.

Combine all ingredients in a small bowl and mix well. You can use right away but always nice to let the ingredients mingle for a while.

Use in sandwiches, salad, cracker appetizers or a tuna pasta.
Instructions for the mayonnaise
Place all ingredients in order listed in a narrow jar or beaker just wide enough to fit your stick blender.

Place stick blender in the bottom of the jar and turn on high. A vortex will form and pull the oil down and the oil will begin to thicken and turn to the typical off-white.

Slowly move the blender head slowly up and down a little higher each time, until all the oil is incorporated and the mayo is thick and no drizzles of oil is visible. The whole blend should take no longer than 1 minute.

Store in a sealed container in the refrigerator for up to two weeks or the expiration date on the eggs.
Notes
See my Low Sodium Mayonnaise post for more details about making mayo.
Use the Greek yogurt for a lower fat tuna salad version.  Add more yogurt for a creamier taste if desired.
Use 2/3 – 3/4 cup low sodium mayo and no yogurt if you are not so worried about fat.
Nutrition
https://tastyhealthyheartrecipes.com/a-la-cart/appetizers-sides-snacks/low-sodium-tuna-salad/
Nutrition Information – The information shown is provided by an online nutrition calculator. It should not be substituted for a doctors or nutritionist's advice. Please understand that not everyone's sodium requirements are the same, therefore some recipes may be higher than you're allowed. Always consult with your doctor for your recommended daily sodium allowance.