To me breakfast is missing something without sausage, I mean come on it's hard enough not having bacon right?  So I just had to create a homemade low sodium Italian sausage to go with my eggs and toast. Sausage can be made much more heart-healthy by eliminating the salt. It also lowers the saturated fat by over half from the recipe using better meat. As a bonus, it can be cheaper and free of preservatives than what comes from the store.
LOW SODIUM ITALIAN SAUSAGE PATTIES OR LINKS
Sodium Total  232 mg   –   Sodium / Serving 29 mg    –    Calories / Serving  119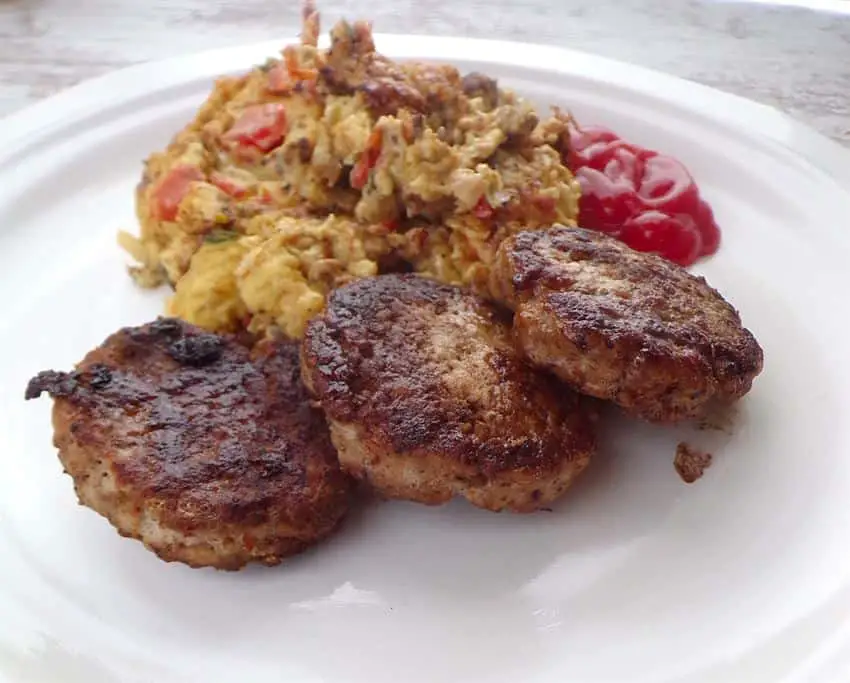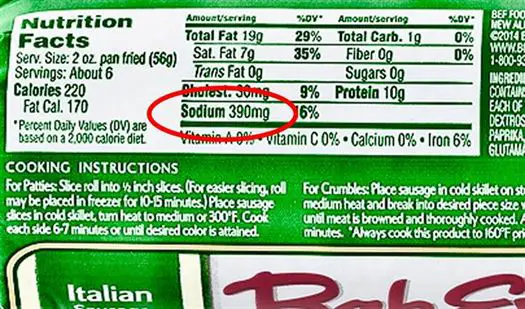 The best advantage to homemade sausage making is that you can use ingredients that match your tastes and health requirements. With store bought sausage hitting almost 400 mg of sodium for one 2 oz. patty, it's enough to ruin your breakfast. The reduced sodium is overcome by using a bit more hot peppers and fresh ground fennel than usual.  And when the fennel and leafy spices are fresh ground, that flavor is really going to do a savory hit job on your taste buds!
YOU CONTROL THE INGREDIENTS
By making your own low sodium sausage you have complete control over the ingredients you put into your mix. One of the biggest reasons salt has always been used in sausage making is because of its preservation value for storage.  Fortunately this requirement is not nearly as important these days.  Sausage can now obviously be kept by freezing or refrigerating it, and the salt in most recipes is there simply to (overly?) enhance the flavor.
You might not like it, but no sausage is without fat. If even this is too much for you, you might want to avoid it all together. While even though homemade Italian sausage is mostly prepared using pork, it is not bound to it. You can also use ground turkey if you'd like. Just make sure to use cooking spray on the skillet first because turkey has such a low fat content it will really stick to the pan otherwise.
Besides making just breakfast patties you can also use it crumbled in the ubiquitous sausage gravy. Or Italian sausage meatballs with pasta by mixing in another pound of ground chicken or turkey and roll them into meatballs. Cook and chop into crumbles and spread over a homemade low sodium pizza. Use where you would have used a pre-made processed sausage before.
UPDATE: HOW TO MAKE SAUSAGE PATTIES
To make a perfect sausage patty use a mason jar lid. It holds about 1.5 oz. of meat when even with the lid rim. Just smush it in till even with the rim and then push the center of the lid out from the back. Perfect looking and a great size for cooking!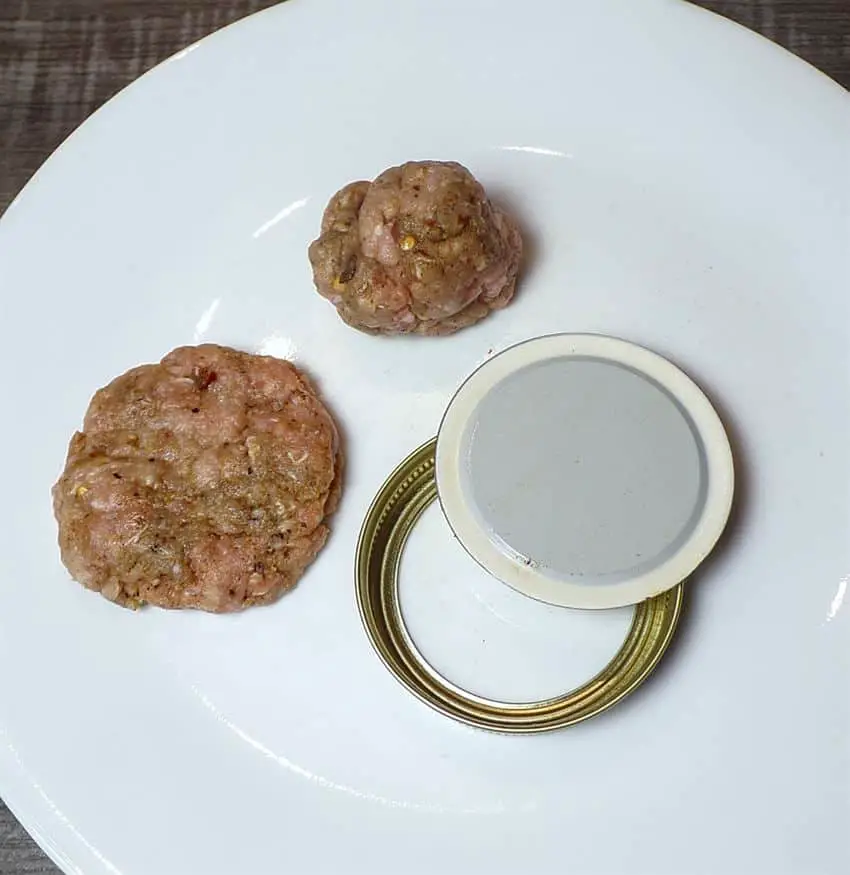 When mixing the sausage and spices be sure to really get in there and smush things together. I got lazy the last time I made them and end up with a couple pockets of spice that didn't get mixed in. Not entirely pleasant when it is concentrated like that when chewing!
While you need to get everything well mixed with your hands try to keep the sausage as cold as possible at all times. From what I understand if the existing fat "melts" it results in a dry sausage patty. Mix it cold and after you've made the patties it's probable best to refrigerate till ready to cook.
This is why I add a bit of olive oil into the mix so it has a bit more fat content. I also put a heavy spritz of olive oil cooking spray in the pan before putting a new group of patties in.
GOOD THINGS COME IN THE END
After all that and you mouth now watering, you will probably be disappointed that you can't cook and eat it right away. The sausages need to be stored in the refrigerator overnight or for at least 8 hours before cooking to let the seasoning mingle. However, it's well worth the wait. This is another recipe that is good to make in a large batch. Form and freeze the uncooked patties to be thawed and cooked when needed.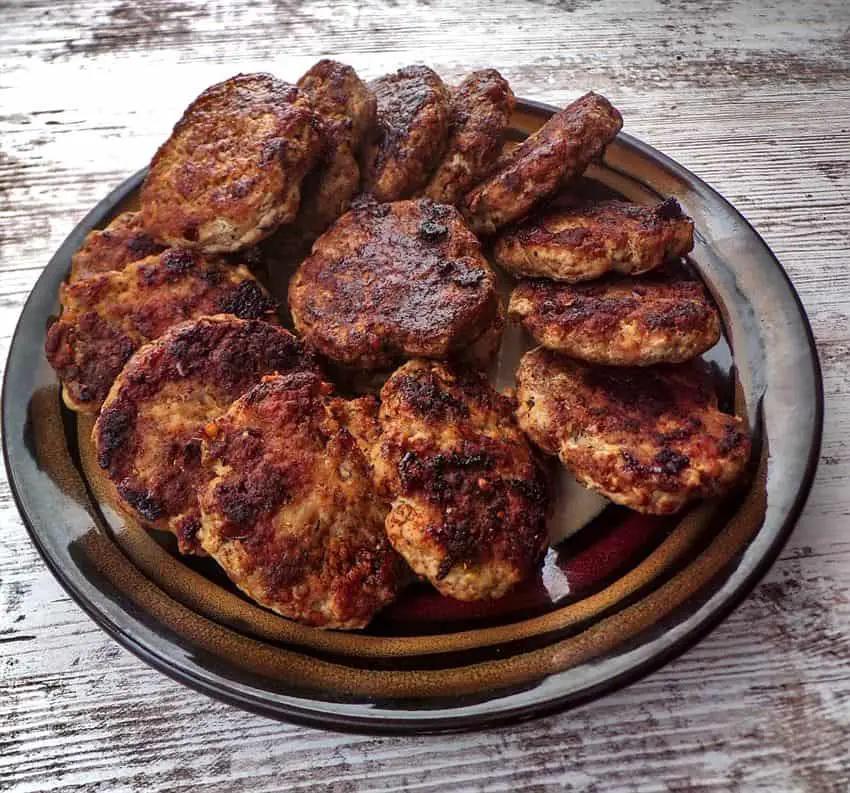 Preparing this great spicy Italian sausage recipe is really easy. I like it just as well as its saltier store bought counterparts. You won't miss the salt and you'll have a healthy lowered sodium and fat sausage you'll want again and again.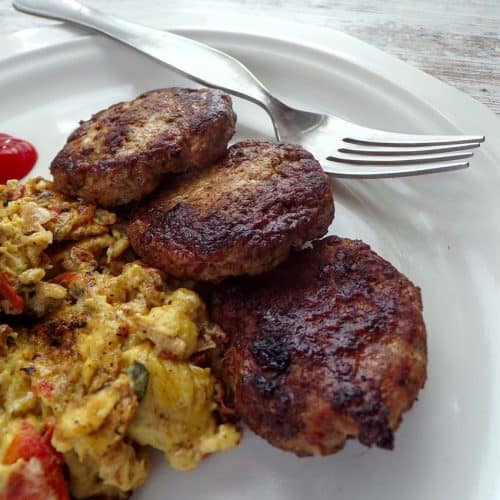 Low Sodium Italian Sausage
Make your own savory homemade low sodium Italian sausage and enjoy your sausage patty and eggs for breakfast again. Lowered fat too!
Ingredients  
1

lb

lean ground pork

1

tbsp

olive oil

2

tbsp

red wine vinegar

1/2

tsp

fennel seed

ground

1/2

tsp

smoked paprika

1/2

tsp

garlic powder

1/2

tsp

ground black pepper

1/2

tsp

red pepper flakes

add more if you like spicy

1/2

tsp

oregano

1/2

tsp

ground sage

1/2

tsp

dried basil

1/2

tsp

dried thyme

1/8

teaspoon

mace

1-2

slices

dried or toasted no salt added bread

optional

1

egg beaten

optional
Instructions 
Crush the "leafy" basil, sage, oregano, pepper flakes and fennel seed in a spice grinder or mortar and pestle until ground or they are lightly powdered.

Mix the ground spice in with all the other spices in a small bowl and whisk well to remove any clumps.

Sprinkle the spice mixture and remaining ingredients over the ground meat and knead well until the spices are evenly distributed throughout the meat.

Refrigerate overnight to let the spice flavors infuse into the meat. If you try to cook the meat immediately, it will have very little flavor as the spices need time to develop.

You can also add an (1) egg and (1) slice dried breadcrumbs to bulk up regular sausage patties.

Form into patties, links or crumbles

Cook over medium heat to an internal temperature of 160°F or until outside surface is light to medium brown. About 8 to 9 minutes total and there is no pink remaining. Since it is lean do not overcook or the meat will turn out very dry. Usually fat gives it a "moistness" that helps carry the flavor.
Notes
The sausage may be kept in the refrigerator for 2-3 days or tightly wrapped in the freezer for up to 3 months.
Nutrition
https://tastyhealthyheartrecipes.com/main-dishes/breakfast/low-sodium-italian-sausage-homemade/
Nutrition Information – The information shown is provided by an online nutrition calculator. It should not be substituted for a doctors or nutritionist's advice. Please understand that not everyone's sodium requirements are the same, therefore some recipes may be higher than you're allowed. Always consult with your doctor for your recommended daily sodium allowance.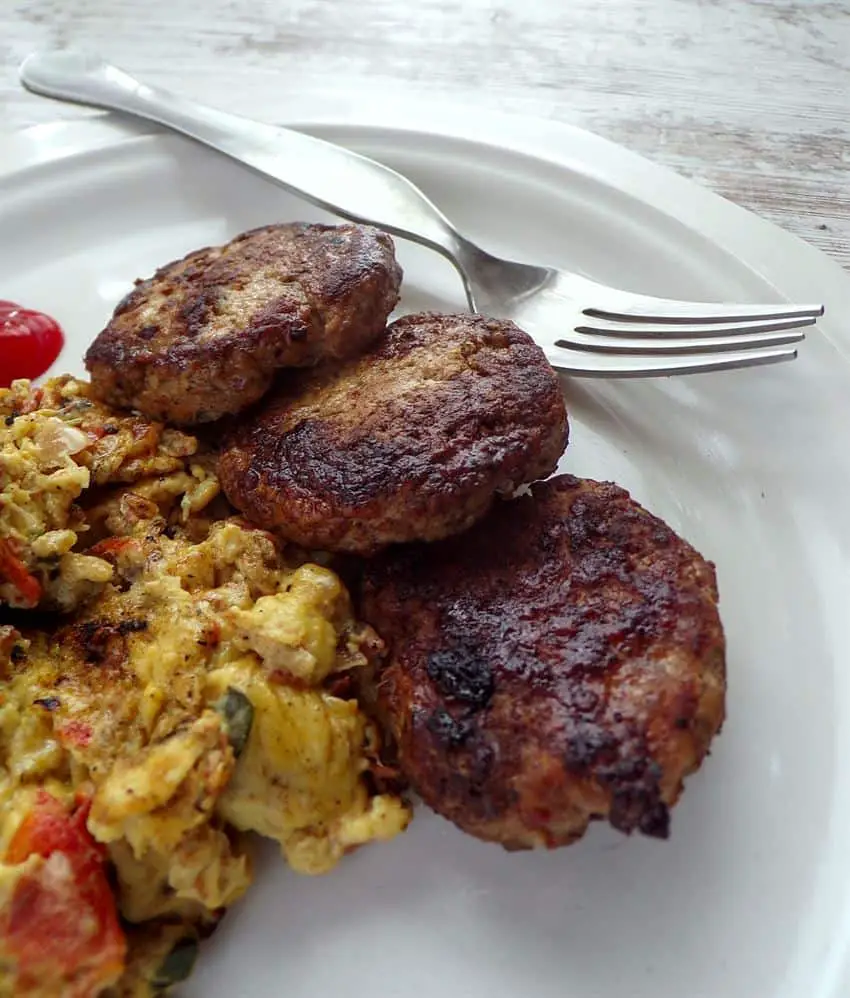 OTHER RECIPES YOU MIGHT LIKE
As always, please let me know how you like this recipe in the comments! I get motivated when I hear from you and am interested to learn about how you liked and served your low sodium Italian sausage. And please share any tips you might have.