This Low Sodium Cajun Seasoning will have you craving some gumbo, jambalaya, or maybe even a bug boil in no time. You might even want to put on some Zydeco music while you're cooking your favorite Cajun recipe.
Seriously, in less than five minutes you're going to love the taste and simplicity while being practically no sodium seasoning to boot.
I've made my own Cajun seasoning since my stroke and I use it in and on many dishes. Many times in place of traditional salted items, it has always been a classic favorite of mine.
I almost always sprinkle on scrambled eggs, French fries, and many times as a rub for chicken, pork chops, salmon, or mixed with beans and rice. It is a fantastic spice blend from Louisiana that seems to go with anything and everyone can easily put their own little spin on it.
Sodium in Cajun seasoning
| | |
| --- | --- |
| Typical sodium amount per serving | 300 – 1200mg |
| Sodium per serving for this recipe | 171mg |
| Calories per serving | 369 |
Store-bought shakers are packed with a bunch of ingredients and fillers you can't even pronounce. Besides being expensive many brands may be loaded with up to 350mg of sodium per serving which is generally just a 1/4 of a teaspoon!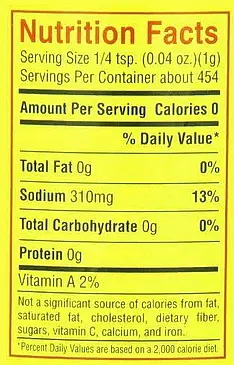 This recipe only has an incredibly low 2mg per full tablespoon! So hurry up and get your inner Cajun on!
This recipe adds another spice that adds a hint of smokiness to the Cajun seasoning. Just a small dash of chipotle pepper powder to go along with the smoked paprika and cayenne helps to cover the lack of sodium. It adds the flavor of heat, without being too hot and packs some mouthwatering zing to a number of dishes.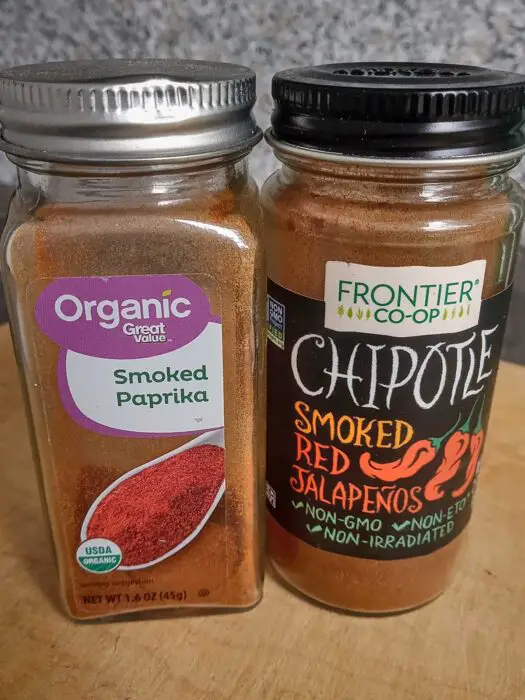 Be sure to make extra to keep on hand!
This quick low sodium Cajun seasoning will taste better and can save you a lot of time and money. It is well worth it to mix a big batch and store it if you use a lot of it as I do. Or you can just mix a small amount for a particular meal.
 If you do make a large batch to have ready to use, make sure that you store it in an airtight jar or in a large empty spice jar to keep it fresh.
This recipe makes enough to fill a regular size spice jar plus a little extra. I usually mix up a batch of the seasoning when making a meal that uses it and that takes care of the extra amount and store the rest.
If you're not a big Cajun fan you may want to cut the recipe in half if you don't feel you'll use it often.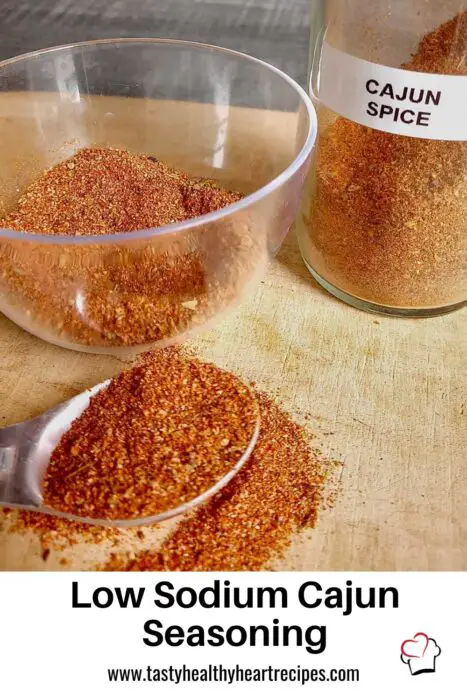 Use Low Sodium Cajun Seasoning with almost anything
Cajun seasoning spice is one of those exceptional spice blends that work well with just about everything.
You can mix your Cajun seasoning with ground beef, shredded chicken, ground chicken, or even in a spicy omelet. Use as a rub for almost any meat or seafood, soups, pasta dishes, and vegetables.
It probably most famously gives its signature flavor to Jambalaya and southern-style beans and rice. One of my favorites is sprinkled on oven-baked fries for a spicy kick of flavor.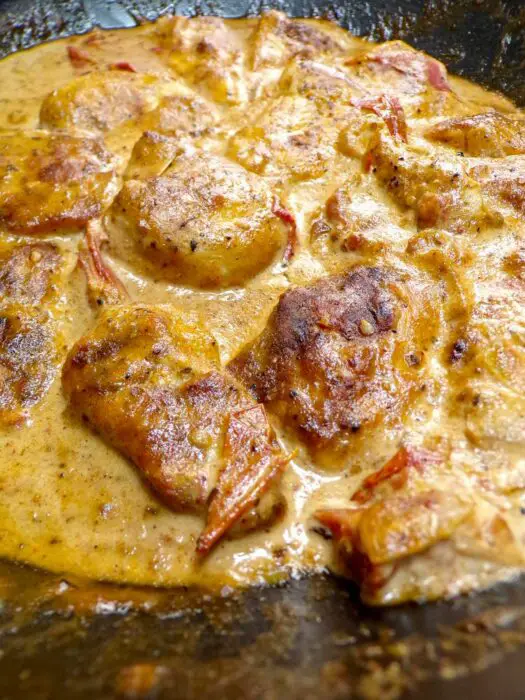 Be sure to try it in my upcoming Low Sodium Creamy Cajun Chicken! This amazing bold, zesty, and homemade Low Sodium Cajun Seasoning blend is truly my go-to favorite.
How to adjust the heat level spiciness
If you want a milder heat level for the Cajun seasoning, just leave out the red pepper flakes. Likewise, if you like it on the spicier side or, as I call it Rajin Cajun, just add more red pepper flakes and/or cayenne.
I like to run my crushed red pepper flakes through a spice grinder to make more of a powder form. Doing so is just my thing and not necessary.
Storing Homemade Cajun Seasoning
Store this homemade Cajun blend in an air-tight jar or container. I find that reusing a washed-out glass spice jar works great. I just add a label-maker name on it and your set.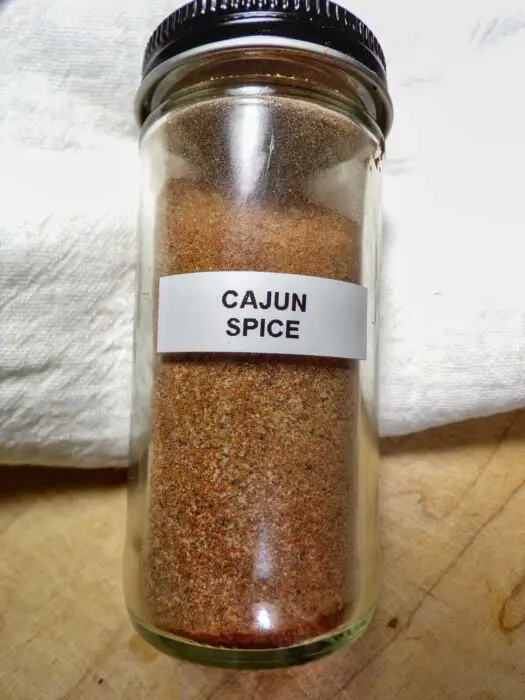 Cajun seasoning will easily last up to 6 months and is still safe after that time it just that it retains the best flavor during that time period.
After a couple of months, the spices in the bottle may clump up.  This is because there are no non-caking agents that have been added.  Simply poke and stir with a dinner knife to break it up and shake if this happens.
---
---
Recommended Equipment & Ingredients For This Recipe.
See my whole Recommended Equipment & Ingredients shop page here
This section contains affiliate links to products I use and recommend.

---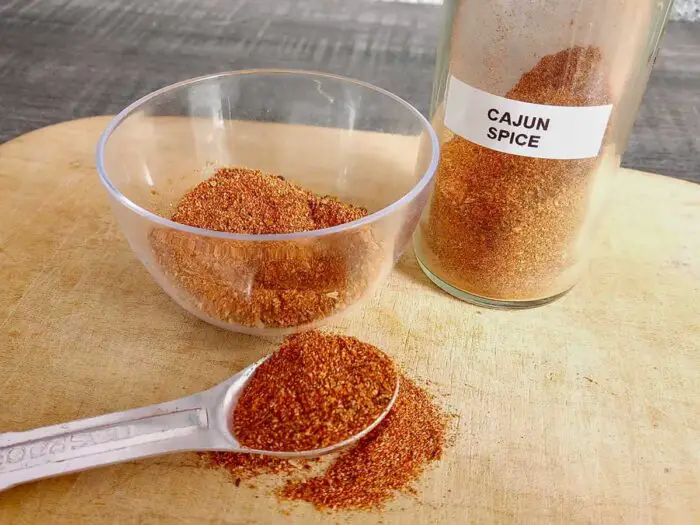 Please let me know how this Low Sodium Cajun Seasoning turns out for you in the comments and a rating! I'm always eager for your feedback and hope my recipes turn out amazing for you. You can follow me on Facebook and Pinterest also, to hear about new recipes.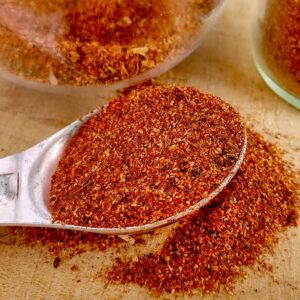 Low Sodium Cajun Seasoning
Low Sodium Cajun Seasoning easy to prepare in less than 5 minutes and use on almost anything! Play some Zydeco and make something Cajun!
Ingredients  
3

tablespoons

paprika

I recommend smoked paprika

2

tablespoons

garlic powder

1

tablespoon

ground black pepper

1

tablespoon

ground white pepper

1

tablespoons

onion powder

1

tablespoon

dried oregano

1

tablespoon

cayenne

1/2

tablespoon

dried thyme

1

teaspoon

smoked chipotle powder

½

tsp

crushed red pepper flakes

optional I like to grind them up
Instructions 
Combine all ingredients in a mixing bowl. Stir to fully combine.

Use immediately or store in an airtight container for future use.
Notes
If you like it on the spicier side or, as I call it Rajin Cajun, just add more red pepper flakes and/or cayenne.
I like to run my crushed red pepper flakes through a spice grinder to make more of a powder form. Doing so is just my thing and not necessary.
Nutrition
Serving:
1
tablespoon
Calories:
16
kcal
Carbohydrates:
3.4
g
Protein:
0.7
g
Fat:
0.4
g
Sodium:
2
mg
Potassium:
8.4
mg
Iron:
1
mg
https://tastyhealthyheartrecipes.com/a-la-cart/sauces-dips-spices/low-sodium-cajun-seasoning/
Nutrition Information – The information shown is provided by an online nutrition calculator. It should not be substituted for a doctors or nutritionist's advice. Please understand that not everyone's sodium requirements are the same, therefore some recipes may be higher than you're allowed. Always consult with your doctor for your recommended daily sodium allowance.