Yes, a healthy comforting Low Sodium Chicken Noodle Soup is possible. Just pass that canned soup aisle up and make this recipe in just about an hour in one pot. Besides what's up with canned chicken noodle soup made with skinny spaghetti type noodles? You can barely get them on the spoon and how can you eat soup with a fork?
If you are new to a low sodium diet, you may find this a bit lacking. But believe me, it is just the salty taste that is still ingrained in your brain from growing up with heavily salt-laden soup. I think this uses a good assortment of herbs and spices to make up for that unhealthy missing ingredient. But if you've been on a low sodium diet for a bit and have weaned yourself off salt, you will love this.
Typical canned sodium amount




per serving

1580mg

Sodium per serving for this recipe
104mg

Calories per serving

246
2 cup serving
size
Sodium in chicken noodle soup
The famous name brand soup is 890 – 940mg of sodium for just (1) one cup of soup. The differing range is because even though it's named chicken noodle they have 2 or 3 different variations or styles of soup. That much would easily put me over my whole days' worth of sodium after other meals for my daily sodium goal and I would still be starving with only a cup of soup.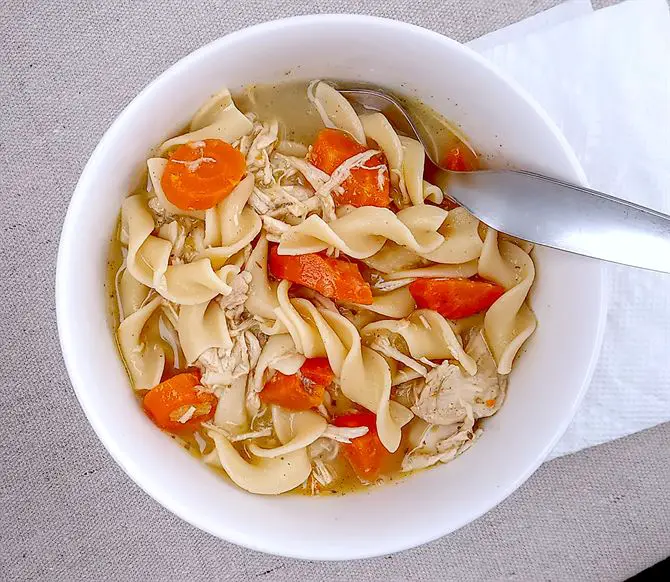 I do have to mention though that the famous brand has a reduced sodium soup that is 25% less but that is still way too high for me. But amazingly in one variety they do have a low sodium chicken noodle that is 120mg per 10.75 can or 1 1/3 cups. This isn't too bad considering, but I have not tasted it to comment on its content or flavor.
My Low Sodium Chicken Noodle Soup recipe is just 26mg of sodium per one-half cup or 104mg for a realistic 2 cup serving!  This recipe is low enough that you can still add a complimentary side item and be below most sodium meal budgets.
My tips for making Low Sodium Chicken Noodle Soup
Cooking
I used to make chicken noodle soup in the crockpot or big soup pan on the stove taking up most of the day. But with the Instant Pot, it makes this soup an easy weeknight friendly meal. And all of it from the veggies, to the chicken, to the noodles cooks in the Instant Pot from start to finish. I really can't say enough about how it has changed how I cook.
But you can still make this in the slow cooker; just add all ingredients except noodles, cover and cook on low heat for 6-8 hours. Remove chicken and stir in egg noodles. Shred the chicken and add back in when noodles are al dente.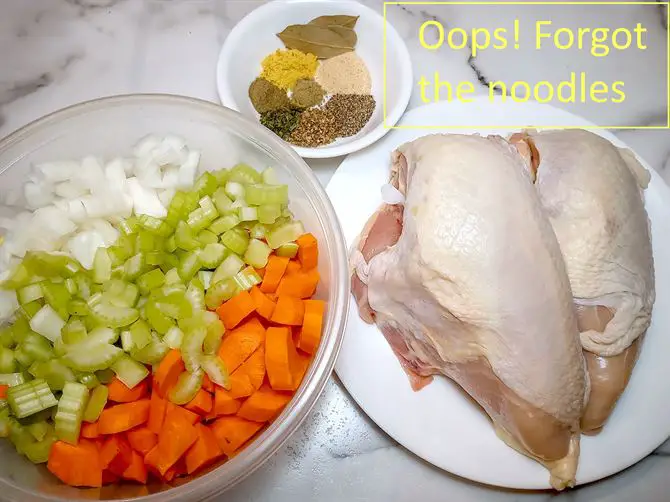 Because this recipe has so much liquid in it, cover the Instant pot vent with a dish towel when releasing the pressure. It lets off a lot of steam and spits even after a 10-minute natural pressure release.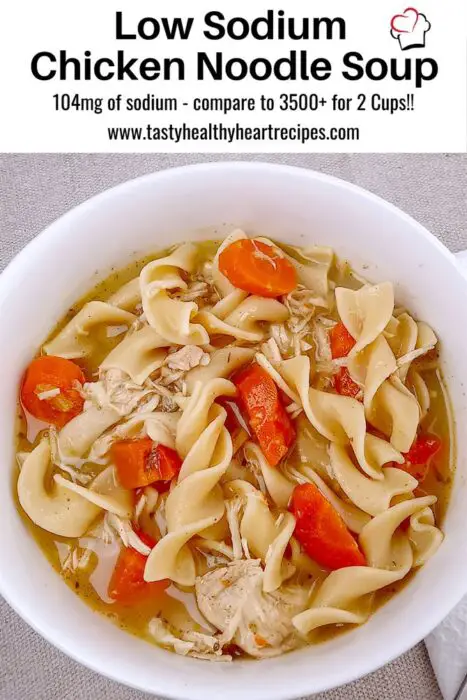 Big  sodium savings
One of the big low sodium savings is using unsalted chicken broth. There are 8 cups in this recipe and it soaks into the noodles and everything else. Regular chicken broth is 860mg of sodium per cup. I use Swanson's Unsalted Chicken Broth and it seems to be widely available. It is the lowest sodium I have found at just 35mg of sodium for 1 cup.
The chicken
While you can use boneless, skinless chicken breasts for this recipe I think bone-in, skin on is best. We want to pull every bit of extra flavor we can from unsalted ingredients and the bones and skin will help add even more flavor. Happily, when it comes time to shred the chicken removing the bones and skin is a snap. The chicken meat is literally falling apart so there is nothing to it to remove them.
The herbs
There are quite a few herbs used including thyme, oregano, bay leaves, parsley, smoked paprika, garlic powder, black pepper, Herb-Ox no sodium chicken bouillon, and ground savory.
Herb-ox no sodium chicken bouillon adds a lot of taste back to the unsalted broth which can seem a little thin. Ground savory is my secret weapon and is perfect for a soup like this. This spice in my opinion and in particular adds the most reproducible original chicken noodle taste for a low sodium soup.
These are the two spices I would incrementally add for more taste if you still find you're missing that something (salty) flavor. If you've been on a low sodium diet for a while, any additions will probably be very minimal.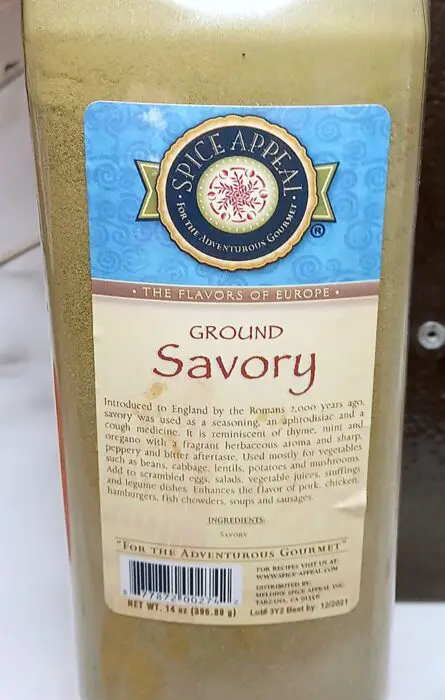 The noodles
The only noodle I like for chicken noodle soup is egg noodles. They are generally made with more eggs and have a richer, deeper taste and bite to them. Plus you can get them on the dag-gone spoon without sliding off!  Resist the urge to add in more noodles, otherwise, they will continue to soak up almost all the liquid in the soup after a few hours.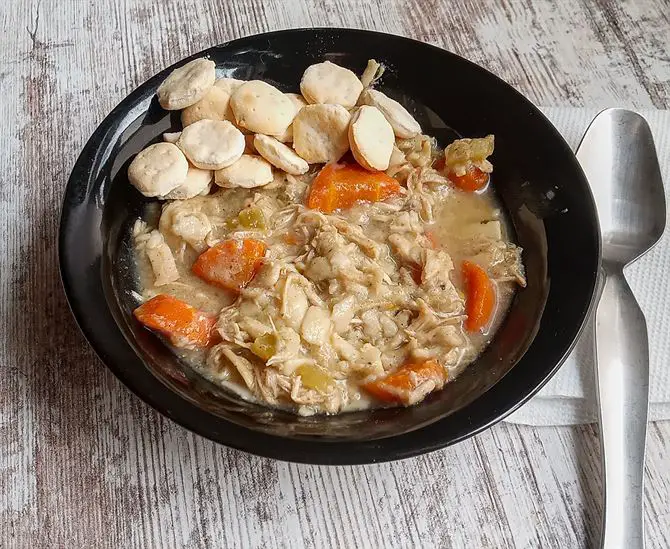 But you can use any pasta or noodle that you may have on hand. Personally, I want to try the extra wide egg noodles next time. This soup tastes wonderful for leftovers no matter which is used.
Sides to Serve with Chicken Noodle Soup
A salad is always a refreshing side with this soup. Try a Low Sodium Caesar Salad with this easy to make salad dressing and yes, you can use any type of lettuce. No Romaine lettuce required.
A hearty, crusty loaf of bread is great to sop up remnants of any soup. Low Sodium Artisan Bread with a little slather of butter is delish. Or you can simply use reduced sodium oyster crackers for a quick crunch addition.
Another great, easy to make bread is my Low Sodium Cornbread with Honey. I highly recommend this with its sweet tooth addition and is still fantastic for sopping up any leftovers in the bowl.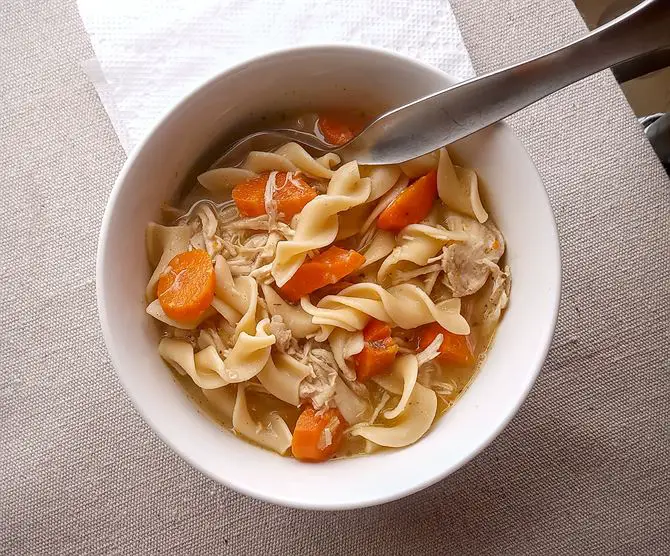 Storing, reheating and freezing tips
When storing soup, make sure it is cooled down to not warm up your fridge. Place the cooled soup in an airtight storage container in the refrigerator for up to 4-5 days.
You can reheat soup in a covered saucepan on the stove over medium-low heat until hot. But who has time for that? Just heat the chicken noodle soup in a microwave-safe bowl in the microwave for about two minutes. Stir halfway through the time. You may need to add a little more broth or water as the noodles will have continued to soak up the broth when stored.
If you freeze the soup it is best to portion it into serving size airtight freezer containers. You won't have to thaw a big block of soup unless you plan on that for later. Store for up to 3 months and then let thaw overnight in the refrigerator before reheating.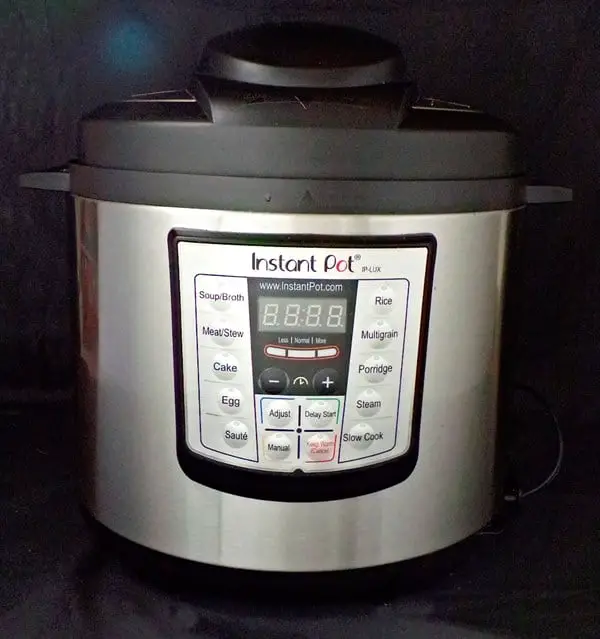 My Instant Pot
To make this awesome Instant Pot low sodium soup I used my 6 quart Instant Pot LUX60V3 6 in 1 (see on Amazon). The Instant Pot multi-cooker, combines 6 kitchen appliances in one, pressure cooker, slow cooker, rice cooker, sauté, steamer, and warmer. This Instant Pot is one of the very few appliances that stay on my counter since I use it several times a week. It's super easy to use and clean.
? A few of my other great soups to enjoy! ?
---
Recommended Equipment & Ingredients For This Recipe

Please let me know how this Low Sodium Chicken Noodle Soup turns out for you in the comments and a rating! I'm always eager for your feedback and hope my recipes turn out amazing for you. You can follow me on Facebook and Pinterest also, to hear about new recipes.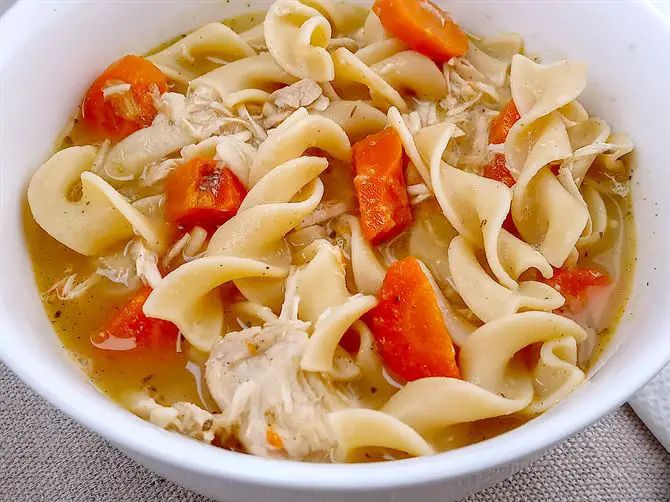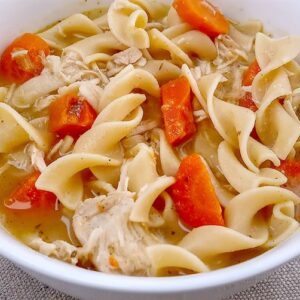 Low Sodium Chicken Noodle Soup
Easy Homemade Low Sodium Chicken Noodle Soup – Instant Pot from scratch! Always a quick, healthy, favorite comfort food.
Ingredients  
2 1/2

pounds

bone-in skin-on chicken breasts

about 2 large

1

Tbsp

extra-virgin olive oil

4

Tbsp

unsalted butter

divided

1

medium onion chopped

1

pound

carrots peeled and cut into 1/4-inch-thick diagonal slices

3

large stalks celery chopped 1/4-inch-thick

8

cups

chicken broth no sodium added

1

tsp

ground black pepper

1

tsp

dried oregano

1

tsp

smoked paprika

2

bay leaves

2

tsp

Herb-ox no sodium chicken bouillon

2

tsp

garlic powder

1/2

tsp

ground thyme

1

tsp

dried parsley

1

Tbsp

ground savory

3

cups

uncooked wide egg noodles

water or broth additional as needed
Instructions 
If your chicken breasts are very large, use a cleaver or very sharp knife and carefully chop them in half right through the bone.

Turn your Instant Pot to the sauté high setting. When hot add in 2 Tbsp unsalted butter and the olive oil.

Once the butter is melted, add the onion and celery. Cook for 3 to 5 minutes, stirring often, until the onion softens and becomes translucent. Then turn sauté function off.

Pour in the chicken broth. Stir in the carrots, black pepper, oregano, bay leaf, Herb-ox no sodium chicken bouillon, paprika, garlic powder, ground thyme, dried parsley and ground savory. Evenly add in the chicken pieces.

Lock lid on Instant Pot and turn valve to sealing. Cook on manual high pressure for 10 minutes. Let the pressure release naturally for 10 minutes. Then cover vent with dish cloth and vent to release any remaining pressure. Carefully remove the lid.

Remove the chicken and transfer it to a cutting board. Pick out the bay leaves and discard as you come across them. Press the cancel button and turn on the Instant Pot to a medium sauté.

Add the egg noodles and remaining butter. Cook uncovered, until noodles are al dente, about 5 to 6 minutes.

While are noodles are cooking, shred the chicken and discard the skin and bones. Once the noodles are done, turn off the Instant Pot and stir in shredded chicken.

If you'd it like it more soupy and thinner, add in additional broth or water until your desired consistency is reached. Taste and adjust seasoning as desired.
Notes
As egg noodles are not removed from liquid as is usually done for pasta. Noodles will continue to soak up liquid and will not look as "lively" as when first served. No worries though the soup will still taste great. Add a splash more broth or water when reheating if desired.
Recipe Equipment & ingredients
Nutrition
Serving:
2
cups
Calories:
246
kcal
Carbohydrates:
26.9
g
Protein:
10.2
g
Fat:
10.9
g
Saturated Fat:
5
g
Cholesterol:
51
mg
Sodium:
104
mg
Fiber:
3.1
g
Sugar:
4.7
g
https://tastyhealthyheartrecipes.com/a-la-cart/soups/low-sodium-chicken-noodle-soup/
Nutrition Information – The information shown is provided by an online nutrition calculator. It should not be substituted for a doctors or nutritionist's advice. Please understand that not everyone's sodium requirements are the same, therefore some recipes may be higher than you're allowed. Always consult with your doctor for your recommended daily sodium allowance.