Ranch dressing is America's #1 condiment and dressing. And this Low Sodium Ranch Dressing recipe is made without any extra sodium and some substitutions that blow away high sodium levels of store bought and most homemade recipes!
I love Blue Cheese dressing but that's not what this is about.  (I'm still working on it! "grin")  But my second favorite and still love is ranch dressing. Tell me what it couldn't be used on? Ranch dressing is a given on a fresh salad, a dip for fresh vegetables and it goes hand in hand with grilled Low Sodium Blackened Chicken Breast, chicken wings, chicken tenders heck any kind of chicken. So being Americas #1 and one of my favorites I had to find a way to make it low sodium and I did.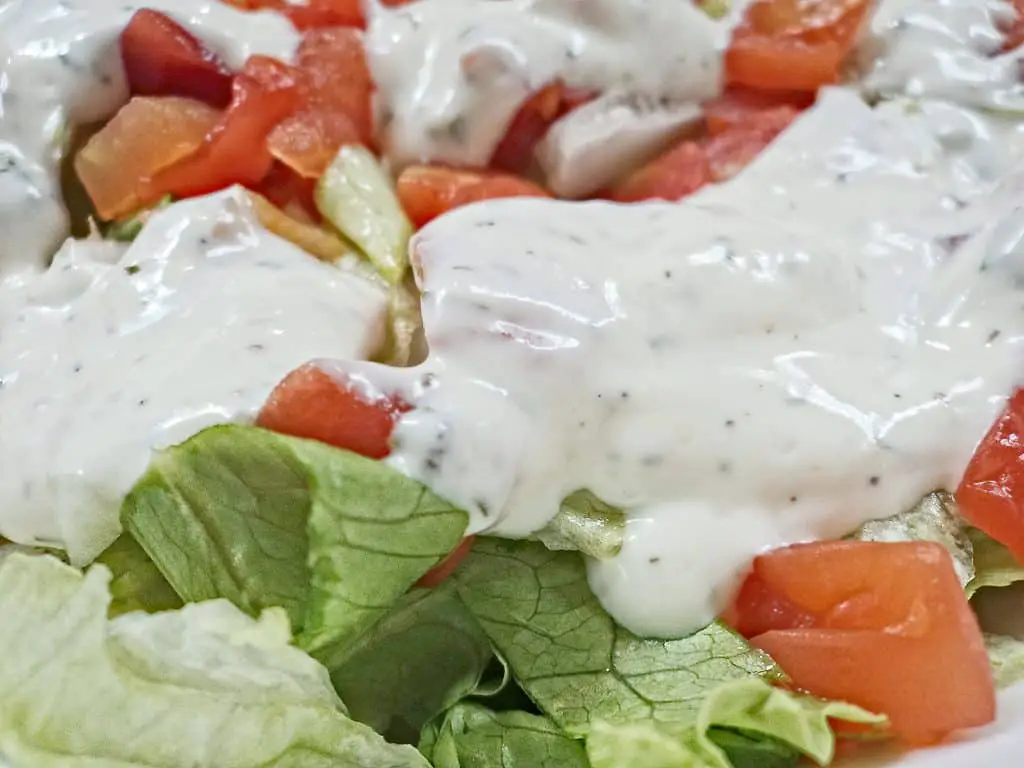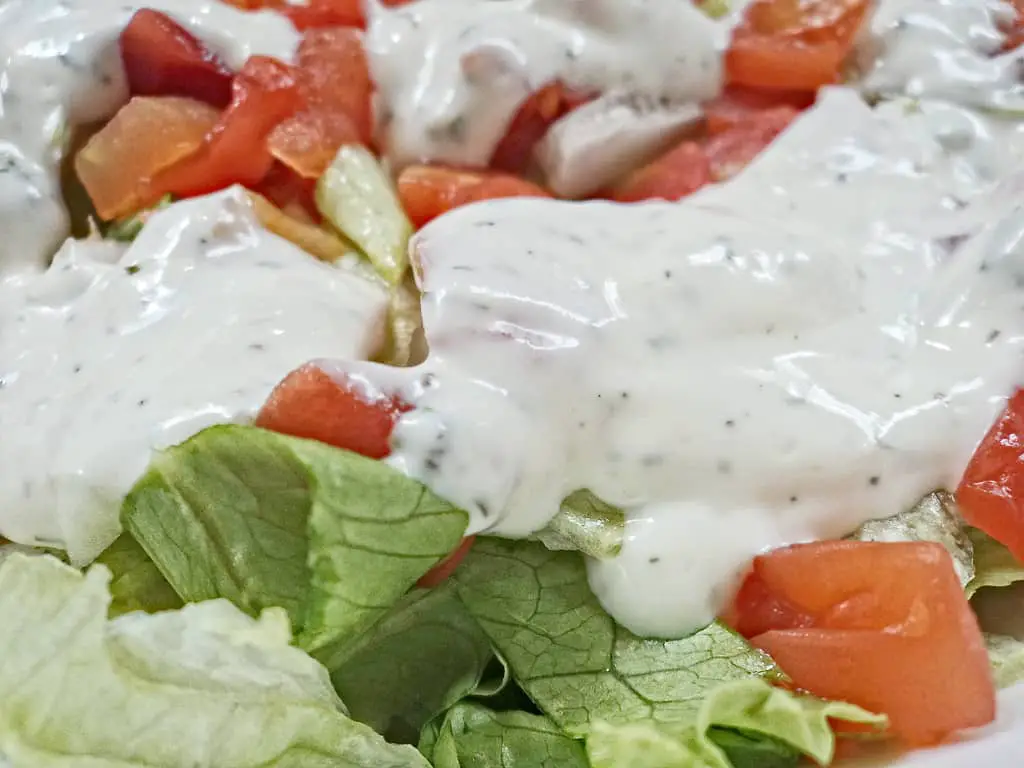 | | |
| --- | --- |
| Typical sodium amount per serving | 130+ mg per Tbsp. |
| Sodium per serving for this recipe | 35mg per Tbsp |
| Alternate version sodium total for this recipe | 8mg per Tbsp |
| Calories per serving | 43 |
Commercial brand ranch dressings and mixes are loaded with sodium. This is why I am working so hard on some of the "basics" that we used to use before we really (had to) cut back on sodium. With most store bought bottled dressings being 130+mg of sodium per tablespoon this simple condiment can easily blow your sodium budget. I've reduce this recipe down to a low sodium 35mg or a super low sodium version of 8 mg per tablespoon!
Many nights, I cut up some celery, green pepper and some carrot slivers or broccoli bits with a small bowl of this ranch dressing to snack on. As I'm cooking dinner or puttering around the house it really helps to cut back on any bad habits!
YOUR CHOICE OF 2 LOW-SODIUM LEVELS
I've made two versions for you. It's up to you how low you want to go! I prefer the first because I think it would last longer when stored, even though when I make it I tend to make it more as a "one and done" recipe.The low sodium version is made by omitting any salt and making a homemade buttermilk substitute. The second version lowers sodium even more in addition to the above by making your own Low Sodium Mayonnaise recipe here.
So don't let your sodium intake on commercial dressings get ahead of you or get you down, make a batch of this Low-Sodium Ranch Dressing and enjoy it with all your favorite salads, veggies, chicken and more!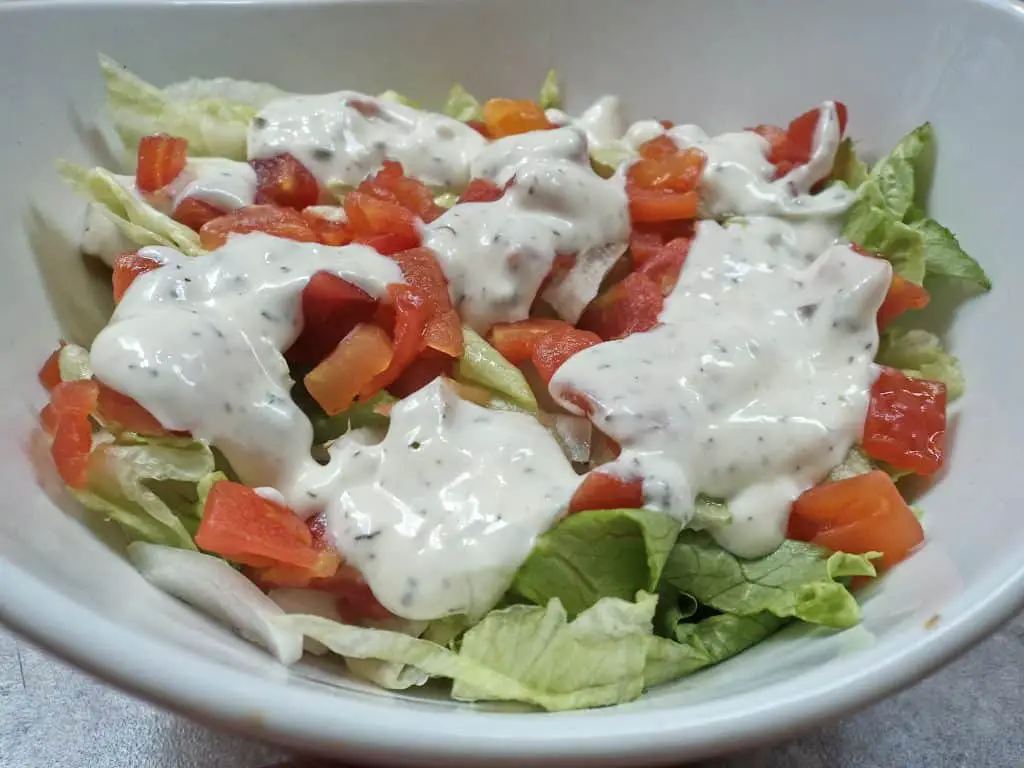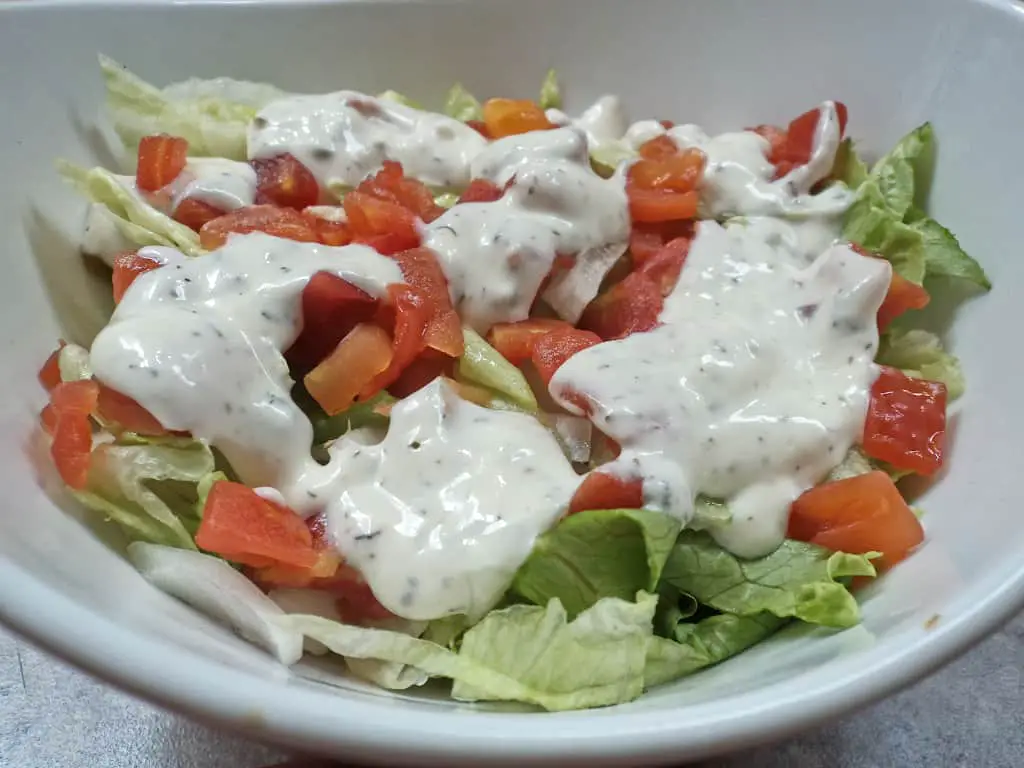 A few other recipes you may enjoy!
As always, please let me know how you like this recipe in the comments! I get motivated when I hear from you and am interested to learn about how you liked and served your Low Sodium Ranch Dressing. And please leave a comment or rating and share any tips you might have.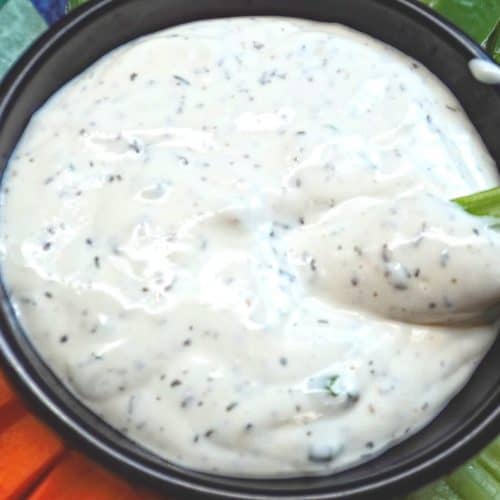 Low Sodium Ranch Dressing
The Best Low-Sodium Ranch Salad Dressing tastes delicious but way lower in sodium and only takes a few minutes to make.
Ingredients  
1/2

cup

mayonnaise

For even lower sodium use my mayonnaise recipe in Notes

1/2

cup

sour cream

1

teaspoon

dried chives

1/2

teaspoon

dried parsley

1/2

teaspoon

dried dill weed

1/2

teaspoon

garlic powder

1/2

teaspoon

onion powder

1

teaspoon

sugar

1/8

teaspoon

ground black pepper
Buttermilk Substitute:
1/2

cup

2% milk

1/2

tablespoon

white vinegar or lemon juice
Instructions 
In a mixing cup, stir white vinegar or lemon juice and 2% milk together and set aside for 10-15 minutes.

In a large bowl, whisk together the mayonnaise, sour cream, chives, parsley, dill, garlic powder, onion powder, sugar and pepper.

Whisk in buttermilk substitute do desired consistency.

Adjust spices to taste.

Cover and refrigerate for 30 minutes before serving.
Nutrition
Serving:
1
Tbsp
Calories:
43
kcal
Carbohydrates:
0.5
g
Protein:
0.3
g
Fat:
4.4
g
Saturated Fat:
1.2
g
Cholesterol:
4
mg
Sodium:
35
mg
Potassium:
12
mg
Sugar:
0.3
g
Calcium:
12
mg
https://tastyhealthyheartrecipes.com/a-la-cart/sauces-dips-spices/low-sodium-ranch-dressing/
Nutrition Information – The information shown is provided by an online nutrition calculator. It should not be substituted for a doctors or nutritionist's advice. Please understand that not everyone's sodium requirements are the same, therefore some recipes may be higher than you're allowed. Always consult with your doctor for your recommended daily sodium allowance.