Low Sodium Oven "Fried" Pepper Rings is an awesome quick appetizer with an even quicker chipotle sauce. Right now is the best season for peppers, between July and September. They're fresher and taste sweeter than ever right now. I've already ended up with a bunch of bell peppers that I had to use up and was looking for something a little different to try.
| | |
| --- | --- |
| Sodium per serving for this recipe | 100 mg |
| Calories per serving | 261 |
Well, I ended up trying three new things. First the bell pepper rings, second using a no salt added pretzel breading and third making an awesome low sodium chipotle sauce.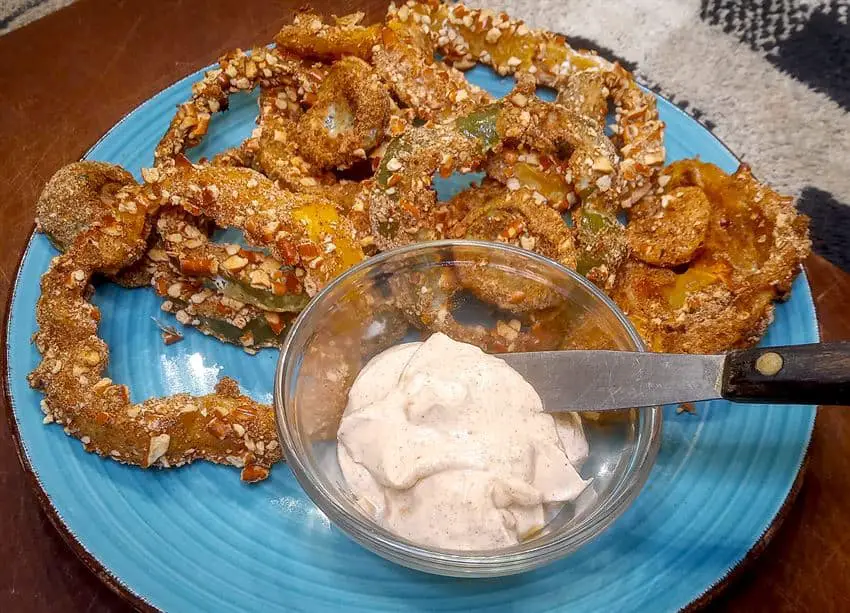 Along with being a low sodium appetizer this is also low fat since the pepper rings are baked in the oven. No frying required, low fat and no mess. You still get the crisp bite of the ring and the pepper develops a sweet inside taste that is delicious with a great crunch.
I've been meaning to use no salt added pretzels as a breading for some time and they did not disappoint!  I made a half and half just for comparison using Matzo Meal and NSA pretzels for the breading. I much preferred the pretzel version in this instance.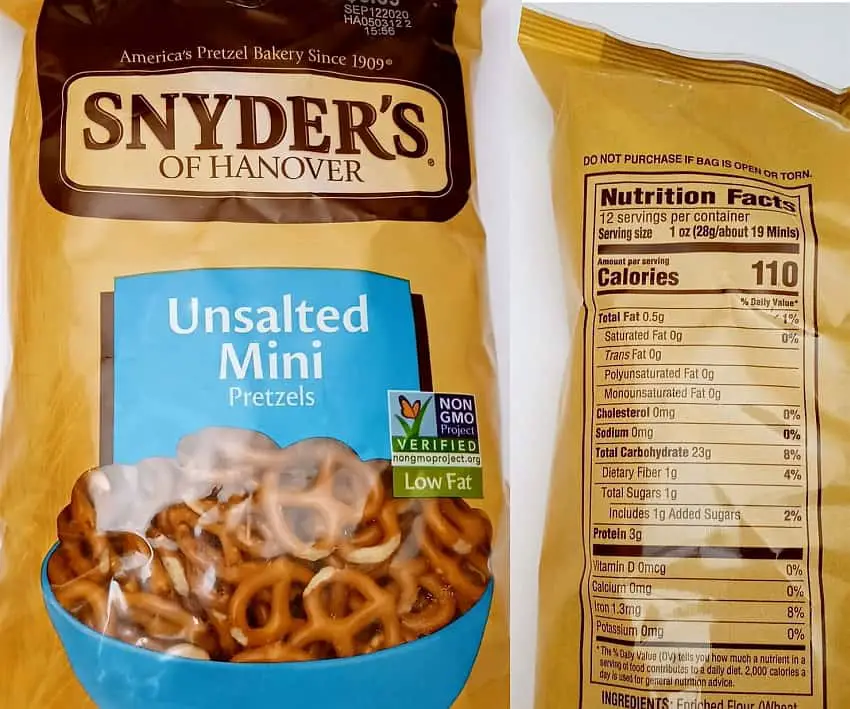 To make the "pretzelized" version of bread crumbs use a food processor or smash pretzels in a plastic baggie. But don't overdo it and leave some bigger chunks rather tiny crumbs or dust.
EASY LOW SODIUM CHIPOTLE SAUCE
I was so surprised when I threw this together, how good this sauce was. So fresh tasting, but a nice spicy after kick that was a perfect complement to the Low Sodium Oven "Fried" Pepper Rings.  You can literally make this in two minutes to accompany so many things that need a dip.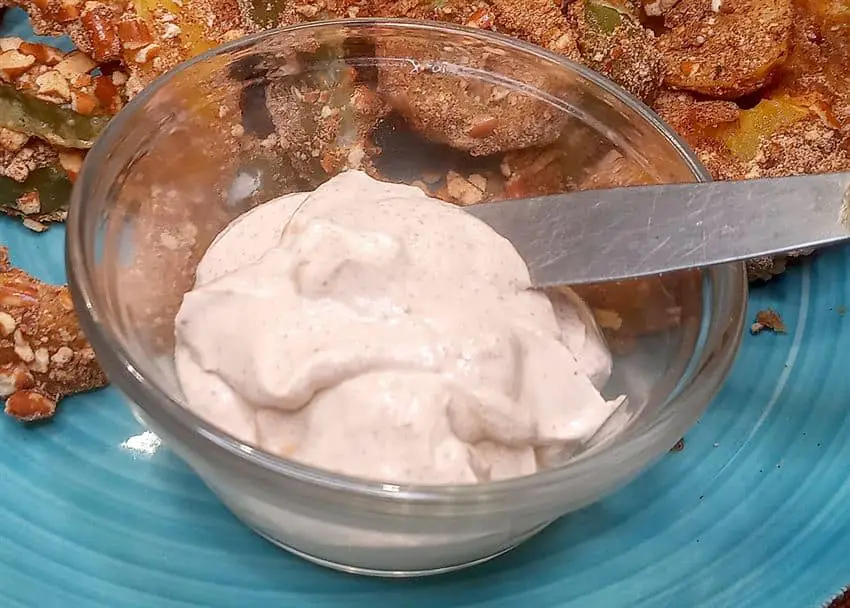 This is a touch spicy so you may want to dial back a tad on the chipotle chili powder if you're really spicy sensitive. For me it has a nice tingle.
It starts with 1/3 cup sour cream, ½ tsp smoky paprika, ½ tsp chipotle chili powder and ¼ tsp low sodium Worcestershire sauce and mix well. That's it!  Of course you could always use just a plain sour cream also if you're not into spicy.
MY TIPS FOR LOW SODIUM OVEN "FRIED" BELL PEPPER RINGS
Plan on one (1) bell pepper per person for serving size. This recipe will cover you for two peppers.
You can use any kind or color bell pepper. I used green and yellow when I made this recipe.  I was kind of partial to the greens though. How about some hot peppers too, why not?
Flour your rings all at the same time. I use a grocery bag and add two big large spoonfuls of flour and shake. Add more flour if needed to cover. Then you can just throw the bag away. I suppose you could use a covered Tupperware container also.
Low Sodium Oven "Fried" Bell Pepper Rings taste best eaten fresh from the oven. So I recommend not making more than you'll eat. But if need be reheat in the oven or toaster oven at 250°F for about 10 minutes.
This would also cook well in an air fryer. Though I am currently without an air fryer and hope to get a new one soon.
You can use the low sodium Chipotle dip for innumerable other items such as fresh cut veggies, baked potatoes, chips or whatever catches your fancy. Make it as spicy or mild as you like. It's so easy, you'll love it!
A few of my other great dishes to enjoy!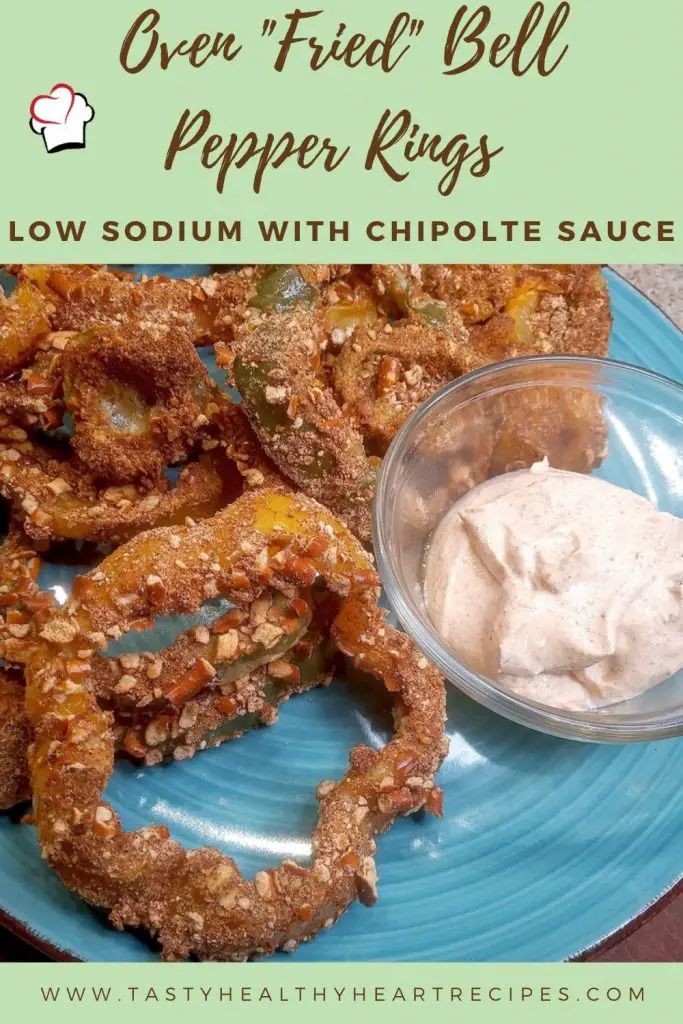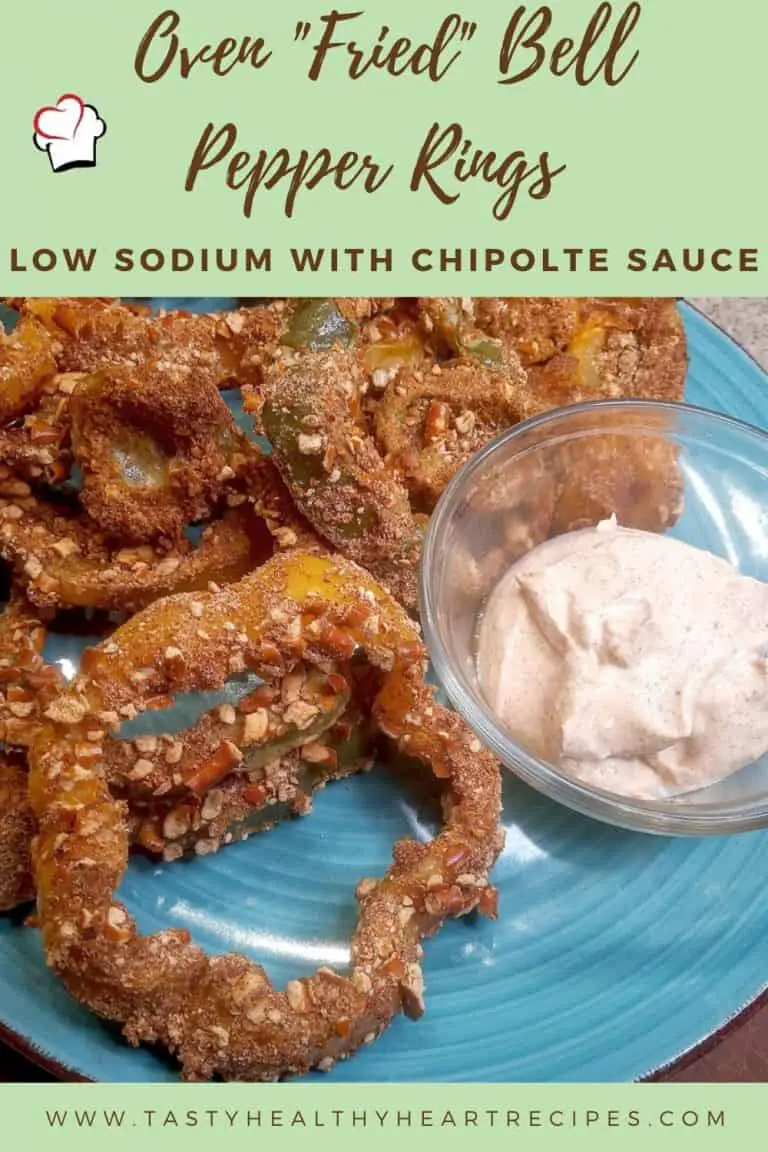 As always, please let me know how you like this recipe in the comments! I get motivated when I hear from you and am interested to learn about how you liked and served your Low Sodium Oven "Fried" Pepper Rings. And please leave a comment or rating and share any tips you might have.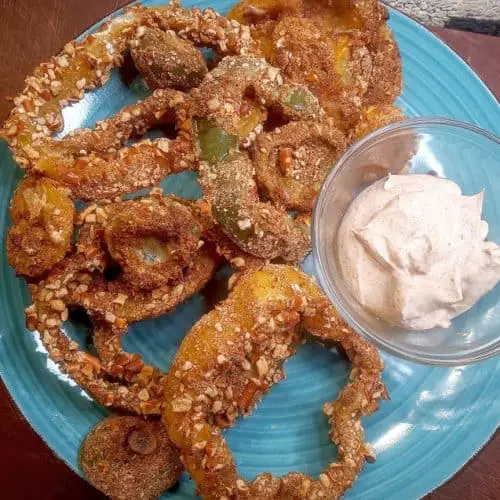 Low Sodium Oven "Fried" Bell Pepper Rings
LowSodium Oven "Fried" Bell Pepper Rings make a great appetizer. Much like onionrings with a crunchy pretzel outside without frying! And chipotle sauce!
Ingredients  
FOR BELL PEPPERS
2

bell peppers

sliced into 3/8″ rounds, core and seeds removed

2

large eggs

beaten with 1 tbsp milk

1/2

cup

flour or as needed

1½

cup

pretzels no salt added crushed

1

tsp

paprika

1

tsp

garlic powder
FOR CHIPOLTE DIPPING SAUCE
1/3

cup

sour cream

1/2

tsp

smoked paprika

1/2

tsp

chipotle chili powder

Freshly ground black pepper
Instructions 
Preheat oven to 400°F. Lightly spray large baking sheet with cooking spray.

In a medium shallow bowl, combine crushed pretzels with paprika and garlic powder. Bag shake pepper rings first in flour. Then dip in egg mix and coat in pretzel mixture. Place on prepared baking sheet.

Bake 10 minutes, flip peppers and bake 10 minutes more, until tender inside and crispy outside. Remove from oven and let cool slightly.
While peppers are baking, make dipping sauce:
In a medium bowl, combine sour cream, paprika, chipotle chili powder and Worcestershire sauce. Use spatula to mix well.
Nutrition
Serving:
1
-whole pepper w/ sauce
Calories:
261
kcal
Carbohydrates:
25.2
g
Protein:
11.1
g
Fat:
13.6
g
Cholesterol:
203
mg
Sodium:
100
mg
Fiber:
3.1
g
Sugar:
3.8
g
https://tastyhealthyheartrecipes.com/a-la-cart/appetizers-sides-snacks/low-sodium-oven-fried-bell-pepper-rings/
Nutrition Information – The information shown is provided by an online nutrition calculator. It should not be substituted for a doctors or nutritionist's advice. Please understand that not everyone's sodium requirements are the same, therefore some recipes may be higher than you're allowed. Always consult with your doctor for your recommended daily sodium allowance.