Try these Low Sodium Onion Fritters when you're craving some onion rings. These onion ring fakes are so much easier to make and you don't need to use so much oil. I have never had good luck making onion rings in the past, they were just never that satisfying. Probably because to do it right you need a lot of oil and or a deep fryer. So I wanted to make something that would meet my craving that would be low sodium and easy to make.
| | |
| --- | --- |
| Typical sodium amount per serving | 300 – 700 mg |
| Sodium per serving for this recipe | 10 mg |
| Calories per serving | 205 |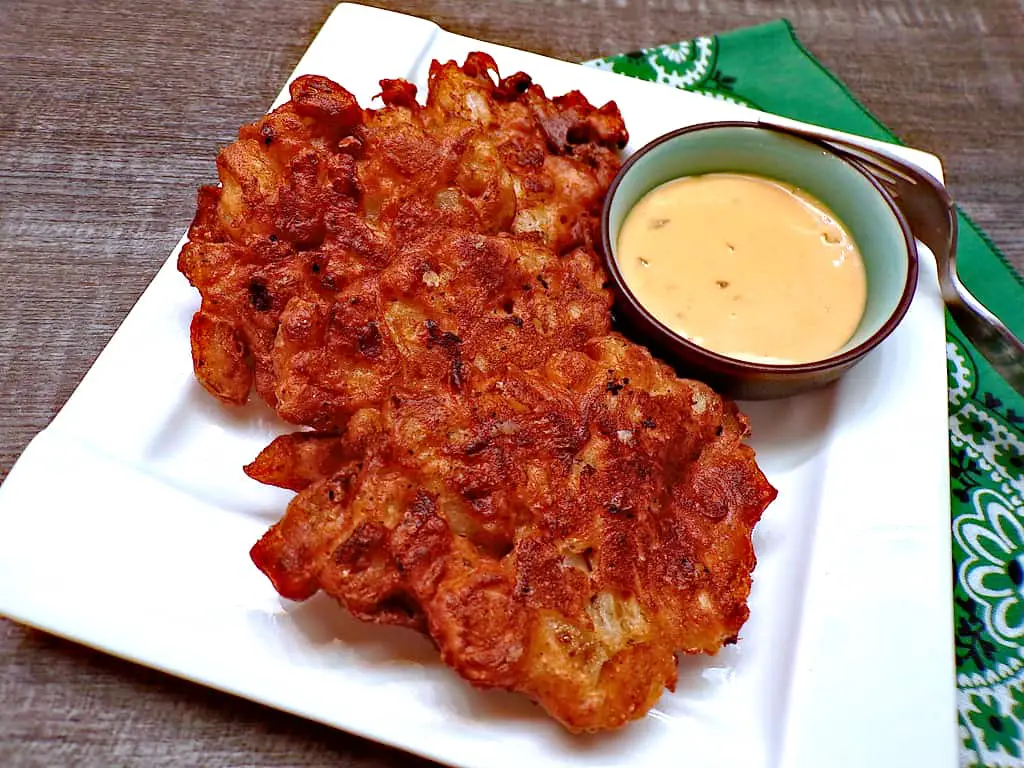 Frozen onion rings in a bag are kind of hard to gauge how much sodium you would eat.  Because the serving size is listed by weight you would have to weigh it to accurately know how much you're eating. But suffice it to say the sodium is just too high from 300 mg plus per serving from a few bags I checked on.
Some of the recipes I have seen at an astounding 750+ mg per serving! But this recipe rings in at just 10 mg per onion fritter. How about that for a sodium savings you can enjoy!
Though I never really used shaker salt on my food in the past, onion rings were my one weakness. It seemed it was just a perfect pairing. With this low sodium onion fritter I have included some spices that enhance the onion patty too satisfy my taste for a "salted" ring. You get that oniony burst in the first chew and then the savory spices start to kick in.
EASY LOW SODIUM ONION FRITTERS
Onion fritters are so much easier to make than a bloomin onion or onion rings. It's almost like cooking a pancake. And the batter seems to stick so much better and thicker with the onion chunks rather than a ring. I just use an ice cream scoop to dole out the perfect size fritter and tap down to mostly a single layer of onions.
My low sodium onion fritters are best enjoyed immediately after cooking. I also like to use sour cream mixed with a little chipotle spice as a dip for even more flavor.
If you have any left overs store in a small Tupperware in the fridge. Then when reheating, I would use a skillet on no more than medium heat. Or heat in the stove or a toaster oven (best) at about 250° F until heated through. A microwave tends not to reproduce the essential crunch of the fritter and gets soggy.
MY TOP 9 TIPS FOR FRYING ONION FRITTERS
Cut onion into similar-size pieces so they fry at the same rate.
Heat the frying oil as hot as possible without letting the oil smoke.  This will dehydrate and crisp the food quickly with less time for oil to be absorbed, making it greasy.
I use a small 8" cast iron skillet. You don't have to use as much oil to cover the bottom of the skillet. Cast iron holds the heat really well so the oil temperature does not fluctuate as much.
Fry in small batches (about 2) to prevent the oil temperature from dropping too low, which can lead to greasy food.
Drain fried food on a rack or absorbent paper.
If adding season, add to the patty immediately after frying so the seasoning adheres to the hot food.
If not eating right away, transfer each batch of fried food to a 200°F oven to keep it crisp.
Let the oil come back up to frying temperature between batches.
To avoid a fire risk, never leave oil unattended on the stove.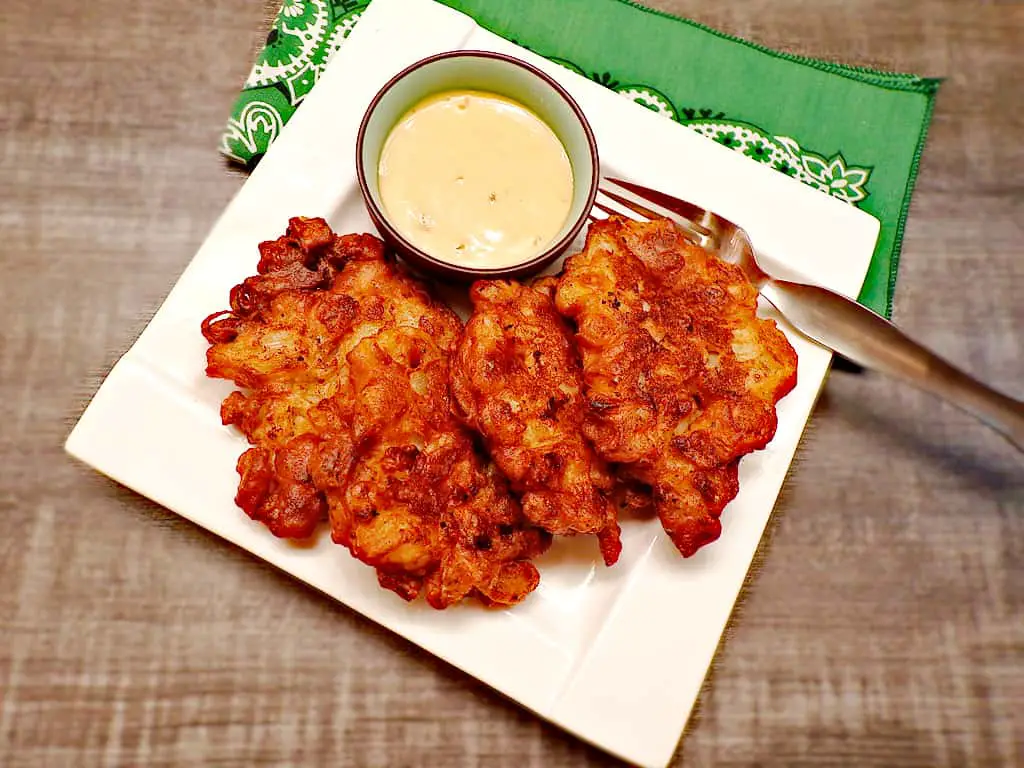 A few other recipes you may enjoy to dip in!
As always, please let me know how you like this recipe in the comments! I get motivated when I hear from you and am interested to learn about how you liked and served your Low Sodium Onion Fritter. And please leave a comment or rating and share any tips you might have.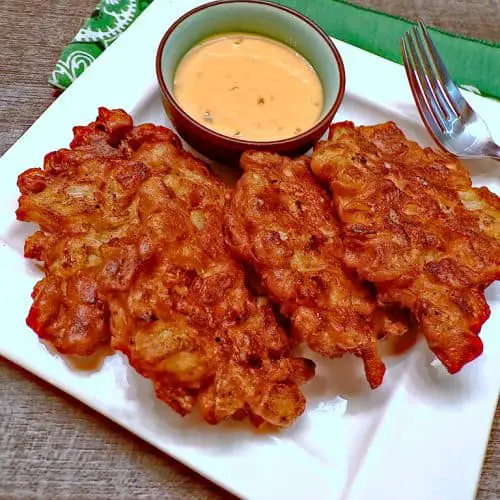 Low Sodium Onion Fritters
Crunchy Low Sodium Onion Fritters taste like a bloomin onion and are even easier to make than onion rings. The spices are the secret to the Zing!
Ingredients  
3/4

cup

flour

1

Tbsp

sugar

2

Tbsp

cornmeal

1

tsp

garam masala spice

1

tsp

ground black pepper

1

tsp

red chili pepper

3/4

cup

milk

2 1/2

cup

chopped onions about 4 medium

oil for frying

I like peanut oil
Instructions 
Mix together dry ingredients.

Add milk and stir.

Batter will be rather thick.

Add onions and mix thoroughly.

Heat about 1/2 inch oil in skillet over medium high heat.

Drop batter by tablespoons in hot oil and flatten slightly, brown on both sides until nice and crisp.

Drain on paper towels.
Nutrition
https://tastyhealthyheartrecipes.com/a-la-cart/appetizers-sides-snacks/easy-low-sodium-onion-fritters/
Nutrition Information – The information shown is provided by an online nutrition calculator. It should not be substituted for a doctors or nutritionist's advice. Please understand that not everyone's sodium requirements are the same, therefore some recipes may be higher than you're allowed. Always consult with your doctor for your recommended daily sodium allowance.