This is a wonderful tasting and smelling Low-Sodium Spaghetti Sauce that blows out the amount of sodium in jar of store-bought sauce or traditional recipes. So you won't miss out enjoying this classic Italian meal. This is an easy recipe that really doesn't take much longer to make than to heat up jarred spaghetti sauce in a pan. One of the things I love about this meal is you can make single batch or just as easily make a large batch. Then freeze in portions and reheat them later for an even quicker meal.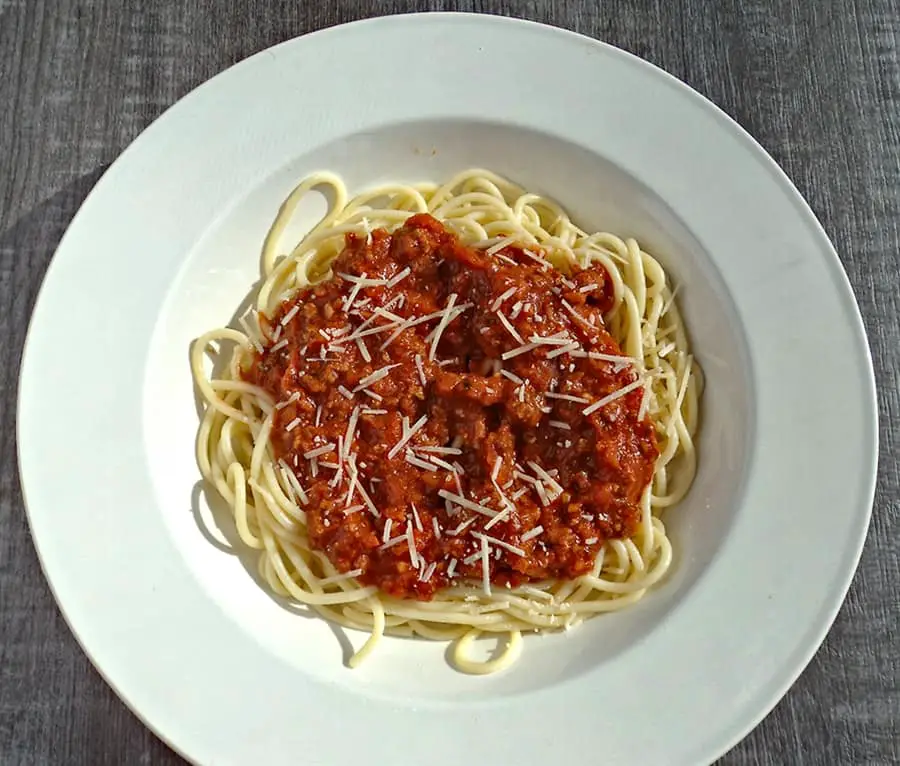 Typical sodium amount per serving per

1/2 cup

500+ mg

Sodium per serving for this recipe per cup

88 mg

Calories per serving

230
*Note: My recipe is 88 mg of sodium per cup! Jarred sauces are 440+ per half cup.*
Sodium in spaghetti sauce
Spaghetti sauce is among the worst offenders of canned or jarred foods that we use, containing high amounts of sodium. Most name brands seem to average around 470 mg of sodium per 1/2 cup serving and some homemade recipes reach almost 900 mg! After having some form of spaghetti about once a week in the past I didn't want to give up the mainstay of Italian spaghetti sauce and noodles. This is my version of spaghetti sauce that allows you to enjoy the Italian staple without all the sodium at just 88mg per 1 whole cup!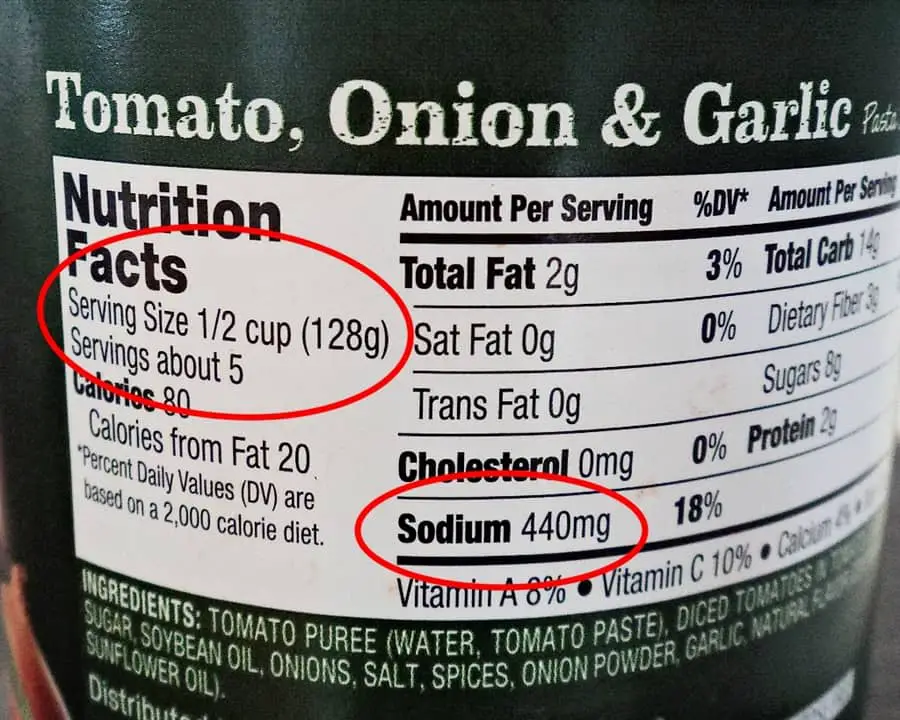 How to make low sodium spaghetti sauce
First start browning the beef and chop up the ground beef finely as it cooks. While that is initially cooking chop up the onion and add to the beef when it's almost finished. I like to chop up my onion finely for this sauce and using this Slap Chopper from Amazon makes it quick and easy. Then while those both finish cooking you can measure out the rest of the ingredients. I personally like to let the hamburger and onion really brown up; it will soften when simmering in the sauce later. Then add the garlic in for about the last minute of cooking. Both things I think add even more flavor.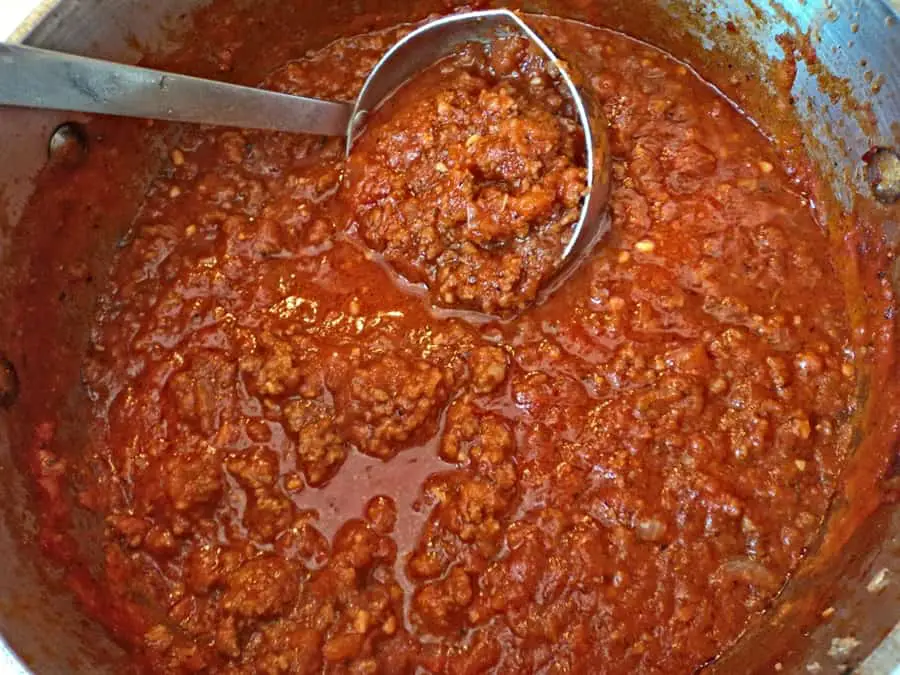 Then, add the tomato sauce, tomato paste, seasonings, and sugar and bring the mixture to a light boil for a minute. Be careful of bubbling splatters! Add water, cover pot and turn heat down to a low simmer for 30 minutes or longer, to really bring out the flavor. The longer you simmer it, the more the flavors will blend together and intensify. Also the longer it simmers the thicker it will be. If it gets to thick just add a little more water.
My tips for the best low sodium pasta sauce
Since spaghetti is America's and one of my favorite foods I've learned a few tips over time while continually trying to make the perfect sauce.  
Don't initially cook the beef all in one thin layer and turn it constantly. Instead add it in large clumps, let the bottom really sear and brown. Then you can start to really chop it up and it breaks down more easily.
While any no salt added tomato sauce will work using no salt added Muir Glen fire roasted tomatoes really makes it extra mouthwatering. Just puree in your food processor to make it into a low sodium tomato sauce.  Trust me it's worth it!
Don't be shy adding onion and garlic. These two really add to the majority of the flavor here.
Allow time to simmer and let the flavors come together and work its magic.  It will also allow time for the sauce to reduce and thicken a bit.  Just add a touch of water if it gets to thick.
This homemade low sodium spaghetti sauce recipe can be easily made ahead of time and in large batches. You can then separate into serving portions and freeze for a quick meal in the future. Before freezing spaghetti sauce, allow the mixture to cool completely. It can be stored frozen for up to 4-6 months. To use, simply place frozen sauce in a pot and reheat on the stove until warm. Highly recommended.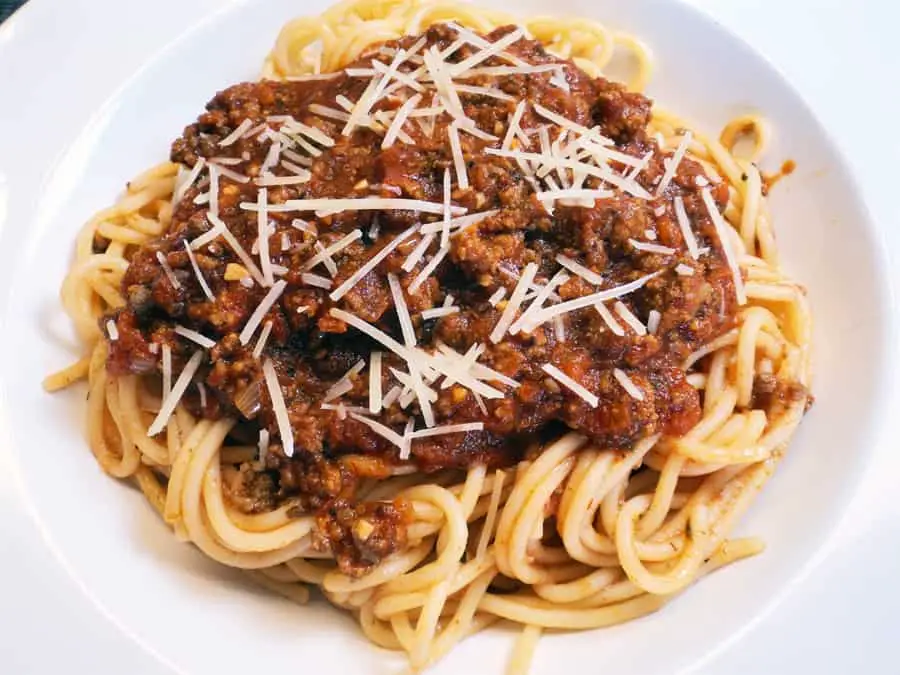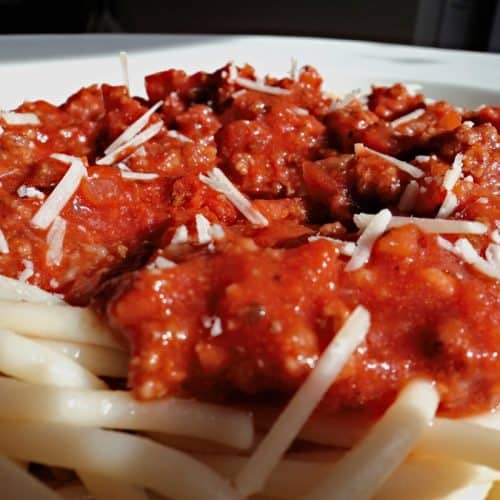 Homemade Low Sodium Spaghetti Sauce
Thanks to this easy Homemade Low Sodium Spaghetti Sauce recipe you'll by-pass the high sodium of a jar of store-bought spaghetti sauce. And it tastes so much better!
Ingredients  
1

pound

lean 90% ground beef

Optional if you just want sauce

1

large onion

finely chopped

2

Tbsp

pre-minced garlic

1

can

15 oz. no salt added tomato sauce

Hunts

1

can

6 oz. no salt added tomato paste

1

tsp

Italian seasoning salt free spice

1

Tbsp

dried parsley flakes

1

tsp

garlic powder

1

tsp

crushed red pepper flakes or to taste

1

tsp

ground black pepper

1/2

tsp

ground fennel

1

tsp

liquid smoke

1

Tbsp

olive oil

1

Tbsp

balsamic vinegar

1

Tbsp

brown sugar

1 1/4

cup

water

spaghetti noodles as desired

for when serving
Instructions 
In a large preheated skillet, add the beef and brown while chopping to crumbles. Drain any excess grease. Add chopped garlic and onion cooking 2-3 minutes more.

In a large pot add tomato sauce, tomato paste, Italian seasoning, parsley, garlic powder, crushed red pepper, black pepper, ground fennel, liquid smoke, brown sugar, water, oil, balsamic vinegar and stir well over low heat. Add beef, onions and garlic when finished to pot.

Stir well to combine and bring to a light boil for 1-2 minutes. Stir lightly to avoid excess spatter.

Reduce heat to low simmer for 30 minutes. Stirring occasionally taste and adjust as desired.
Notes
Recipe makes about 5 one cup servings
For extra great taste use Muir Glen no salt added Fire Roasted Tomatoes finely pureed.
This sauce also tastes great when used as pizza topping or in lasagna.
Note nutrition data reflects information for sauce only.  Spaghetti noodles typically have no measurable sodium.
Nutrition
Serving:
1
cup
Calories:
230
kcal
Carbohydrates:
13.4
g
Protein:
20.9
g
Fat:
10.3
g
Saturated Fat:
3.3
g
Cholesterol:
55
mg
Sodium:
88
mg
Fiber:
2.7
g
Sugar:
6.5
g
https://tastyhealthyheartrecipes.com/a-la-cart/sauces-dips-spices/low-sodium-spaghetti-sauce-meaty/
Nutrition Information – The information shown is provided by an online nutrition calculator. It should not be substituted for a doctors or nutritionist's advice. Please understand that not everyone's sodium requirements are the same, therefore some recipes may be higher than you're allowed. Always consult with your doctor for your recommended daily sodium allowance.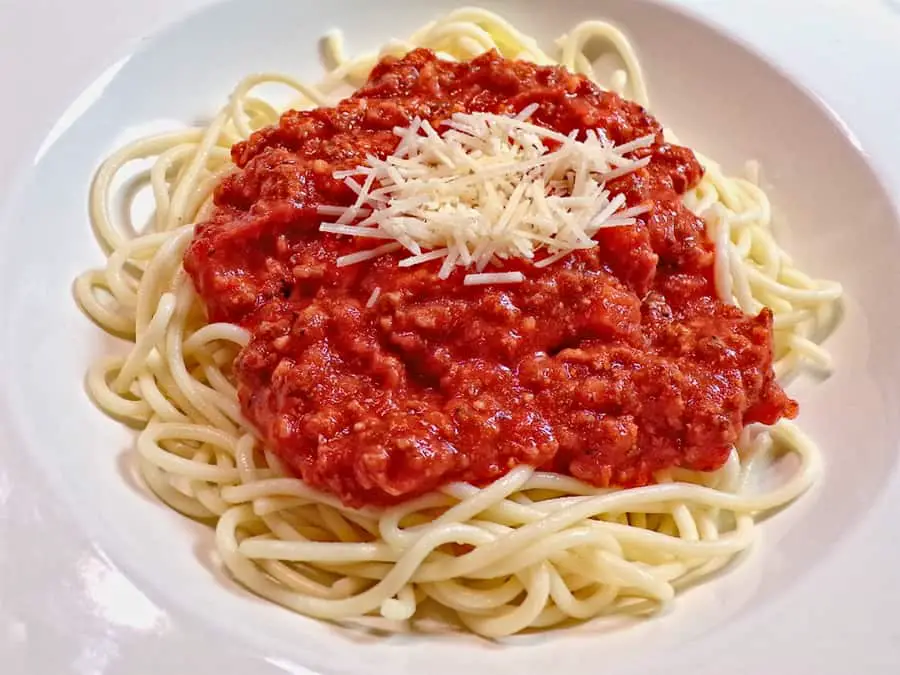 As always, please let me know how you like this recipe in the comments! I get motivated when I hear from you and am interested to learn about how you liked and served this Low Sodium Spaghetti Sauce recipe. And please leave a comment or rating and share any tips you might have.