This creamy, garlicy, lemon tanged homemade Low Sodium Hummus is a Mid-East favorite and will quickly become your new healthy dip. With so many things to use it with such as a dip, garnish, sandwich spread, you're limited only to your imagination. Check out the list at the end of what to serve it with to get started on ideas. Store bought hummus can be high in sodium, so I needed a low sodium hummus. With my recipe and just a few ingredients it can be made with very low sodium!
| | |
| --- | --- |
| Typical sodium per serving = 2 Tbsp | 130+ mg |
| Sodium per serving for this recipe = 2 Tbsp | 34 mg |
| Sodium total for this recipe = 2 cups | 476 mg |
| Calories per serving | 74 |
For being an otherwise healthy dip hummus is unfortunately high sodium. Most store bought hummus averages around 130 mg of sodium per two tablespoons.  Your sodium budget could quickly spiral out of control if you slather all over like me.
This recipe brings it down to 34 mg per two tablespoons. Or you could reduce it down to 6 mg per serving if you soak and boil your own raw beans or use a no salt added canned beans. Which: 1.) For a dip, cooking raw beans doesn't interest me. And: 2.) No-salt added beans (so far) are not carried in my local store. 
So I settled for a brand that has 120 mg of sodium even though it doesn't advertise any sodium reduction on the label.  You'll have to check your local store.
SODIUM LEVELS IN CHICKPEAS?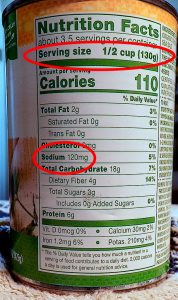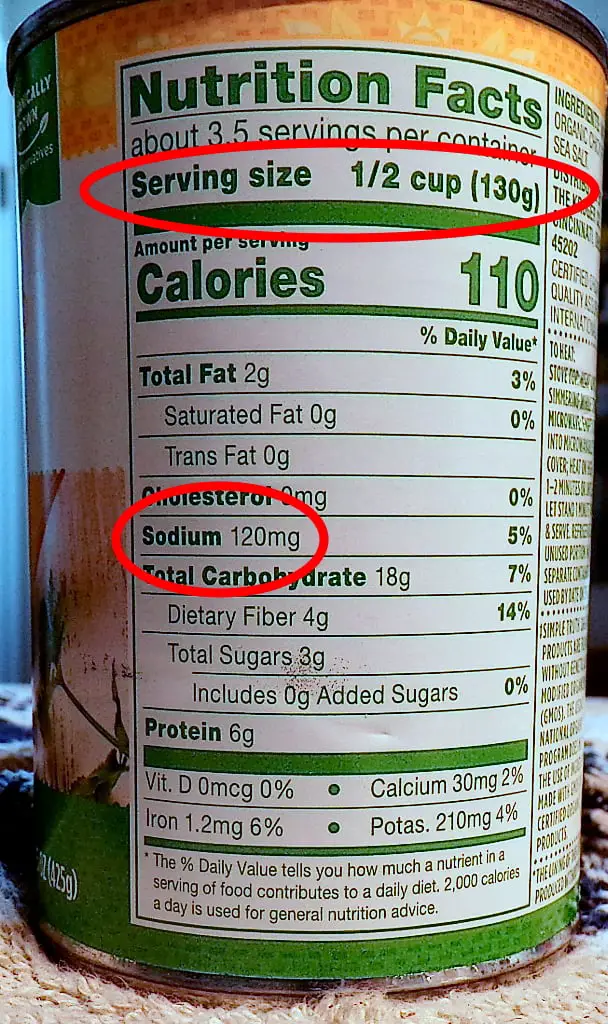 Sodium levels vary widely in the choice of chickpeas available. Here are some average typical sodium levels of fresh and canned chickpeas sodium levels for a serving size of 1/2 cup.
Raw chickpeas boiled without salt…..6 mg
Canned chickpeas no salt added…..30 mg 
(Not available near me, may be ordered)
Simple Organic Truth canned……..120 mg 


(What I used from Kroger)

Canned chickpeas reduced salt….240 mg
Canned chickpeas standard………480 mg
*Note: when beans are drained and rinsed a 30-40% reduction in sodium level may be attained.

WHAT EXACTLY IS HUMMUS?
Hummus is a dip or spread made primarily from cooked, mashed chickpeas. It is immensely popular in the Middle East and Mediterranean culture. There are only a few ingredients: chickpeas (garbanzo beans), garlic, lemon juice, tahini, cumin, and olive oil.
Tahini is mostly pureed sesame seeds in sesame oil that almost has a peanut buttery taste. Chickpeas contain fiber, iron and potassium a good source of protein and they're cholesterol and gluten free. With just these few ingredients Low-Sodium Hummus is a breeze to blend up.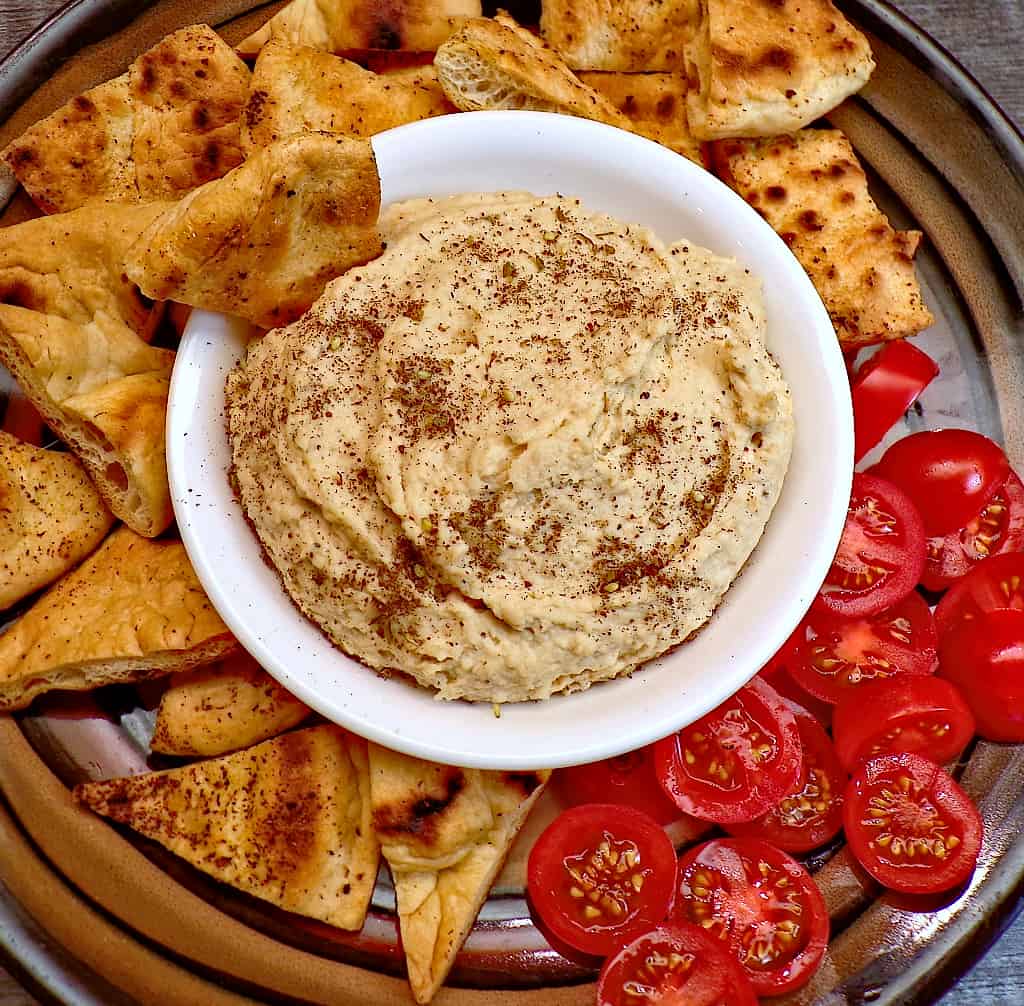 MY TIPS FOR MAKING THE BEST FLAVORFUL LOW SODIUM HUMMUS
You actually want mushy chickpeas
To get a smooth and wonderfully creamy hummus you need mushy beans to avoid a thick gritty texture. Cook canned or leftover cooked chickpeas until they are almost mushy and easily pinched between two fingers. This will take about 20-30 minutes, during which you can prepare the garlic and lemon and let rest. (See below). The chickpeas are ready to go after a quick rinse and cool down under cool running water.
Use fresh-squeezed lemon juice
Buy lemons and your humus will taste fresh and delicious. Add any additional lemon juice after tasting to the processed hummus for any extra flavor before you plate it, for a tang factor that you desire.
Use fresh garlic
I usually use pre-minced garlic when I am cooking with heat and will be mixed in with many other ingredients.  But when using uncooked garlic I think it is essential to use fresh when combined with so few ingredients. In this instance the garlic will be pureed in the processor and takes very little time or mess.  Just be sure to cut the tips off.
Mellow the garlic in lemon juice
While roasted garlic makes for the best tasting garlic in the interest of time you can mellow the garlic in the lemon juice. Mince the garlic in the food processor with the lemon juice and let that mixture sit for a few minutes before adding the other ingredients. The acid of the lemon reacts with garlic and the garlic will lose its harsh, raw bite or "mellow".
MAKE FLAVORED LOW SODIUM HUMMUS WITH GARNISH
Now that you have the base hummus you can have it plain or add many different flavors to it. You can mix it up with either added ingredients like sundried tomatoes or roasted red peppers, crushed red pepper flakes, toasted sesame seeds, a drizzle of herbed olive oil or you can add your favorite spice blends and mix them in or sprinkle on top. I personally like smoked paprika or no salt Za'atar sprinkled on top. Experiment and see what you like!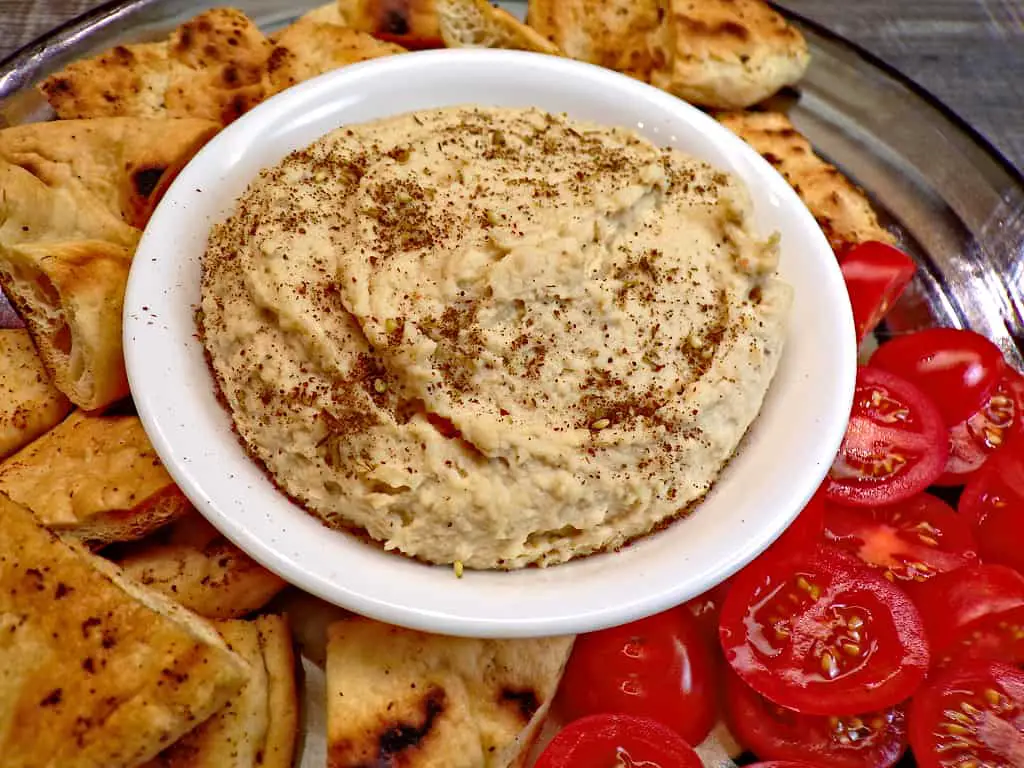 10 SIMPLE IDEAS OF WHAT TO SERVE HUMMUS WITH
Hummus will go great with:
Sandwich spread with almost any meat (Hamburger? Yummy!)
Over chicken breast or pork chops
Any low sodium crackers
Low or no salt tortilla chips
Cut vegetables
As a garnish on baked or mashed potato
Toast, hummus and fried egg
Or my favorite of course my low sodium pita bread or toasted pita triangles!
A few other recipes you may enjoy!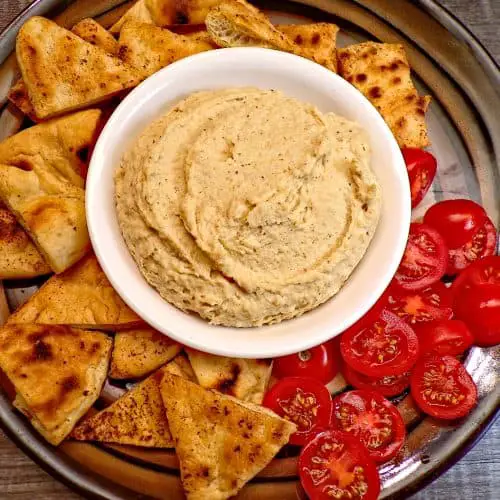 Homemade Low Sodium Hummus
This Mediterranean style Low Sodium Hummus recipe is a great, heart healthy snack made with beans, garlic, lemon and Tahini. For dips and spreads sandwiches.
Ingredients  
1

can

15 oz. chickpeas, rinsed and drained,

15 oz. =1 ½ cups

¼

cup

fresh lemon juice

from 1 lemon, more to taste

3

medium clove garlic

rough chop cut tips off

1/2

tsp

Mrs. Dash Table Blend

1/2

cup

tahini

2 to 4

Tbsp

ice water

more as needed

1/2

tsp

ground cumin

1

Tbsp

extra-virgin olive oil
Instructions 
Place the drained and rinsed chickpeas in a medium saucepan and cover the chickpeas with several inches of water, then bring the mixture to a boil over high heat. Reducing heat a bit if needed to a low boil to prevent boil over, for about 20 minutes. Until the chickpeas look bloated maybe bursting and they're quite mushy. Using a strainer, drain the chickpeas and run cool water over them till cooled. Let drain.

Meanwhile, in a food processor, combine the lemon juice and garlic. Process until the garlic is very finely chopped, then let the mixture rest so the garlic flavor can mellow, ideally while the beans are cooking.

Add the tahini and 2 tablespoons ice water to the food processor and blend until the mixture is smooth and creamy, stopping to scrape down any tahini stuck to the sides and bottom of the processor as necessary. And more water in the next step if needed for creaminess.

Add the cumin, Mrs. Dash Table Blend and drained chickpeas to the food processor. While blending, slowly drizzle in the olive oil. Blend until the mixture is super smooth, scraping down the sides as necessary, for about 2 minutes. Don't worry it's hard to over blend. Add more ice water by the tablespoon if necessary to achieve a really creamy texture.

Taste, and adjust as necessary—lemon, cumin, Mrs. Dash, olive oil for creamy richness.

Spatula the hummus into a serving bowl and top with a garnish of your choice if desired, and serve.

Hummus keeps in the refrigerator, tightly covered, for up to 1 week.
Notes
I like to serve and eat hummus at room temperature.
One 15-ounce can of drained canned beans equals 1 1/2 cups of drained cooked dried beans.
Drained and rinsed beans reduce sodium generally by 30-40%.
Nutrition
Serving:
2
Tbsp
Calories:
74
kcal
Carbohydrates:
4.7
g
Protein:
2.2
g
Fat:
5.8
g
Sodium:
34
mg
Fiber:
0.9
g
Sugar:
1.2
g
Calcium:
38
mg
Iron:
1
mg
https://tastyhealthyheartrecipes.com/a-la-cart/sauces-dips-spices/low-sodium-hummus-homemade/
Nutrition Information – The information shown is provided by an online nutrition calculator. It should not be substituted for a doctors or nutritionist's advice. Please understand that not everyone's sodium requirements are the same, therefore some recipes may be higher than you're allowed. Always consult with your doctor for your recommended daily sodium allowance.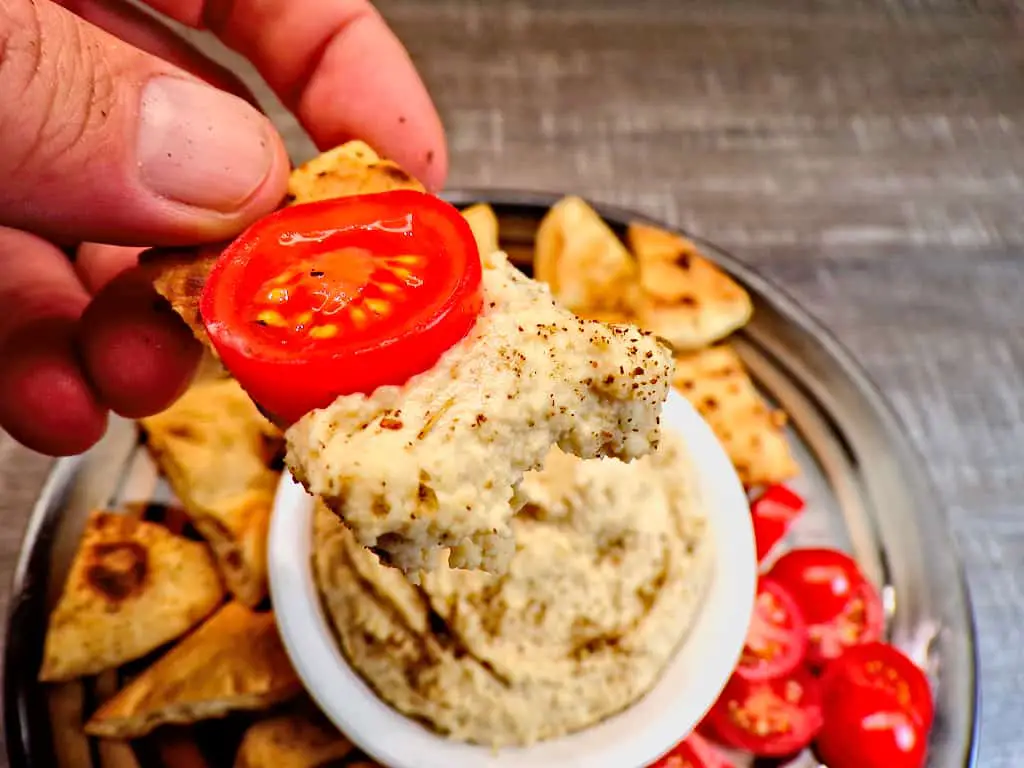 As always, please let me know how you like this recipe in the comments! I get motivated when I hear from you and am interested to learn about how you liked and served your Low-Sodium Hummus dip. And please leave a comment or rating and share any tips you might have.