Low Sodium Cream of Chicken soup is a must to make to stay within our sodium limits for a low sodium diet. Many recipes from soups, casseroles and other dishes use it as a base for the recipe. The great thing about this recipe is it is so easy to make from just a few basic ingredients. And if you're making a quick soup just add some diced chicken, celery and carrots and your favorite no salt seasonings. This recipe comes together in just a few minutes and you can ditch loads of sodium.
If you would like to have a mushroom condensed soup be sure to see my Low Sodium Cream of Mushroom for your casseroles or other recipes!
| | |
| --- | --- |
| Typical sodium amount per serving from canned | 870 mg |
| Sodium per serving for this recipe | 44 mg |
| Calories per serving | 217 |
Sodium in Canned Cream of Chicken
The famous name brand cream of chicken soup I looked at is loaded with sodium at nearly 870 mg per ½ cup. And since most recipes call for an entire can that's adding 4350 mg of sodium to your recipe from just one can!! Sometimes you just have to shake your head as you wonder why there is so much sodium in our canned foods. With this Low Sodium Cream of Chicken condensed soup having just 44 mg of sodium you no longer have to avoid all the wonderful casseroles and soups. Being able to use this recipe as base ingredient called for in so many other recipes opens up a wide range of possibilities that were shut out when using condensed cream of chicken.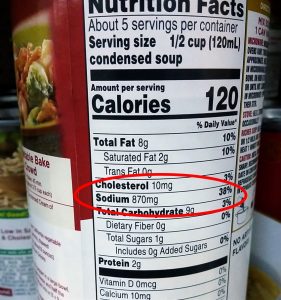 There are two ways to make you low sodium condensed cream of chicken. One is by making a roux which is cooking butter and flour for you thickener. This is the way I make it as I think it adds a fuller richer flavor. But if you're watching fat consumption also, you can replace the butter with olive oil for a healthier fat content. Or for the least amount of fat, just leave the butter out. Then add the flour to the liquids and cook as described. I have always made it with the butter though because I prefer a richer fuller soup. 
Homemade Chicken Stock
Just as a tip, lately when I cook plain chicken breasts in my Instant Pot, I will add 2 or 3 more cups of water along with the chicken and seasonings. It makes a wonderful fresh no sodium chicken broth. I'll then pour off the liquid into a liter bottle and store in the fridge after it has cooled. When making the recipe you can punch up the chicken broth flavor with Herb Ox chicken bouillon sodium free, start with teaspoon then add to taste. It is not carried in my local stores, so I get it on Amazon and is well worth it. Both the beef and chicken flavors with no sodium are available.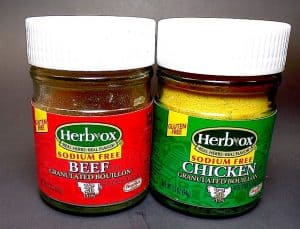 Storing Your Low Sodium Cream of Chicken
Sometimes when I make this I'll make a larger batch when I know I will be making a few meals requiring it in the future. I then pour the soup into a large muffin tin and then freeze it. When frozen simply pop them out and put them into a Ziploc bag and put them back in the freezer.
Then you can put it in a pot on low to thaw and warm it up. It may separate a little but just stir it back up a bit and Walah! You can then use it as a soup or incorporate into another dish.
---
A few other great dishes to enjoy!
As always, please let me know how you like this recipe in the comments! I get motivated when I hear from you and am interested to learn about how you liked and served your Low Sodium Cream of Chicken condensed soup. And please leave a comment or rating and share any tips you might have.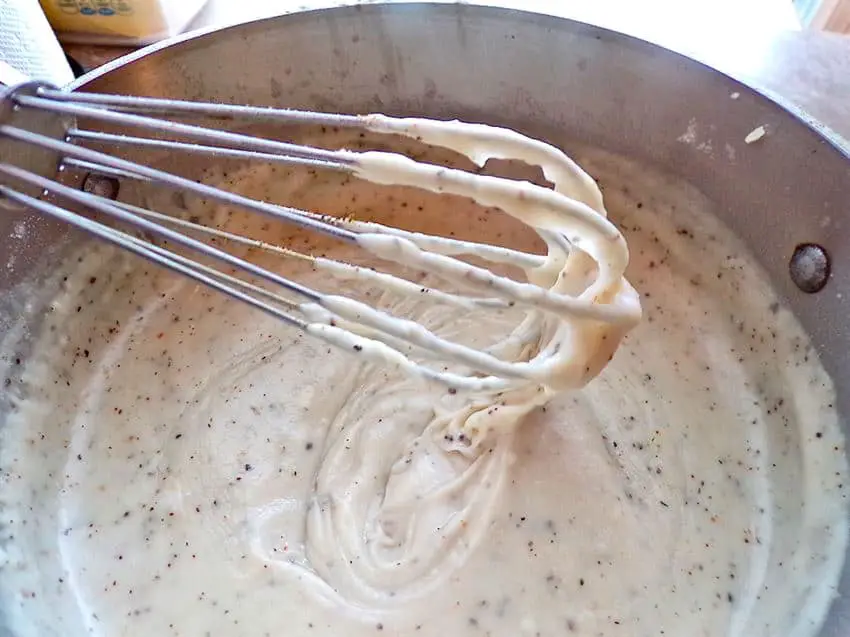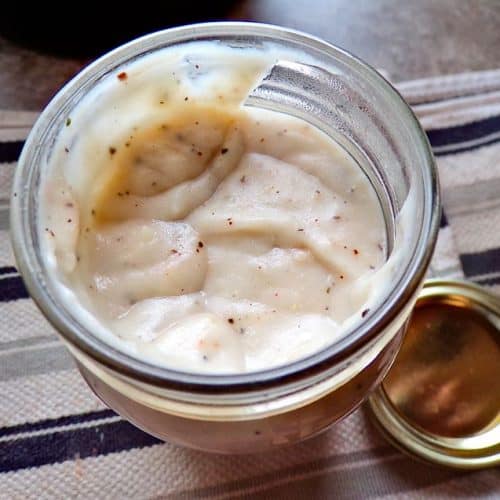 Low Sodium Cream of Chicken
Save multiple hundreds of your sodium budget with this simple Low Sodium Cream of Chicken soup. Which also serves as a essential base for numerous other recipes.
Ingredients  
6

Tbsp

butter no salt added

9

Tbsp

all purpose flour

1 1/2

cups

chicken stock no salt added

1 1/2

cup

milk

I used 2%

1

tsp

Mrs. Dash Table Blend

1 1/2

tsp

garlic powder

1

tsp

freshly-ground black pepper

1/2

tsp

onion powder

1/2

tsp

celery seed

optional
Instructions 
In a medium sauce pan, melt butter over medium heat.

Add flour to the pan, and whisk together to making a roux (about 2 minutes) it should turn lightly brown.

Add the chicken broth and milk, and whisk together till lumps are gone.

Stir in garlic powder, onion powder, celery seed, pepper, Mrs. Dash Table Blend, Herb Ox chicken bouillon sodium free

Bring to a simmer and continue cooking and slow stir until mixture thickens, about 2 to 3 minutes.

Remove from heat and use as base for another recipe, a soup, or store after cooled.
Notes
Use the condensed soup base in your a recipe immediately or;
Store in airtight container in the refrigerator for up to 1 week.
Freeze portions in muffin tin, remove portions then store in Ziploc bag in freezer
Nutrition
https://tastyhealthyheartrecipes.com/a-la-cart/soups/low-sodium-cream-of-chicken-condensed/
Nutrition Information – The information shown is provided by an online nutrition calculator. It should not be substituted for a doctors or nutritionist's advice. Please understand that not everyone's sodium requirements are the same, therefore some recipes may be higher than you're allowed. Always consult with your doctor for your recommended daily sodium allowance.