This delicious low sodium meatballs and gravy meal is an easy way to enjoy a savory classic comfort food.  Filled with lots of spices and flavor the sodium is not missed at all.  This also makes an excellent base recipe for many other recipes like spaghetti and meatballs to the quintessential meatball sandwich.
LOW SODIUM MEATBALLS AND GRAVY
Sodium Total  714 mg   –   Sodium / Serving 119 mg   –   Calories / Serving  282
Information for meatballs and gravy only
Most meatball and gravy recipes are pushing 700+mg of sodium per serving.  Like usual I like to try and get a whole meal at the very least below 250 mg.  The great thing about meatballs, and meatloaf too, is it's so easy to add so many different flavors without missing the sodium.  So don't be afraid to test lots of new flavors that may be out of your comfort zone, including these spiced meatballs. 
With these tender and juicy insides perfectly browned little nuggets it's amazing how many different ways there are to serve up meatballs. But one of my favorites is when they're smothered in rich savory gravy that's so good. With this recipe I served them on Spaetzle, which is a German egg noodle, primarily because I wanted to use up an opened bag.  All things considered though I think they pair best on slippery flat wide egg noodles.  But any noodle or rice will work for amazing low sodium meatballs and gravy.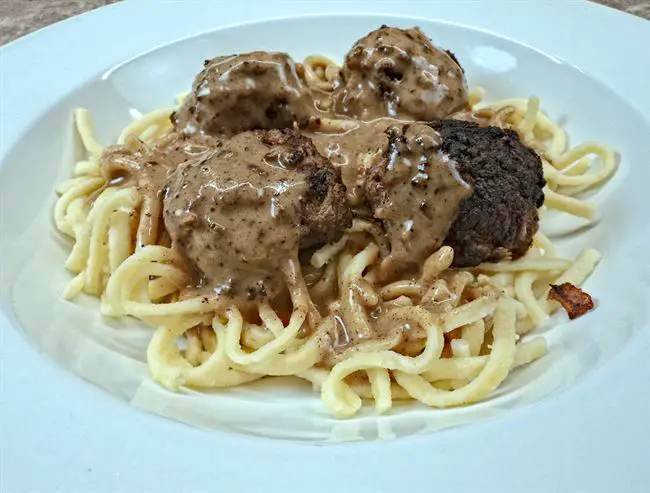 MAKING THE MEATBALLS
The key to these simple flavorful low sodium meatballs are the onions and just a few spices. By sautéing the onion in a bit of butter it brings out the flavor and cooks off some of that liquid that the onion holds. In addition to more flavor it avoids adding too much moisture in the meatball and making soggy meatballs.
These are meatballs not meatloaf, so I don't use too much bread binder in my meatball recipes because it doesn't add anything to the actual meaty part of its namesake. Since meatballs are usually combined with additional elements to the meal it should have a meaty taste. All you really need is just the egg and cornstarch called for.
Once the onions are cooled and mixed with the spices and meat then formed into balls you'll sear them on a really hot skillet until all the sides nicely browned, which requires several turns. We are just browning the outside at this point not cooking through. This will hold all the juices inside the meatball, keeping it moist, while giving a hearty browning to the outside. They will cook all the way through when simmered in the gravy at the end, so don't worry.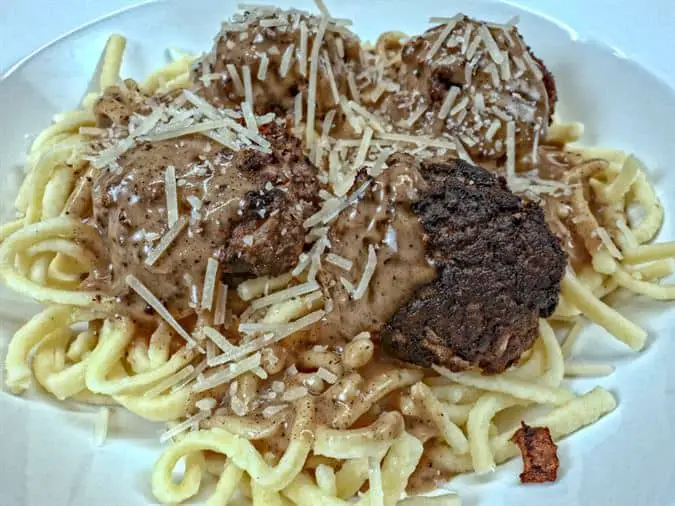 TIPS FOR YOUR LOW SODIUM MEATBALLS AND GRAVY
If you have time it's best to let meat mixture rest in the fridge 30 min to overnight. This helps the flavors permeate the meat and the meatballs easier to form.
For me the perfect size meatball is one that you cut in half, when eating, making a mouth size bite while still allowing room on the fork for spaghetti or mashed potato to be devoured along with it!
Don't wash the pan or scrape it yet after you've cooked the spiced meatballs.  Dab or pour off any grease carefully.  All those sticky bits on the pan equal lots of additional flavor for the gravy.
If need be cook the meatballs in batches and don't overcrowd the pan.  There will be too much steam and it'll keep them from browning nicely because the liquid won't be able to cook off as quickly.
MAKE EXTRA MEATBALLS
Double the recipe and serve them with egg noodles for your dinner and then again a couple of days later and rotate them in with a tomato based spaghetti or mashed potatoes. These make the perfect leftovers.
After making the meatballs you can freeze them or refrigerate 5-7 days. You can reheat the meatballs in the microwave, or they can also be reheated right in a pot of spaghetti sauce. The best thing about making them is that you can reach in the freezer, pull a few out for a meal or snack in literally a couple minutes.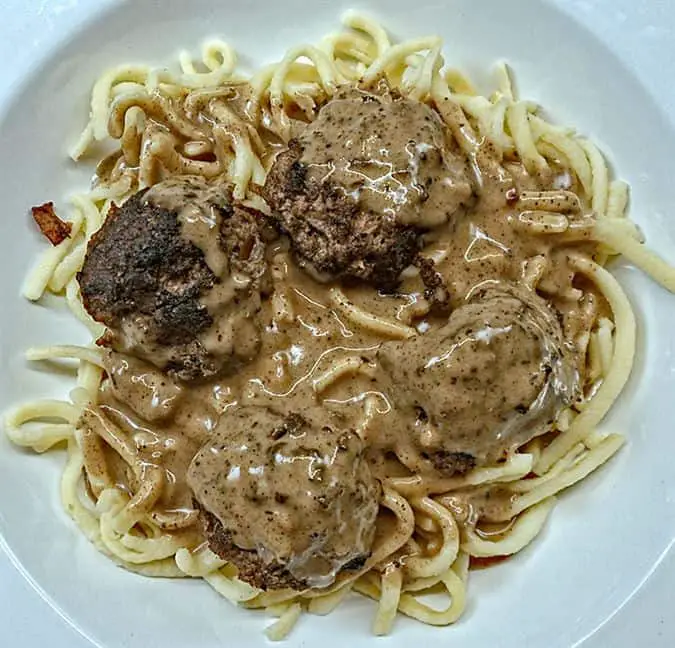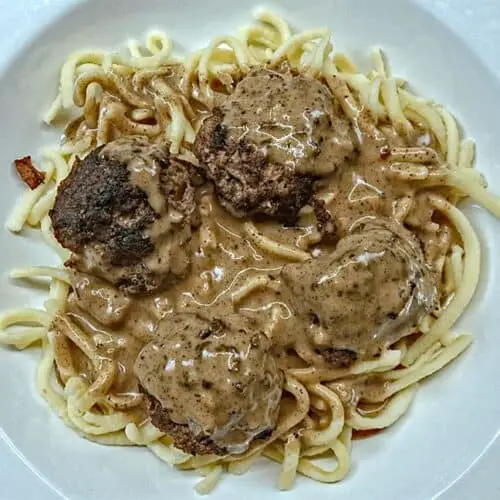 Low Sodium Meatballs and Gravy
Ultimate savory comfort food – low sodium meatballs and gravy recipe that is easy and adaptable to many meatball recipes.
Ingredients  
For the Meatballs
1-1/2

pounds

lean ground beef

90% lean

1

egg

1/2

cup

milk

1 1/2

Tbsp

cornstarch

1

medium yellow onion

finely chopped

1/4

tsp

ground nutmeg

1/2

tsp

ground allspice

1/4

tsp

ground ginger

1

tsp

yellow mustard dried

1

tsp

black pepper

3

Tbsp

olive oil spray
For the Gravy
2

Tbsp

butter no salt added

4

Tbsp

all-purpose flour

add more if required

1

cup

milk

1 1/2

cup

beef broth no salt added

1

Tbsp

pre-diced garlic

pepper to taste
Instructions 
In a large mixing bowl, beat the egg and milk together, then whisk in cornstarch, onion, yellow mustard, pepper, nutmeg, allspice and ginger. Add beef and mix well by hand.

Form and roll into golf ball size meatballs. Mixture will be soft due to less binder. Don't worry if balls flatten somewhat.

Pre- heat a large iron skillet over medium high heat, coat the pan with olive oil spray and brown the meatballs. Don't overcrowd and only do half at a time, for about 10 minutes or until all sides are nicely browned. Remove meatballs to paper towels to drain. Carefully drain off any excessive grease from the skillet retaining the flavor bits.

For gravy, add butter to remaining drippings. Then stir and work in flour. Add no salt added beef broth, garlic, bouillon and milk. Bring to a low boil and stir for 2 minutes or until thickened. Return meatballs to skillet; heat through on low.

Double the meatball recipe for extra leftover that can be frozen.

Serve on noodles, rice or mashed potatoes.
Notes
Serve on noodles, rice or mashed potatoes.
Nutrition information is for meatballs and gravy only.
Nutrition
https://tastyhealthyheartrecipes.com/main-dishes/entrees/low-sodium-meatballs-and-gravy/
Nutrition Information – The information shown is provided by an online nutrition calculator. It should not be substituted for a doctors or nutritionist's advice. Please understand that not everyone's sodium requirements are the same, therefore some recipes may be higher than you're allowed. Always consult with your doctor for your recommended daily sodium allowance.
A few other recipes you may like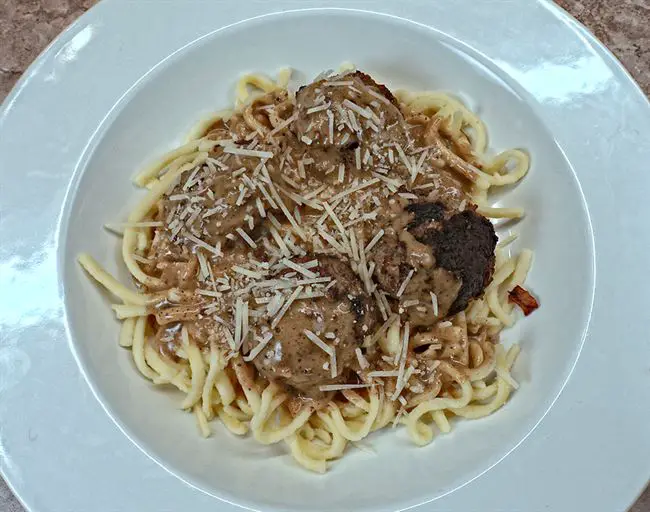 As always, please let me know how you like this recipe in the comments!
I get motivated when I hear from you and am interested to learn about how you liked and served your low sodium meatballs and gravy. And please leave a comment or rating and share any tips you might have.