Making a Low Sodium Blueberry Muffin was essential since when I do make muffins you can bet they will have blueberries in them. They still deliver that extra buttery, moist and soft coffee shop type muffin you are craving. With some fresh blueberries and basic baking ingredients, you can make this easy breakfast or dessert recipe.  
Sodium in blueberry muffins
Just one basic store-bought muffin can be up to 370mg of sodium! And it's hard telling what a bakery or coffee shop muffin might be up to.
| | |
| --- | --- |
| Typical sodium amount per serving | 370mg |
| Sodium per for jumbo muffin | 52mg |
| Sodium per for regular muffin | 26mg |
| Calories per serving | 537 |
sodium per muffin size
Most average recipes are listed at 160-250mg of sodium per muffin. Though looking at the ingredients lists I would say that number is still on the low side.
These low sodium blueberry muffins have only 52mg of sodium for the jumbo size and 26mg for the regular muffin size. Much, much lower, though there is still a lot of sugar and fat content. So that would need to be considered in your choices or portion sizes.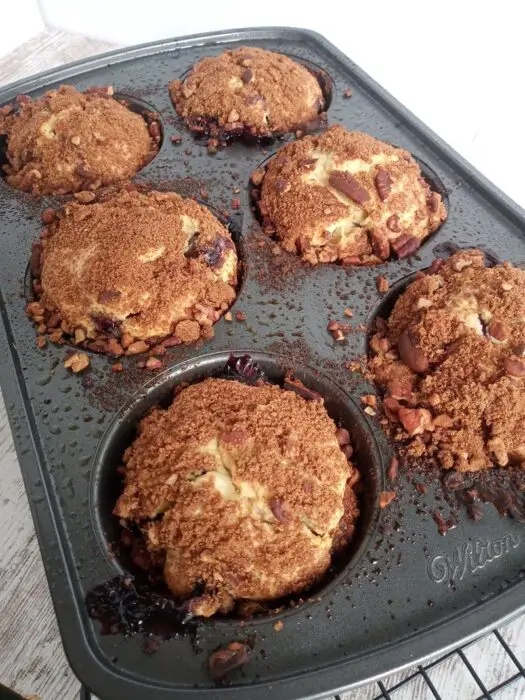 A crunchy, crumbly cinnamon streusel
I had been under the impression that streusel was a topping that more resembled an icing type topping. But, it turns out that it has been one of my favorite types of topping for muffins all along, I just didn't know it.
Streusel is a crumbly topping or filling that is commonly made from fat, flour, sugar, and often cinnamon.
I left out the extra butter and added some pecans (or walnuts) in the brown sugar and cinnamon to make my streusel. Once I sprinkled over the muffin I gently tapped it into the surface of the batter to adhere.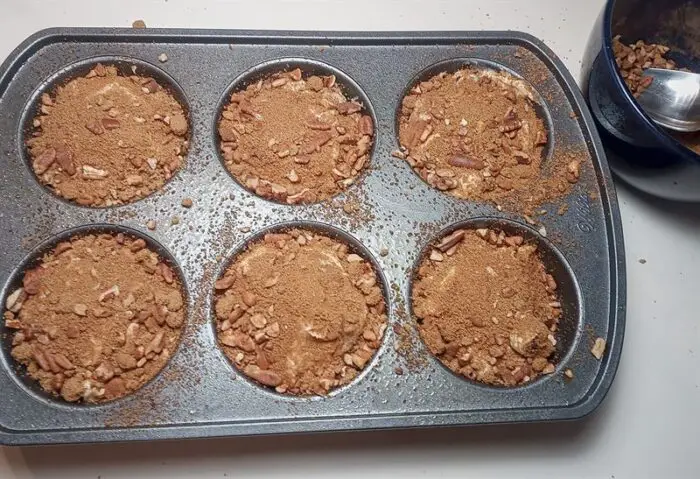 They came out perfect, still have a crunchy brown sugar streusel topping without the added fat!
Fresh or frozen blueberries?
It really doesn't matter much whether your berries are frozen or fresh. If using frozen berries don't defrost them first before stirring into the batter. Otherwise, they tend to just get wet and sloppy besides, they are apt to turn your batter blue. In this case, I believe fresh is best!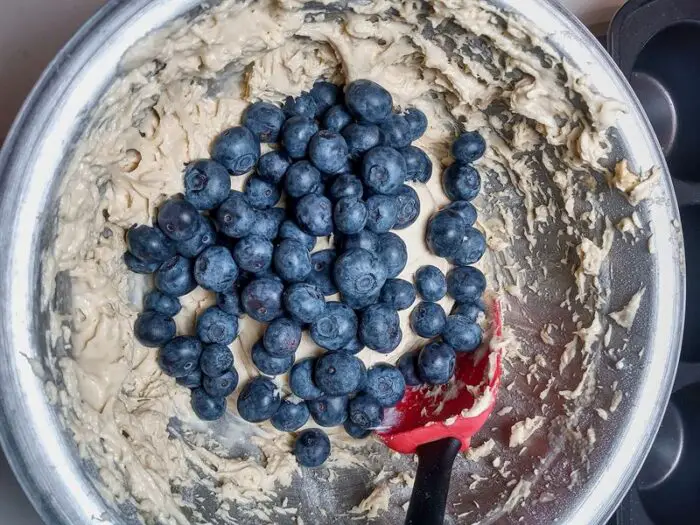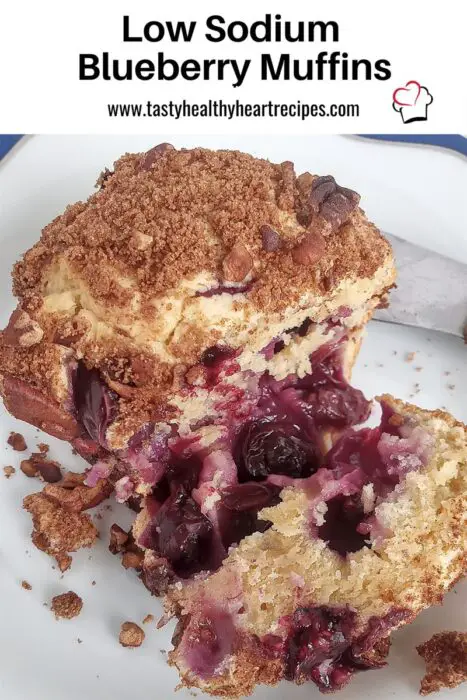 Tips for tall muffin tops that pop!
For big coffee shop style muffin tops, there are a few easy things to do and follow:
Your muffin batter should be thick and sticky when finished mixed.
Evenly fill your muffin pan pockets all the way to the top as much as you can.
Bake the muffins for 5 minutes at an initial high temperature of 425°F for 5 minutes, and then reduce to 350°F for the remainder of the cooking time. A high oven temperature will quickly lift up the muffin top and when the temperature is lowered, the centers of the muffins will finish baking.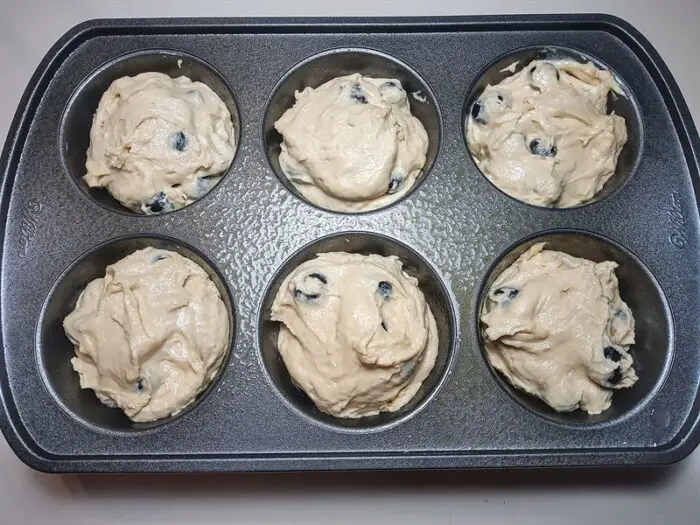 Be sure ingredients are at room temperature. When eggs, butter, and other dairy ingredients are at room temperature, they form an emulsion (bakery science, haha) that traps air. So when baking in the oven, that trapped air expands and produces a fluffy muffin. Plus cold ingredients just do not incorporate and mix together as easily.
Are blueberry muffins healthy?
I wouldn't consider (or could say) these are especially healthy. They still have a lot of fat and sugar used in them. But this blueberry muffin recipe is considerably lower in sodium than any regular recipe or store-bought muffin.
But as I don't make them that often, it makes for a nice occasional breakfast muffin or special occasion snack. Plus, since they're homemade with natural ingredients you know exactly what's inside the batter. Only you know what you need to achieve and your limits to choose.
Freezing blueberry muffins
Muffins may be frozen for several months. Completely cool muffins on the cooling rack and then place muffins in a freezer-safe Ziploc bag or air-tight container. Thaw in the refrigerator or put out on the counter. To warm up, microwave on high for about 30-40 seconds or bake at 250°F  for about 8 minutes.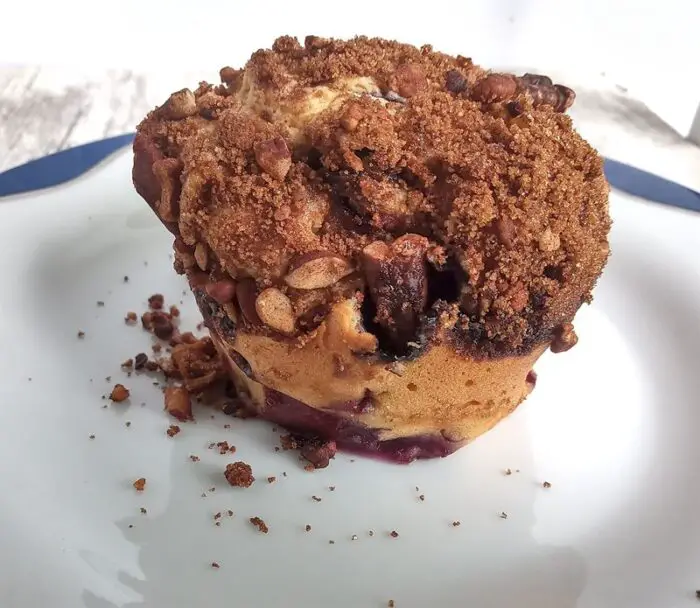 ---
A few of my other great dishes to enjoy!
---
---
Please let me know how these Low Sodium Blueberry Muffins turn out for you in the comments and a rating! I'm always eager for your feedback and hope my recipes turn out amazing for you. You can follow me on Facebook and Pinterest also, to hear about new recipes.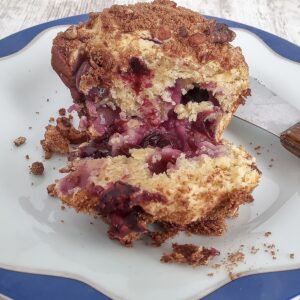 Low Sodium Blueberry Muffins
These low sodium blueberry muffins are buttery, soft, and moist. For that bakery style goodness, top with a nutty, brown sugar cinnamon streusel.
Ingredients  
Crunchy Streusel Topping
1/2

cup

packed dark brown sugar

1/2

cup

chopped pecans or walnuts

1 – 2oz. package

1

teaspoon

ground cinnamon
Muffins
1 3/4

cups

all-purpose flour

spooned & leveled

2 ½

teaspoon

Hains baking powder no sodium

1/2

cup

unsalted butter

soft at room temperature, 1 stick

1/2

cup

granulated sugar

1/4

cup

packed dark brown sugar

2

large eggs

room temperature

1/2

cup

plain yogurt

room temperature (5.3oz. yogurt cup)

2

teaspoons

vanilla extract

1/3

cup

milk

room temperature

1 1/2

cups

fresh blueberries
Instructions 
Preheat oven to 425°F. Spray a 12-count or 6-count jumbo muffin pan with nonstick spray. Set aside.

Mix all of the crunchy topping ingredients together. Set aside.

Whisk the flour and no sodium baking soda in a medium bowl, evenly distributed, loose and fluffy. Set aside.

In a large mixing bowl use a handheld or stand mixer fitted with a paddle or beater attachment, beat the unsalted butter, granulated sugar, and brown sugar together on high speed until smooth and creamy, about 2 minutes.

On a medium speed, add the eggs one at a time, beating well after each addition. Beat in the yogurt and vanilla extract on medium speed until combined. With the mixer running on low speed, slowly add or portion in the dry ingredients and milk into the wet ingredients and beat until no flour pockets remain. Carefully fold in the floured blueberries.

Spoon the batter into muffin tins, filling them all the way to the top. Top each with crunchy topping, lightly press it down into the surface so it sticks.

For standard size muffins – Bake for 5 minutes at 425 then, keeping the muffins in the oven, reduce the oven temperature to 350°F (177°C). Bake for an additional 18-20 minutes or until a toothpick inserted in the center comes out clean.

For a jumbo muffin pan – Bake at 425°F for 5 minutes, then reduce to 350°F for 22-25 minutes for a total of 27-30. Makes about 6.

Allow the muffins to cool for 5 minutes in the muffin pan, then transfer to a wire rack to continue cooling.

Muffins stay fresh covered at room temperature for a few days or in the refrigerator for up to 1 week.

Mix blueberries witha sprinkle of flour. It helps them not sink in muffin while baking.
Notes
Why should everything be at room temperature? All refrigerated items should be at room temperature so the batter mixes together easily and evenly.
Nutrition
Serving:
6
Jumbo Muffin
Calories:
537
kcal
Carbohydrates:
71.8
g
Protein:
8.7
g
Fat:
25
g
Saturated Fat:
11.2
g
Cholesterol:
105
mg
Sodium:
52
mg
Fiber:
3
g
Sugar:
40.6
g
https://tastyhealthyheartrecipes.com/main-dishes/breakfast/low-sodium-blueberry-muffins/
Below is nutrition information for the 6 count jumbo size muffins and the 12 count regular size muffins
Nutrition Information – The information shown is provided by an online nutrition calculator. It should not be substituted for a doctors or nutritionist's advice. Please understand that not everyone's sodium requirements are the same, therefore some recipes may be higher than you're allowed. Always consult with your doctor for your recommended daily sodium allowance.