These Low-Sodium Buttermilk Pancakes will have you enjoying breakfast once again. When I learned that buttermilk pancakes were extremely high in sodium, I was very disappointed and resolved to make them part of my breakfast again. It should have been no surprise being that pancakes would fall under the "salty six" of the saltiest foods, but the amount per cake was still shocking. With a few changes, I found I could enjoy my pancakes and eggs once again and even have a side of my Low-Sodium Italian Sausage too! 
Once you master a few easy techniques, you will be making Low-Sodium Buttermilk Pancakes easily for a special weekend breakfast, I am delighted to have them at my table again. I've found this recipe makes about 8 pancakes depending on how much you scrape the bowl and the size of your pour. Although the cooking time can get to be rather tedious if you cook them one at a time, it ends up being worth it.  I clean my kitchen in between pours and flips. Haha!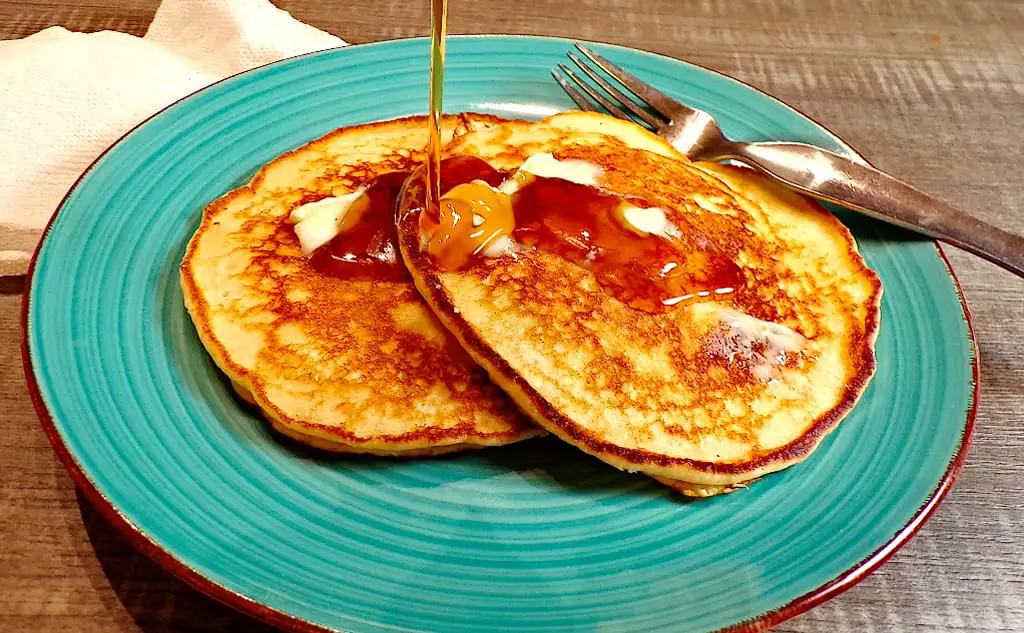 HOW MUCH SODIUM IN A PANCAKE?
| | |
| --- | --- |
| Typical sodium amount per pancake | 480+ mg |
| Sodium per pancake for this recipe | 51 mg |
| Sodium total for this recipe | 408 mg |
| Calories per serving | 254 |
Buttermilk pancakes at a well-known pancake house are 480 mg of sodium each or 1440 mg for a 3 stack just by themselves! Store bought box mixes hover around 500 mg and most from scratch recipes from 250 up to 500 mg of sodium for ONE pancake! With this recipe you can slash the sodium down to 70 mg or less per cake while still tasting and looking delicious!
BE AWARE OF SODIUM LEVELS IN SYRUP
Many off the shelf store bought syrups vary widely in the amount of sodium. And many regular name brands can be quite high at 120 mg+ per ¼ cup.  Look for a natural syrup, for instance this Log Cabin Natural Syrup is just 20 mg per ¼ cup.  Honey and some fruit syrups and jams also make for some delicious alternatives.
HOW BUTTERMILK PANCAKES ARE MADE LOW SODIUM
These Low-Sodium Buttermilk Pancakes are made by simply removing the salt and baking soda. Also by replacing regular baking powder while slightly increasing the amount with Haines featherweight no sodium baking powder. Further, drastically cutting the sodium is making a buttermilk substitute; made simply with milk and vinegar this alone saves you over 100 mg per cup.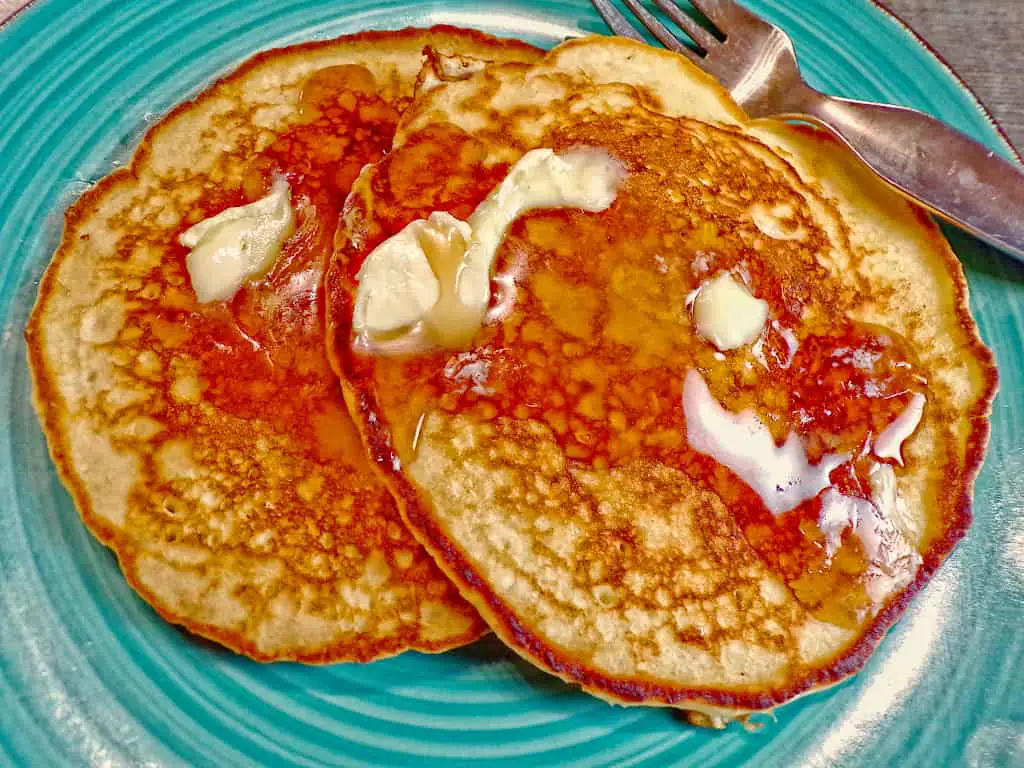 WHY USE BUTTERMILK INSTEAD OF MILK FOR PANCAKES?
Not only does buttermilk provide a distinct flavor in pancakes, it helps activate the baking powder in the batter making CO2 bubbles, helping to result in a light and fluffy cake when cooked. Additionally the acid in buttermilk helps break down gluten in the flour which also develops soft, moist and tender Buttermilk Pancake.
Keeping buttermilk on hand for the few times you may need it before it goes bad is a pain and to reduce the higher sodium in buttermilk you need to make a buttermilk substitute.  This homemade mixture may not be as rich and creamy as store bought buttermilk, but it will do its transformation in the batter.
For 2 cups of buttermilk all you need is 2 cups regular (I use 2%) milk mixed with 2 tablespoons of white vinegar or lemon juice. I use the white vinegar because I always have some on hand. Set it aside at room temperature for 10 – 15 minutes, usually while you're prepping and mixing all of your other ingredients together.
PERFECT YOUR BUTTERMILK PANCAKE BATTER
The following tips when preparing your batter makes all the difference in fluffy or a flat dense pancake:
The less you mix the batter, the thicker and fluffier they will be. Overmixing the wet and dry ingredients will end up making it too smooth and runny making a thin pancake that can't
"fluff".  Don't worry about any small lumps as they will dissolve when the batter is resting.
Let the batter chill in the fridge and "rest" for at least 10 minutes while you heat up your skillet.  This allows the acidic portion of buttermilk to do its work on the gluten in the flour and the butter to solidify.  The butter creates air pockets "bubbles" when it hits the hot skillet, making an extra fluffy pancake.
HOW TO COOK FLUFFY BUTTERMILK PANCAKES
Preheat your nonstick pan or griddle on medium heat first. I prefer using cast iron skillet as it really holds the heat in well.  If you have a cast iron griddle that's even better as cooking cakes one at a time is rather slow.  Once it's hot, lower the heat down to just below medium heat. Lightly grease the pan with a small dab of butter and spread around with spatula.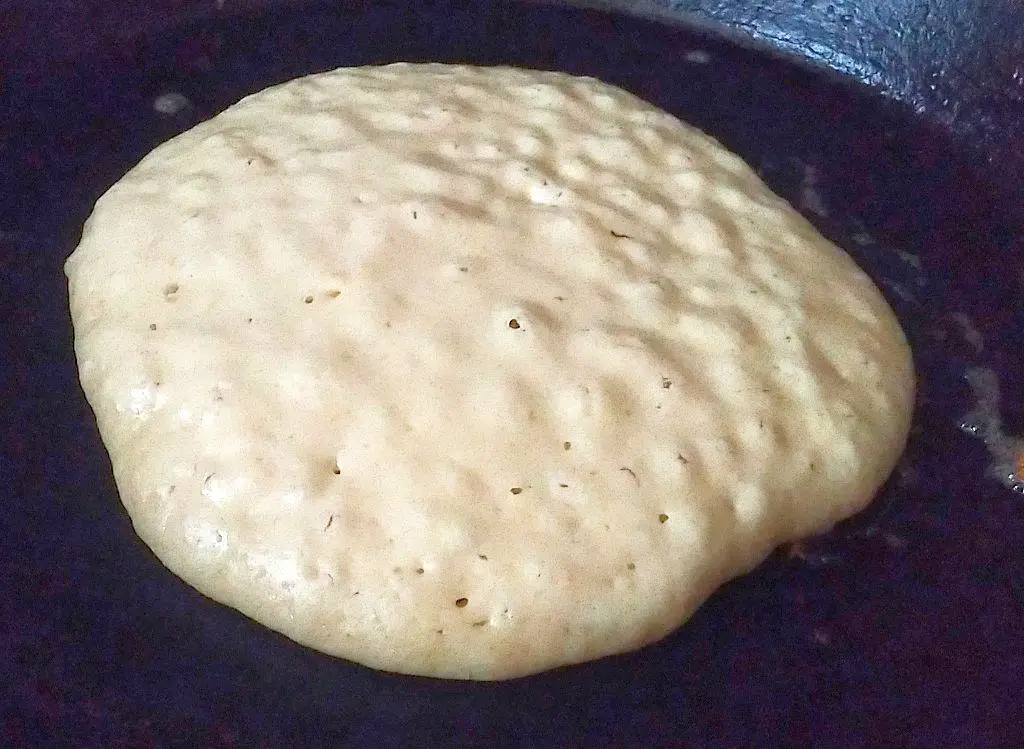 I use a ladle to pour the batter because it gives you just about the right and equally even amount to make consistent sized pancakes.  And I can also use the back side of the ladle to smooth out and spread the batter slightly to make a uniformly round shape.  But don't spread too much!
Allow your buttermilk pancakes to cook properly! Cook for approximately 4 minutes on one side.  You will be looking for bubbles to be forming on top of the cake and the edges to start turning color.  Only then should you peek under the cake to see a golden brown color and you are ready to flip.
A few of my other great dessert dishes to enjoy!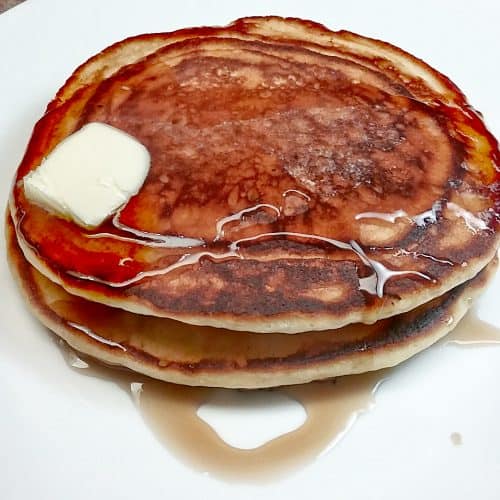 Low-Sodium Buttermilk Pancakes
Save loads of sodium mg's with these delicious fluffy and golden brown crisp edged low-sodium Buttermilk Pancakes.
Ingredients  
5

Tbsp

unsalted butter

2

cups

all-purpose flour

1

Tbsp

Hain Featherwieght no sodium baking powder

Hain Featherweight Baking Powder, Sodium Free

4

Tbsp

sugar

2

eggs

1

tsp

vanilla extract

2 1/4

cups

2% milk

2

Tbsp

white vinegar
Instructions 
Mix milk and vinegar and set aside for 10 to 15 minutes.

Melt the butter and set aside to cool slightly.

Whisk together the flour, baking powder, sugar and in a large bowl.

In small mixing bowl, whisk together the buttermilk substitute, eggs, and vanilla extract.

Add the liquid to the dry mix and starting lightly mixing together till just wet and no large lumps but not smooth. The secret to thick, fluffy pancakes is not to over mix.

Slowly drizzle in the cooled butter and stir in as little as possible.

Put in the fridge for at least 10 minutes. This helps the butter to chill and bubbles to form in your batter for a fluffy cake.

Put a heavy bottom frying pan or a griddle on medium heat, allow to fully heat! (Cast Iron)

With a touch of melted butter spread on the pan, use a big ladle, to pour batter into a roughly 6" cake. Spread out gently into a round shape if needed with bottom of ladle.

Cook for about 4 minutes on one side. Turn them over when you see bubbles forming on the top of the pancake and the edges turn color. Do not lift until then.

Flip and cook on the other side until golden brown.

Enjoy with unsalted butter and natural maple syrup.
Notes
Being able to cook two or more on a griddle greatly reduces cooking time
Nutrition
https://tastyhealthyheartrecipes.com/main-dishes/breakfast/low-sodium-buttermilk-pancakes/
Nutrition Information – The information shown is provided by an online nutrition calculator. It should not be substituted for a doctors or nutritionist's advice. Please understand that not everyone's sodium requirements are the same, therefore some recipes may be higher than you're allowed. Always consult with your doctor for your recommended daily sodium allowance.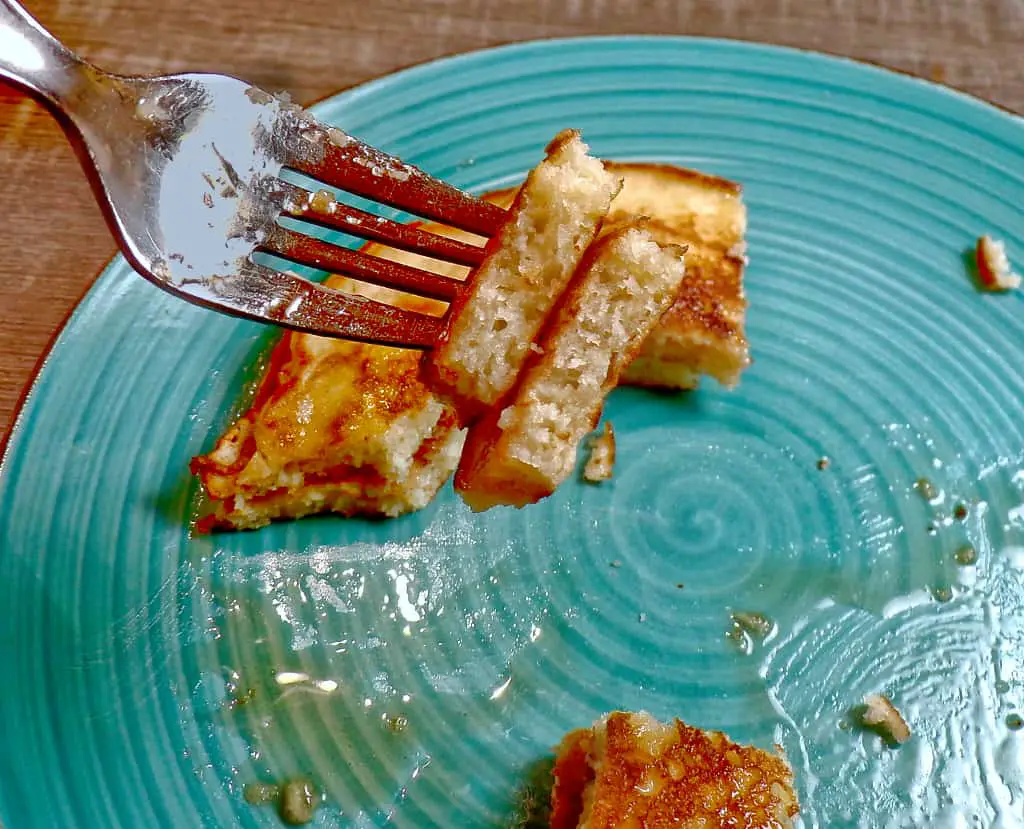 As always, please let me know how you like this recipe in the comments! I get motivated when I hear from you and am interested to learn about how you liked and served your Low-Sodium Buttermilk Pancakes. And please leave a comment or rating and share any tips you might have.