Low sodium pork chorizo is a bold, tangy, spicy sausage made with pork, lots of red pepper, vinegar and is a simple recipe to prepare at home. This low sodium pork chorizo really piles on the spicy tastes. I've always had a taste for a Mexican spiced dish. It may not have been a full Mexican theme meal, but the spice basics were there. I used chorizo in a lot of my meals as a flavor enhancer. I used it more as an ingredient than a separate dish. So when I discovered how much sodium was in the store bought chorizo I was severely disappointed. I became determined to create a low sodium version. This is my current rendition for chorizo.
LOW SODIUM PORK CHORIZO
Sodium Total  320 mg   –   Sodium / Serving 40 mg    –    Calories / Serving  44
Because of the powerful flavors of the chorizo, I never ate it as a patty or by itself. It was always incorporated into another meal as a flavor enhancer. Whether added to an omelet, salad or taco it was "spread" and crumbled about and not a main ingredient in the dish. So while not a main ingredient, I missed the spicy tang it brought.
Low sodium pork chorizo seasoning ingredients

Packaged ground chorizo label
This low sodium pork chorizo recipe removes nearly 540 mg sodium per 2 oz. serving! This tasty pork sausage relies on ingredients that are common in your pantry or local store. The only problem being, there is a lot of spices to assemble. But it will be well worth it. You'll have to wait though. Because it does take some time and patience, too let all the spicy boldness permeate the meat before cooking. Because of this I recommend making chorizo in a large batch. But it is still a fairly quick "hands on time" recipe to put together in the end.
ABOUT THE SAUSAGE
Low sodium pork chorizo seasoning ready to mix

Pork chorizo mixed cover and refrigerate

Low sodium pork chorizo chopping with spatula to crumble
Whether you admit it or not, sausage is desirable because of the fat. If you are using very lean ground pork you'll most likely feel somewhat disappointed with the end result. But that's true only if your comparing it to store bought chorizo though. But think of all the by-products you're not getting in your fresh made chorizo! And just like the sodium cravings, fat cravings can and will diminish. That said while ground pork is typically used for Mexican chorizo. Lean ground beef can also be replace it. Try it once and you will be in for a pleasant surprise. You won't even miss the pork. For this recipe, I opted for the traditional ground pork.
A FEW TIPS WHEN MAKING PORK CHORIZO
If making a regular or large batch and not cooking it immediately, you can freeze the meat for later use. Form and wrap ¼ pound meat logs in saran wrap and place into Ziploc bag. You can then freeze them up to six months and thaw and use when you want.
When mixing the meat, the spices will temporarily stain your hands orange. This goes way after a couple hand washings. But don't rub your eyes! If this bothers you, you can wear plastic gloves.
Over mixing the meat and spices can create an inferior texture to the meat. This is because the fat will melt and the meat will become what I call sludgy. There are a few ways to avoid this problem. First,

make sure the meat is cold as you're working with

it. The colder it is the less the fat will melt and become a sticky mess. And second, is to work the spice in and shape it into the desired form quickly.
You can avoid over working the meat if you make a large batch by mixing in one pound batches. It is also quicker and easier to "knead" the spice in too.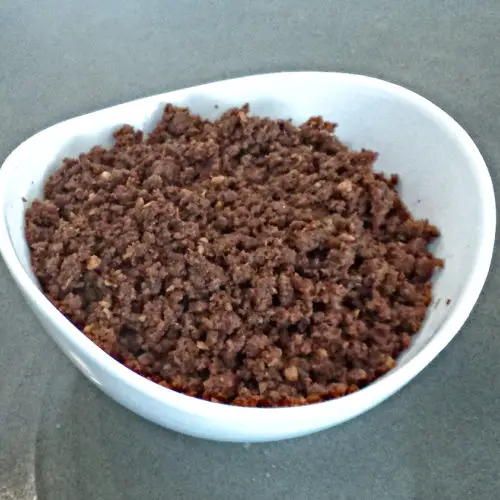 Low Sodium Pork Chorizo
Low sodium pork chorizo is a bold, tangy, spicy sausage made with pork, lots of red pepper, vinegar and is a simple recipe to prepare at home.
Ingredients  
1

lb

ground pork 90/10

1

tbsp

chili powder

2

tbsp

chipotle chili powder

1

tbsp

smoked paprika

1

tsp

cayenne pepper

1

tbsp

crushed red pepper

1

tbsp

Garlic Raw

minsed

1

tsp

onion powded

1

tsp

oregano

ground

1

tsp

Pepper

Black

1

tsp

Cumin Seed

ground

1

tsp

ground coriander

ground

1/2

tsp

cinnamon

1/4

tsp

cloves

ground

2

tsp

fennel seed

1/4

cup

red wine vinegar
Instructions 
Handling chili powders may cause burning and turn your hands orange. I recommend to use plastic gloves when mixing the chorizo.

In a spice or coffee grinder, grind the cumin seed, coriander seed, fennel seed, and cloves until you have a fine powder.

In a bowl combine all spices and mix well with whisk or fork to combine and break up any clumps.

In a large mixing bowl break up the the ground pork into medium chunks. Pour in the vinegar and sprinkle evenly half the spices, turn meat over and spread the rest of the spice evenly on the pork.

Start hand working it into the ground meat. Keep working the meat until it turns a consistant red-orange and the spices have been combined into the meat.

It is best to let the chorizo rest at least overnight before cooking or freezing it. Allowing the many flavors to come together first really makes a difference.
Notes
You can also freeze the chorizo until you are ready to use it. Form them into 2 oz. logs and wrap them in plastic kitchen wrap and placing them in a large Ziploc. Freeze up to six months
Nutrition
https://tastyhealthyheartrecipes.com/main-dishes/breakfast/low-sodium-pork-chorizo/
Nutrition Information – The information shown is provided by an online nutrition calculator. It should not be substituted for a doctors or nutritionist's advice. Please understand that not everyone's sodium requirements are the same, therefore some recipes may be higher than you're allowed. Always consult with your doctor for your recommended daily sodium allowance.
Low sodium pork chorizo crumbled on tortilla

Left over hand mixed chorizo seasoning
As always, please let me know how you like this recipe in the comments! I get motivated when I hear from you and am interested on how you liked and served your low sodium pork chorizo. And please share any tips you might have.