I have never been big on sweets or dessert. Peanut butter cookies though have been a major weakness since I was a kid. So I was raring to try to make some Low Sodium Peanut Butter Cookies that would satisfy my occasional craving. I was worried that the salty sweetness that I was used to would fall flat. But I am happy to say fresh baked peanut butter cookies and a glass of cold milk will still fill my kitchen with peanut butter cookie aroma! Low sodium style…
| | |
| --- | --- |
| Typical sodium amount per cookie | 110 mg |
| Sodium per cookie for this recipe | 33 mg |
| Calories per serving | 137 |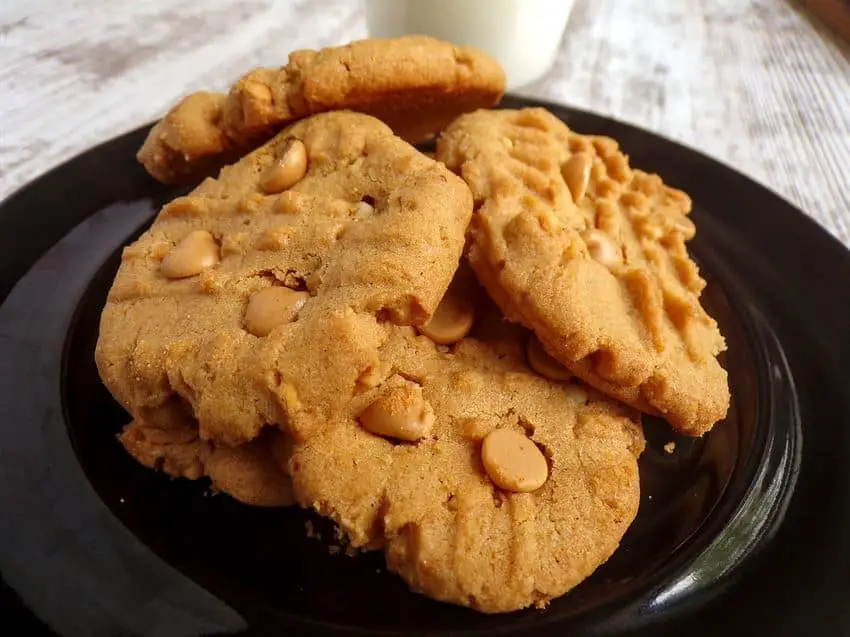 HOW TO REDUCE SODIUM FOR A LOW SODIUM PEANUT BUTTER COOKIE
START WITH THE PEANUT BUTTER
Peanut butter is where all the taste comes from so you want something good and enjoyable!
I tried the all-natural peanut butter which typically has no-or-no added sodium… but, yeah, that was just not for me. I just did not like the taste and texture which was almost sandy, gritty feel like mildly peanut buttery sand.  I don't think it was the sodium that was missing, just the way it was made.  And what a mess and pain to use, having to mix the separated oil and all was too much. When all I wanted was just a quick PB&J sandwich? No thanks.
Fortunately Jif has come out with two lines of peanut butter that are much lower in sodium than standard peanut butter and they still taste great. One is Jif Naturals that has 80mg of sodium per two tablespoons. It is available in smooth, crunchy and a honey variety. The other is Simply Jif in a creamy style that has only 65mg of sodium per two tablespoons.
Both are almost half of the amount of sodium of standard peanut butter. I used the Jif Natural Crunchy for this batch of cookies, but pick either one according to your needs. Both taste good and should be available at your local grocery being a major brand name.
The other major sources of sodium we need to reduce are baking soda and baking powder.
HOW TO REPLACE HIGH SODIUM BAKING SODA & BAKING POWDER
These two baking ingredients are chock full of sodium. They are like the soy sauce of baking and there are very few alternatives. The ones that claim to be low sodium are full of potassium chloride much like the substitute low sodium salt. When you're on blood pressure medication like I am that is not good for you either.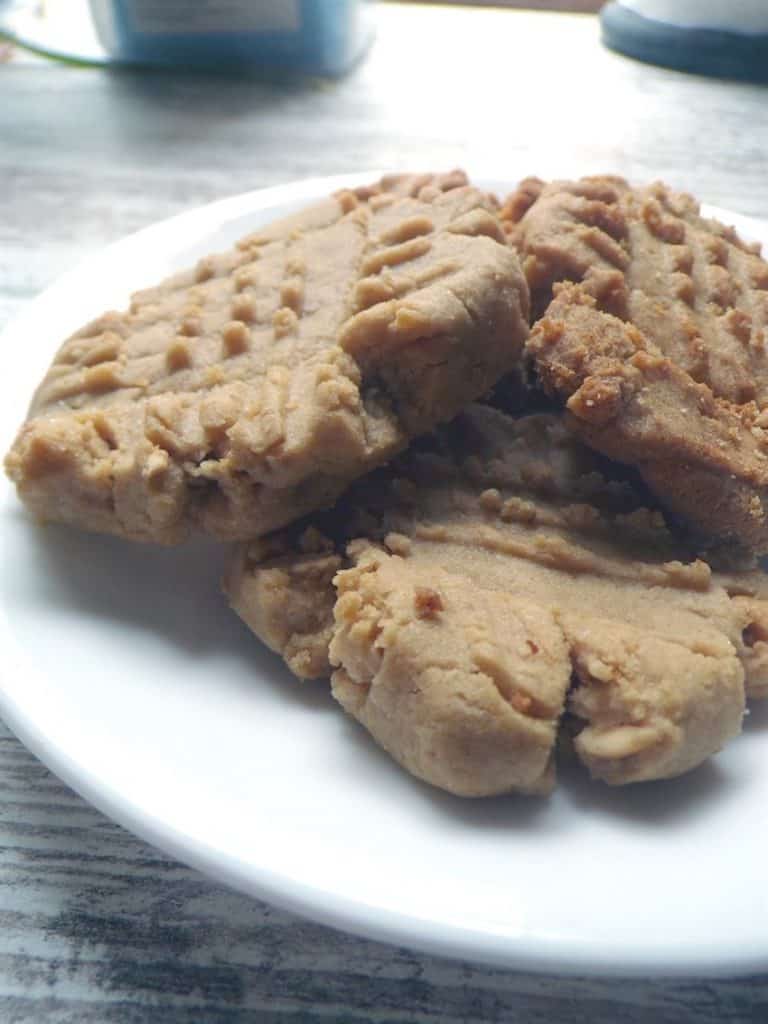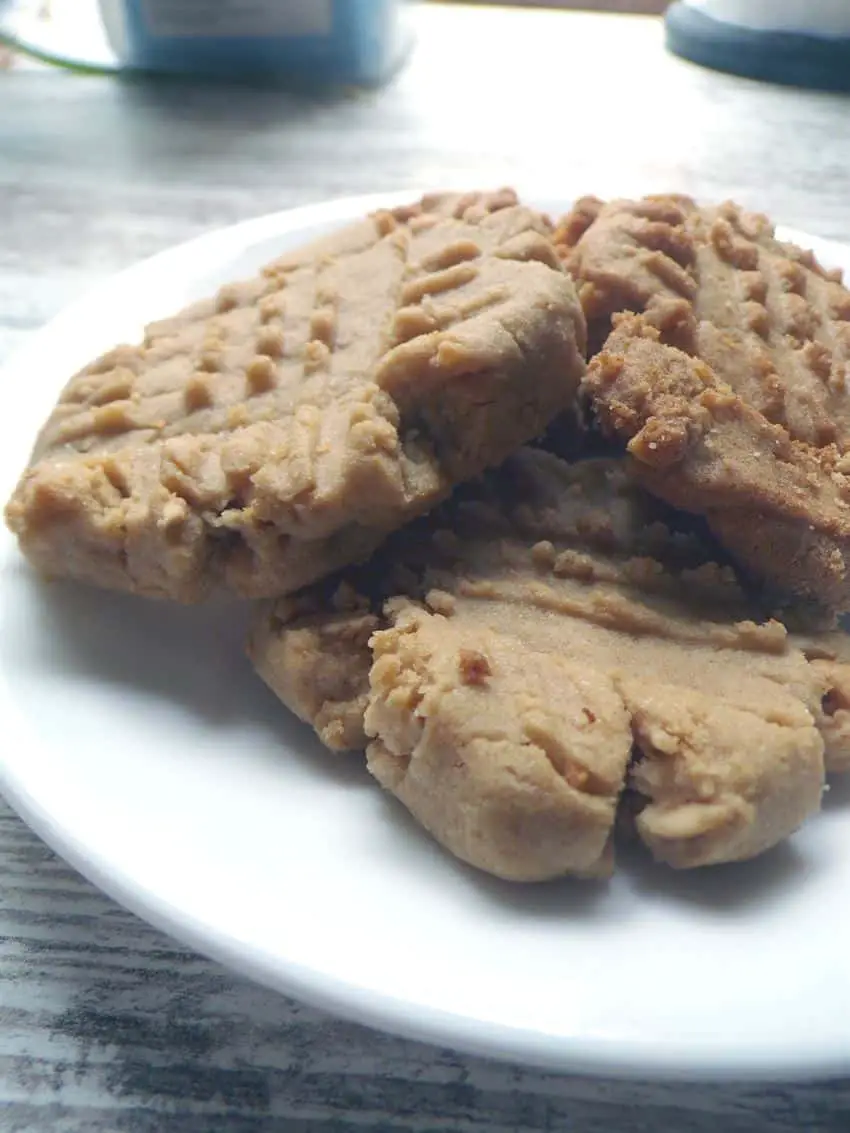 One is the Ener-G brand that includes both baking powder and baking soda that is sodium free.
To be honest, I have not used this brand as it is not available locally to me that I have found.
The other brand is Hain Pure Foods Featherweight Baking Powder which is sodium and potassium chloride free. I pick up a couple cans when I go to the Whole Foods grocery store every couple of months. I have omitted baking soda in this recipe to no detriment. One thing as a rule of thumb, when using the Hain Baking Powder is to double the amount of powder called for in a recipe. I use this all the time when baking my bread and cookies and it has worked great.
NO SALT ADDED BUTTER
Last but not least is to use unsalted butter. But then you knew that right?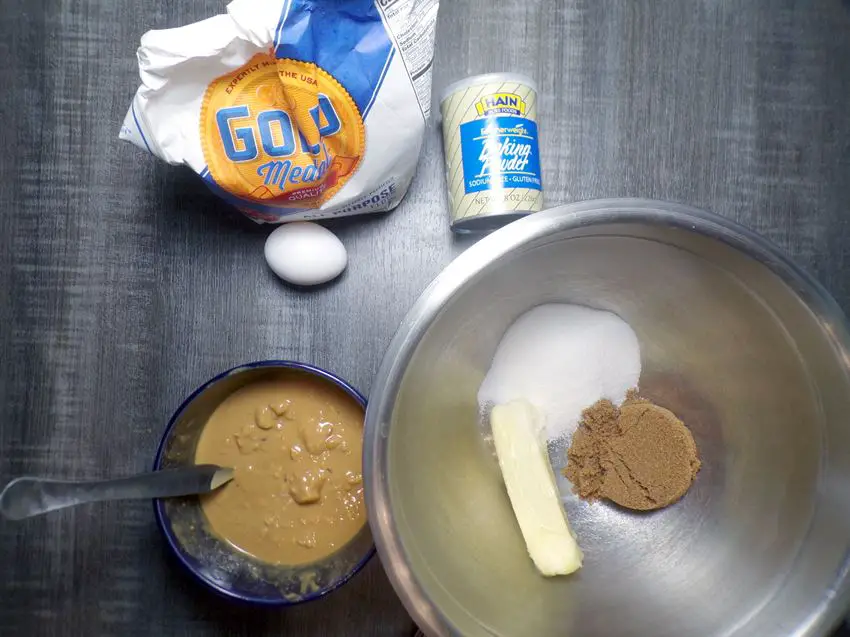 LOW SODIUM PEANUT BUTTER COOKIE TOPPINGS
I don't, but you can lightly sprinkle white or brown sugar on top of the cookie.
You can also try cinnamon sugar sprinkle too. Enjoyed it but the cookie has enough sugar for me.  Maybe try to sprinkle a touch of ground cinnamon on top?
Add peanut butter baking chips. My favorite… Have a bowl of chips ready right when you pull the cookies from the oven. Poke about 4 to 5 chips in each cookie. The cookie will be still soft enough to poke in and they melt down just a touch to be perfect. I find they melt too much if mix in beforehand and then bake.
A few of my other great dessert dishes to enjoy!
---
As always, please let me know how you like this recipe in the comments! I get motivated when I hear from you and am interested to learn about how you liked and served your Low Sodium Peanut Butter Cookies. And please leave a comment or rating and share any tips you might have.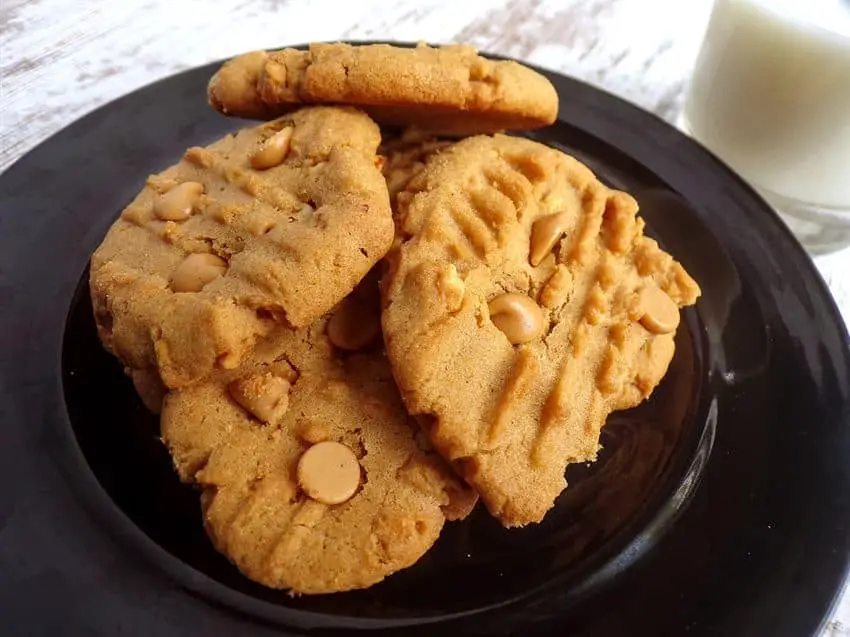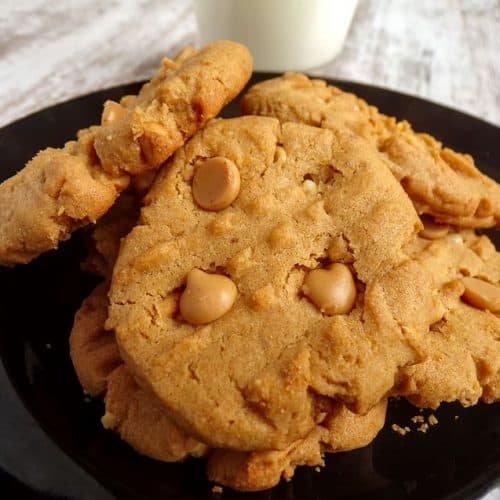 Low Sodium Peanut Butter Cookies
Low Sodium Peanut Butter Cookies, the new hash tag of my childhood favorite. With 1/3 the sodium, is an irresistible chewy, peanut flavored cookie with a cold glass of milk.
Ingredients  
1/2

cup

un-salted butter

1 stick softened to room temperature

1/2

cup

white granulated sugar

1/2

cup

packed brown sugar

3/4

cup

peanut butter low sodium I used Jif Naturals

1

large egg

1 1/4

cups

all purpose flour

2

teaspoon

Hain Featherwieght no sodium baking powder
Instructions 
Beat the butter with hand mixer until creamy, 2 minutes. Add the brown sugar and white sugar, beat for 2 more minutes. Mix in the peanut butter and the egg.

In a separate bowl, mix together the dry ingredients—the flour, baking powder. Mix in the dry ingredients into the sugar butter mixture.

Dough needs to be chilled so wrap or cover dough in plastic wrap and refrigerate at least 3 hours or overnight.

Roll the dough into 1 inch balls. Place the balls of dough 2 inches apart on un-greased cookie sheet. Press down slightly then flatten in crisscross pattern with a fork. It is easiest to go one direction for all then the other.

Bake at 375°F until light brown, about 9 to 10 minutes. Remove the pan from the oven and let cookies cool on the baking sheet for a minute or two. After a minute, transfer the cookies to a clean surface to further cool.
Adding peanut butter chips
Have a small bowl of chips ready and plan for 4-5 chips per cookie. As soon as the cookies are removed from oven push a few chips into each cookie.
Notes
For a chewier cookie, bake at 300°F for 15 minutes.
You can use either the smooth or crunchy peanut butter for this recipe
You can shape the cookies so they look nice for company otherwise, I just mashem down real quick.
Adding peanut butter chips only adds a couple mg of sodium per cookie and is more fun!
Nutrition
https://tastyhealthyheartrecipes.com/a-la-cart/desserts/low-sodium-peanut-butter-cookies/
Nutrition Information – The information shown is provided by an online nutrition calculator. It should not be substituted for a doctors or nutritionist's advice. Please understand that not everyone's sodium requirements are the same, therefore some recipes may be higher than you're allowed. Always consult with your doctor for your recommended daily sodium allowance.