This Low Sodium Pecan Pie Cobbler recipe combines a traditional pecan pie with a cobbler for an easy dessert! It is so easy not having to mess with pie crusts, just layer the ingredients in a baking dish and pour hot water over the top.
I've never been a big dessert or sweets kinda guy, but pecan pie has always been a favorite of mine. Of course it also helps I like pecans too! I used to always buy a pie around Thanksgiving or Christmas. But with this low sodium dessert recipe it is so easy to make. Now I actually prefer a cobbler better than a regular traditional pecan pie.
With little hands on time, you get a delicious homemade low sodium dessert with a golden crust, gooey pecan and a cakey filling. It's easy and best served with a scoop of whipped cream!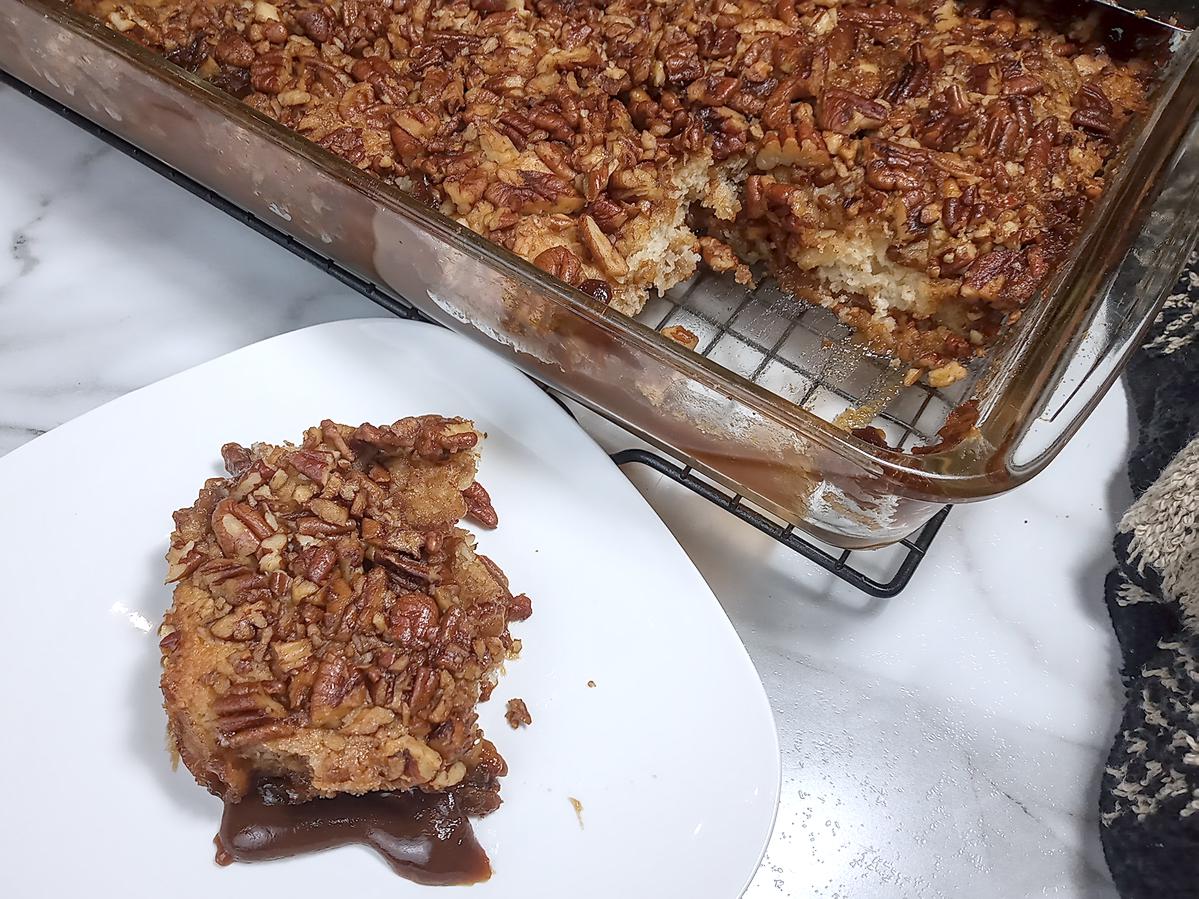 Sodium in Pecan Pie and this cobbler compared.
Typical sodium amount per serving

570mg

Sodium per serving for this recipe
13mg

Calories per serving

for this recipe
352
12 servings – 2″x4″ serving size
In traditional pecan pies a big source of sodium often comes from the pie crust itself. A premade store bought slice can have 140mg sodium per slice for jut the crust and a whole premade pie 570mg sodium per slice.
This recipe has an incredibly low 13mg sodium per serving. You can get roughly 12 servings from the baking dish that are about a 2"X4" serving size.
Ingredients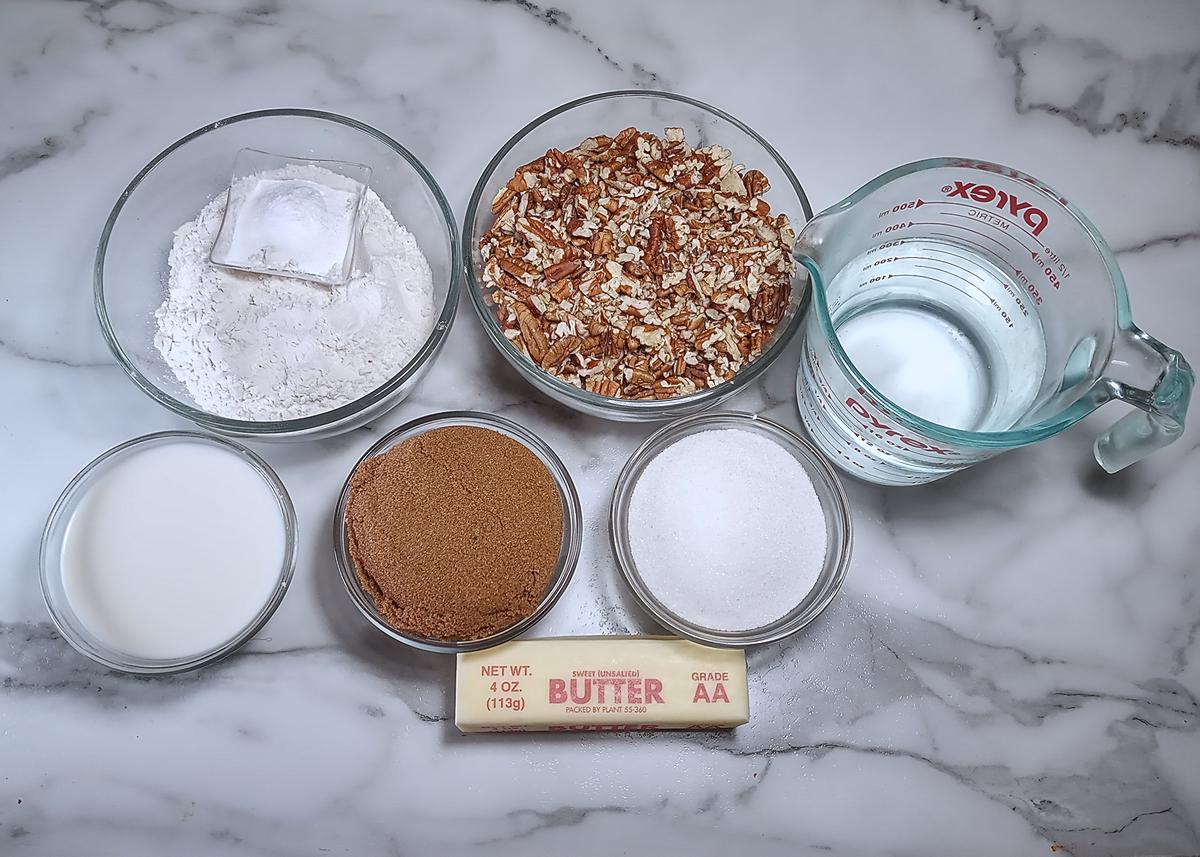 Unsalted Butter – One stick melted.
All-Purpose Flour – Be sure to measure correctly per standard baking methods.
Granulated Sugar – Adds sweetness and candied crust to the cobbler topping.
Hain Pure Foods Sodium Free Featherweight Baking Powder – Makes the cobbler be nice and fluffy with little air pockets and adds no sodium.
Milk – Creates the liquid binder for the batter like a thick pancake mix. You can use regular, 2% or whole milk. You can add a touch more if it is too thick.
Vanilla Extract – Adds even more flavor to the batter mixture.
Chopped Unsalted Pecans – Crushed pecans, chopped or smashed into pieces add delightful crunch.
Brown Sugar – This makes the gooey caramel pecan pie filling just like a regular pecan pie. Pack it in the measuring cup, then break it up to sprinkle smoothly.
Boiling Water – It looks really weird when poured in, but this is what makes the whole cobbler work. It makes the gooey brown sugar caramel. I boil my water in a Pyrex measuring cup in the microwave for 2-3 minutes, then pour.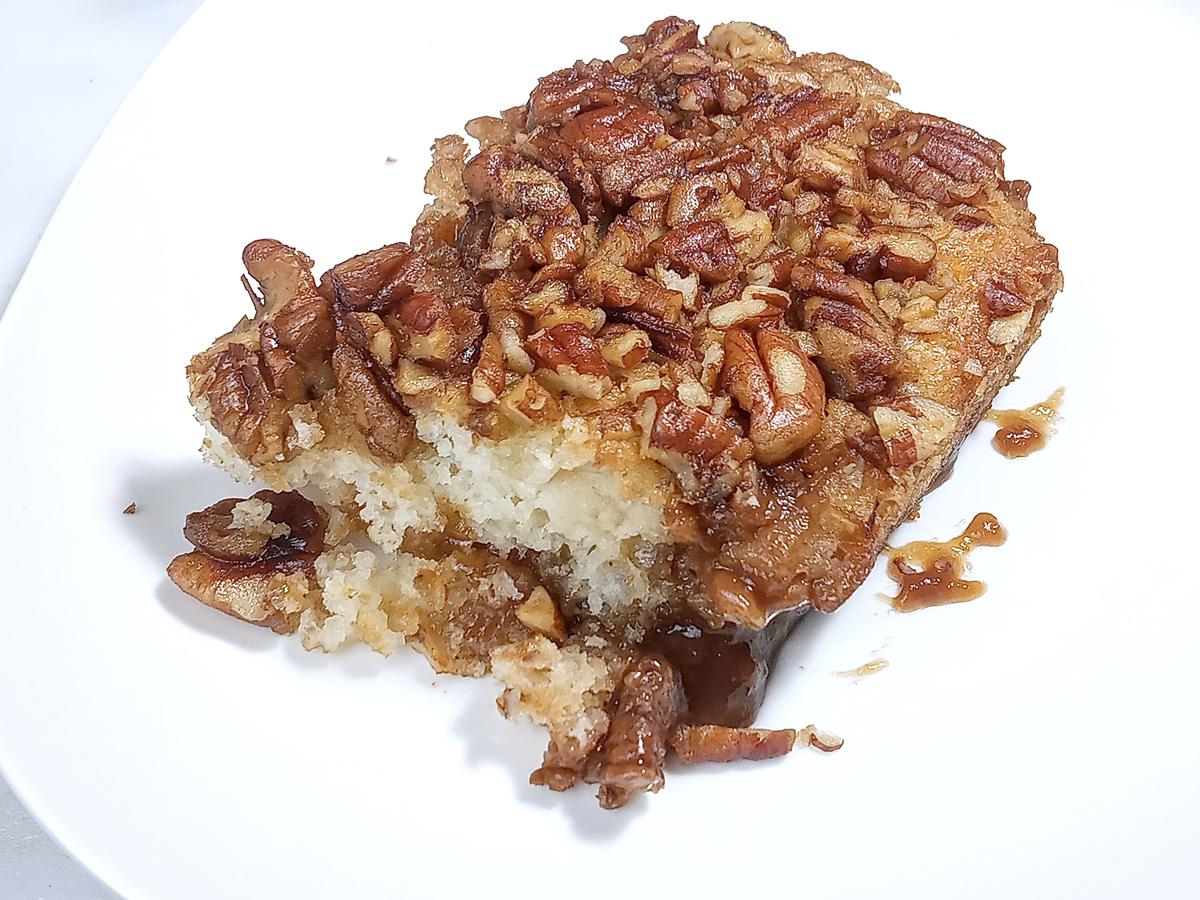 How to Make Pecan Pie Cobbler
Place the stick of unsalted butter in a 9×13" baking pan and place it in the oven while it preheats to 350°F. Should be just a few minutes, gather the other ingredients in the meantime.
You can do this in a metal baking pan but I prefer the glass Pyrex type. You can see when the cobbler "dough" is set and it just seems to clean easier.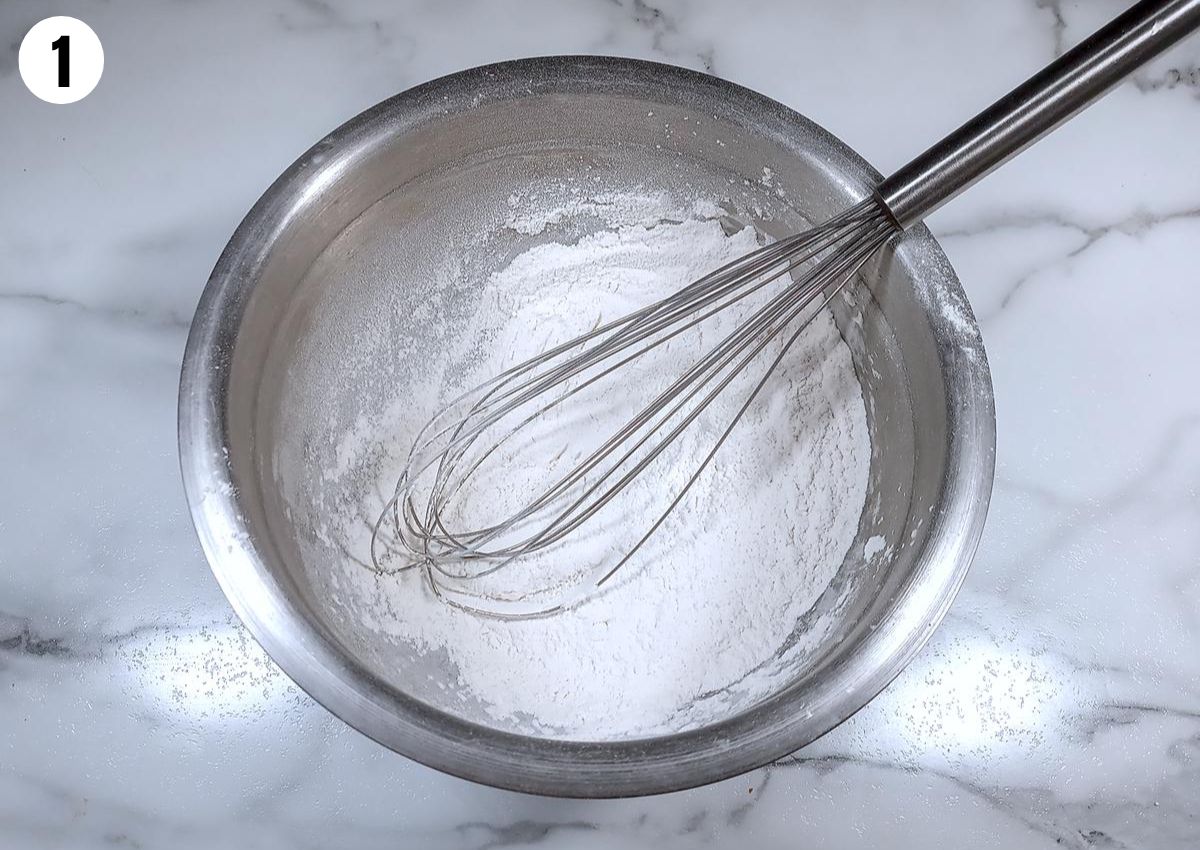 Use a whisk to mix the flour, granulated sugar and sodium free baking powder with a wire whisk in a medium to large bowl.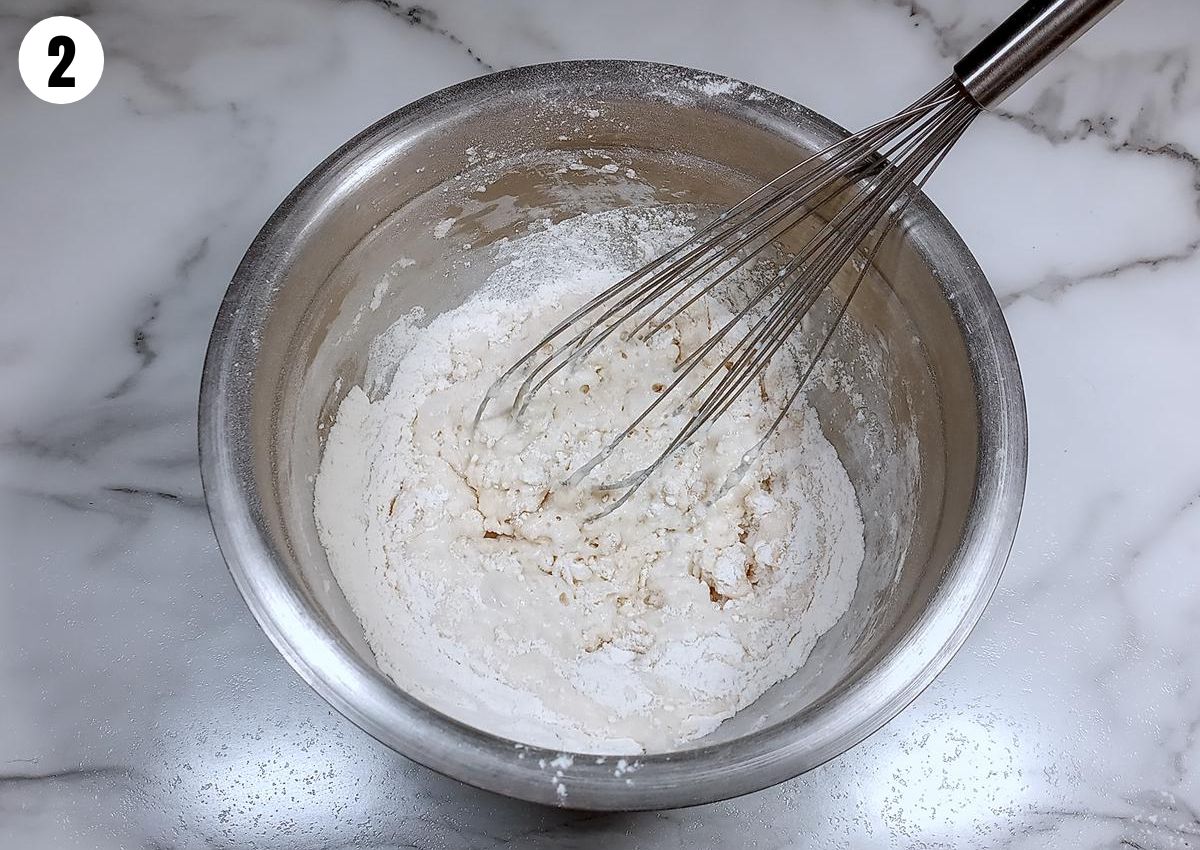 Next, add in the milk and vanilla.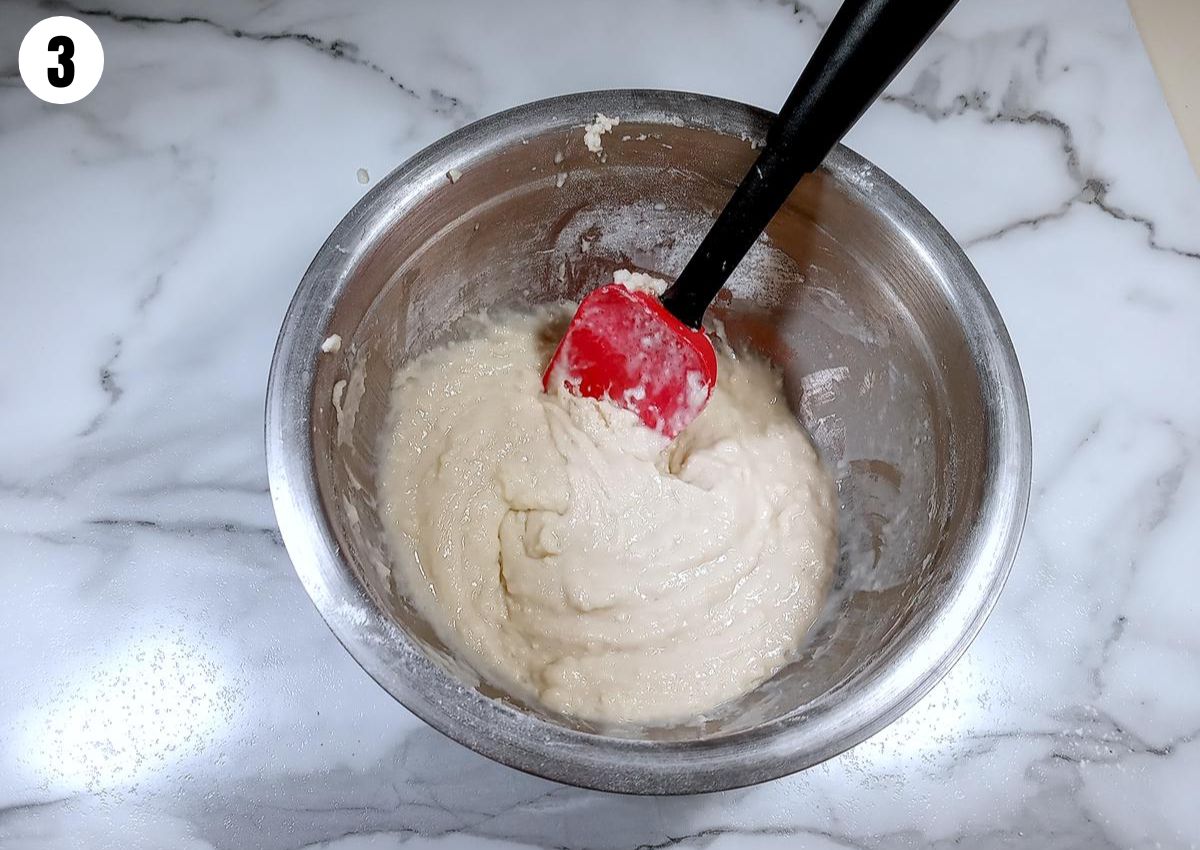 Mix with a large spatula scraping the sides till just mixed. It will be like very thick pancake mix, then and set bowl aside.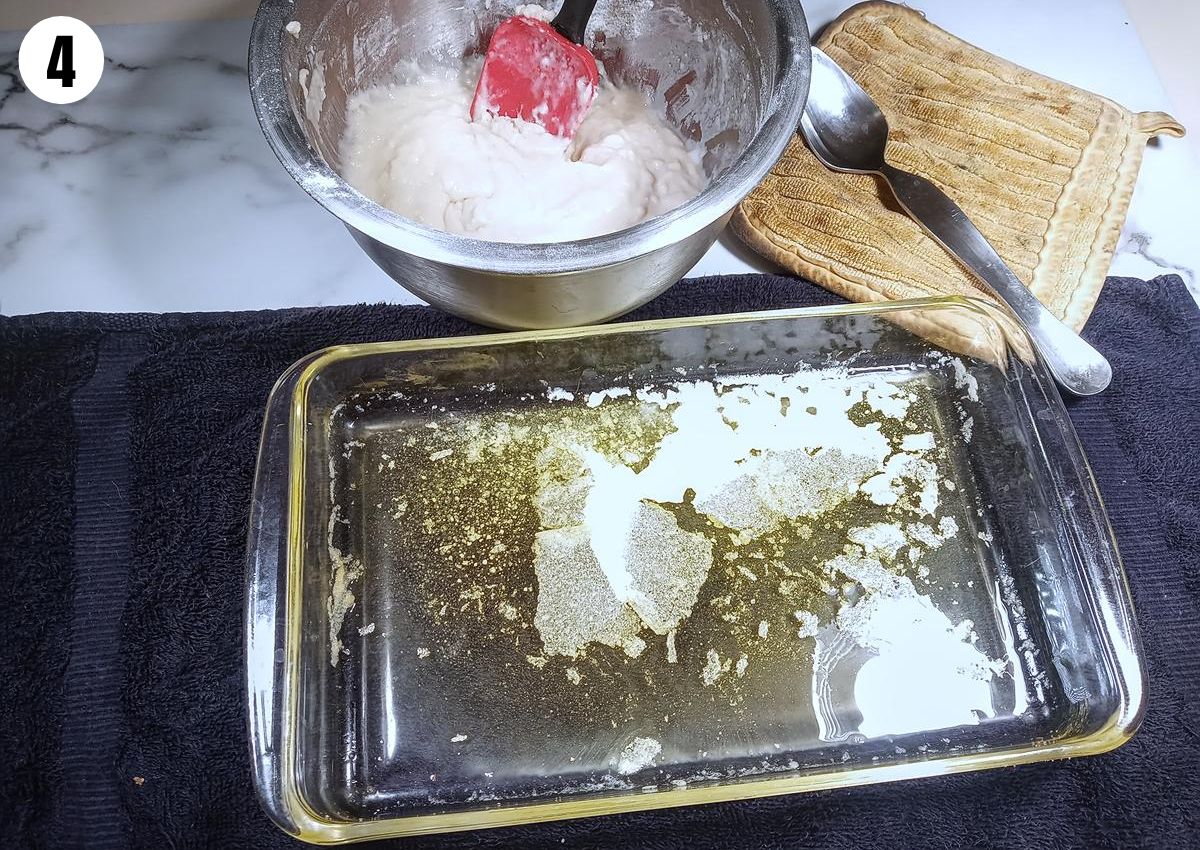 When butter has melted, remove the hot pan from the oven to a baking rack or towel covered work surface.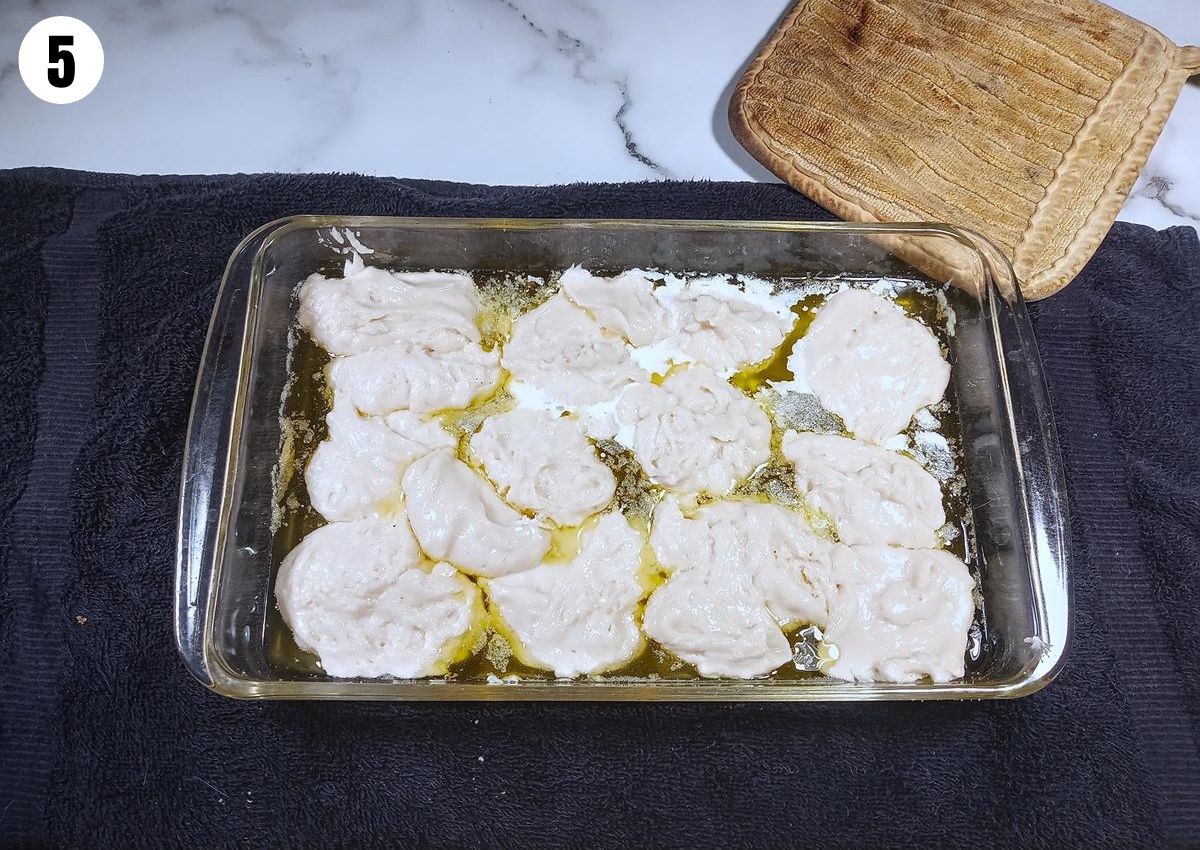 Drop the batter mixture evenly with a large spoon over the melted butter, do not stir.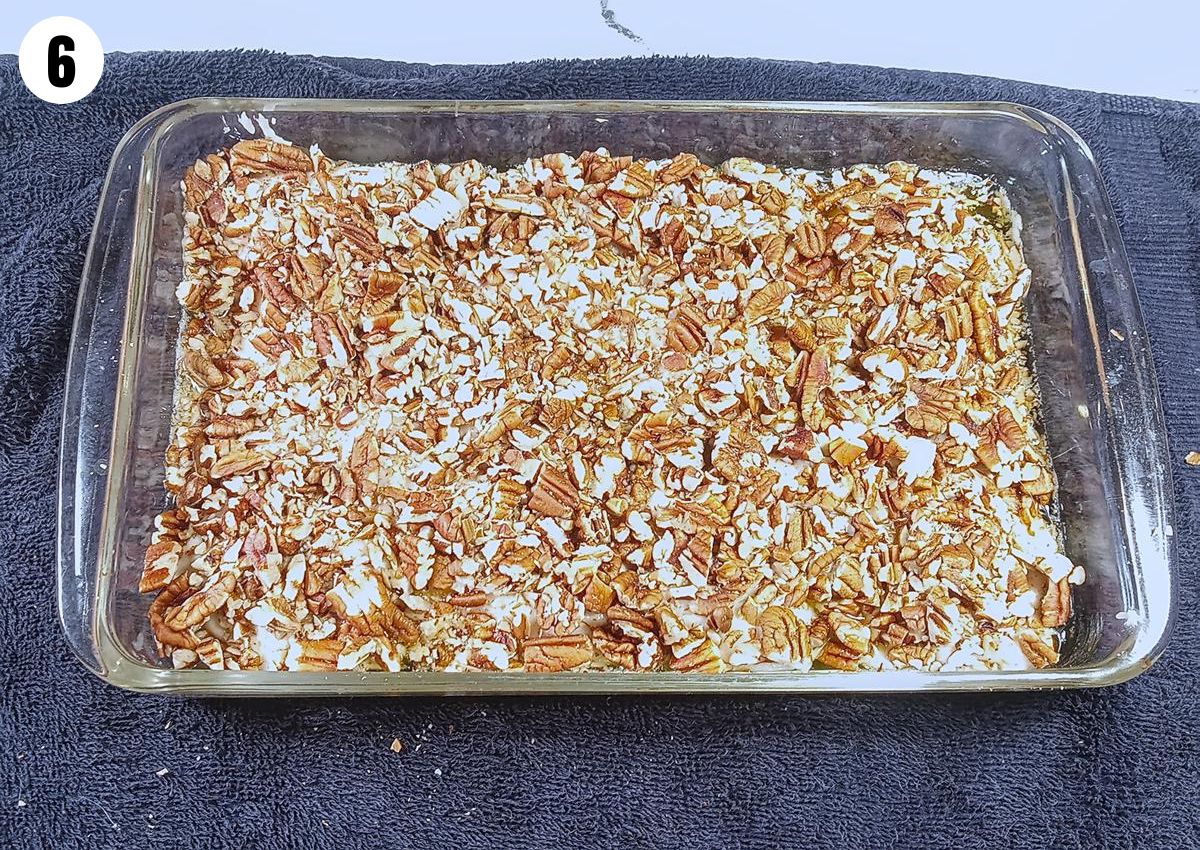 Sprinkle the chopped or crushed unsalted pecans over the top of the batter.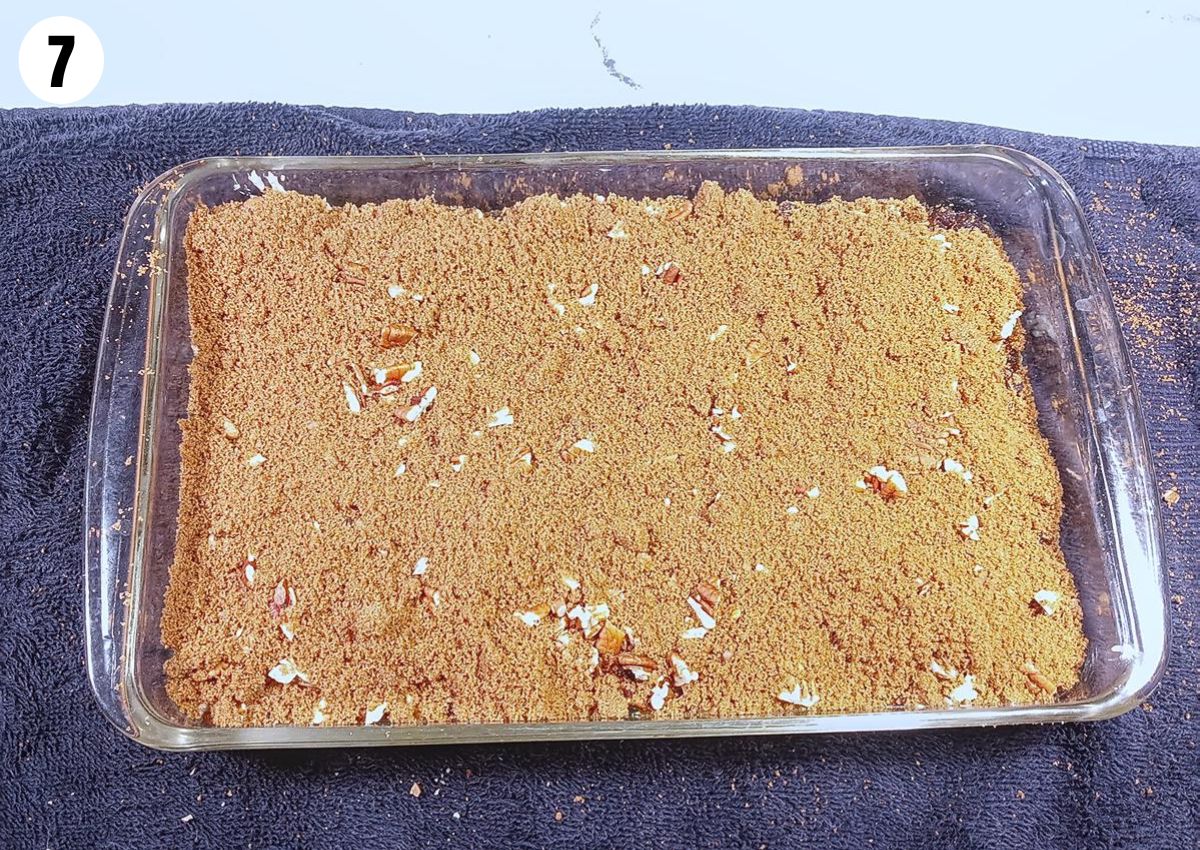 Then sprinkle the brown sugar evenly over the pecans..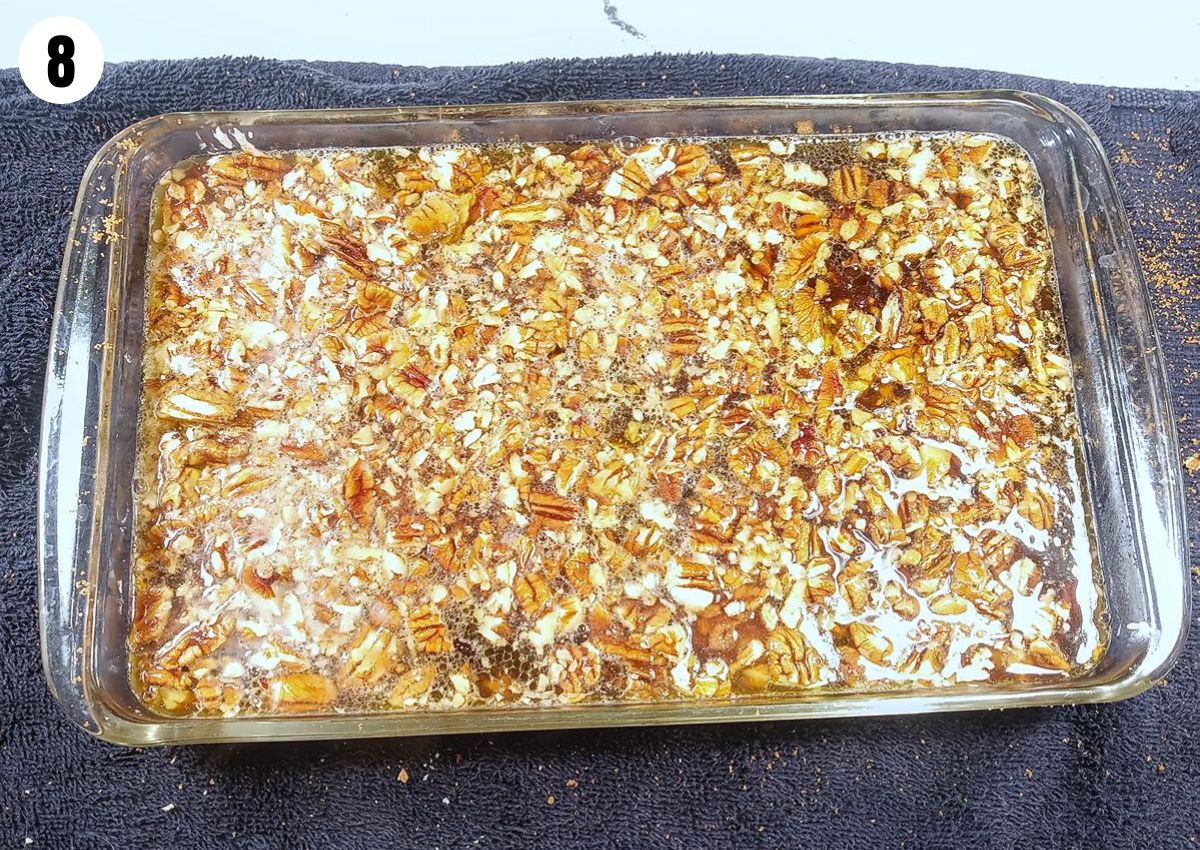 Pour the boiling hot water evenly over the top of all the ingredients in the dish. It will look weird but trust me it works.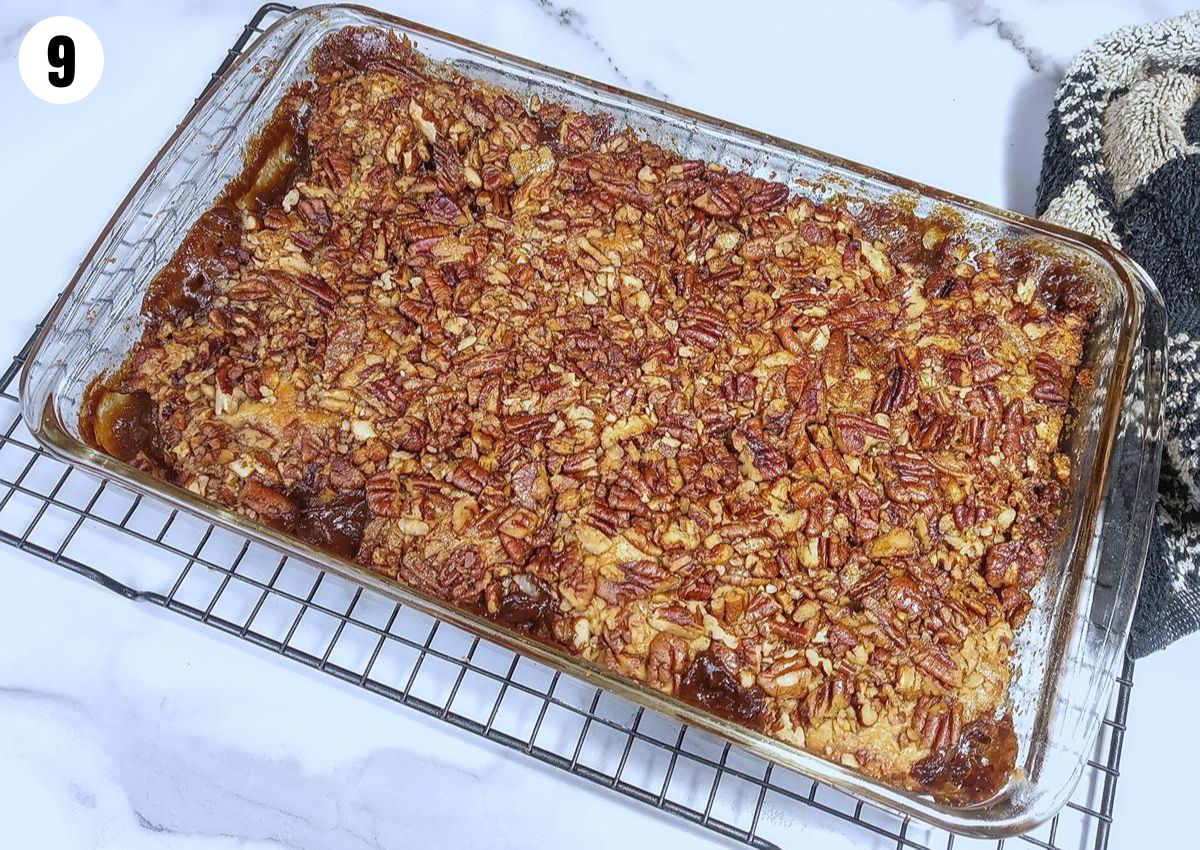 Bake at 350°F for 40 minutes until batter is puffed up and set. I've let it go up to an hour to get the top brown. Just keep an eye on it after 40 minutes.
My Recipe Tips
I like using a glass Pyrex baking dish for this as you can see if the batter is has baked up and set.    
I also like using a Pyrex measuring cup to boil the water in the microwave. It's fast and allows for easy measuring and pouring.
Start keeping an eye on this cobbler after about 40 minutes of baking, I've let it go up to an hour to get the top brown and crunchy the way I like it.
FAQ's
How to serve pecan pie?
You may serve it plain, with ice cream or a whipped cream topping. Store bought whipped cream from the tub generally has no sodium. I also love that you can serve it warm or at room temperature or even grab a quick bite or two cold from the fridge.
How to store pecan cobbler?
You may store the cobbler at room temperature for two days or in the refrigerator for up to four days. Just keep it covered tightly with plastic wrap or pan cover so it doesn't lose too much moisture.
Can you freeze pecan cobbler?
Yes, but it won't be as good when it's thawed. It will lose its crisp, firm crust topping and cake texture in between as when it's freshly baked.
A couple of my other great cobblers to enjoy!
---
Recommended Equipment & Ingredients For This Recipe.
See my whole Recommended Equipment & Ingredients shop page here
This section contains affiliate links to products I use and recommend.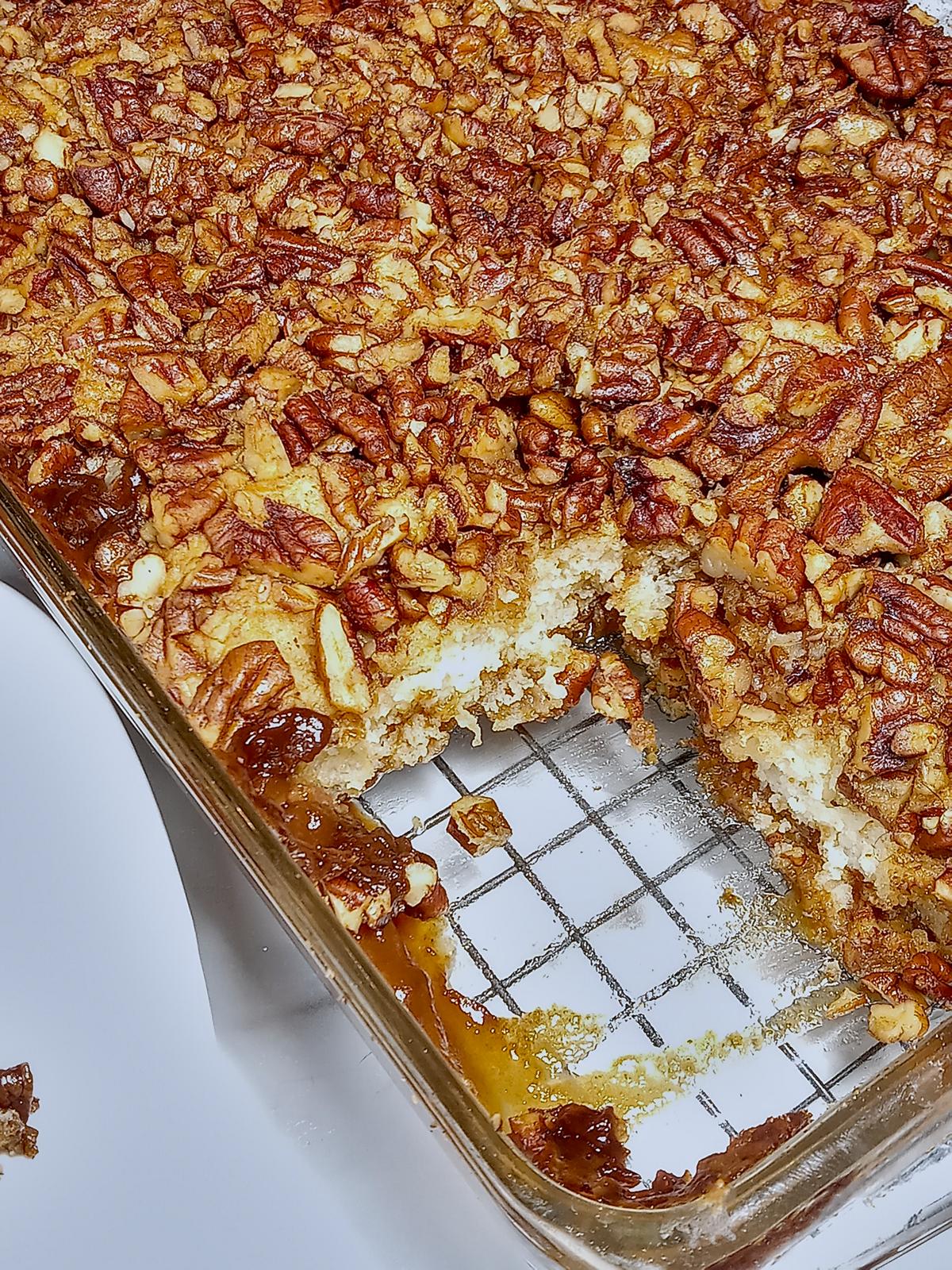 Please let me know how this Low Sodium Pecan Pie Cobbler turns out for you in the comments and a rating! I'm always eager for your feedback and hope my recipes turn out amazing for you. You can follow me on Facebook and Pinterest also, to hear about new recipes.
Low Sodium Pecan Pie Cobbler
This Low Sodium Pecan Pie Cobbler recipe throws out the traditional pecan pie with a cobbler for an easy dessert! It's so easy and best served warm with whipped cream!
Ingredients  
8

Tablespoons

unsalted butter

1 stick

1 1/4

cups

all-purpose flour

3/4

cup

granulated sugar

3

teaspoons

Hain Featherwieght no sodium baking powder

1/2

cup

milk

your choice, I used whole milk

2

teaspoon

vanilla extract

2

cups

unsalted pecans

chopped – 8oz. Bag, you can add even more if you like

1

cup

packed brown sugar

1 1/2

cups

boiling water
Instructions 
Place the butter in a 9×13-inch baking dish and place the baking dish in the oven. Preheat oven to 350°F so the butter can melt as the oven is warming.

Use whisk to mix flour, granulated sugar and no sodium baking powder in a medium sized bowl. Use a spatula and mix in milk and vanilla extract.

Once butter is melted, carefully remove hot baking dish from the oven. Drop large spoonfuls of the batter mix evenly over the melted butter in the pan. Do not stir.

Sprinkle the chopped (crushed) pecans over the top of the batter. Break up brown sugar so there are no clumps, then sprinkle the brown sugar evenly over the pecans.

Carefully pour the boiling water evenly over the top of the cobbler. I use a Pyrex measuring cup to heat water in the microwave 2-3 minutes.

Place the baking dish cobbler in the oven middle rack and bake until the cobbler is golden brown all over, about 40 minutes. You may need to cook a bit longer to get top really browned.

Let cool slightly before serving. Store tightly covered for up to 2 days on the counter or 3 days in the refrigerator.
Notes
Milk – You can use regular, 2% or whole milk.
Recipe Equipment & ingredients
Hain Featherweight No Sodium Baking Powder

Baking rack
Nutrition
Serving:
1
2″ x 4″
Calories:
352
kcal
Carbohydrates:
37.7
g
Protein:
3.7
g
Fat:
22.1
g
Saturated Fat:
6.3
g
Cholesterol:
22
mg
Sodium:
10
mg
Potassium:
140
mg
Fiber:
2.1
g
Sugar:
25.8
g
Calcium:
57
mg
Iron:
1
mg
https://tastyhealthyheartrecipes.com/a-la-cart/desserts/low-sodium-pecan-pie-cobbler/
Nutrition Information – The information shown is provided by an online nutrition calculator. It should not be substituted for a doctors or nutritionist's advice. Please understand that not everyone's sodium requirements are the same, therefore some recipes may be higher than you're allowed. Always consult with your doctor for your recommended daily sodium allowance.