Are you ready to try a Low Sodium Strawberry Cobbler? Say Yes! During a recent infrequent trip to my local grocery due to the recent events, I spied 2 lb. tubs of big luscious strawberries on sale. My eyes and stomach won over my common sense and I purchased two tubs. Whence I got home, I realized I had strawberries galore and I needed to find something to do with them. So a quick perusal of the internet gave me the idea of a strawberry cobbler and with just a few easy substitutions, Voilà! – a delicious low sodium dessert can be made.
| | |
| --- | --- |
| Typical sodium amount per serving | 300+ mg |
| Sodium per serving for this recipe | 46 mg |
| Calories per serving | 323 |
Typical recipes have 300+ mg of sodium per serving, what I would consider a standard pie slice. This recipe is a very forgiving 50 mg or less of sodium. Making this low sodium strawberry cobbler low sodium was easy with just a few replacements. Namely using salt free butter, Hains no sodium baking powder and eliminating the added salt.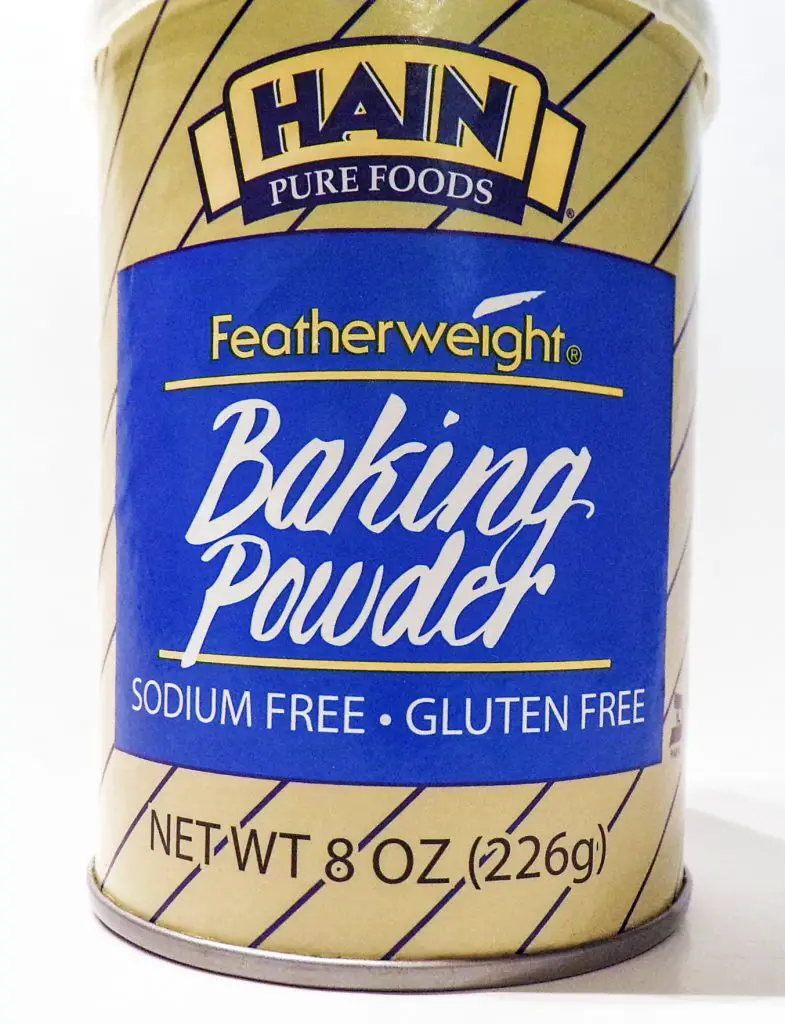 IS THIS COBBLER HIGH IN FAT AND SUGAR?
The short answer is yes. However, since I rarely have desserts or sweets, I find it to be an acceptable once in a while treat. You could probably experiment with a sugar substitute but since my diet is so low in sugar anyway, I have not followed this path. Also, you should be able to cut the butter in half, thereby cutting the fat in half and it still being an tasty cobbler, although it may not be as rich tasting.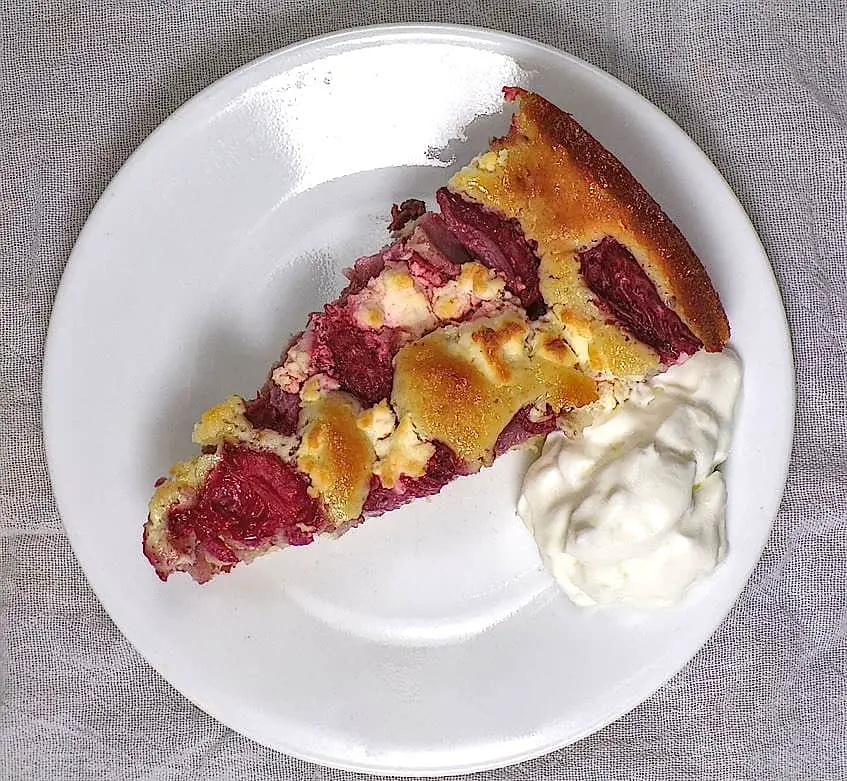 ADDING CREAM CHEESE TO LOW SODIUM COBBLER?
I love the cream cheese in this dessert as it adds a rich decadent flavor. In the past I've had many breakfast-brunches with strawberries and cream cheese and they pair together so well. Though I do miss having bagels to spread them on. You can choose to bake this low sodium strawberry cobbler with or without cream cheese depending on your sodium budget.
Since it was already so low in sodium per serving and the cream cheese really did not add that much sodium for the amount used, it was an easy choice for me.
To make the cream cheese easier to cut into little cubes, put it in the freezer for 20 to 30 minutes so it's nice and firm.
I had the interesting experience of it becoming frozen after forgetting about it and after thawing, it actually became somewhat crumbly. I have not experimented further with this so I don't know if it was just a unique experience or something that would happen all the time. But it did make adding the cream cheese very easy.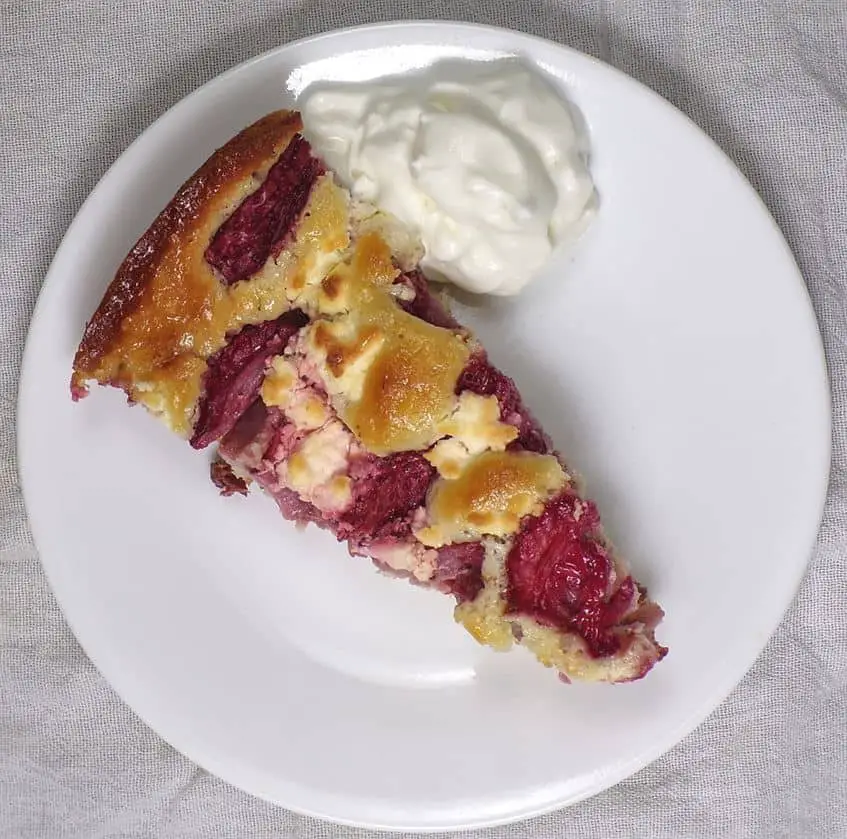 A CREAM CHEESE SUBSTITUTE?
I have another post in which I tout mascarpone cheese as a cream cheese substitute. It's spreadable texture and flavor pairs with berries quite nicely. It also has much less sodium per ounce as compared to cream cheese. I would love to be able to use this for a super low sodium strawberry cobbler.
However, since it is so much creamier and spreadable, I am not sure how it could be applied until after the cobbler is baked. Mascarpone does not seem that it would cut or crumble very well in its natural state. It could possibly be firmed up in the freezer for a bit like the regular cream cheese, though I have not yet experimented with freezing mascarpone cheese. It's your choice to use either or not if it fits in your "budget".
FRUIT TYPES FOR LOW SODIUM COBBLER
While I used strawberries for this low sodium cobbler, I look forward to trying many other fruits such as pears, peaches, apples and maybe even cherries.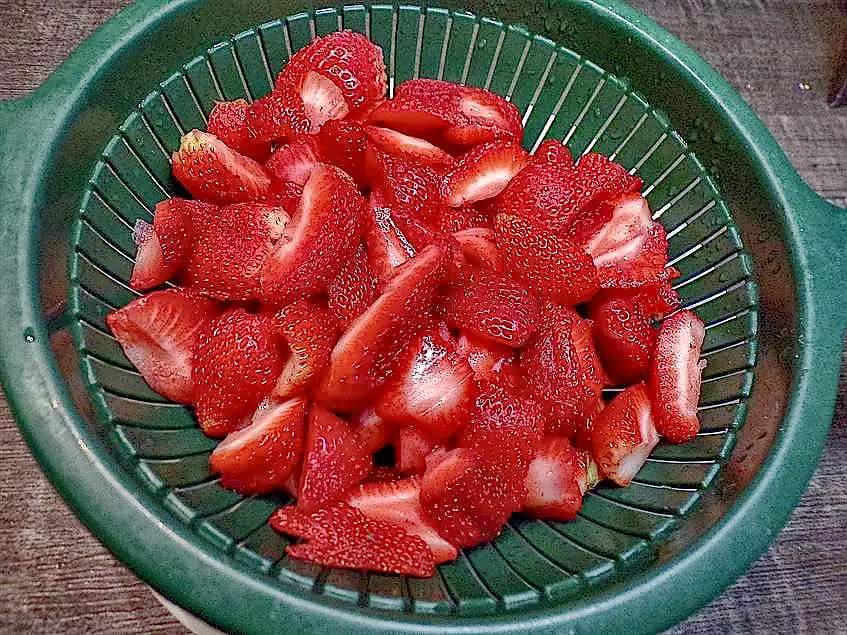 BAKING PANS FOR LOW SODIUM STRAWBERRY COBBLER
I used my 12 inch cast iron skillet and it came out perfectly. Likewise, you may also use a 2 1/2 quart glass baking dish. However, sometimes spillover of the rising cobbler has been commented on when using this size dish. A 9″x 13″x 2″ metal pan may also be used and is a little "safer" as it has a higher side. It will give you a little extra height and prevent any of the cobbler from dripping into your oven. Personally, I like the round skillet as it works and I like slices rather than squares of cobblers or pies.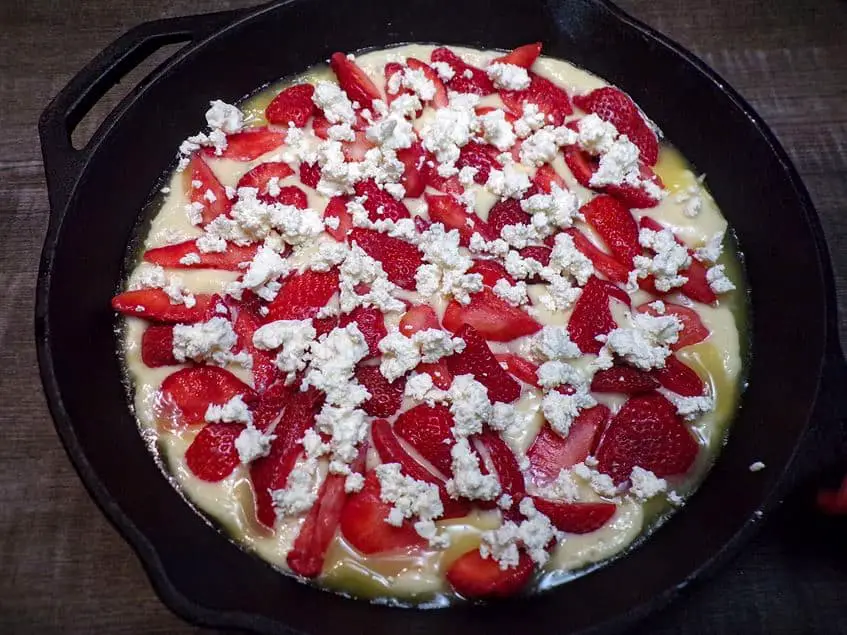 If you're unsure about your baking dish the first time and to prevent any mess from spill over, you may place your pan on a rimmed cookie sheet to catch any possible overflow.
A few of my other great dessert dishes to enjoy!
As always, please let me know how you like this recipe in the comments! I get motivated when I hear from you and am interested to learn about how you liked and served your Low Sodium Strawberry Cobbler. And please leave a comment or rating and share any tips you might have.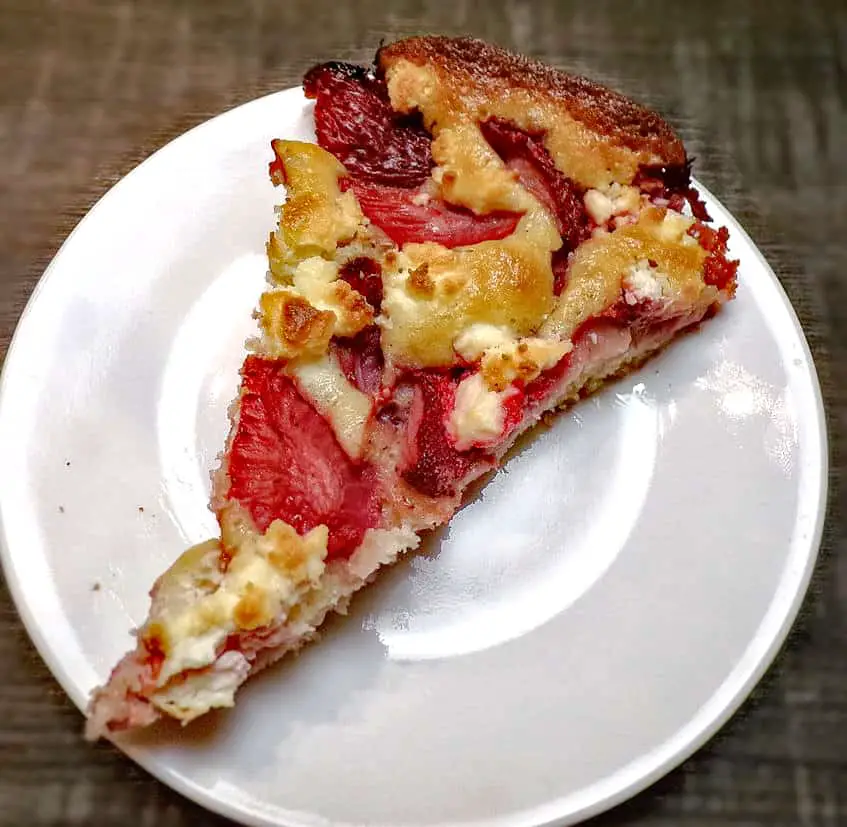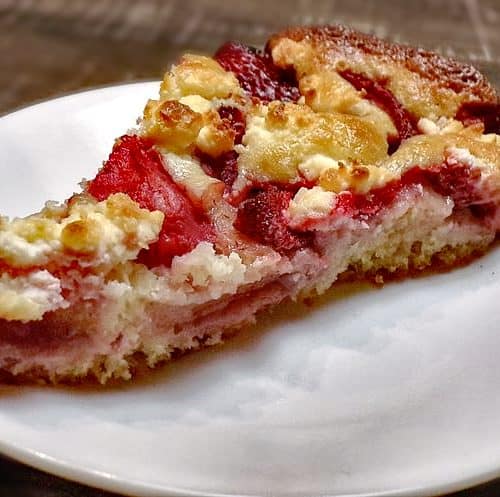 Low Sodium Strawberry Cobbler with Cream Cheese
Low Sodium Strawberry Cobbler is a rich decadent dessert mixing strawberries and cream cheese. Sumptuous either as a dessert or breakfast pastry.
Ingredients  
1

stick

no salt added butter

1/2 cup

1

egg

lightly beaten

1

cup

milk

1

cup

all-purpose flour

1

cup

white sugar

1

quart

whole strawberries

quartered and rinsed / drained well

2

ounces

cream cheese cut in small pieces
Instructions 
Preheat oven to 350˚. In a separate small pan melt butter then pour into unheated 12" cast iron skillet or 9 x 13 baking dish.

In a small mixing bowl, mix together the egg, milk, flour, sugar, no sodium baking powder. Pour directly over the butter in the skillet or baking dish, but do not stir.

Add the strawberries into the batter, placing in a single layer as much as possible. Sprinkle cream cheese bits over strawberries. Place in the preheated oven and bake for 45 minutes, or until top is golden brown and edges look crisp.
Notes
You may use more or less strawberries depending on pan size
Nutrition
https://tastyhealthyheartrecipes.com/a-la-cart/desserts/low-sodium-strawberry-cobbler-with-cream-cheese/
Nutrition Information – The information shown is provided by an online nutrition calculator. It should not be substituted for a doctors or nutritionist's advice. Please understand that not everyone's sodium requirements are the same, therefore some recipes may be higher than you're allowed. Always consult with your doctor for your recommended daily sodium allowance.