This southern staple take off for a Low Sodium Peach Cobbler recipe is super easy and quick to make from scratch. This is somewhat different than most cobblers in that the peaches are placed on top of the batter, yet when baked, the crust rises above the peaches to resemble an easy to cut pie. Peach cobbler is perfect for a breakfast fruit pastry, after-dinner dessert, or just a late-night snack and of course, it's low sodium!
This is a ridiculously easy cobbler recipe that comes together in just a few minutes. It has a golden honey drizzled crust that develops on top and a soft almost cake like inside that encases those slippery mouth-watering peaches. Enjoy the taste of seasonal fresh peaches when they're available but, don't worry, you can use canned or frozen peaches too. No reason not to have peach cobbler all year long!
| | |
| --- | --- |
| Typical avg. sodium amount per serving | 200 mg |
| Sodium per serving for this recipe | 30 mg |
| Calories per serving | 356 |
Typical recipes have an average amount of 200mg sodium per serving, for what I would consider a standard pie slice. This recipe is a very forgiving 30 mg or less of sodium. Making this Low Sodium Peach Cobbler low sodium was easy with just a few replacements. Namely using salt-free butter, Hains no sodium baking powder, and eliminating the added salt.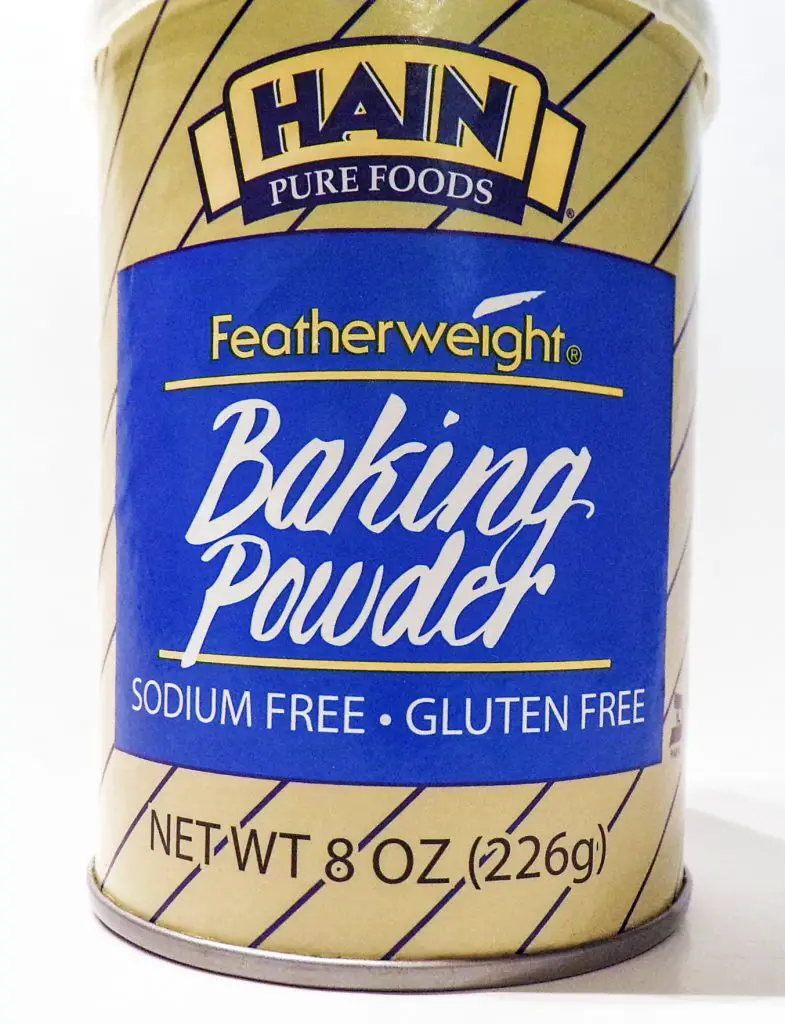 Is This Cobbler High in Fat and Sugar?
The short answer is yes. However, since I rarely have desserts or sweets, I find it to be an acceptable once in a while treat. You could probably experiment with a sugar substitute but since my diet is so low in sugar anyway, I have not followed this path. Also, you should be able to cut the butter in half, thereby cutting the fat in half and it still being a tasty cobbler, although it may not be as rich tasting with nice crispy edges.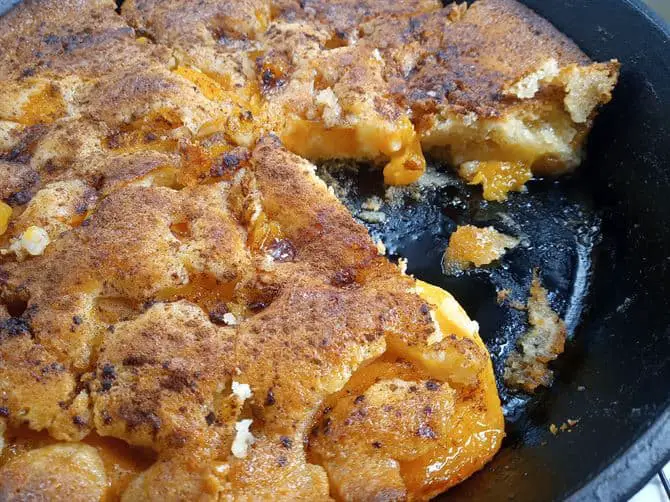 Other Fruit Types for Low Sodium Cobbler
While I used peaches for this low sodium cobbler, I look forward to trying many other fruits such as pears, strawberries, apples and maybe even cherries.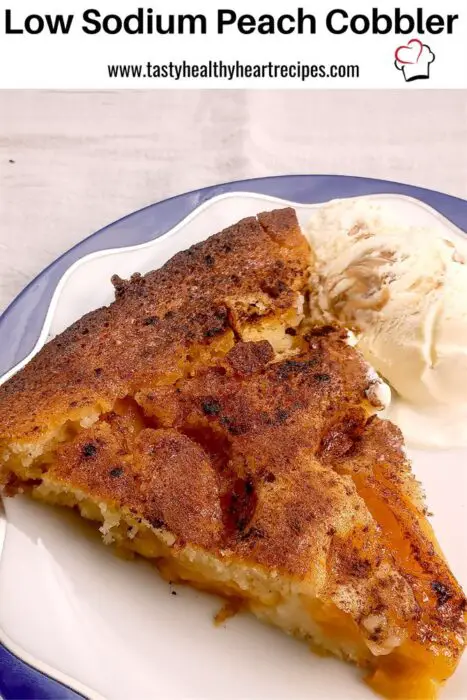 Baking Pans for Low Sodium Peach Cobbler
I used my 12 inch cast iron skillet and it came out perfectly. Likewise, you may also use a 2 1/2 quart glass baking dish. However, sometimes spillover of the rising cobbler has been commented on when using this size dish. A 9″x 13″x 2″ baking pan may also be used and is a little "safer" as it has a higher side. It will give you a little extra height and prevent any of the cobbler from dripping into your oven. Personally, I like the round skillet as it works perfectly and I like slices rather than squares of cobblers or pies.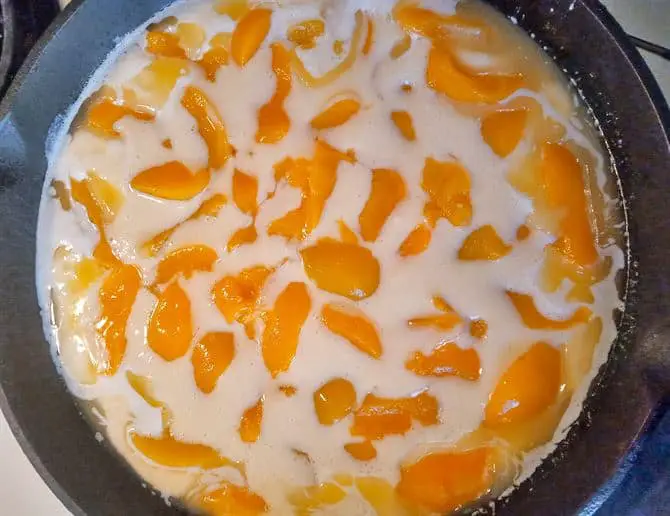 If you're unsure about your baking dish the first time and to prevent any mess from spill over, you may place your pan on a rimmed cookie sheet to catch any possible overflow.
---
My Tips for Your Low Sodium Peach Cobbler
Can you use canned peaches? Yes, I like to use the canned peaches with extra light syrup. It just makes things so much easier. Simply drain the peaches and rinse quickly under cool water. Allow a few minutes to drain before adding to the batter.
Actually I am not positive that the nutrition calculator takes into account that canned peaches are drained and rinsed. So the sugar content may be a little high in the label below.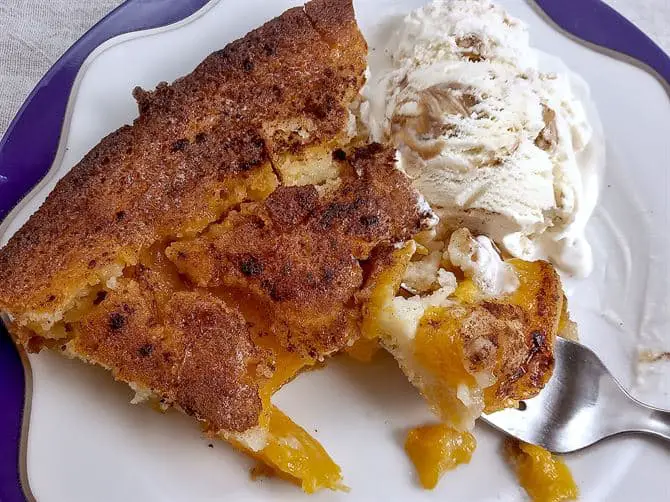 Can you use frozen peaches? I have made this before with frozen peaches and it was great. I get a big bag of frozen peaches at Costco and it really was just as good. Just let them thaw for a few in minutes in a large mixing bowl with some cool water. Then just drain well, add to the batter, and your set.
I actually buy a lot of fruit this way, you don't have to worry about having to use them up as quickly and I have fruit always on hand. Frozen fruit is also perfect and I use all the time in my Low Sodium Overnight Oats, just pop them in and they thaw overnight!
Using fresh peaches? When using fresh peaches slice them fairly thin, so they lay on top of each other more evenly. You don't want a big peach wedge sticking up through the top.
I haven't used fresh peaches since a long, long time ago. Five or six fresh peaches should cover you for this recipe. You may either peel or leave the skin depending on your taste.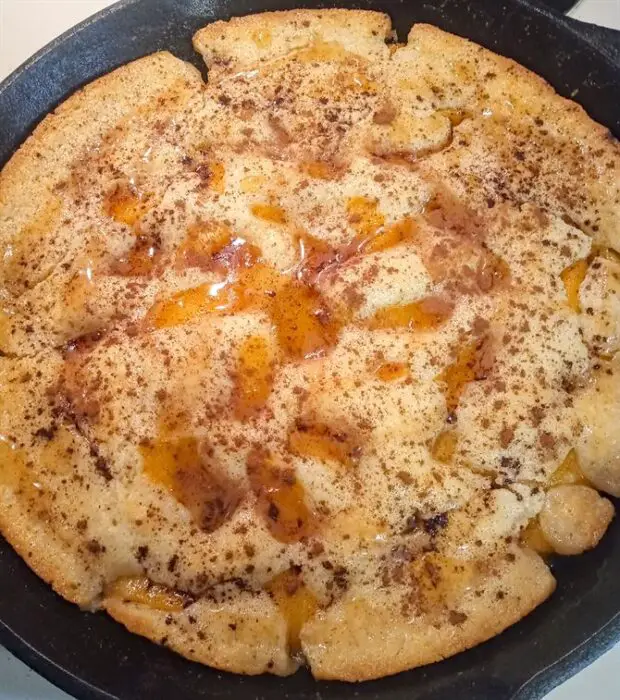 How should you store leftover cobbler? Cut remaining cobbler into slices and store them in a sealed covered container in the fridge for up to a week.
A few of my other great dessert dishes to enjoy!
As always, please let me know how you like this low sodium peach cobbler in the comments! I get motivated when I hear from you and am interested to learn about how you liked and served your Low Sodium Peach Cobbler. And please leave a comment or rating and share any tips you might have.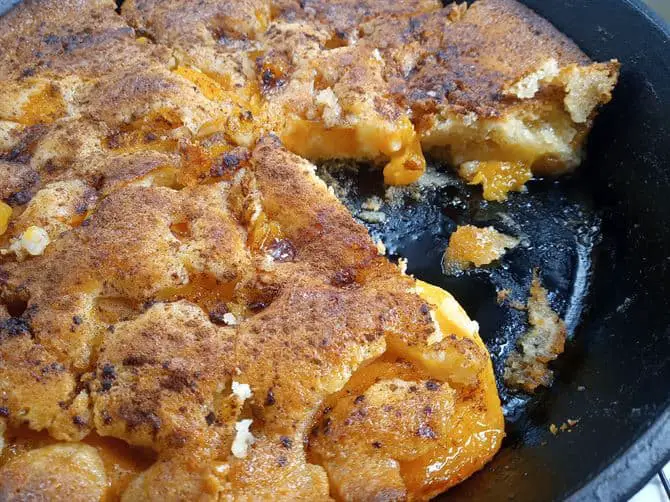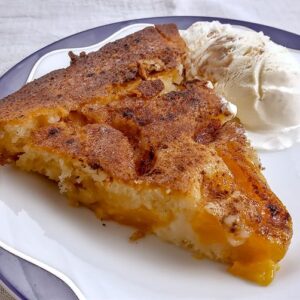 Low Sodium Peach Cobbler
Low Sodium Peach Cobbler is a delicious fruity dessert mixing succulent peaches with a drizzled honey and a cinnamon sprinkle topping. Sumptuous either as a dessert or breakfast pastry.
Ingredients  
3

15oz. can

peaches in extra light syrup*

drained and rinsed

1

stick

no salt added butter

1/2 cup

1

egg

lightly beaten

1

cup

milk

1

cup

all-purpose flour

3/4

cup

white sugar

2

tsp

roasted cinnamon

4-5

Tbsp

honey
Instructions 
Preheat oven to 350˚. In a separate small pan melt butter, then pour into unheated 12" cast iron skillet or 9 x 13 baking dish.

In a mixing bowl, mix together the lightly beaten egg, milk, flour, sugar, no sodium baking powder. Pour directly over the butter in the skillet or baking dish, but do not stir.

Add the peaches by hand into the batter, placing in a single layer as much as possible. Place skillet in the preheated oven and bake for 30 minutes. Remove cobbler and drizzle honey and sprinkle roasted cinnamon on top. Replace cobbler in oven and bake another 15 minutes or until top is golden brown and edges look crisp.
Notes
You may sub 6 cups of frozen peaches or 5-6 fresh sliced peaches.
You may use more or less peaches depending on pan size.
Nutrition
Serving:
1
-pie slice
Calories:
356
kcal
Carbohydrates:
61.4
g
Fat:
12.4
g
Sodium:
30
mg
Sugar:
28
g
https://tastyhealthyheartrecipes.com/a-la-cart/desserts/low-sodium-peach-cobbler/
Nutrition Information – The information shown is provided by an online nutrition calculator. It should not be substituted for a doctors or nutritionist's advice. Please understand that not everyone's sodium requirements are the same, therefore some recipes may be higher than you're allowed. Always consult with your doctor for your recommended daily sodium allowance.