This Low Sodium Ketchup recipe is the answer for what is probably among the most common high sodium condiments in your refrigerator. I really never used that much ketchup, but that bottle sat on the shelf mocking me. Well, I couldn't have that, so I made my own low sodium, natural sugar version. Now I am experimenting a little bit every time I make it and I am still not sure I have found the perfect mixture, but I have several favorites.
This is also the base recipe I use for my Low Sodium Sloppy Joes and Low Sodium Barbecue sauces. It is so easy to make and you can change the flavors ever so subtly. Nowadays I like to make rich, bold ketchup which some might call it almost a barbecue sauce and I use that way too.
| | |
| --- | --- |
| Typical sodium amount per Tbsp | 160+ mg |
| Sodium per Tbsp for this recipe | 11 mg |
| Calories per serving | 27 |
Not only does most ketchup contain high amounts of sodium or potassium chloride. It also contains a huge amount of artificial sweeteners, such as corn syrup; with this recipe you can control that also.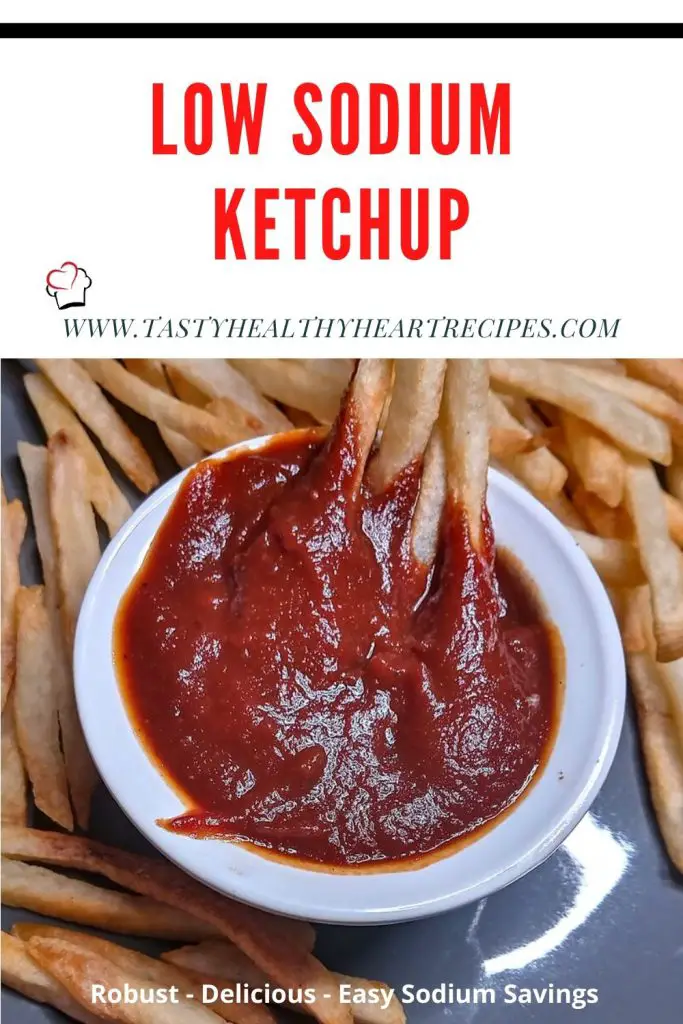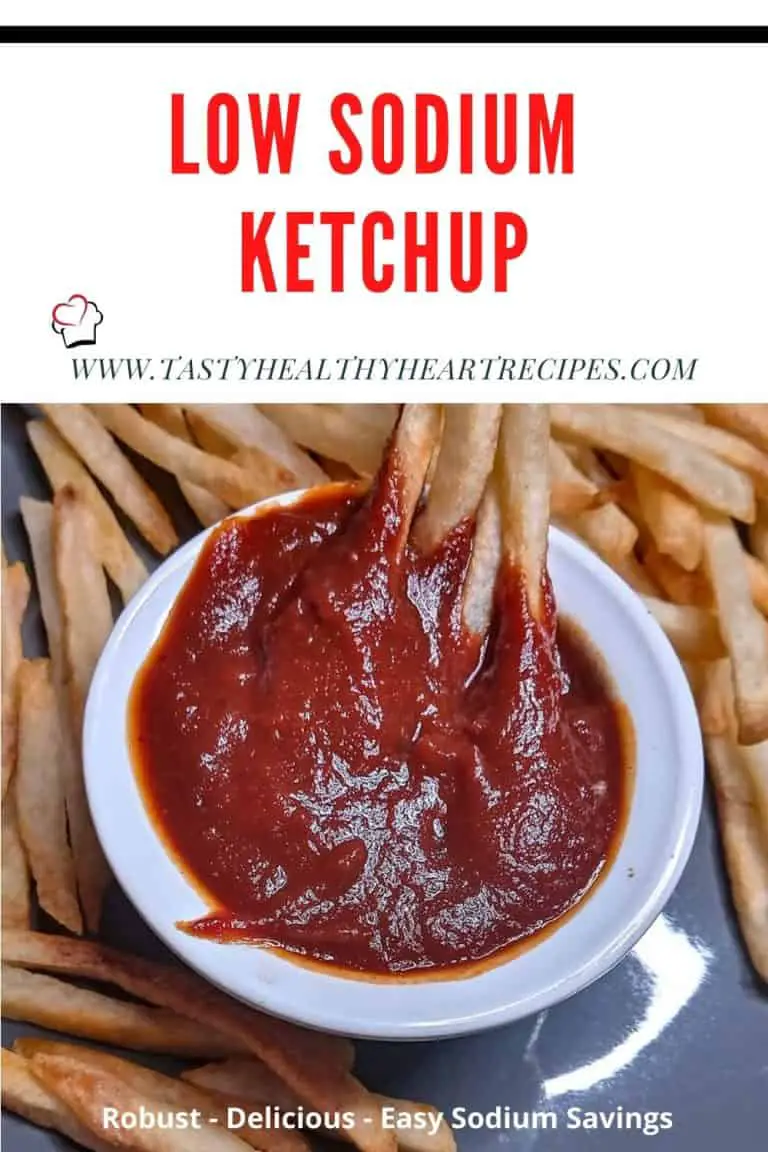 HOW MUCH SODIUM IN KETCHUP?
Ketchup, mustard and most condiments are some of the worst high sodium offenders out there.  Almost any bottle of ketchup will be 116 mg of sodium per tablespoon. So while I try to keep most of my entire meals below 250 mg, a tablespoon of regular ketchup would make meeting that goal impossible.
When I first found no salt added ketchup near the beginning of my low sodium diet I thought I was halfway there. But, Lo and Behold a few months later I found out how much potassium chloride it contains. Then I made my first batch of ketchup and I was hooked.
Heinz has a no salt added version, but it contains Alsosalt® Salt Substitute (Potassium Chloride) as a replacement. Potassium Chloride interferes with many medications of heart, liver, kidney, and high blood pressure patients and should be avoided. Hunt's used to have a no salt version with no Potassium Chloride either, but it appears to have been discontinued.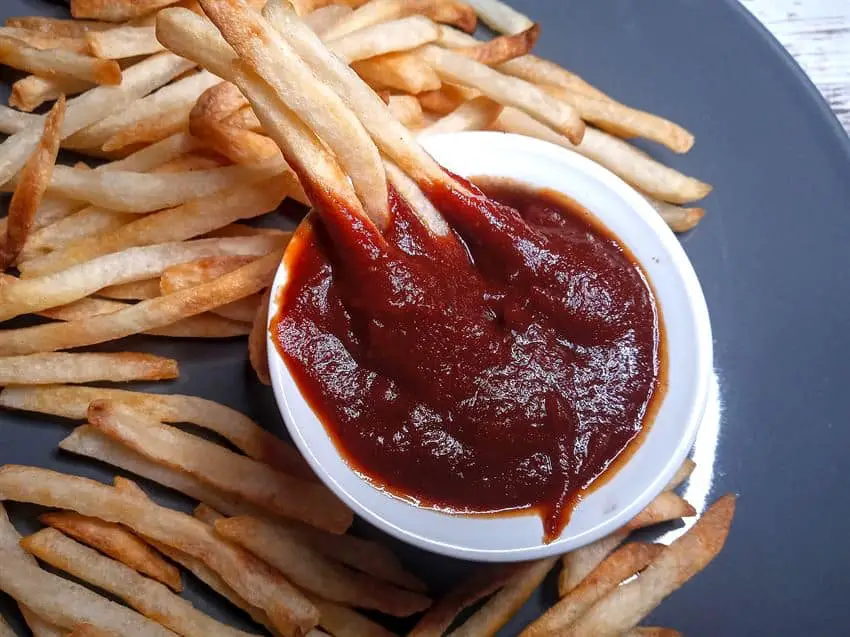 I do use Heinz no salt added occasionally when I have eggs or French fries but it is so little and so infrequently it is just my personal choice to use it in a pinch.
But hope is not lost!  You can easily replace store bought ketchup entirely with this recipe making this very low sodium and Potassium Chloride free! Experiment and make your own gourmet low sodium ketchup. I make mine with molasses instead of honey and a touch of chili powder for a dark bold ketchup.
HOW TO MAKE LOW SODIUM KETCHUP
This is so easy to make after the first two times you won't even think about it. Just add all the ingredients in a medium sized saucepan. Bring to a boil and then then cover and turn to low to simmer for 15 to 20 minutes. Stir to combine well occasionally.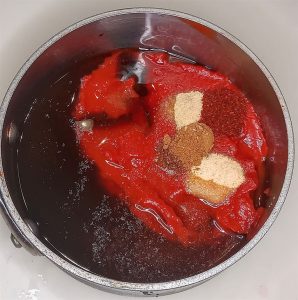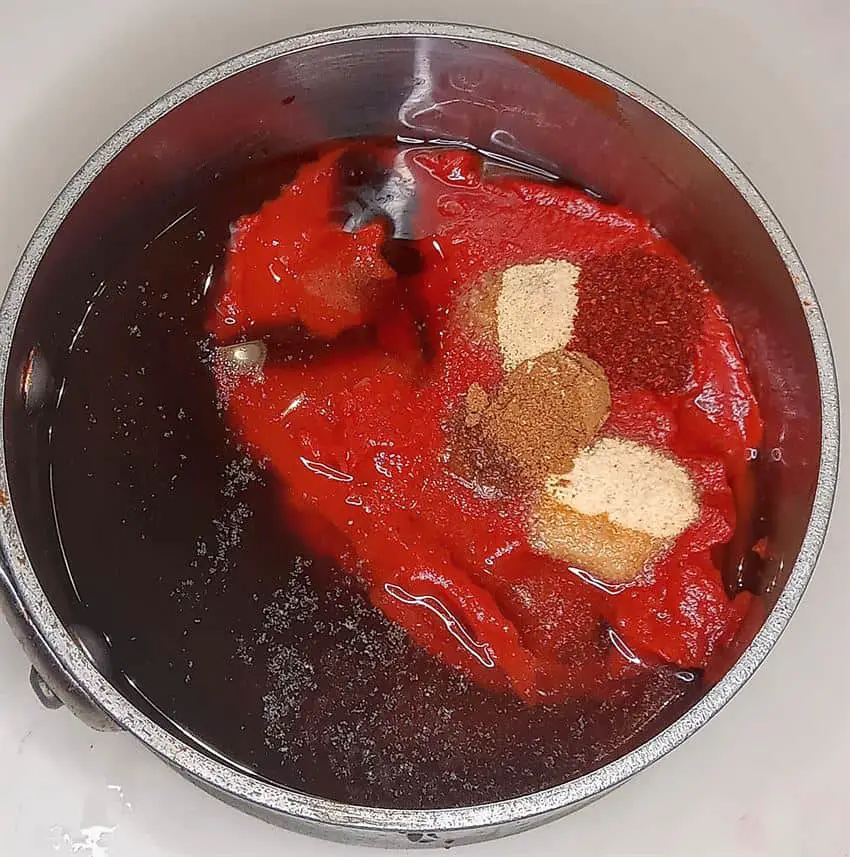 Be sure to keep covered when not stirring. The ketchup will spit during the simmering stage. Just leave the lid on askew and you will be set. If you want a thinner consistency just add water about a tablespoon at a time. Or for thicker, just let it simmer out the water.
HOW LONG DOES LOW SODIUM KETCHUP LAST
Because ketchup contains a good amount of vinegar from what I've researched is about one month. I have made it in smaller batches like this recipe and even then it has lasted up over a month, no problems. Gauge what you generally use in a month and then make that amount. This recipe makes a touch over 1 cup.
A few of my other great dishes to enjoy!
As always, please let me know how you like this recipe in the comments! I get motivated when I hear from you and am interested to learn about how you liked your Low Sodium Ketchup. And please leave a comment or rating and share any tips you might have.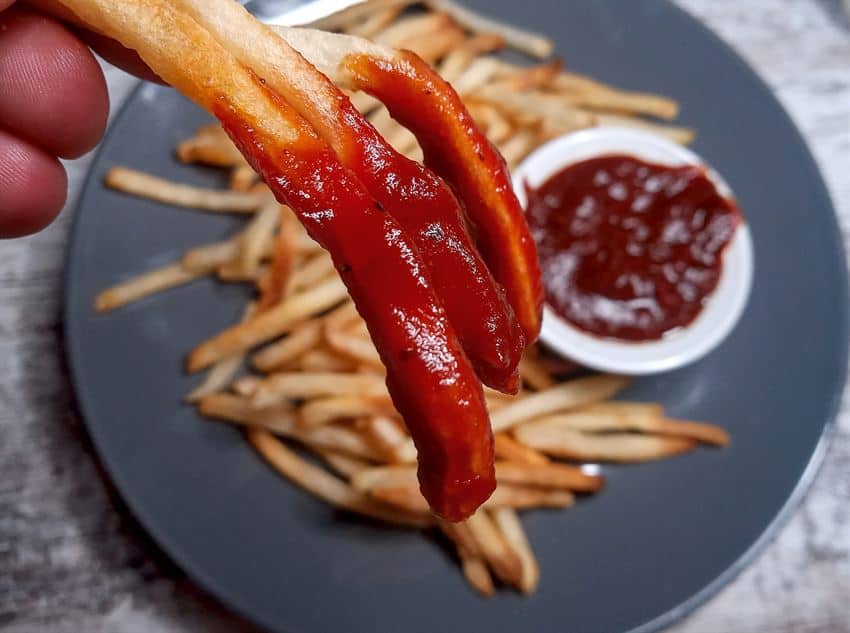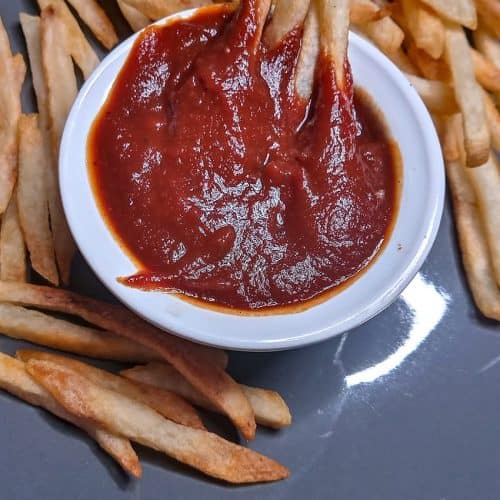 Low Sodium Ketchup
This Low Sodium Ketchup will save you from one of the most common high sodium, high artificial sweetener condiments in your fridge. So Easy – So Good!
Ingredients  
1

-6 oz. can

tomato paste no salt added

1/4

cup

honey

I now use molasses for rich deeper taste.

1/2

cup

white vinegar

I use white wine vinegar but any will do

1/4

tsp

onion powder

1/4

tsp

garlic powder

1/4

tsp

allspice

1/2

tsp

cinnamon

1

tsp

liquid smoke

optional for a smoky flavor

2

Tbsp

water

or more for a thinner desired consistency
Instructions 
Combine all ingredients a medium saucepan and mix.

Bring to a boil, reduce heat to low and simmer 15-20 minutes. Stir throughout every few minutes.

Cover with lid askew because it will spit hot ketchup all over even the lowest setting.

Add water, a teaspoon at a time or simmer down to your desired consistency.

Let cool and then pour preferably into a glass bottle or container for storage.

Keep refrigerated up to a month.
Notes
*This is the recipe makes a little over a cup of ketchup.
Nutrition
Serving:
1
Tbsp
Calories:
27
kcal
Carbohydrates:
6.6
g
Protein:
0.5
g
Fat:
0.1
g
Sodium:
11
mg
Fiber:
0.5
g
Sugar:
5.7
g
https://tastyhealthyheartrecipes.com/a-la-cart/sauces-dips-spices/low-sodium-ketchup/
Nutrition Information – The information shown is provided by an online nutrition calculator. It should not be substituted for a doctors or nutritionist's advice. Please understand that not everyone's sodium requirements are the same, therefore some recipes may be higher than you're allowed. Always consult with your doctor for your recommended daily sodium allowance.