Enjoy a messy, sweet and savory Low Sodium Sloppy Joes again! With BBQ season here, what is a cookout without Sloppy Joes?  Sloppy Joes and paper plates are always so much fun. But this is also a great recipe for a quick weeknight meal. And if you pair it with my Low Sodium Hamburger Buns and you have the start of a great low sodium zesty meal.
| | |
| --- | --- |
| Typical sodium amount per serving | 400+ mg |
| Sodium per serving for this recipe | 103 mg |
| Calories per serving | 214 |
The little package of Sloppy Joe seasoning has 280 mg per serving and the label claims 8 servings in a 1.31 oz. package. Can you imagine adding 2240 mg of sodium to 1 pound of beef? And ketchup is required also, add in another 850 mg's to the recipe.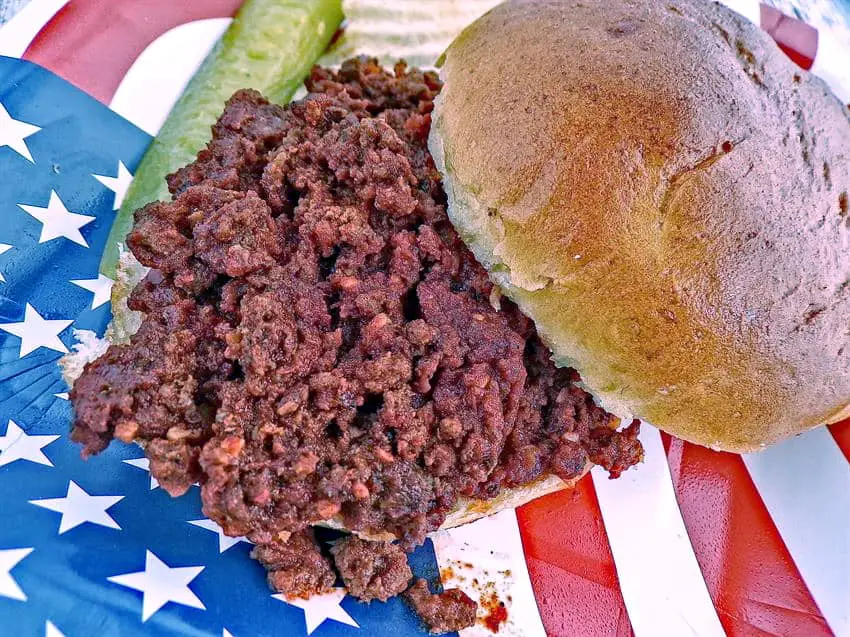 The famous canned, pre-made sauce that's used to make Sloppy Joe's is just as high. For the pre-made Sloppy Joe Sauce the directions call for a 15 oz. can per pound of beef. So in total you get 2480 mg of sodium or 413 mg per serving (6).  
But I have the recipe for the Best Low Sodium Sloppy Joe and combined with my Low Sodium Hamburger Buns you are in for a treat!
WHAT MAKES THESE SLOPPY JOES LOW SODIUM?
The best low sodium Sloppy Joes are so easy to make, and cook in one skillet in about 20 minutes if you cut your vegetables while the beef is browning. Browned beef is mixed with green pepper, onion and garlic and combined with a sweet and spicy tomato paste and usually a ketchup sauce with a few spices. The real secret is finding the right low – no salt products and seasoning in the sauce!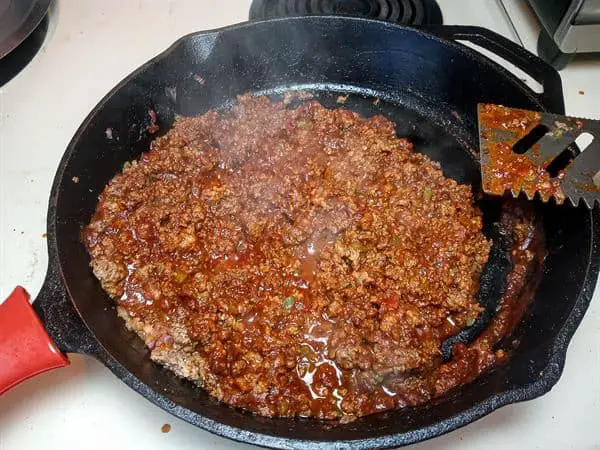 Ketchup is usually a main ingredient in Sloppy Joes with up to 1/3 cup being used. However, with standard ketchup having 160 mg per Tbsp that's adding 852 mg to the recipe or 142 mg per serving.
Heinz has a no salt added version, but it contains Alsosalt® Salt Substitute (Potassium Chloride) as a replacement.  Potassium Chloride interferes with many medications of heart, liver, kidney, and high blood pressure patients and should be avoided. Hunt's used to have a no salt version with no Potassium Chloride either, but it appears to have been discontinued.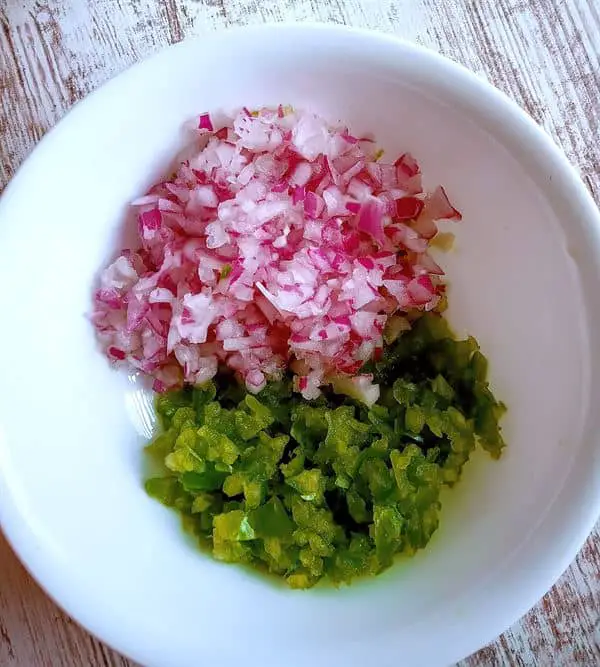 I do use Heinz no salt added occasionally when I have eggs or French fries but it is so little and so infrequently it is sometimes my personal choice to use it in a pinch.
But hope is not lost!  I have replaced ketchup entirely in this recipe making this very low sodium and Potassium Chloride free!
IDEAS TO SERVE LOWS SODIUM SLOPPY JOES
Low Sodium Sloppy Joes are always the king when served on the traditional hamburger buns. But buns are another source of high sodium, so be careful. Most store bought buns have 220+ mg of sodium. But if you make my Low Sodium Hamburger Buns you are only adding a measly 13 mg per bun! If you're in a pinch you could use the King's Hawaiian Hamburger Buns having about half the sodium of a standard bun at 125 mg.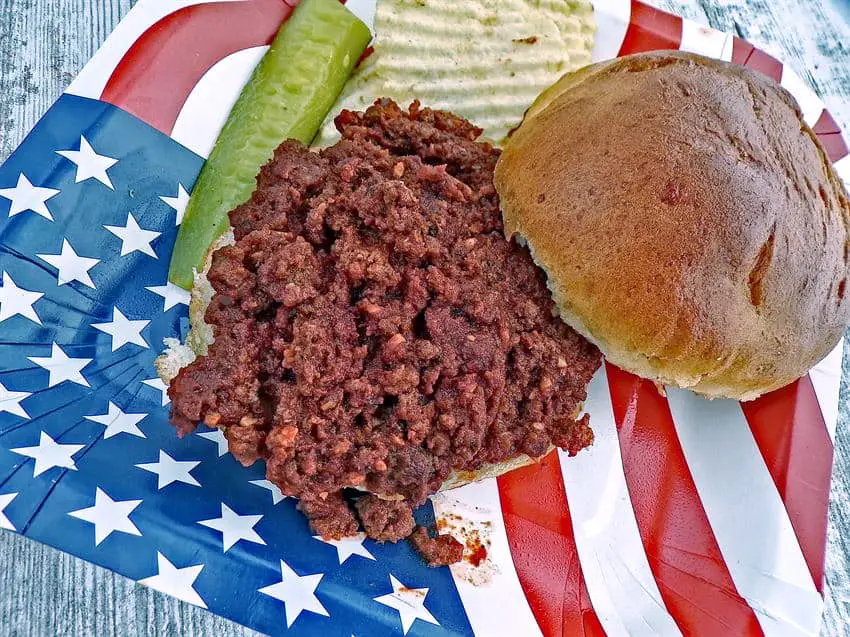 For other ideas, how about wrapped in an already low sodium corn tortilla, taco style? It could also be incorporated into a dip for low – no salt tortilla chips. Try it hot or cold on a salad or baked potato as a topping for extra zest. Low Sodium Pita, pasta and rice the list is almost endless!
TIPS FOR MAKING HOMEMADE SLOPPY JOES
You can easily and cleanly get tomato paste out the can by using a can opener on both ends. Then just push one lid through, no muss, no fuss.
Toasting the bun makes a ton of flavor and texture difference in the whole sandwich. And it is well worth the few minutes to do for the best meal. If you do use regular buns or bread, just proceed as if you were making a grilled cheese. With my low my low sodium buns they seem to do best lightly buttered and then briefly placed open side up under the broiler. Watch them for desired toasting.
When doing the final simmer of the low sodium Sloppy Joes keep an eye on the sauce so that it doesn't reduce too much and dry out.  Simmer down or add more water to your desired consistency. I usually end up using about a cup of water total adding in increments.
Nutrition data is for the Sloppy Joe mix – not including buns or additional toppings.
A few of my other great dishes to enjoy!
As always, please let me know how you like this recipe in the comments! I get motivated when I hear from you and am interested to learn about how you liked and served your Low Sodium Sloppy Joe. And please leave a comment or rating and share any tips you might have.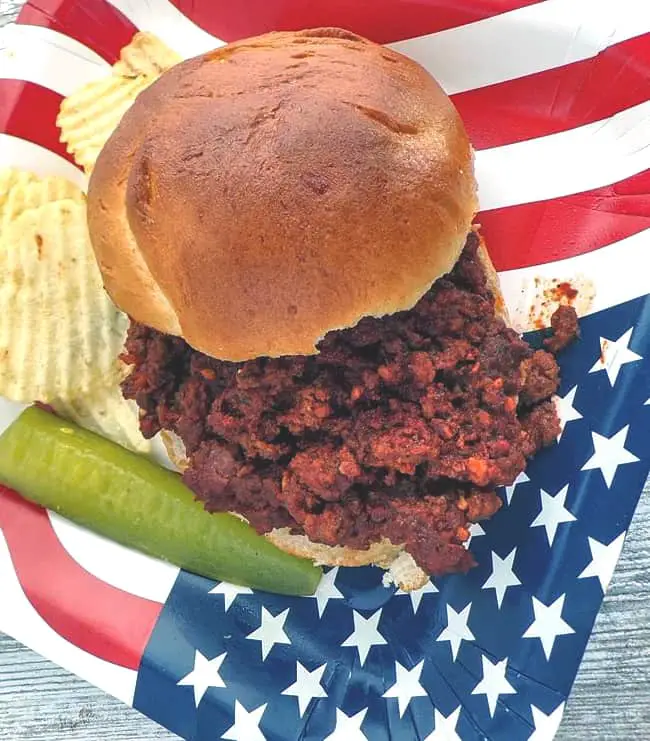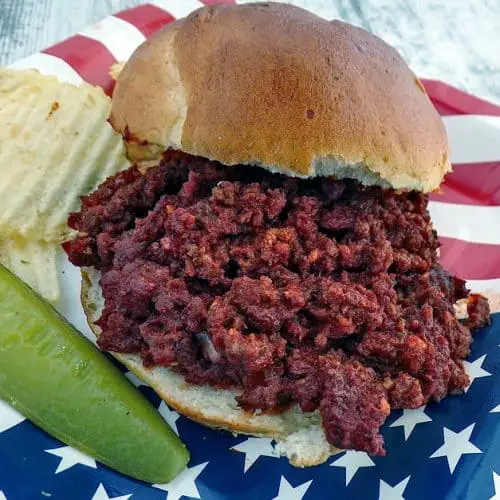 Low Sodium Sloppy Joes
BBQ season or a quick dinner, these family-favorite homemade low sodium sloppy joes can be ready in 30 minutes!  
Ingredients  
1

tsp

olive oil

1

lb.

ground beef

1/3

green bell pepper

finely minced

1/2

large yellow or red onion

finely minced / I like to use red onion

1 1/2

tsp

garlic pre-minced
For The Sauce:
1 6

oz.

can tomato paste no salt added

1/4

cup

molasses

1/2

cup

white wine vinegar

1/4

tsp

garlic powder

1/4

tsp

onion powder

1/4

tsp

allspice

1

tsp

smoke paprika

1

tsp

liquid smoke

1

tsp

yellow ground mustard

3/4

tsp

chili powder

1/4

tsp

red pepper flakes

optional

1/4

tsp

black pepper

1

cup

water

reserve 1/2 cup
Instructions 
Heat oil in large skillet over medium heat. Add beef and brown, breaking apart into small crumbles as it cooks, about 10 minutes. Drain any grease.

Add diced onion and bell pepper to same skillet and cook 2-3 minutes, until soft. Add pre-minced garlic and cook for another 30 seconds or so. Add beef back to the skillet and mix well.

While the beef is cooking add the remaining ingredients to a small mixing bowl using ½ the water or ½ cup. Whisk together until smooth. Add to the beef and vegetable mix in the skillet.

Cook over medium low heat for 10-15 minutes, until mixture has thickened to your desire. Use any remaining water as need to your desired consistency.
Nutrition
Serving:
1
–
Calories:
214
kcal
Carbohydrates:
19
g
Protein:
15.5
g
Fat:
8.7
g
Cholesterol:
45
mg
Sodium:
103
mg
Fiber:
1.7
g
Sugar:
12.1
g
https://tastyhealthyheartrecipes.com/main-dishes/entrees/the-perfect-low-sodium-sloppy-joes/
Nutrition Information – The information shown is provided by an online nutrition calculator. It should not be substituted for a doctors or nutritionist's advice. Please understand that not everyone's sodium requirements are the same, therefore some recipes may be higher than you're allowed. Always consult with your doctor for your recommended daily sodium allowance.