If you like and use Italian dressing this Low Sodium Italian Dressing definitely needs to be on your to make list. While my favorite dressing is still blue cheese I may just be out of luck there due to sodium content. I like to rotate through different dressings and Italian dressing was also a top favorite of mine.
As easy as this low sodium salad dressing recipe is to make and no discernible difference in taste to store brand it's a no brainer. Use it as a salad dressing or a marinade for chicken, beef or pork. Or even better, in the summer drizzle over some fresh sliced garden tomatoes with pepper. 
| | |
| --- | --- |
| Typical sodium amount per serving | 300+ mg |
| Sodium per serving for this recipe | 33 mg |
| Calories per serving | 121 |
Sodium in Italian Dressing
Wow! I checked out three popular name brand dressings at the grocery store and once again the sodium levels about knocked my socks off! They were all way, way over my sodium limit especially for what I used to consider a healthy salad. Coming in at 300, 350, and 450 mg of sodium for two tablespoons! Again, I never considered a tablespoon to be that big and I probably used close to three or four tablespoons I'm sure. And unfortunately my favorite brand was the worst offender.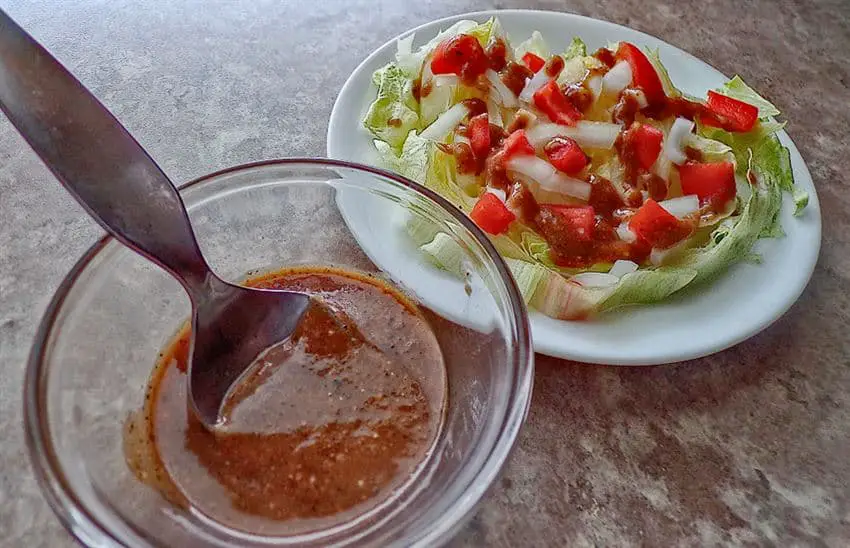 But amazingly you can save hundreds of sodium mg with this low sodium Italian recipe. With one tablespoon of grated Parmesan for flavor the recipe has only 33 mg of sodium. And if you opt to leave the Parmesan out it has only 1 mg!  Really, what is with all the sodium in our food?!
Choosing Your Oil
I like to make my Low Sodium Italian Dressing with extra-virgin olive oil. However, you may find the extra virgin olive oil flavor undesirable. If so, use regular olive oil which has a more neutral taste but, I believe, is a better. healthier alternative to other types of oils. I'm no expert but I think when consuming raw oils like these, olive oils are the better choice being lower in polyunsaturated fats.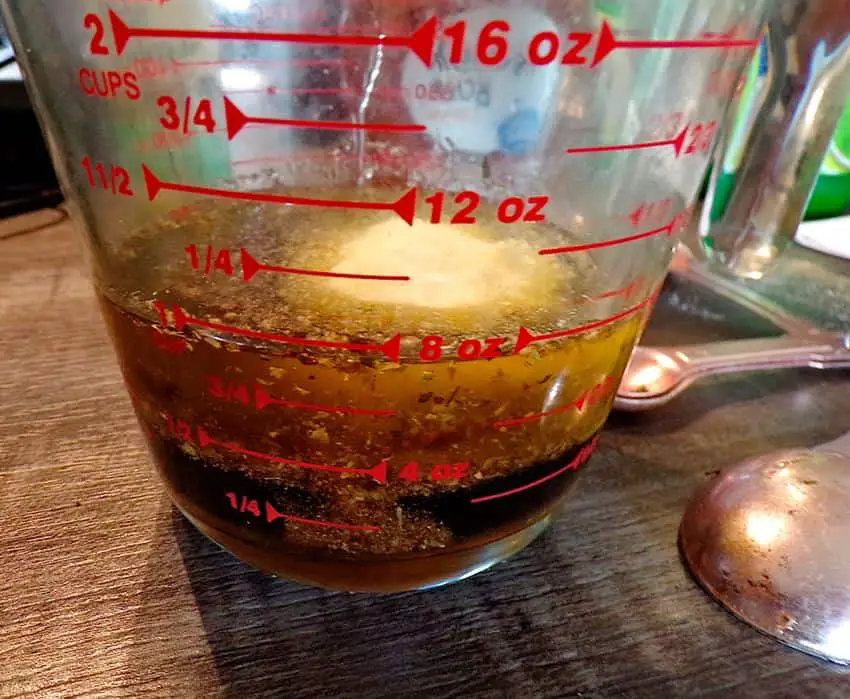 Vinegar is Key in Your Low Sodium Italian Dressing
Vinegar is a major flavor component that adds the acidity to you Low Sodium Italian Dressing. I like to use one tablespoon each of red wine vinegar and balsamic vinegar in my recipe. Which is why the dressing in my photos may appear a little darker then what you may be used to seeing. That's just my personal preference. That's the great thing about making your own, you can try any vinegar you want such as plain white wine vinegar, apple cider vinegar, rice wine vinegar or balsamic vinegar. Don't be afraid to experiment! Each yields a slightly different taste.
To Store Your Dressing
You can store low sodium dressing in an airtight bottle in the fridge for 2 – 3 weeks. Just give it a vigorous shake right before using to re-emulsify the ingredients before using.
A few other low sodium salad dressings you may enjoy to dip in!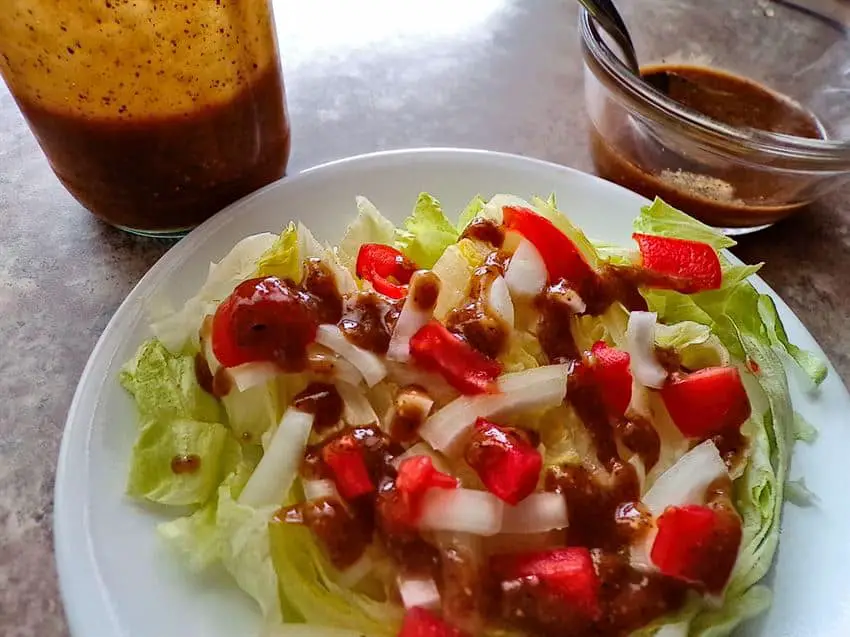 As always, please let me know how you like this recipe in the comments! I get motivated when I hear from you and am interested to learn about how you liked and served your Low Sodium Italian Dressing. And please leave a comment or rating and share any tips you might have.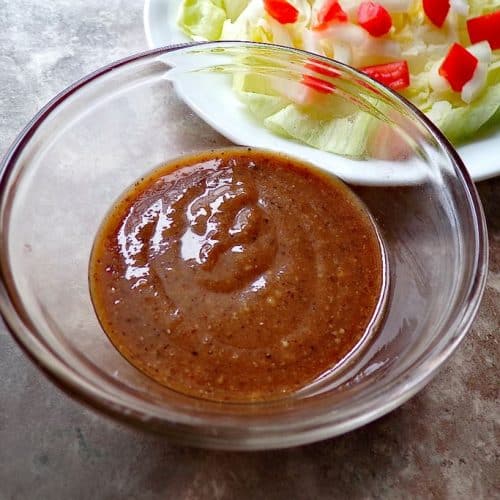 Low Sodium Italian Dressing
This zesty Low Sodium Italian Dressing is delicious on salads and as a marinade. Saving hundreds of mg of sodium per serving and is easy to make!
Ingredients  
1/2

cup

extra-virgin olive oil

1/4

cup

white wine vinegar / red wine vinegar or a mix

I also like using a bit of balsamic vinegar

2

Tbsp

water

2

tsp

honey

2

tsp

lemon juice

1

Tbsp

Parmesan

1

tsp

garlic powder

3/4

tsp

dried parsley

1/2

tsp

dried basil

1/8

tsp

dried oregano

1/8

tsp

red pepper flakes

ground black pepper

to taste
Instructions 
Measure all ingredients into a jar with a tight-fitting lid, like a mason jar. Shake vigorously until well-blended and emulsified. I like to use my immersion blender personally.

Taste and adjust any seasonings as necessary.

Store leftovers in a sealed container in the refrigerator.
Nutrition
https://tastyhealthyheartrecipes.com/a-la-cart/sauces-dips-spices/low-sodium-italian-dressing/
Nutrition Information – The information shown is provided by an online nutrition calculator. It should not be substituted for a doctors or nutritionist's advice. Please understand that not everyone's sodium requirements are the same, therefore some recipes may be higher than you're allowed. Always consult with your doctor for your recommended daily sodium allowance.