Low Sodium French Onion soup is at the top of the list for classic savory soups. It can be eaten by itself with a piece of crusty bread or full on with melted cheese topping. It also can be paired with a side salad or as an Au Jus to many pork and beef entrees. I love heating a coffee cup of the soup for a quick warming snack in the winter. Though this recipe is a great all year round soup and low sodium side dish.
It does take a fair amount of time to make but there is really very little hands on time involved. Most of the time is spent rendering the moisture out of the onions and then letting all the ingredients to meld together in a simmer.
This onion soup may taste different if you're just starting a low sodium diet as you will still be missing or craving the salt. But it is by no means bland and still retains a rich, savory taste not covered and hidden by salt.  I can only imagine eating a canned version now would taste incredibly salty to me with all the sodium packed into one serving and for what really?
| | |
| --- | --- |
| Typical sodium amount per 1 cup serving no cheese | 1580mg |
| Sodium per 1 1/2 cup serving with cheese for this recipe | 144mg |
| Calories per serving | 295 |
The regular sodium laden onion soups can easily have your whole day's sodium content in just one cup.  Many recipes are 1200+mg of sodium per cup. And the famous name brand canned soup is 1580mg of sodium per cup and no cheese!
This recipe is just 89mg of sodium per 1 ½ cups for the base soup. You can add ¼ cup of shredded Swiss cheese and/or gruyere cheese adding additional 55mg sodium. That's just 144mg of sodium for 1 ½ cups of this delicious soup with cheese. This recipe is easily low enough in sodium to let you enjoy other sides or even some whole entrees with it.
If you include my Low Sodium Artisan Bread or any of my breads the additional sodium is hardly even worth counting.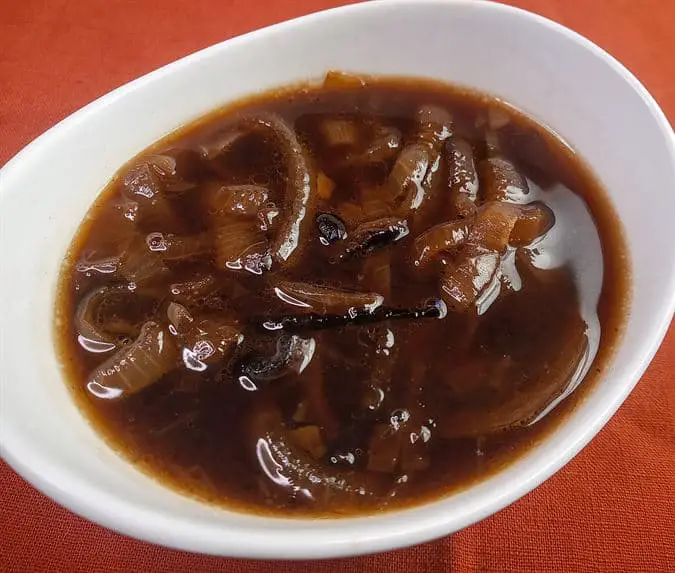 What onions to use for French Onion Soup
I prefer using yellow onions because it makes for a very "oniony" taste. But you could also use Vidalia's which are large and sweet or, you could even mix the two of them.  By mixing them it will produce a bit milder and touch sweeter soup.
Onions need to be cooked slowly to a soft golden color without browning. Though I like to turn the heat up the last few minutes, so a few are browned. I personally think it adds a bit more taste without burning them to a crisp.
Onions will lose a lot of their volume as the moisture cooks out of them so don't be fooled by thinking you may have sliced too many onions. I also think many recipes way understate the cooking time of the onions. Even when I made this in the past it seemed to take double the time the recipe called for. This recipe reflects the time it took mine to cook down.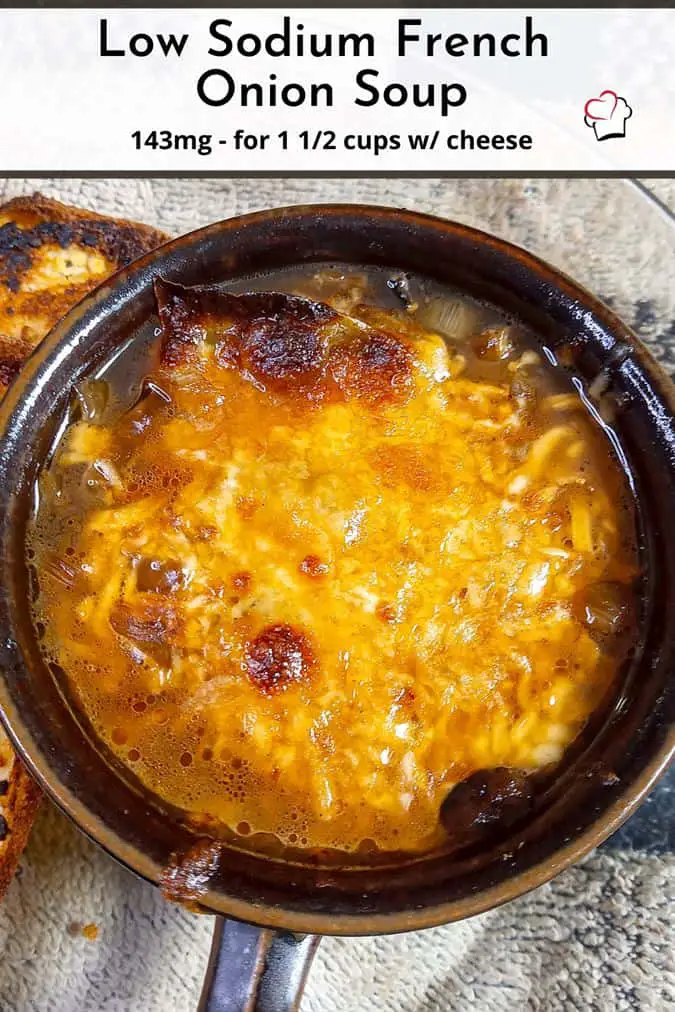 Use a large cast iron skillet to cook down the onions more quickly. The larger surface are lets them steam off more easily. Transfer onions to a soup pot when done.
Don't worry though it is very easy to do and only requires an occasional turning of the onions.
What kind of cheese to use
This recipe is great also because it traditionally calls for either shredded Swiss or Gruyere cheese. Both of which are some of the lowest sodium cheeses I have been able to easily find.  There is also a Swiss – Gruyere shredded mix that I use quite often. See pic below.
Both types of cheese melt quite well in the soup or over top of a piece of low sodium bread. Though I have found broiling the cheese on the bread and then placing that in the freshly ladled soup is easiest. I hate trying to balance soup bowls in and out of a hot oven. The bread will soak up the soup in just a minute, just as if you did the whole thing in the oven.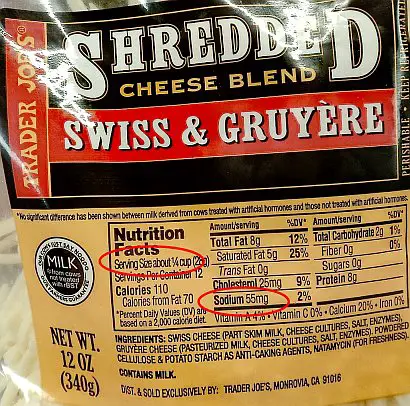 The cheese used in this recipe is 55mg of sodium per ¼ cup. And using ¼ cup per serving of soup is just the perfect amount. I use the Trader Joe's or Aldi brand Swiss + Gruyere and I have seen Kraft shredded Swiss at 55mg also. Be sure to check your labels.
You of course have the option of leaving the cheese out and the soup would only be about 90mg of sodium for a cup and a half. I do this also when I want to use the soup as more of an Au jus or just for dipping bread.
My tips for making Low Sodium French Onion Soup
When caramelizing the onions low heat and slow is the way to go. You need to render most of the moisture from the onions without burning for the best taste.  It takes a while, but it is minimal hands on time only requiring turning the onions a few times.
Use a large cast iron skillet to cook down the onions more quickly. The larger surface are lets them steam off more easily. Transfer onions to a soup pot when done.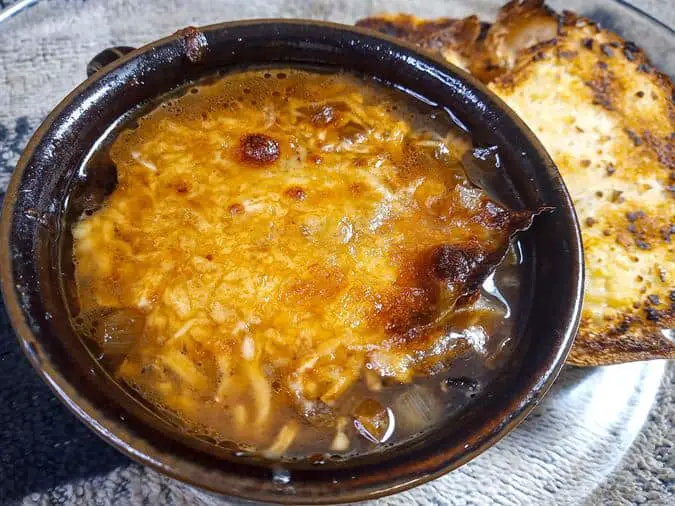 Also, be sure to allow time to simmer fully it really adds great flavor to this low sodium soup recipe! It lets the savory spices and bay leaf do its work to impart great flavor which we need because of the low sodium.
If you want a bit thicker soup, you can add a cornstarch slurry. Start by mixing two tablespoons cornstarch and 1 tablespoon water and add to the soup. Add more if necessary.
Any variety of wine works white, red or even cognac if you want to get fancy. I generally don't have wine in my house so I use a white cooking wine. It is really just an acidic base that helps meld all the flavors without imparting a vinegar taste.
When broiling the bread and cheese I prefer to do them separately from the soup.  After broiling simply stick those in the top of the soup and you'll never know the difference. It is so much easier than trying to handle full bowls of soup in and out of a hot oven.
And finally, be sure to use low sodium bread. I did not include it specifically in the recipe because of the many choices. But I would recommend my Low Sodium Artisan Bread or even my Low Sodium Croutons would be an excellent choice.
A few of my other great dishes to enjoy!
---
>>>Recommended Equipment & Ingredients For This Recipe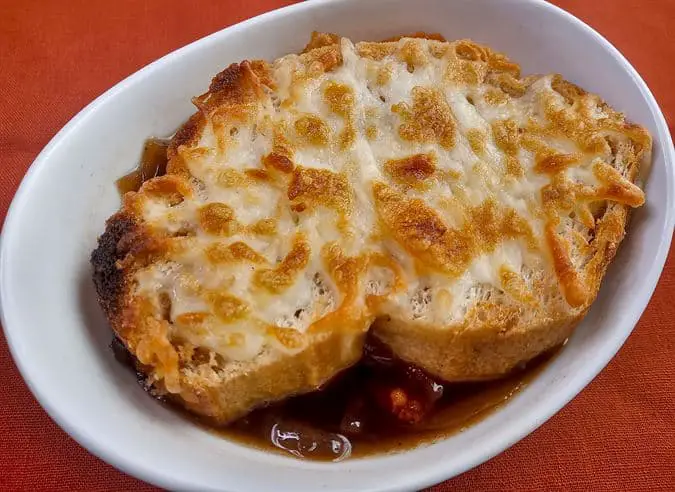 As always, please let me know how you like this recipe in the comments! I get motivated when I hear from you and interested to learn about how you liked and served your Low Sodium French Onion Soup. So please, leave a comment or rating and share any tips you might have. You can follow me on Facebook and Pinterest also, for new recipes.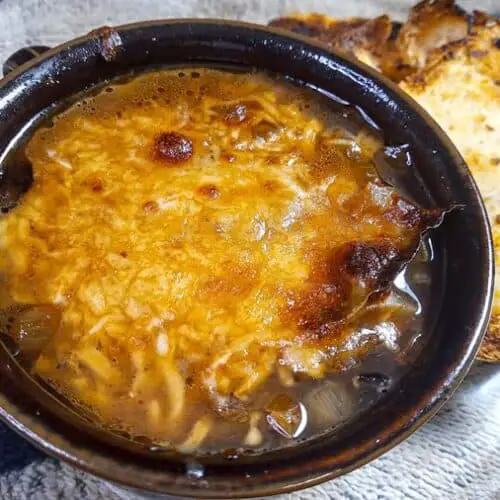 Low Sodium French Onion Soup
Low Sodium French Onion Soup is a rich beefy broth with melted Swiss or Gruyere cheese a classic soup recipe full of savory taste without all the salt!
Ingredients  
4

large onions peeled and sliced

½

tsp

brown sugar optional

6

Tbsp

butter no salt added

8

cups

beef broth no salt added or 2 – 32oz. cartons

1/3

cup

dry white table wine

1/2

tsp

Thyme ground dry

2

bay leaves

1/2

tsp

pepper

1

tsp

liquid smoke

1

tsp

garlic powder

1

tsp

Kitchen Bouquet Browning and Seasoning Sauce

2

cups

shredded Swiss – Gruyere cheese
Instructions 
Slice onions ¼" thick. Cook onions in large skillet while stirring occasionally over medium low heat in melted butter until golden, about 45 to 50 minutes.

Add cooked onions and remaining ingredients except for cheese to larger size pot. Bring to a boil, reduce heat and simmer for 1 hour. After simmering remove bay leaf and discard.

While soup is simmering, slice low sodium bread and brush with olive oil. Broil 2 minutes per side or until golden just before soup is ready. Optionally the cheese can be quickly melted on the bread.

Ladle soup into oven safe bowls. Divide cheeses (bout ¼ cup) over bowls or bread and broil briefly until golden and bubbly.
Nutrition
Serving:
1.5
cups
Calories:
295
kcal
Carbohydrates:
11.1
g
Fat:
21.3
g
Cholesterol:
61
mg
Sodium:
145
mg
Fiber:
1.7
g
https://tastyhealthyheartrecipes.com/a-la-cart/soups/low-sodium-french-onion-soup/
Nutrition Information – The information shown is provided by an online nutrition calculator. It should not be substituted for a doctors or nutritionist's advice. Please understand that not everyone's sodium requirements are the same, therefore some recipes may be higher than you're allowed. Always consult with your doctor for your recommended daily sodium allowance.