You'll love this creamy Low Sodium Potato Soup in the coming cold winter months. It is so low in sodium you can even indulge in a few extra toppings if you wish. I like to heat up a mug of this soup to make a perfect afternoon snack. Pair with a simple side salad and have a great filling evening meal.
This simple to make potato soup comes out ultra-creamy when pureed and comfort is great comfort food! With only a few ingredients this soup comes together easily on the stovetop in a Dutch oven or soup pot. This soup can also easily be scaled up for a large group gathering.
| | |
| --- | --- |
| Typical sodium amount per serving | 640-1600mg |
| Sodium per serving for this recipe | 57mg |
| Calories per serving | 275 |
Serving size = 1 cup
Most potato soup recipes average anywhere from 640-825mg of sodium per one cup. I've even seen one recipe at 1600mg of sodium for just one cup, Yikes! The famous name brand canned soup is 790mg of sodium for just one cup of soup.  
One cup of soup is hardly filling, so eating an average of two cups would shoot the sodium levels way over many of our daily limits.
This Low Sodium Potato Soup is a very low 78mg per cup or just 155mg for two cups which makes for a filling meal. My recipe makes a total of 12 cups of soup, so you can get 6 servings of 2 cups each.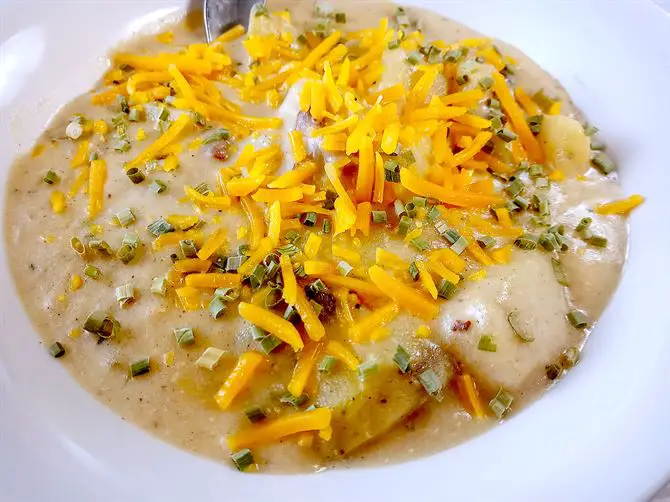 The three things that make this potato soup low sodium
Using no sodium added chicken broth. This is the easiest thing to do. Just using a no sodium chicken broth saves massive amounts of sodium. I like punching up the flavor a bit more with two teaspoons of the Herb-ox no sodium chicken bouillon but it is not required.
Using pork belly for your soup.  I used pork belly, which is basically bacon that has not been cured yet with high levels of sodium.  Even low sodium bacon has a ton of sodium in it if you are watching your sodium levels. Using pork belly adds just 12mg of sodium per serving.
It still gives a "bacony" taste to the overall soup, which I think defines a potato soup. Pork bacon may not render as much fat as regular bacon that will be used when sautéing the onions and making your Roux. If not, just add a tablespoon or two of no salt added butter.
It is best if you can get the butcher to slice it, but if not, freezing until the meat is just firm makes slicing much easier. Generally, it will firm up in about half an hour in the freezer.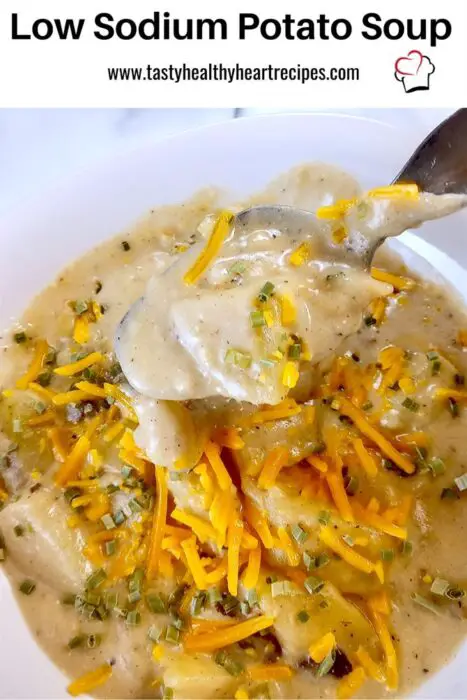 Adding cheese to your soup.  One of the secrets to making this a creamy, cheesy soup is using Mascarpone cheese as a cream cheese substitute. At only 5mg of sodium per tablespoon, it only adds 80mg to the whole dish. Which means it is adding less than 14mg of sodium per serving.
For an even cheesier soup, add about a cup of shredded Swiss + Gruyere cheese. It will only add roughly 36mg of sodium per serving. I listed this as optional and is not listed in the nutritional values, as it will be up to your overall sodium limit and taste. I think it makes a nice difference though if you can add it in.
My tips for making Low Sodium Potato Soup
You can use any potato for your soup Yukon, red or russet potatoes. But I think the Yukon gold potatoes work the best. They seem to hold together better than a russet potato they don't get as mushy after cooking, whereas, a starchy russet absorbs a lot of broth. Yukon potatoes also being a bit less starchy, blend up to nice creamy smooth consistency.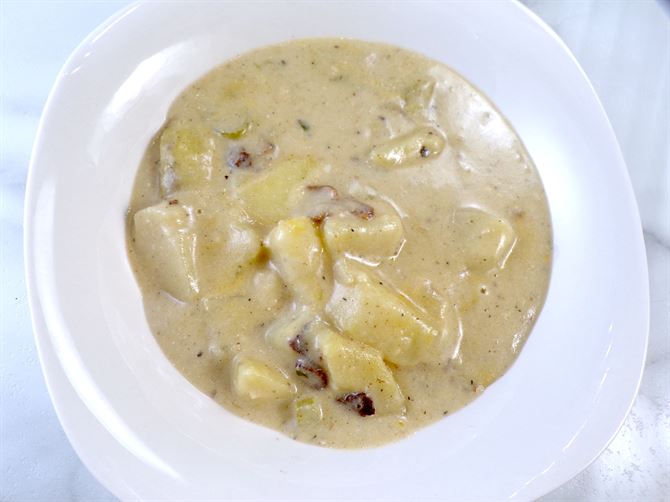 Do potatoes need to be peeled for this soup?  No, they don't. You can leave the skin on or peel completely. It is up to your preference. I give them a quick peel and take 50 to 75% of the skin off.  I generally like leaving the skin on all my potato dishes so I don't work too hard getting the skin off.
Cut the potatoes into bite-size pieces no larger than 3/4″ and try to keep them around the same size. Most importantly, they will cook more evenly and you don't have to cut a potato in the soup bowl to take a bite.
Use pork belly for bacon. So many people worry about pork belly being some weird cut of pork. Don't! Pork belly is just bacon that has not been cured with massive amounts of salt, un-smoked, and generally not pre-sliced. Have the butcher slice it or freeze it a bit so it is firmer for easy slicing. It is generally not in the meat section of the local grocery store. So you may need to go to a butcher shop to get some though, my local Wholefoods carry it at their meat counter.
Cook the chopped pork belly (bacon) in the pot first, then remove and set aside, leaving the grease to cook the onion, celery and garlic in. It will add so much more flavor and then you can create your Roux with the flour which will add even more flavor and help thicken the soup. Go ahead and put the bacon back in after pureeing because otherwise, it would be tiny little bacon bits.
One of the things that make this potato soup extra smooth and creamy is to partially puree the potatoes. This is where the Yukon potatoes, especially shine as they seem to puree into a smooth mixture and not as grainy as a russet potato seems to.
The easiest way to puree is to use a hand immersion blender as you can quickly puree the soup right in the pot. Start on the side of the pot and just lift up and down while it is turned on at about half to three-quarters speed.  Don't get too carried away, though, as it can be almost fun and you'll end up with no potato chunks left!
The second option is to ladle roughly half the soup into a blender or food processor. After pureeing stir it back into the soup.  This is fine, but it can create more of a mess between ladling and then having the bigger appliance to cleanout.
Don't miss out on adding the chipotle chili powder and ground pepper when making your low sodium potato soup! When I first made this soup I was rather disappointed that it had a rather bland taste. This was even after being on a low sodium diet for quite a while, so it definitely needed sprucing up.
I think chili powder and pepper give it a subtle taste on the tongue to make up for the usual salty taste of this soup. I am pleased with the amounts used in the recipe along with the other spices and is a good starting point. If you still find it lacking, try adding these two by half a teaspoon at a time. I found it didn't really raise the heat that much and satisfies the taste to your tongue. 
You could even add a cup and a half of no salt added peas or carrots or even both to add a vegetable to the soup. I have added peas before and that was also delicious.
Be sure to mix in the bacon, sour cream, and shredded cheese at the end just before serving. You don't want tiny bacon bits and cheese "globbing" up your blender.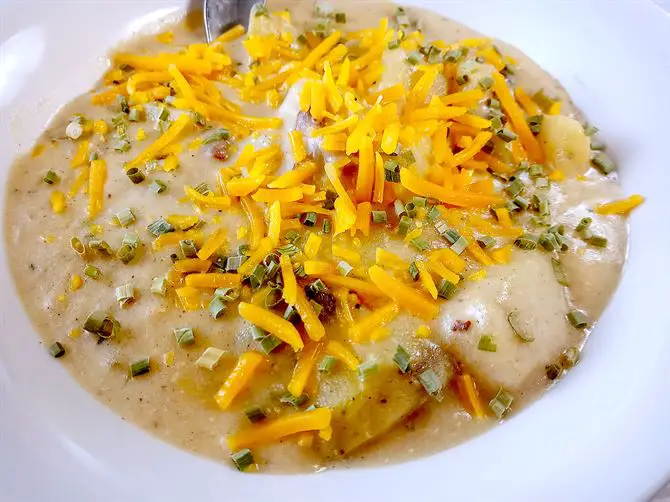 FAQ's for potato soup
Storing your soup.   Store soup in an airtight container of appropriate serving size in the fridge, for up to a week. I really don't recommend freezing it though, see why below.
Can you freeze potato soup?  Potato soup generally will not freeze very well for two reasons. The moisture in the potato freezes and expands and when thawed and reheated the potato chunks will turn out mushy and soft.
Secondly, the dairy fat in soups will tend to separate and the soup will lose its creamy consistency. You can of course stir it up, but, it just won't quite be the same.
If you do have to freeze separately it into serving size meals. You do not want to thaw and refreeze more than once.
Reheating your soup.  I usually just reheat, covered in the microwave for about 2 minutes when it is thawed. Then give it a quick stir and heat for another half minute to a minute, depending on how hot it was when you licked the spoon. Who can resist?    
You can also reheat in a small pot over medium-low for about 20 minutes while stirring occasionally.
What's the best side dish?  You might think about having a little piece of toasted bread to sop up the soup, but, that would be adding even more carbohydrates. And being potato soup, it is already pretty high in that regard. A much better accompaniment would be just a simple side salad with one of my low sodium salad dressings.
---
? A few of my other great soups to enjoy! ?
Recommended Equipment & Ingredients For This Recipe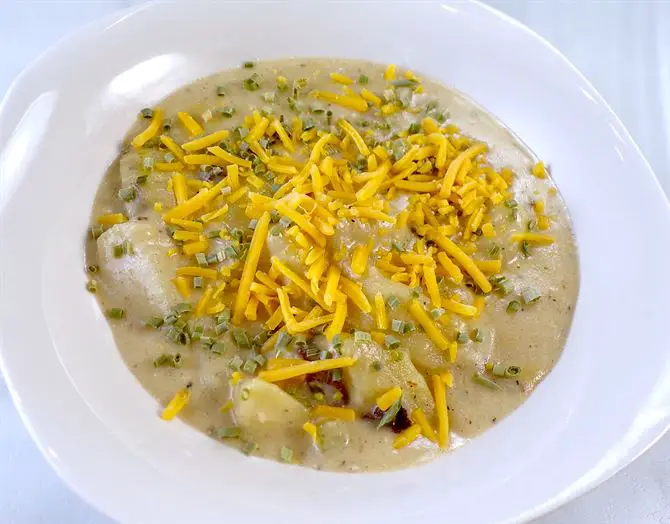 Please let me know how this Low Sodium Potato Soup turns out for you in the comments and leave a rating! I'm always eager for your feedback and hope my recipes turn out amazing for you. You can follow me on Facebook and Pinterest also, to hear about new recipes.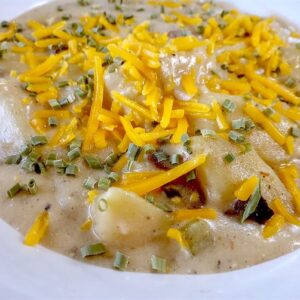 Low Sodium Potato Soup
You'll love this creamy LowSodium Potato Soup in the coming cold winter months. This is an easy to prepare soup with really a little amount of hands on time.
Ingredients  
3

lbs

Yukon potatoes peeled and diced into pieces 1/2"

choose how much to peel

6

strips sliced pork belly

8oz. cut into small pieces

1

Tbsp

butter unsalted

1

medium yellow onion chopped about 1.5 cup

2

Tbsp

garlic pre-minced

a little more if you like garlic

1

tsp

liquid smoke

1/3

cup

all-purpose flour

4

cups

chicken broth unsalted

2

cups

milk

2/3

cup

heavy cream

2

tsp

ground pepper

2-3

tsp

Italian seasoning no salt

1-2

tsp

chipotle chili powder

add more if desired after tasting

2/3

cup

sour cream

1

cup

Swiss + Gruyere cheese

optional adds 36mg sodium per serving
Instructions 
Place chopped pork belly pieces in a large pre-heated Dutch oven or soup pot over medium heat and cook until bacon is crisp.

Remove bacon pieces and set aside, leaving bacon fat in the pot.

Add butter and chopped onion and cook over medium heat until onions are tender (3-5 minutes). Stir 2 or 3 times.

Add garlic and celery and about 1 minute.

Sprinkle flour over the ingredients in pot and stir until blended to make a roux.

Add diced potatoes, chicken broth, milk, heavy cream, pepper, and chipotle chili powder to the pot. Stir to combine.

Bring to a boil and stir occasionally. Cook until potatoes are tender when pricked with a fork (about 10 minutes).

When getting puree reduce heat to simmer. Choose either to use an immersion blender or stand blender and puree about half the soup. (about 6 cups) I personally recommend the hand immersion blender.

Return the pureed soup to the pot if using a blender. Add sour cream and reserved bacon pieces, stir well.

Allow soup to simmer for at least 15 minutes before serving. I like to let it low simmer for a good half hour.

When serving sprinkle with additional sour cream, bacon, cheddar cheese, or chives on top. Optional
Recipe Equipment & ingredients
Nutrition
Serving:
1
cup
Calories:
275
kcal
Carbohydrates:
24.4
g
Protein:
6.5
g
Fat:
17.2
g
Saturated Fat:
8
g
Cholesterol:
34
mg
Sodium:
57
mg
Fiber:
3
g
Sugar:
4
g
https://tastyhealthyheartrecipes.com/a-la-cart/soups/low-sodium-potato-soup/
Nutrition Information – The information shown is provided by an online nutrition calculator. It should not be substituted for a doctors or nutritionist's advice. Please understand that not everyone's sodium requirements are the same, therefore some recipes may be higher than you're allowed. Always consult with your doctor for your recommended daily sodium allowance.