Put the savory crunch back in your salad with Low Sodium Croutons Garlic & Herb. These are also awesome to just pop in your mouth once in a while when you need something to chew. And if you crunched them up I'm betting they would make an awesome low sodium breading.
As with most bread products, store bought croutons are also loaded with sodium. The same with many crouton recipes which simply use store bought bread to make the little cubes. So I make these wonderful Low Sodium Croutons with my own homemade bread.
| | |
| --- | --- |
| Typical sodium amount per serving | 85 mg |
| Sodium per serving for this recipe | 3 mg |
| Calories per serving | 154 |
Store bought croutons seem to vary from 75 – 90mg of sodium per two tablespoons. I took 4 of my croutons of comparable size and ground them up to make up two tablespoons to gauge the equivalent amount. I am sure you would like to use more than 4 croutons on your salad right?
With this recipe the sodium is nearly nonexistent, even for a big handful of my low sodium croutons. Even if you used a whole cubed slice of bread on your salad the sodium level would be just 3 mg of sodium.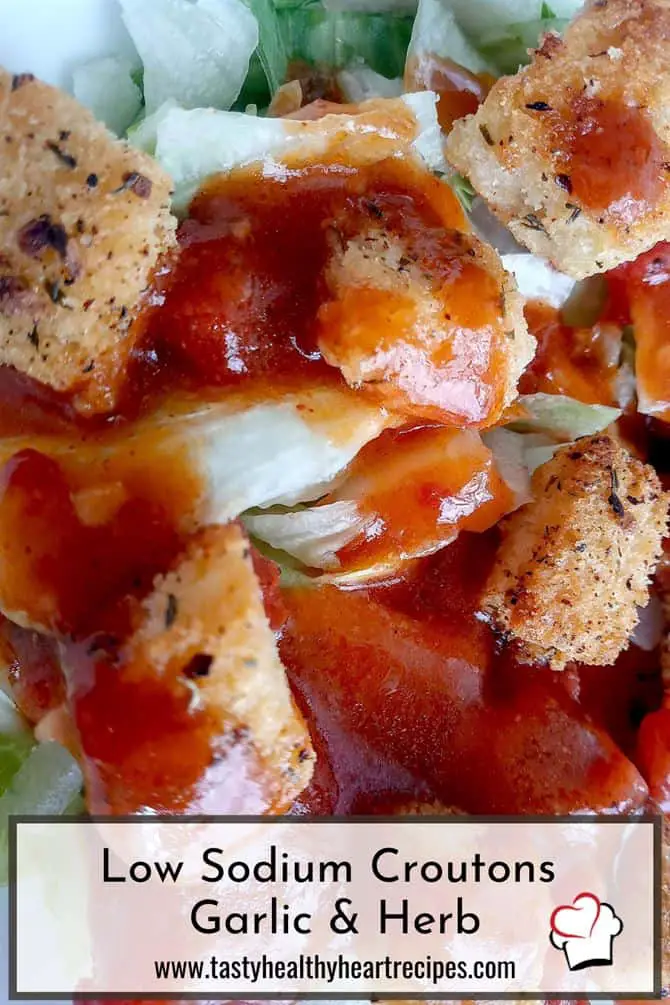 THERE IS A CATCH TO MAKE LOW SODIUM
There is a catch though in that you need to use one of my bread recipes. My favorite bread to use is my Low Sodium Artisan Bread with all the large holes to hold all the flavors. This works well if you don't have a bread machine yet. If you do have a bread machine using my Bread Machine, White Sandwich bread works perfectly well too.
You can use a store bought low sodium bread also, I am not discounting that. But I still have not found low sodium bread in my area that I can get reliably. So unfortunately, I have no experience with using store bought LoSo bread. And just so you know, I am not ordering bread online ha-ha. So I make my own low sodium bread once a week. I do love my sandwiches.
Once in a while I make bread or an extra loaf for croutons, but usually I will just use a leftover loaf of bread. I will pre-cube it and store in the freezer, in a Ziploc bag till I am ready to make them. When you're ready to make croutons with them just thaw if frozen and then they are almost ready to go. It should take about 15-20 minutes at most to thaw.
MAKING LOW SODIUM CROUTONS
To make your low Sodium croutons simply place in a large mixing bowl and drizzle with extra virgin olive oil lightly mixing till well coated. An olive oil sprayer would also work well. You want the outside of the cube to look wet, but not soaked through.
Then sprinkle the low sodium garlic herb generously while mixing. The seasoning seems to distribute well and it will stick to the cube because of the oil. If the seasoning ends up not being enough, you can always sprinkle a little more after they have baked.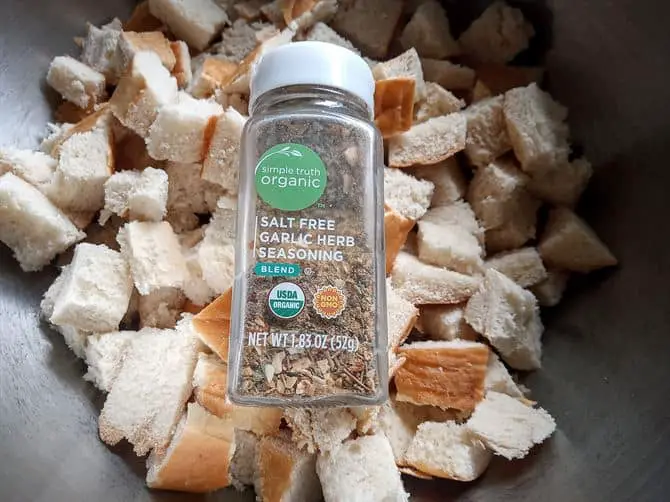 It's a little hard to exactly spell out for you how much oil or seasoning you will need depending on the size of the loaf or left over bread loafs you are using. I used about 1/4 cup of oil and 2 Tbsp of seasonings. So I would plan to start there but it is more of a touchy feely process so you may need a bit more or less. I used a loaf of my Artisan bread to base my recipe on but the bread machine sandwich bread would be similar.
A few of my other great dishes to enjoy!
---
Equipment and special ingredients for this recipe.* (Amazon links)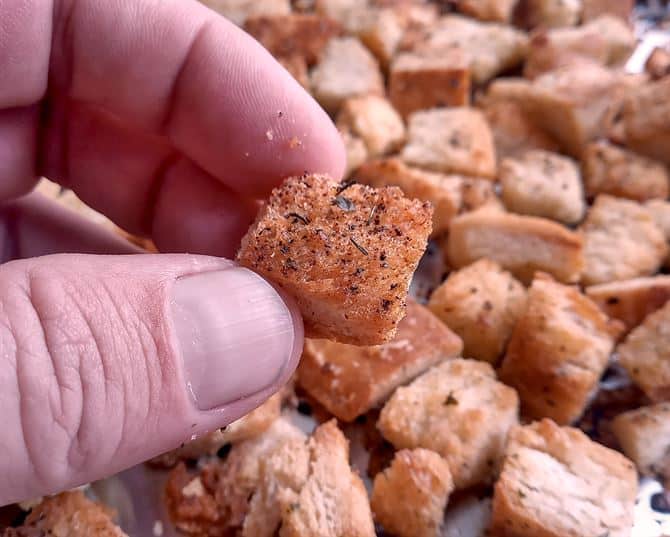 As always, please let me know how you like this recipe in the comments! I get motivated when I hear from you and interested to learn about how you liked and served your Low Sodium Croutons with Garlic & Herb. So please, leave a comment or rating and share any tips you might have. You can follow me on Facebook and Pinterest also, for new recipes.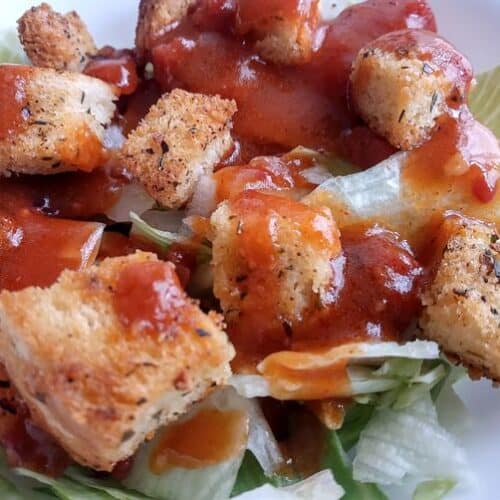 Low Sodium Croutons Garlic & Herb
Try Low Sodium Crouton Garlic & Herb with crunchy, buttery taste on your salads again! Easily made with a low sodium bread,
Ingredients  
1

Low sodium loaf of bread -cut into 3/4-inch cubes

I recommened my low sodium Artisan bread or bread machine white sandwich bread.

1/4

cup

extra virgin olive oil

2

Tbsp

No salt garlic and herb

1/2

teaspoon

black pepper

optional
Instructions 
Preheat oven to 375°F.

Cube the bread evenly to the desired size. Even size cubes allow it to cook evenly.

In a large bowl, evenly drizzle or spray the olive oil over the bread cubes. Then evenly sprinkle the No Salt Garlic Herb seasoning and pepper over the bread. Toss gently until well-combined.

In a single layer spread the bread cubes out on a large baking sheet.

Bake until golden about 15 minutes, turning once halfway through cooking in order to brown all sides of the croutons. Your cooking time will depend on the thickness of the cubes and oven heat. Be sure to watch that they do not burn.

Remove from oven, and let cool completely. Use immediately, or store in an air-tight container for up to 1 week. I store in Ziploc bag in fridge up to two weeks no problem.
Notes
Depending on amount of bread cubes more or less olive oil and seasoning may be required.
Nutrition
Calories:
154
kcal
Carbohydrates:
24.7
g
Protein:
3.7
g
Fat:
4.5
g
Sodium:
3
mg
Fiber:
1
g
Sugar:
0.1
g
https://tastyhealthyheartrecipes.com/a-la-cart/baking/low-sodium-croutons-garlic-herb/
Nutrition Information – The information shown is provided by an online nutrition calculator. It should not be substituted for a doctors or nutritionist's advice. Please understand that not everyone's sodium requirements are the same, therefore some recipes may be higher than you're allowed. Always consult with your doctor for your recommended daily sodium allowance.