Low Sodium Artisan Bread is the way to go when you need a good hearty bread to make appetizer plates or something that will sop up a good savory stew or gravy dish. I usually make my standard bread in a bread machine. While this makes good sandwich bread, once in a while you need something a little more robust but still low sodium. That's where an easy no-knead artisan bread steps in that is still low sodium.
The dough literally only takes 5-10 minutes to mix up but needs 8 to 24 hours to rise. I usually make it the night before I plan on baking it and it works out perfect with no worries. If you must use it after just eight hours, you should see lots of bubbles on the surface though this dough may not rise as much as you would think.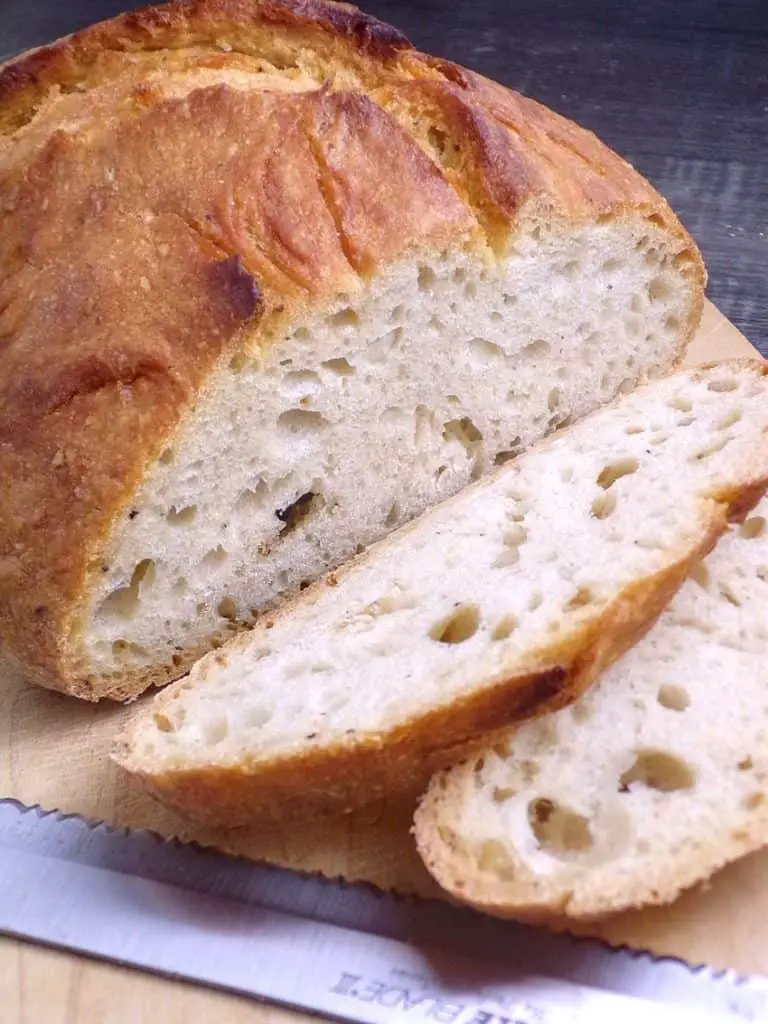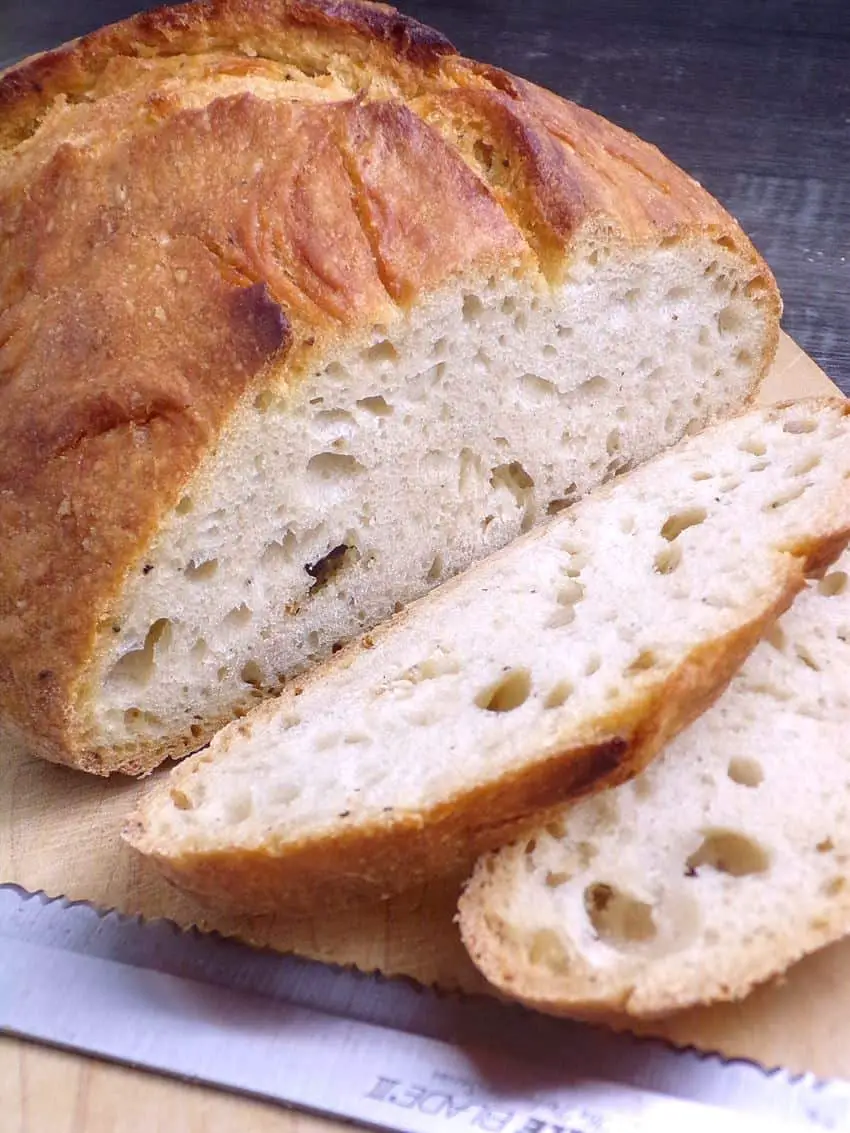 How Much Sodium is in Artisan Bread?
| | |
| --- | --- |
| Typical sodium amount per serving | 350 mg per cup? |
| Sodium per serving for this recipe | 3 mg per large slice |
| Calories per serving | 142 |
The sodium level in purchased artisan bread is really hard to nail down. Store-bought bread that I've looked at is 350mg of sodium per cup. Really, a cup of bread? How are we supposed to evaluate that?  Let us just say it is extremely high.
But not to worry about this Low Sodium Artisan Bread! It makes about an 8" round loaf so you can easily get 10 large slices at just 3mg per slice. And I'm being very generous and conservative here I think. This should leave plenty of room in your budget to add other flavorings if you desire.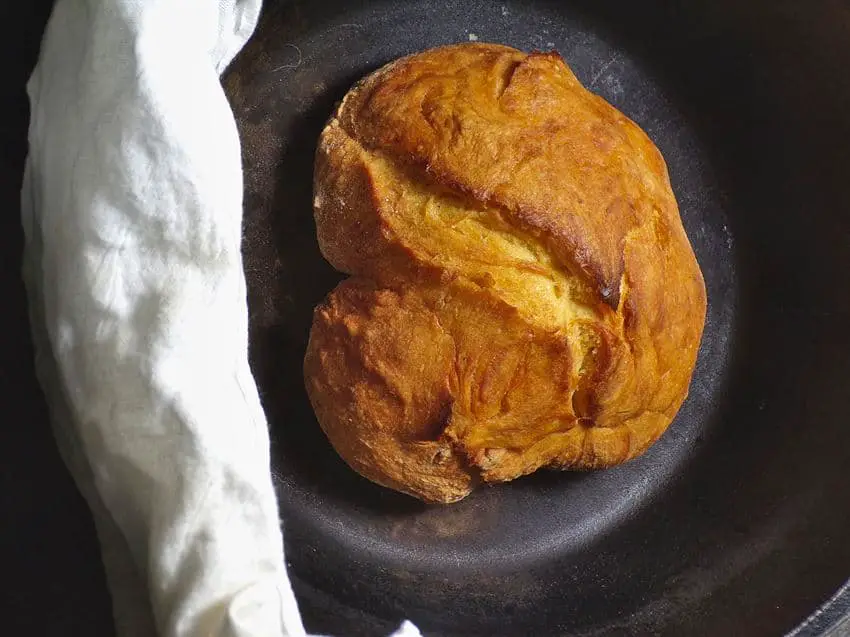 How To Serve and Use Your Artisan Bread
This bread is pretty plain by itself and is best used while still a bit warm with an olive oil dip or whatever appetizer addition you plan on using with it. It is also great to use right away or later with a stew or any gravy sopping dish that good hearty bread is needed to take the abuse of being drenched in savory gravy.
The bread tends to harden up in a day or so and should be placed in a Ziploc bag and stored in the fridge. It does not do too well sitting on the counter for too long. 
But if you have leftovers and it does start to harden up – don't throw it away! Put it in a heavy-duty freezer bag and keep it in the freezer. You can later thaw and cube it up for a stuffing mix. I often make this bread just for cubed stuffing as the store-bought is so high in sodium. Or it also makes the best bread crumbles for meatloaf, just give it a few pulses in a food processor and mix into your meatloaf.
Is Plastic Wrap Required When Letting Dough Rise?
The short answer is no, plastic wrap is not required, but it should be covered. The main reason dough is covered during the rising stage is to avoid a dry crust from forming on the exposed surface. If not covered, the dough can dry out over the time required for it to rise. This crusting can cause overly hard chunks during baking, but can also actually slow expansion during the final proof.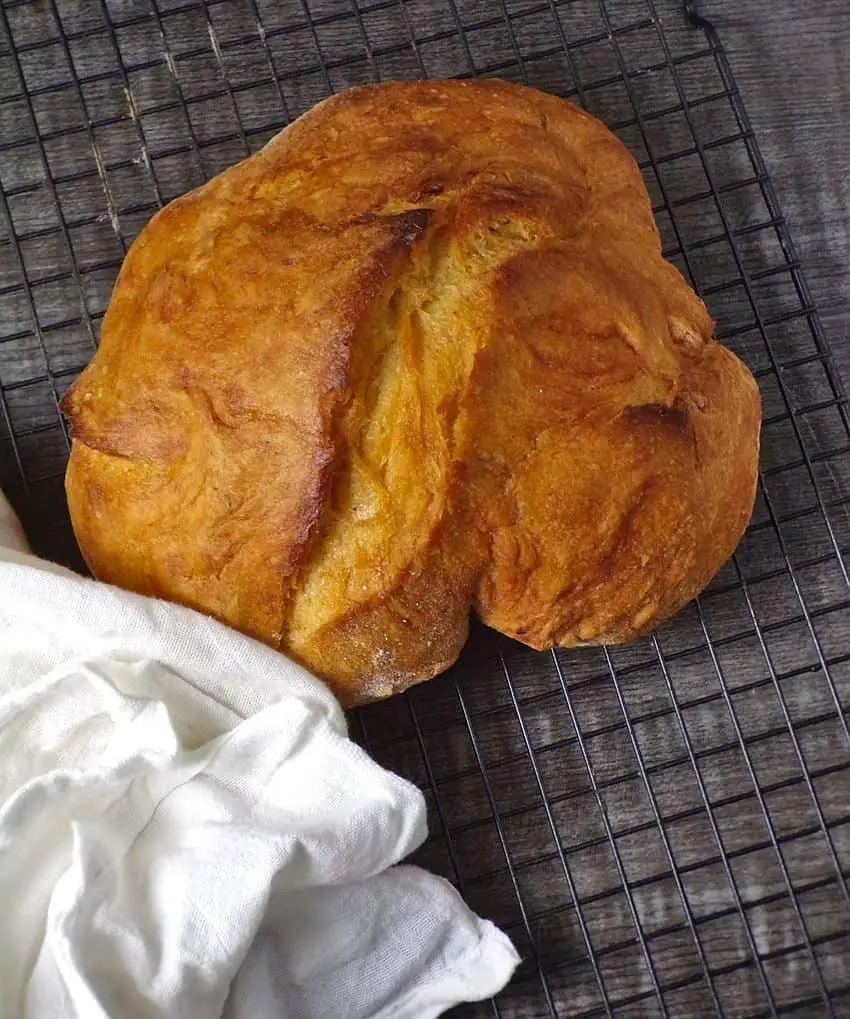 People have used towels over the bowl for hundreds of years so it seems like it should work just fine. I wouldn't let it actually touch the dough though as I would think then it would actually wick away some of the moisture. Plus nowadays most dough is given a surface covering of oil that helps prevent moisture from escaping.
I hate using plastic wrap to cover a large bowl. I don't like the waste and I can never get it to stick well. What I usually do is just use an old plastic grocery bag over the top.  Or recently I have a couple of clear shower caps, from the dollar store that I place over bowls that need to be covered. The caps work excellent as they have an elastic edge that holds them in place and is easy to store.
No Knead Low Sodium Artisan Bread Flavor Variations
I've made the garlic and rosemary before along with caraway seed that was very good, but here are some other ideas too:
Garlic and Rosemary
Jalapeno
Caraway Seed
Sunflower, & Poppy Seeds
Sesame Seed
Sun-dried Tomato with chopped Basil
Lemon Zest and Thyme
And many others!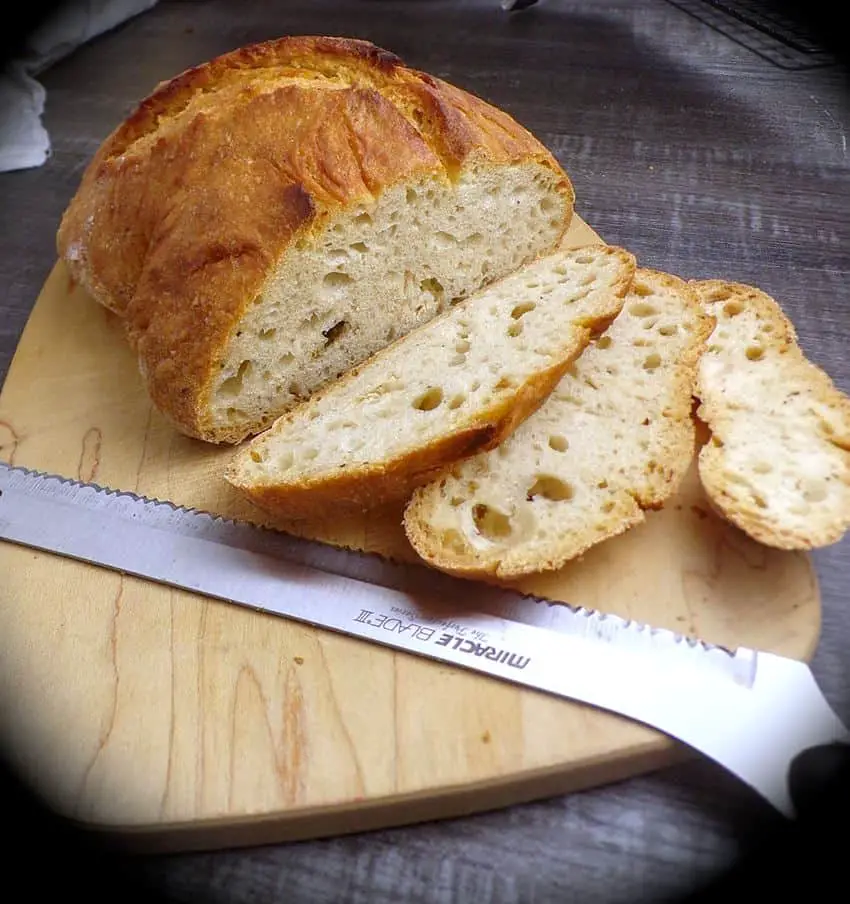 Bonus! – How to Make Low Sodium Stuffing or Croutons?
Update: I now have a full recipe for croutons you can see here Low Sodium Croutons Garlic & Herb.
Once you've made homemade croutons or stuffing, there may be no going back. You shouldn't be anyway on a low sodium regimen as both are super high in sodium. Besides those teeny tiny little cubes, you get in bag stuffing are so boring, right?
Just take this quick crouton recipe with the further steps to make stuffing and you'll be all set. Keep an eye out for my low sodium stuffing recipe upcoming in the future. I made my first low sodium stuffing with this bread and it was the best I have ever had anywhere, anytime and I really think the bread made the difference, despite the low sodium. Here are the basics:
Preheat the oven to 375°F. Rough cut the bead into cube size of choice.
Most recipes say to drizzle olive oil in, but I don't like the coverage doing that. Some cubes get too much, some don't get any. I like to use a mister filled with olive oil and mist them all while slowly stirring. Then sprinkle in garlic powder, Mrs. Dash Table Blend, and Italian herb spices to taste while mixing.
Spread the cubes in an even layer on a large sheet pan. Bake for 10 minutes, or until golden brown and crisp. If you just baked the bread, it will take a little longer to become golden brown. But if the bread is older and dry, it should brown faster. Always keep an eye on it!
A few other great dishes to enjoy!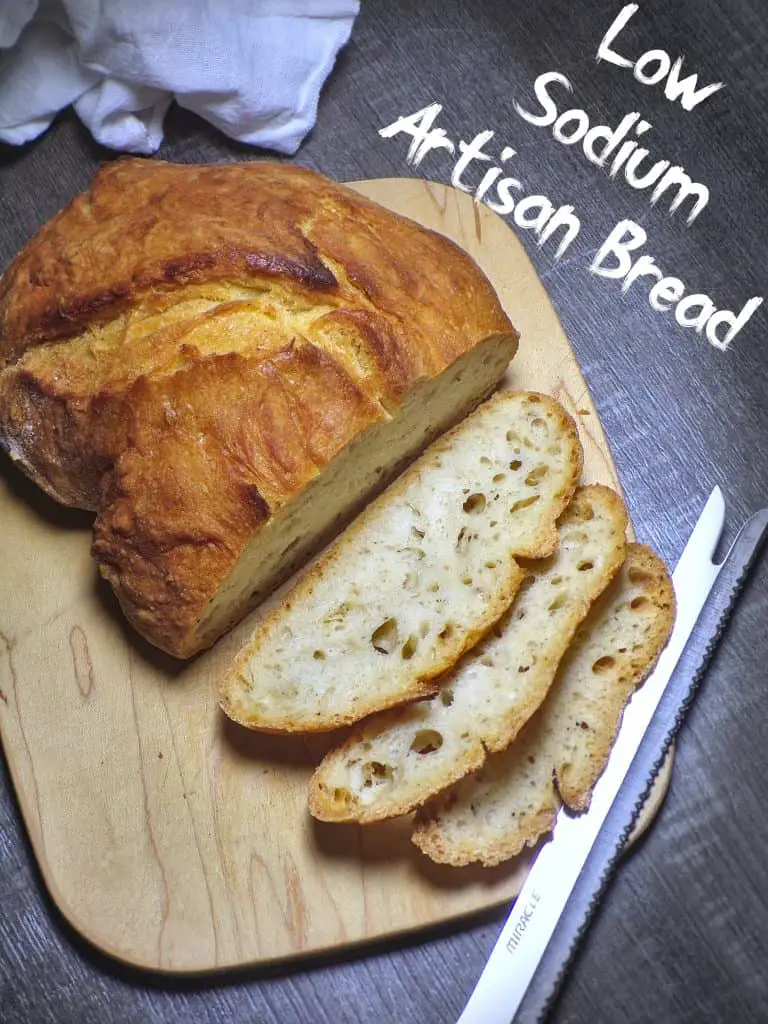 As always, please let me know how you like this recipe in the comments! I get motivated when I hear from you and am interested to learn about how you liked and served your Low Sodium Artisan Bread. And please leave a comment or rating and share any tips you might have.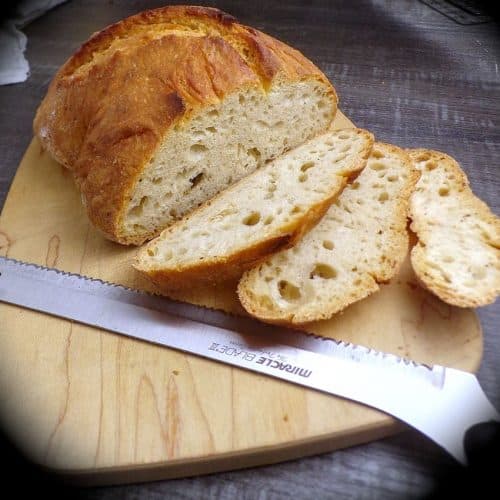 Low Sodium Artisan Bread
Crusty golden brown Low Sodium No Knead Artisan Bread that is robust and airy – ready to tackle any savory hearty gravy or appetizer topping.
Ingredients  
3

cups

all-purpose flour

or bread flour

1

tsp

vital wheat gluten

2

tsp

Mrs. Dash Table Blend no sodium spice

2

teaspoon

dry yeast either active dry or highly active dry

1 1/2

cups

warm water
Instructions 
In a large bowl, whisk all the dry ingredients together. Stir in water until the mixture forms a shaggy but cohesive dough. Do not over-work the dough. The less you "work" it, the more little air pockets will form.

Turn dough ball coating outside in olive oil and cover bowl with towel or grocery bag.

Let dough sit at room temperature for anywhere from 8-24 hours. Dough should have bubbles visible and rise a bit. This does not seem to really rise that much so don't expect it to "double".

When you decide the dough is ready, preheat oven to 450 degrees F. Put your Dutch oven, uncovered, (I put the lid on the shelf below) into the preheated oven for at least 30 minutes.

As your Dutch oven preheats, turn dough onto a floured surface and with floured hands, form the dough into a uniform ball. Cover dough with previous bowl cover to keep moist and let rest as oven heats.

After the 30 minutes are up, carefully remove Dutch oven. With floured hands, place the bread dough into it and cover. (I just slide rack out with pot and place dough in.)

Bake for 30 minutes covered. Carefully remove cover and bake for about 5-10 minutes more, uncovered. Ovens are different so keep your eye on it for your desired golden brown.

Remove bread to a cutting board and slice as needed with a bread knife.
Notes
I've regularly let this dough rise up to 24 hours and it has baked up superbly. Just make sure it has "bubbles" on the surface otherwise your yeast was probably dead. But it probably won't "rise" as much as you would think it would, no worries…
Your Dutch oven setup must be preheated to 450 degrees F before adding dough.
The uncovered finish baking time can depend on how your oven heats. But anywhere from 5-10 minutes to give it a golden brown crust. Keep an eye on it!
I used a cast iron Dutch oven pot. But a baking dish or baking sheet covered with aluminum foil, oven safe steel pot with a lid, pizza stone with an oven-safe bowl to cover the bread should work. The big thing is. it needs to keep the moisture in during the initial pre-bake.
Recipe Equipment & ingredients
Nutrition
Serving:
1
slice
Calories:
142
kcal
Carbohydrates:
29.5
g
Protein:
4.8
g
Fat:
0.4
g
Saturated Fat:
0.1
g
Sodium:
3
mg
Potassium:
147
mg
Fiber:
1.2
g
Sugar:
0.1
g
Calcium:
50
mg
Iron:
2
mg
https://tastyhealthyheartrecipes.com/a-la-cart/baking/low-sodium-artisan-bread-and-no-knead/
Nutrition Information – The information shown is provided by an online nutrition calculator. It should not be substituted for a doctors or nutritionist's advice. Please understand that not everyone's sodium requirements are the same, therefore some recipes may be higher than you're allowed. Always consult with your doctor for your recommended daily sodium allowance.