This low sodium chicken Arborio vegetable medley is even better than just a rice casserole. The Arborio rice creates a creamy texture that replaces the heavily sodium laden cream of mushroom sauce. Full of vegetables it is a quick and filling meal.
LOW SODIUM CHICKEN ARBORIO RICE VEGETABLE MEDLEY INSTANT POT
Sodium Total  630 mg   –   Sodium / Serving 105 mg    –    Calories / Serving  291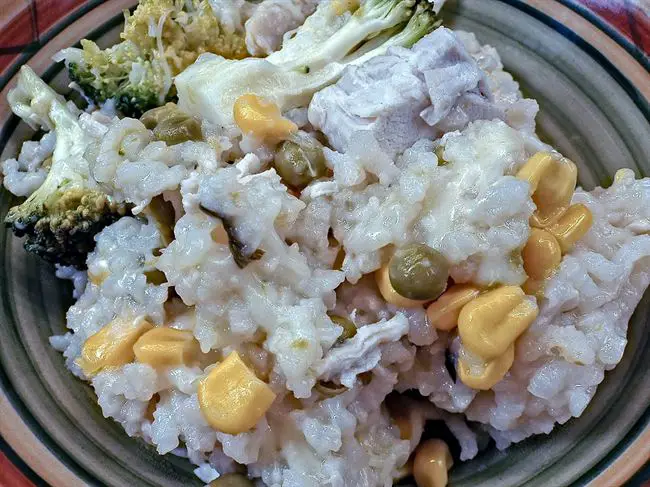 The Arborio rice comes out creamy and with the combination of broccoli, corn, peas and Swiss-Gruyere cheese combines together in perfect compliment. And with the addition of chicken breast it makes it more of a meal than just a rice casserole dish. The chicken breast will turn out moist and tender being cooked with the rice and chicken broth.
Not only is it quick and filling, but it also uses ingredients you likely have on hand already – Arborio rice, skinless boneless chicken breasts, and a few veggies. Made all in the Instant Pot for a perfect quick casserole like recipe! You can add to the meal with a tossed salad or maybe some low sodium crusty bread. This quick dinner recipe is one to add to your low sodium dinner lineup!
NOTABLE POINTS ABOUT INGREDIENTS
Chicken – I like to brown the chicken breast before cooking but this is optional. Cut the breast to bite size pieces in the final steps.
Arborio Rice: This is what really makes the dish. It makes a creamy risotto like meal much better then plain rice and no cream is needs to be added.
Chicken broth, Sweet corn, Sweet peas, butter – Use the brand of your choice but choose No Salt Added.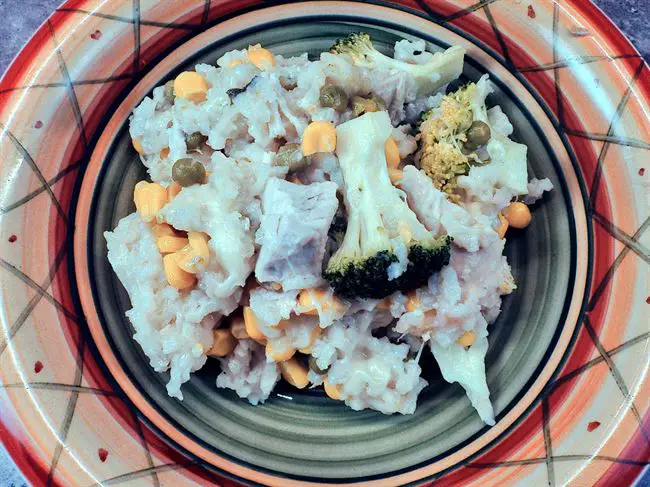 Broccoli and vegetables – Because broccoli cooks really fast, it's easy to overcook, and it will turn into mush. Particularly in an Instant Pot. For quick cooking vegetables to turn out perfectly, stir in the broccoli and other vegetables when the chicken has been removed and recover the pot.  The vegetables will simmer in the rice while you cut the chicken and then return everything to the pot.  If you want them more done just leave covered for a few minutes more.
CHOOSE A CHEESE IF DESIRED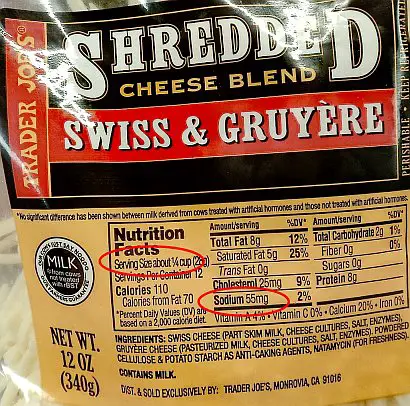 Shredded Swiss Gruyere – Is optional but tastes the best and is recommended adding Trader Joe's is only 55 mg per 1/4 cup.
Sliced Swiss – OR you can use sliced Swiss, it is still optional but recommended and adds 40 mg per slice.
SIMILAR LOW SODIUM RECIPES TO TRY…
I cook with chicken a lot which means that I am trying a lot of Instant Pot chicken recipes. Here are some of them to tempt you and all low sodium:

Low sodium Blackened chicken
Low sodium Indian buttered chicken
Low Sodium Spinach Chicken Casserole
---
ABOUT MY INSTANT POT
To make Instant Pot buttered chicken I used my 6 quart Instant Pot LUX60V3 6 in 1*. The Instant Pot multi-cooker, combines 6 kitchen appliances in one, pressure cooker, slow cooker, rice cooker, sauté, steamer, and warmer. This Instant Pot is one of the very few appliances that stay on my counter since I use it so often weekly. It's super easy to use and clean.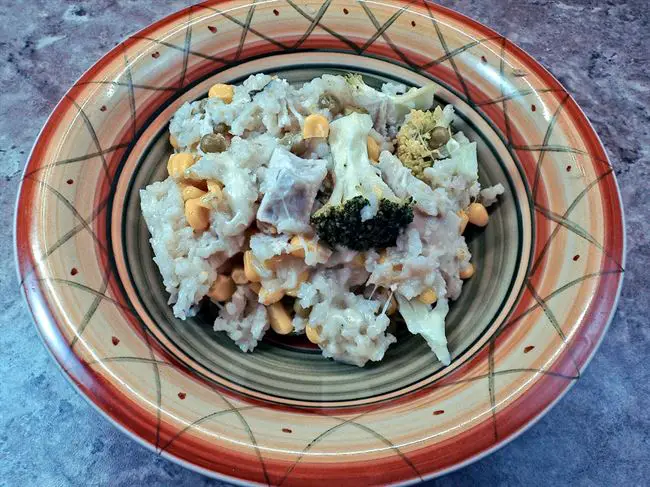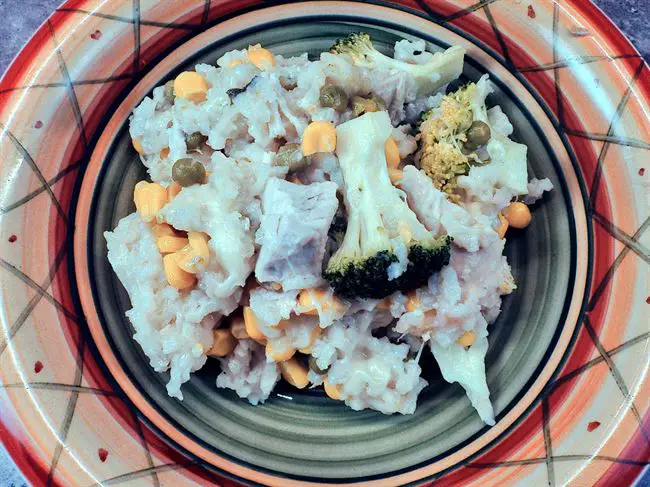 Instant Pot Chicken Arborio Rice Vegetable Medley
Arborio rice with Swiss gruyere cheese, vegetables and bite size pieces of chicken breast. A one pot low sodium meal that fits into a busy weeknight.
Ingredients  
2

Tbsp

butter no salt added

1

medium onion, diced

1

Tbsp

garlic minced

1 1/2

cups

Arborio rice

12 oz. package

4

cups

chicken broth no salt added

32 oz. package

1 1/2

pounds

skinless chicken breasts skinless boneless

about 3 breasts

1

pound

fresh or frozen broccoli florets

1 15

oz.

can sweet corn no salt added

1 15

oz.

can sweet peas no salt added

6

oz.

shredded Swiss gruyere cheese

optional see notes

pepper or spice to taste
Instructions 
Turn your Instant Pot to the saute setting. When the display says HOT add in and melt the butter. Once butter is melted add in the onion. Saute the onion for 3 minutes.

Add in the garlic and rice and stir for 1 minute.

Add in 1 cup of the broth and stir for 2 minutes.

Add in remaining broth then lay the chicken right on top.

Cover and secure the lid. Ensure the valve is set to sealing. Set the manual pressure cook time to 10 minutes. Once time is up let the pot natural release for 10 minutes and then vent the valve. Remove the lid.

Remove chicken and add the fresh cut broccoli and drained vegetables to the pot then put the lid back on and let the vegetables cook on the warm setting with the lid on for about 15 minutes.

Meanwhile cut the chicken into bite size pieces. Then stir them back into the pot along with the optional cheese. Pepper and spice to taste. Scoop onto plates and enjoy your low sodium meal.
Notes
Nutrition label reflects values without cheese
Shredded Swiss Gruyere – Is optional but tastes the best and is recommended adding 90 mg per serving
Shredded Swiss – OR you can use shredded Swiss, it is still optional but recommended and adds 55 mg per serving
Recipe Equipment & ingredients
Nutrition
https://tastyhealthyheartrecipes.com/main-dishes/entrees/low-sodium-chicken-arborio-rice-vegetable-medley/
Nutrition Information – The information shown is provided by an online nutrition calculator. It should not be substituted for a doctors or nutritionist's advice. Please understand that not everyone's sodium requirements are the same, therefore some recipes may be higher than you're allowed. Always consult with your doctor for your recommended daily sodium allowance.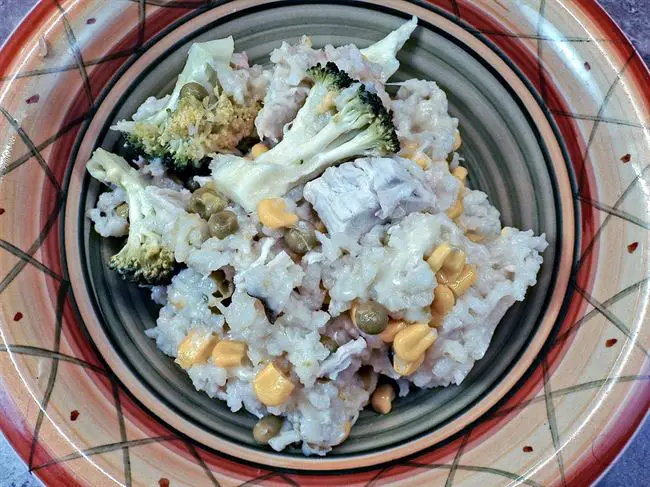 As always, please let me know how you like this recipe in the comments! I get motivated when I hear from you and am interested on how you liked and served your low sodium Chicken Arborio rice vegetable medley. And please share any tips you might have.