A kicking, blazing, juicy, bold and spicy Low Sodium Blackened Chicken adventure. When I buy chicken breast at the grocery store I usually buy as much as I can on sale. It's easy, affordable, and convenient. Since I started eating a healthier diet, I eat a lot of chicken breast. Usually what was a rather bland oven baked chicken breast. But now you can have blazing, bold Low Sodium Blackened Chicken that goes with so many different dishes.
| | |
| --- | --- |
| Sodium per serving for this recipe | 92mg |
| Calories per serving | 245 |
QUICK AND HEALTHY
Let's face it, chicken breast can be boring, but sear some blackening on it, and it's spankin good! Bold and spicy, blackened chicken is delicious when hot, but leftovers are just as good the next day or when cold.
Usually if I am going to make this much smoke I'll go ahead and make some extra (like a family pack size) and store in the freezer. Blackened chicken is an easy low sodium recipe and it can be substituted for regular chicken in many recipes for extra punch.
When cooking using this technique on what is usually a bland chicken breast, there is absolutely no way to miss the salt. The savory spice combine and caramelize to form a brash crunchy crust you just want to roll around on the top of your mouth. Just look at it!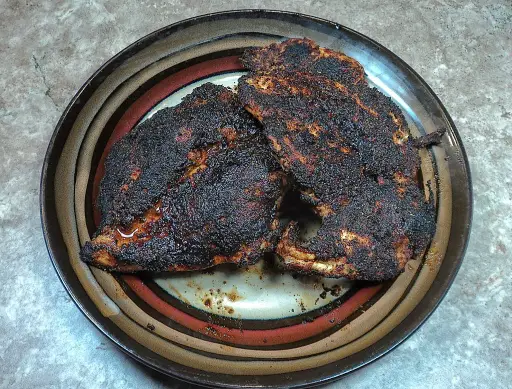 It's hard to reproduce that blackened crust using any other cooking method indoors other than outdoor on the grill for the heat.
There is "blackened" chicken baked in the oven, but this is really just a roasted chicken recipe with a spice covering. You'll definitely taste the flavor you're supposed to in this dish using this method. But baked chicken really isn't getting crusty blackened element without some character building time in a serious hot pan. And it should smoke. Like your house is on fire smoke. Not good if done inside!
BE VIGILANT WHEN PURCHASING THE CHICKEN
Be wary of sodium content when selecting and buying chicken. About a third or more of the fresh chicken found in supermarket meat cases has been artificially enhanced with a mix of water, salt, and other additives
A 4-ounce serving of "enhanced" chicken can contain as much as 440mg sodium. That's nearly 30% of a 1,500mg daily limit. It can be the package in the fresh meat case or the frozen type. So double check to know if you're picking up an enhanced product. The sodium content on the Nutrition Facts label shouldn't be higher than 70mg per serving.  (typically 4 oz.)
PREPARATION LOW SODIUM BLACKENED CHICKEN
When making the blackening spice, go ahead and make extra. See the full post and recipe for Blackened Seasoning Rub here. You can use it on other dishes of steak or fish for crust or just a flavor enhancer. The amount for this recipe will just cover three large chicken breasts. Now that we have a Blackened Chicken rub, let's talk about how to make Blackened Chicken.
Rinse and pat dry. You will need to pound the chicken breast thin, butterfly them or purchase thin-sliced ones. A typical chicken breast is so thick that by the time it is cooked, the blackened spices will burn beyond the caramelizing stage. Burning the outside before the inside of the chicken reaches a safe level of 165° F. So place them between two pieces of plastic wrap or a zip lock bag and have at them with a tenderizing hammer or rolling pin until they're no more than a ½" thick and an even height.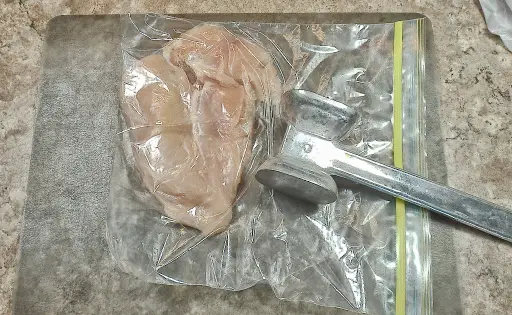 COOKING – SEARING THE CHICKEN
Have the chicken out of the fridge 20-30 min before cooking to bring the chicken near room temperature. Chicken will cook faster and more evenly. You want the inside to be finished so the outside doesn't burn while waiting on the inside. Any lengthy cooking and "blackening" will quickly become "burning."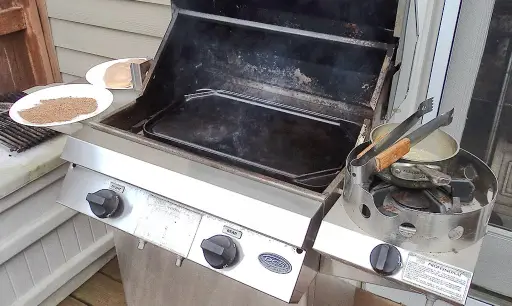 Heat the pan on high for 5 to 10 minutes (don't put anything in the pan until you are ready) until it is searing hot. Dip and coat breast in melted butter and dredge in spice, coating evenly. Place the butter and spice dipped butterflied breast so it is flat on the griddle. It will smoke a lot!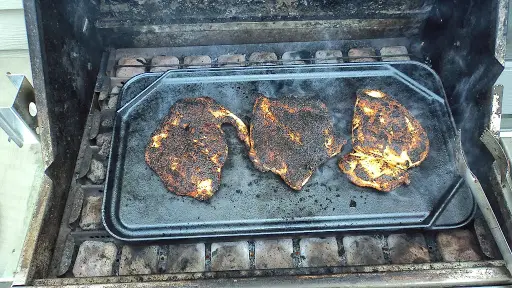 Let it cook on high heat for 4-6 minutes until you see the sides of the breast turn white, then flip it over. Cook another 4 minutes checking for your desired "crustiness" at this point.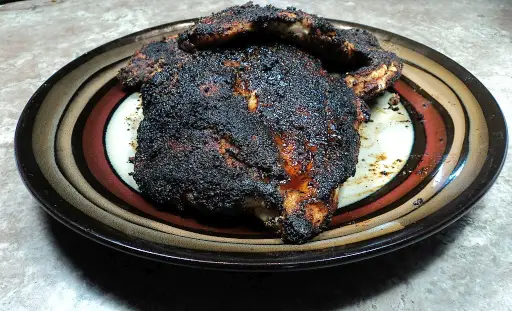 Check the temperature with thermometer for 165° F. Do not cut open. Remove from the pan and let it sit for 10 minutes to allow the juices to flow back in and throughout the chicken. If you cut it too early, it will leak with the first few bites being juicy, but the rest will become dry.
SERVING IDEAS FOR LOW SODIUM BLACKENED CHICKEN
Spiciness – If you don't like things too spicy you can adjust the heat by reducing the cayenne and chipotle, or add more if you like even more kick.
Serving Ideas for Sides – Serve whole with veggies and mashed potatoes, green beans, bean salad, rice, red beans or coleslaw.
YOU HAVE LEFTOVERS?
You can slice the chicken up for other dishes, using it for a simple sandwich, blackened chicken pasta, to fill tacos or burritos, or to make a blackened chicken salad.
This will make a good substitute for just about any dish that uses sliced or shredded chicken.
You can keep the blackened chicken leftovers in the fridge in a sealed container for 3 days. To reheat them, cover and microwave on 50% power to retain juiciness. I like to use the leftovers cold, sliced thin, in a salad or sandwich the next day.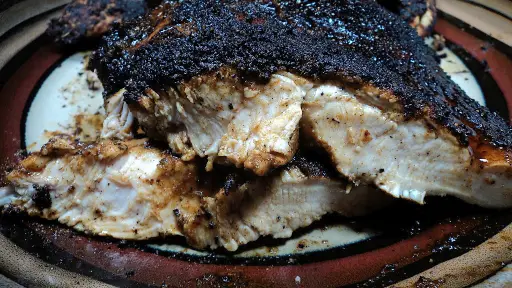 >>>Recommended Equipment & Ingredients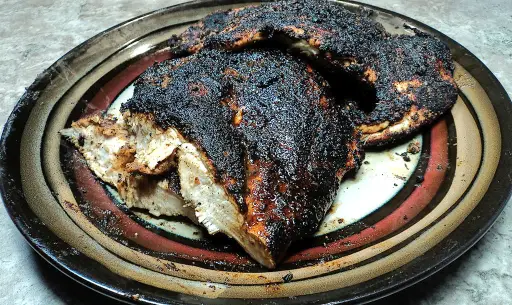 Low Sodium Blackened Chicken
Enjoy this spicy and bold chicken on a salad or just by itself for this low sodium blackened chicken option.

Ingredients  
2

lb

chicken (~3 large) breast raw

fresh / no injected juices

3

tbsp

unsalted butter

2

tbsp

smoked paprika

1

tbsp

chipotle chili powder

2

tsp

black pepper

heaping

2

tsp

onion powder

1

tsp

garlic powder

1

tsp

dried thyme

1

tsp

oregano

1

tsp

cayenne pepper
Instructions 
Preheat grill to high heat and place cast iron skillet or griddle on the grill or stove to preheat. Pan needs to be very hot.

For large breast butterfly and remove unwanted pieces.

Pound each chicken breast down to about 1/2 inch thickness to help cook evenly.

Thoroughly mix spices together and spread on a plate.

Melt butter in bowl or pan large enough to fit breast meat.

Coat each chicken piece in the butter first then spice mixture and place directly on hot cast iron skillet or griddle.

Cook about 2-3 minutes on each side until outer mixture is charred and chicken is cooked through. There will be a lot of smoke while cooking!

Place cooked chicken on a clean platter!

Notes
Recommended to outside on grill because of smoke.
Recipe nutritional values based on 3 chicken breasts which was about 2 lbs.
Thus 6 servings = 5.3 ounces.
Nutrition
https://tastyhealthyheartrecipes.com/main-dishes/entrees/low-sodium-blackened-chicken/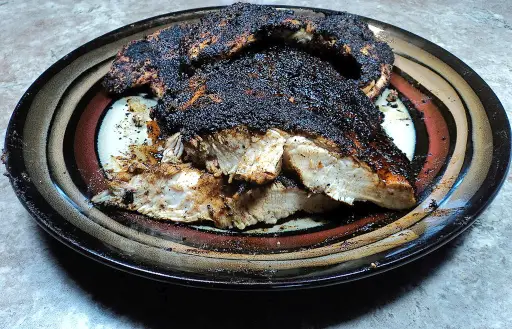 As always, please let me know how you like this recipe in the comments! I'm always interested to hear how your low sodium blackened chicken turned out, and please share any tips you might have.