This low sodium Baked Chicken Parmesan may seem pretty extravagant, but it's actually an easy recipe to make. I made this recipe low sodium by skipping the store breadcrumbs and using dried bread crumbs from my LOSO white bread and a no salt added tomato sauce.  The gooey cheese topping is made with low sodium Swiss-Gruyere shredded cheese and shredded Parmesan. The dish is also healthier because it is oven baked and not fried!
LOW SODIUM ONE SKILLET CHICKEN PARMESAN
Sodium Total  812 mg   –   Sodium / Serving 203 mg   –   Calories / Serving  719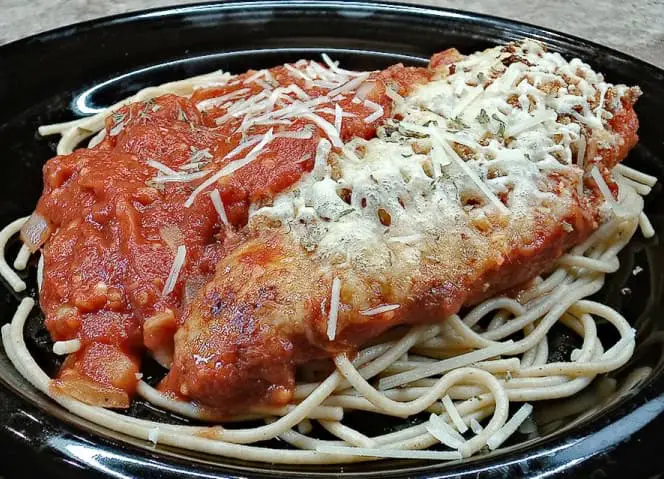 Chicken Parmesan should be made with the chicken breast butterflied and then pounded flat to no more than a ½" thick.  This will give more surface area to brown up and to place bread crumbs and cheese on top. And most importantly allows the chicken to cook more evenly.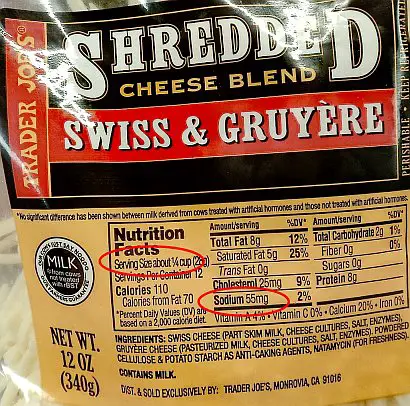 Parmesan cheese should be mixed in with the breading. It is chicken parmesan after all! It's just enough to add taste without adding a significant amount of sodium thereby allowing you to use more of the shredded Swiss Gruyere cheese to top the chicken off.  The Trader Joe's shredded Swiss Gruyere cheese is only 55 mg per ¼ cup so you can nearly cover each piece of crunchy chicken. Also a big plus is that the Swiss Gruyere melts down to a gooey perfection.
I use a heavy spray on the pan using an olive oil cooking spray when I sauté the chicken rather than oil from the bottle.  And then also give the bread crumb topping a shot of the olive oil spray when going first under the broiler.
This recipe for four servings works best in a 12 inch cast iron skillet. Everything can be cooked in one skillet and it is safe in the oven during the broiling phase.  I love my cast iron skillets and pans and use them 90% of the time.  If you don't have one, look into getting a cast iron skillet here.
Let the skillet cool down a bit before adding the tomato sauce! Otherwise sauce will be spritzing all over when adding room temperature tomato sauce to a hot skillet.
SIMILAR RECIPES YOU MAY WANT TO TRY
I cook with chicken a lot which means that I am trying a lot of Instant Pot chicken recipes. Here are some of them to tempt you and all low sodium:
Low Sodium Chicken Bruschetta
Low sodium Blackened chicken
Low sodium Indian buttered chicken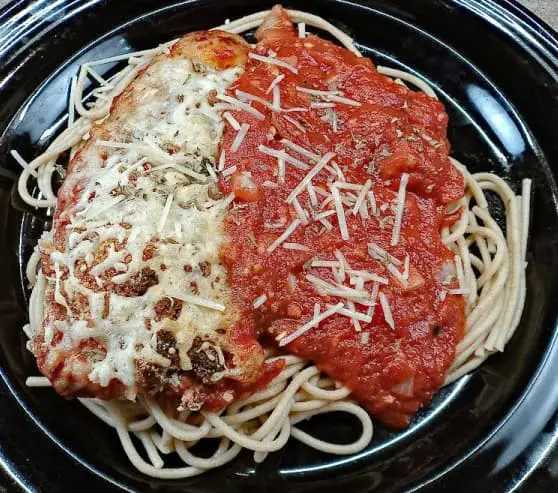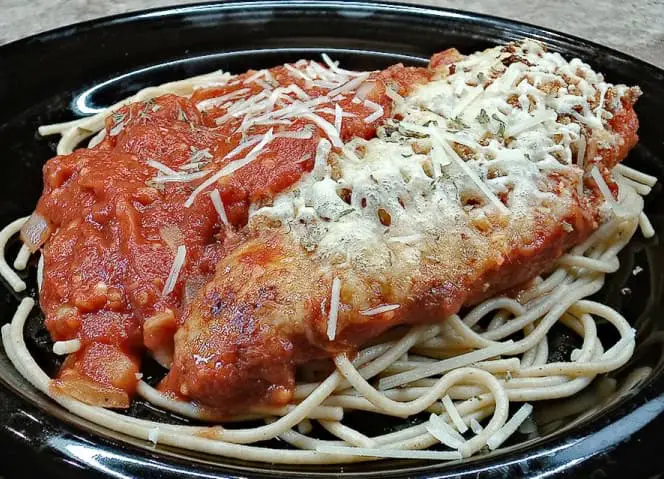 Low Sodium Chicken Parmesan
Delicious low sodium chicken parmesan recipe made with
melted Swiss Gruyere cheese and baked/browned in a cast iron skillet.
Ingredients  
1

lb

boneless skinless chicken breasts

2 – 8 oz. breasts butterflied

2

tsp

freshly ground pepper

divided

1/2

cup

breadcrumbs

Use my LOSO white bread for lowest sodium

2

Tbsp

freshly grated Parmesan cheese

4C brand is lowest

1

Tbsp

extra virgin olive oil

1

medium onion

chopped

2

Tbsp

garlic

wet minced

1

28 oz.

can no-salt-added crushed tomatoes

about 3 1/2 cups

1

Tbsp

Italian seasoning

1

cup

shredded Swiss Gruyere cheese Trader Joe's

3

Tbsp

chopped fresh parsley
Instructions 
Butterfly each chicken breast by cutting in half lengthwise to make 4 equal portions. Place between pieces of plastic wrap and pound with a meat mallet or your cast iron skillet to no more than 1/2-inch thickness. Season the chicken with pepper.

Mix breadcrumbs, Parmesan and 1 tablespoon oil in a small bowl and set aside.

Place rack to upper third of oven and preheat broiler.

Begin to cook in a separate pot 8 oz. Spaghetti, Whole-wheat according to directions. NO SALT!

Heat large, ovenproof skillet over medium-high heat and add 1 tablespoon oil. Add chicken and cook until nicely golden, about 2 to 3 minutes per side. Move chicken to a plate when done.

Add onion and garlic to the pan and cook to soften, 2 to 3 minutes. Remove the pan from the heat. Pour in crushed tomatoes, stirring in Italian seasoning and pepper to taste. Return the pan to medium heat and cook, stirring for 2 to 3 minutes. (See note #2)

Return the chicken and any runoff juices to the pan. Turn to lightly coat the top with the sauce.

Cover each breast with about 1/4 cup of cheese, then top with the breadcrumb parmesan mixture. Broil until the cheese is melted, about 1 minute.

Plate by placing chicken on a serving of pasta and spoon some sauce alongside, sprinkle with parsley.
Notes
To make breadcrumbs use a slice of my very low sodium white bread. Place 2 slices on a baking sheet and bake at 250°F until dry, 10 to 15 minutes. Two slices of bread make will make just over 1/2 cup dry breadcrumbs.
Be sure to let the skillet cool down a bit before adding the tomato sauce! Or else the sauce/oil may spritz EVERYWHERE from the contact of lower temperature sauce to a hot skillet.
Trader Joe's Swiss Gruyere shredded cheese has only 55 mg sodium per 1/4 cup
Nutrition
Nutrition Information – The information shown is provided by an online nutrition calculator. It should not be substituted for a doctors or nutritionist's advice. Please understand that not everyone's sodium requirements are the same, therefore some recipes may be higher than you're allowed. Always consult with your doctor for your recommended daily sodium allowance.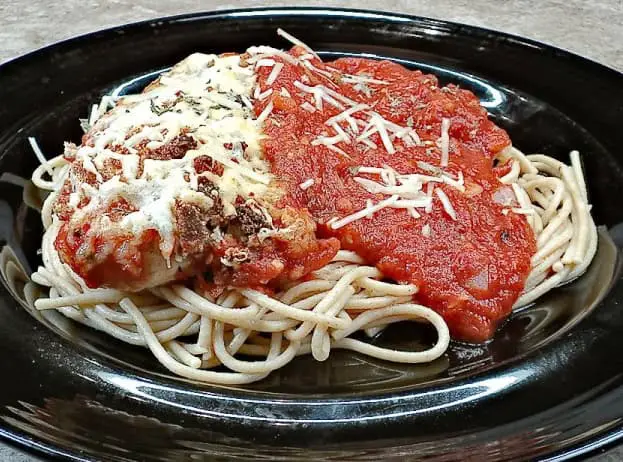 As always, please let me know how you like this recipe in the comments! I get motivated when I hear from you and am interested on how you liked and served your low sodium Parmesan Chicken. And please share any tips you might have.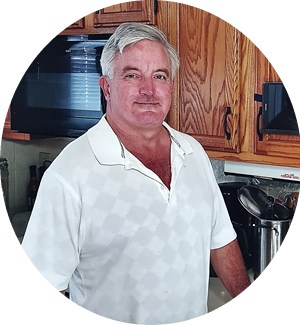 Welcome!  After a stroke, I began to prepare tasty heart healthy – low sodium and reduced fat meals. A tasty easily prepared meal that can help you change your lifestyle for a healthier life.  More about myself…