Summer is here and you need a low sodium baked potato salad because it's time for grilling and cookouts. A sizzling grill and all the side dishes…corn, baked beans, coleslaw. And all that falls apart without the irreplaceable potato salad. A cookout just isn't the same without it, but with this great tasting low sodium baked potato salad you can feel your cookout is complete.
LOW SODIUM BAKED POTATO SALAD #1
Sodium Total  320 mg   –   Sodium / Serving 40 mg    –    Calories / Serving  296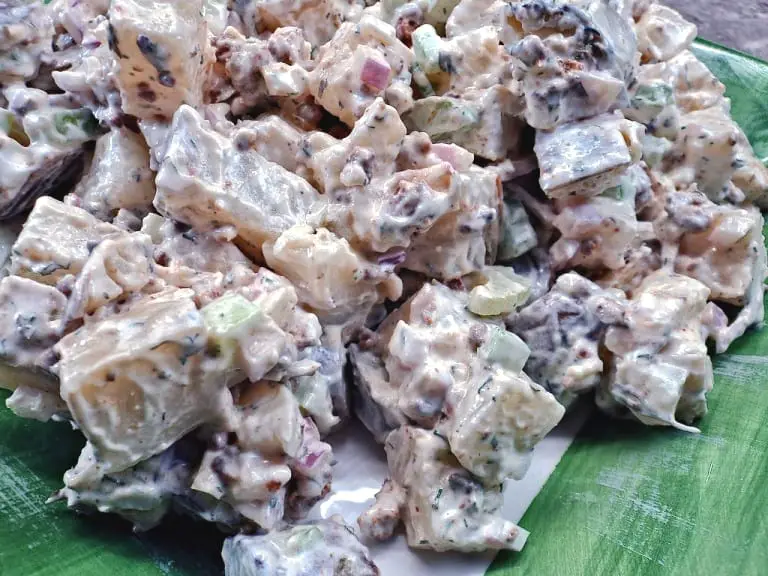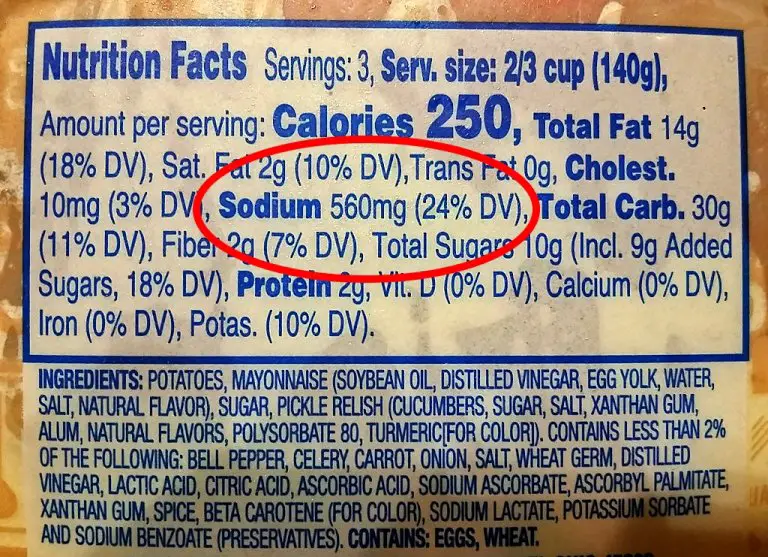 The sodium content in store brand processed potato salad is astronomical. With an average of over 550 mg of sodium per 2/3 cup it is just way too high for a single small serving and when combined with the other cookout essentials it can kill your sodium budget for the day.
ESSENTIAL CHANGES TO MAKE LOW SODIUM
Not only does homemade, in my opinion, always taste better, but this low sodium potato salad lets you enjoy the all-time favorite without worry. It has everything you love about a potato salad with just a few replacements and deletions. For instance, my crumbled low sodium chorizo adds a lot of punch to replace bacon so well you won't even miss it. Use my fresh low sodium mayonnaise combined with sour cream to reduce sodium and fat even more, making it awesome! As I'm writing this and seeing the pictures I am ready to make another batch because this one sure didn't last long!
Most recipes call for dressings that are loaded with mayonnaise. But the dressing for this potato salad is pretty basic and consists of simply sour cream and my low sodium mayo. I wanted to keep the dressing simple and have lowered fat and sodium, while letting the chorizo and chives really work their magic. Despite this alteration, it still has dairy and eggs in it so try to keep it cool when serving. Refrigerate it as soon as possible when not eating it. You could also substitute the sour cream with plain Greek yogurt if you want to reduce the fat and sodium more. You most likely won't taste the difference!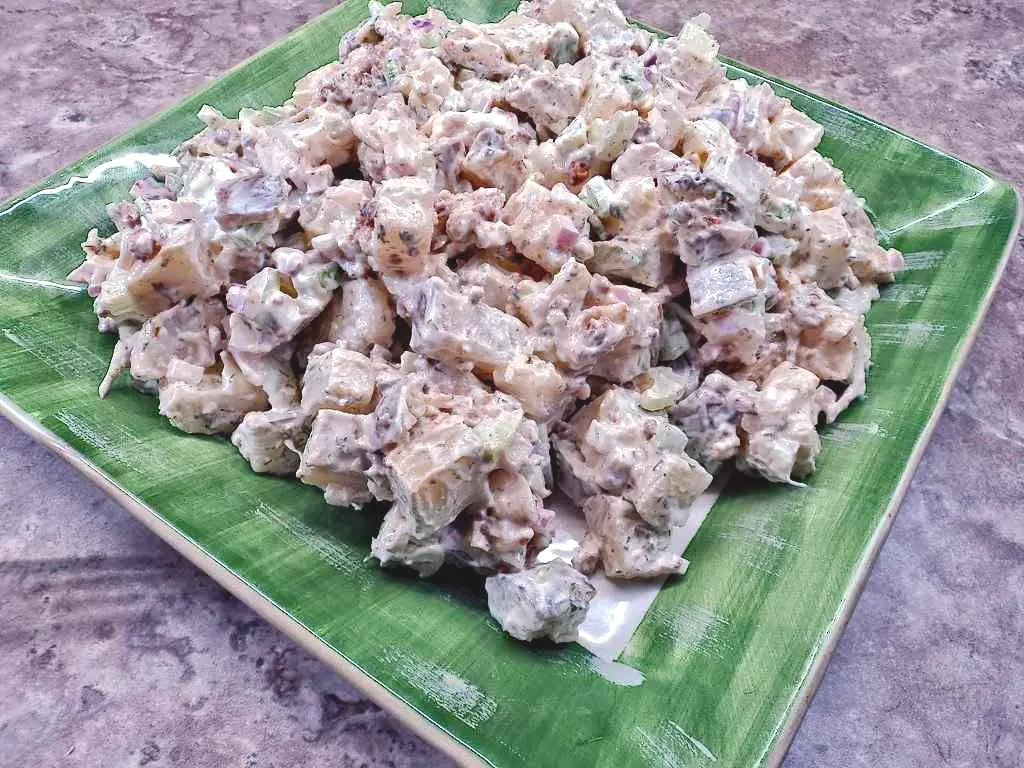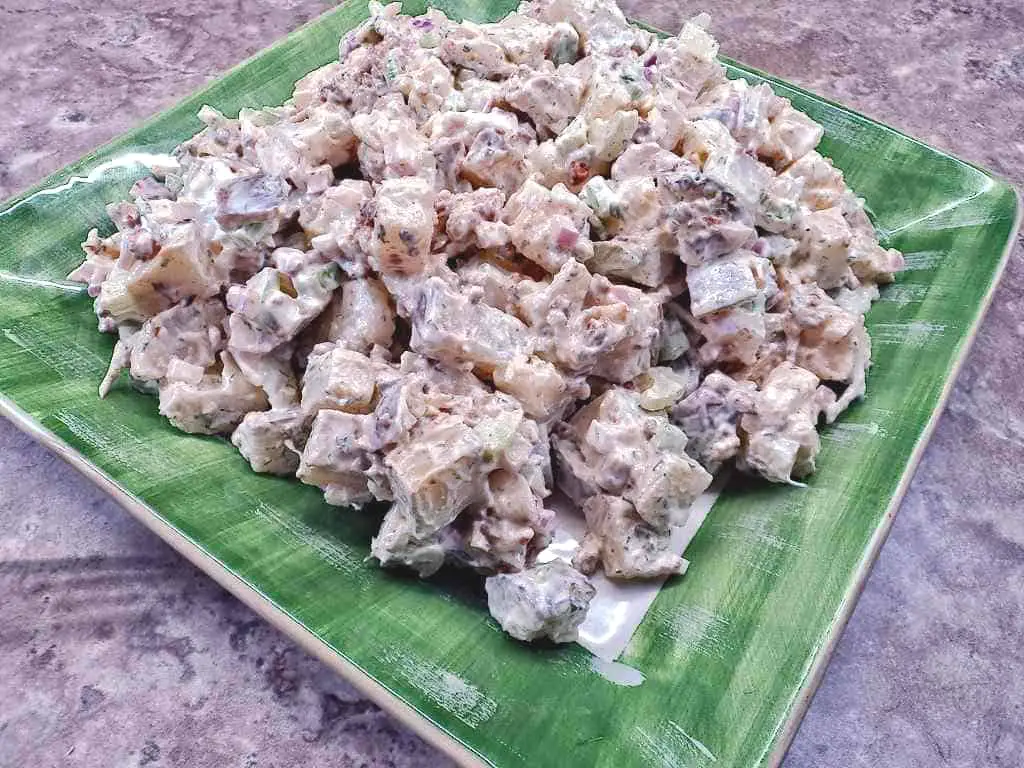 MAKING THE BAKED POTATO SALAD
This recipe is different than most potato salads for two reasons, other than a healthier diet. First, the potatoes are baked instead of boiled (Which takes the classic salted boiling water out of the equation.) which makes a somewhat drier salad. And second, I leave some to most of the skin on, as it holds many nutrients, by only pulling off by hand what is loose and easy to remove.
For the best results, you should make this potato salad the day before you use it. So that the flavors can meld in the fridge overnight. All the flavors will blend together and it'll taste even better than if you serve it immediately. You can just make it and serve, but it tastes best to let it chill in the fridge overnight.
Cut when the potatoes are completely cool to aid in cutting. Then spritz and toss them with a little apple cider vinegar. It may smell like too much vinegar when added but it will soak in while you prepare the other ingredients. When mixed with the dressing, it will mellow to tangy flavor that will keep you putting more on your plate!
Transfer to a sealed container in the refrigerator and the potato salad will keep for 3-4 days.
A few other recipes you may enjoy!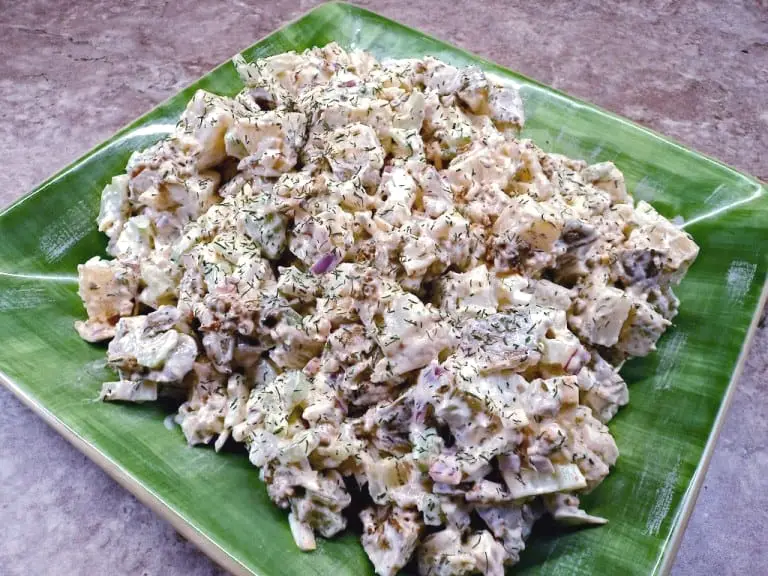 As always, please let me know how you like this Low Sodium Baked Potato Salad in the comments! I get motivated when I hear from you. And I am interested to read how you made and served your low sodium baked potato salad. And please, share any tips you might have!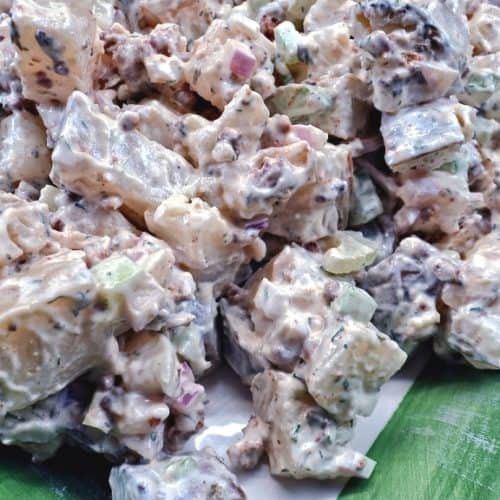 Low Sodium Baked Potato Salad
Summer is here and it's time for grilling and cookouts. With this great tasting low sodium baked potato salad you can feel your cookout is complete.


Ingredients  
2

pounds

russet potatoes

2 large potatoes

¾

cup

celery about 3 sticks

½

cup

red onion

1 ½

tsp

parsley

½

tsp

dill weed

½

tsp

ground mustard

3/4

cup

sour cream

3/4

cup

low sodium mayonnaise

see link below recipe

¾

cup

low sodium chorizo

see link below recipe

ground black pepper

to taste
Instructions 
Preheat the oven to 400 degrees Wash potatoes and prick around them with a fork.

Bake for 50 minutes to 1 hour or until they are fork tender. Remove from the oven and cool completely. They will cut and stay shaped better when cooled. Also it will not heat the dairy products most importantly.

Now you you can peel all of them, or peel half of them by pulling off loose skin leaving some on. Cut the potatoes into small, pieces.

Combine the sour cream and mayonnaise in a large mixing bowl and stir well.

Add the potatoes and remaining ingredients to the bowl and gently stir to coat.

Sprinkle top with more dill if desired.
Nutrition
https://tastyhealthyheartrecipes.com/a-la-cart/appetizers-sides-snacks/low-sodium-baked-potato-salad/
Nutrition Information – The information shown is provided by an online nutrition calculator. It should not be substituted for a doctors or nutritionist's advice. Please understand that not everyone's sodium requirements are the same, therefore some recipes may be higher than you're allowed. Always consult with your doctor for your recommended daily sodium allowance.