Here is a homemade low sodium coleslaw recipe version that replaces the mayonnaise with yogurt.  With a dairy free soy yogurt no less. I was skeptical that I would like the "slaw" dressing without the typical mayonnaise.  But it has a really refreshing taste and makes the most delicious creamy dressing. This low sodium coleslaw recipe is a quick, easy and sure to become a favorite side dish. Give it a shot, I recommend it.
LOW SODIUM COLESLAW WITH YOGURT DRESSING
Sodium Total  340 mg   –   Sodium / Serving  34 mg   –   Calories / Serving  57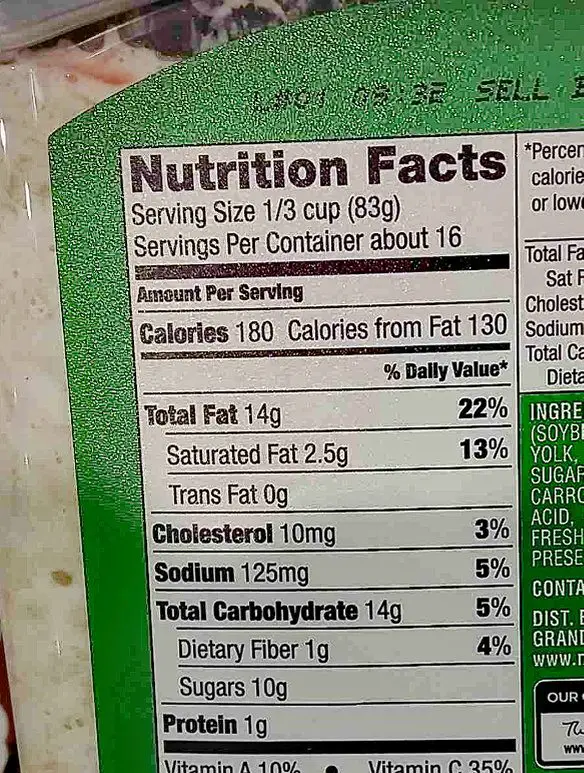 This coleslaw recipe is loaded with fresh, colorful flavors that will add a cooling pizazz to anything you serve it with. Try this as a topping to sandwiches, chili's, barbecued beef or pulled pork. Or heap some on top of a hamburger. Almost said hotdogs… but sadly can't have those anymore. At 57 mg of sodium this recipe easily blows away the 375 mg of sodium per cup, of store bought coleslaw. Sugar is also significantly reduced, with no loss in taste in my opinion.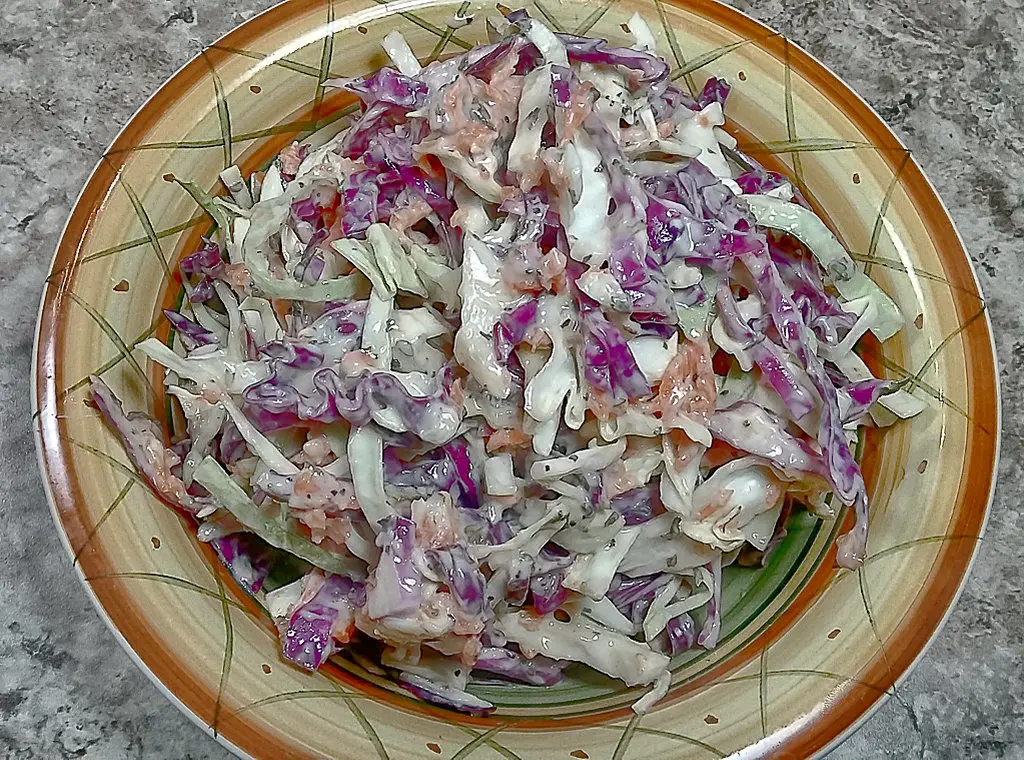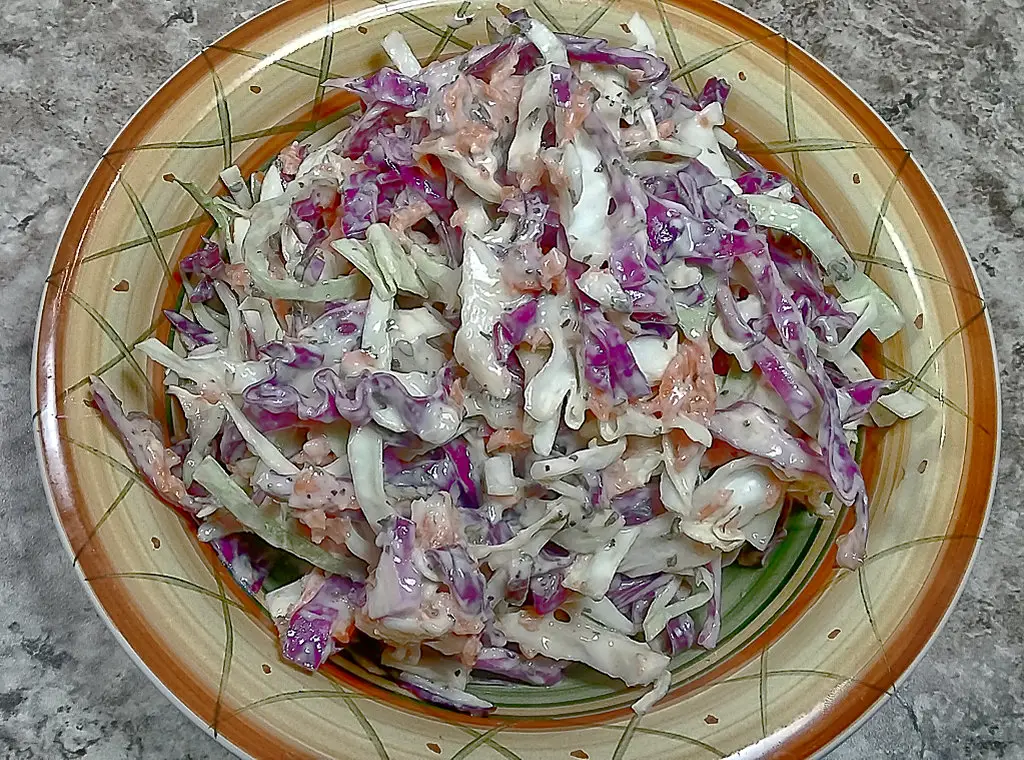 WHAT CABBAGE TO USE FOR COLESLAW?
Interestingly, the majority of the sodium present comes from the cabbage and carrots themselves.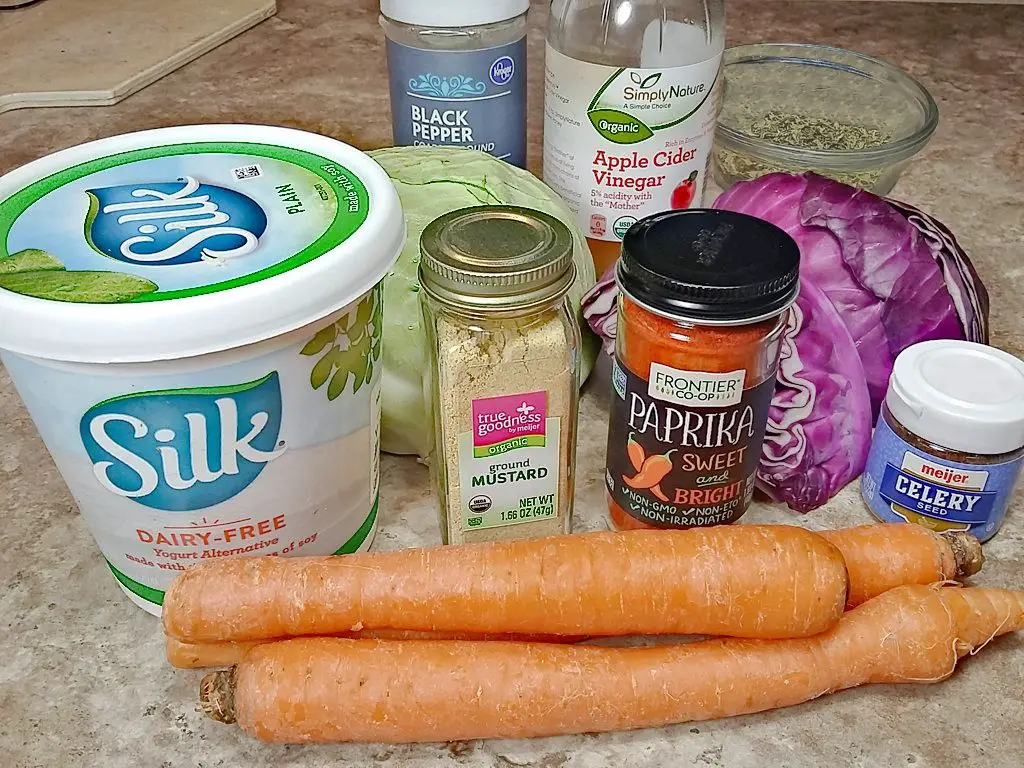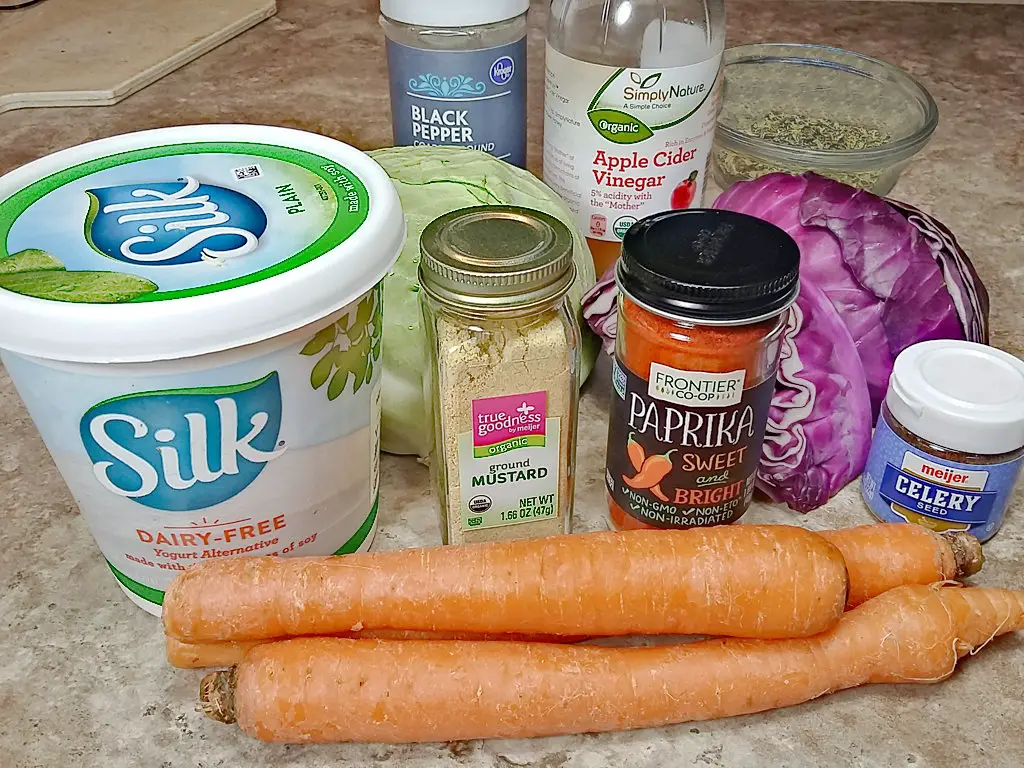 I use a half and half combination of red and green cabbage when I make coleslaw. It makes the dish have a really colorful appeal. You can use just one variety though, any taste difference would be slight and it is covered in dressing,  If you use both red and green look for a head that is about 5-6 inches around.  When I bought mine for this recipe the store only had large.  So I ended up using only half of each head for this recipe. And then had to look up new recipes to use the rest!
You could substitute the cabbage and carrot called for in the recipe with a store-bought bag. Sometimes labeled as tri-color, I do believe a 16 oz. package will fit the requirements for the recipe.  You're looking for 8-9 cups, and a cup of shredded cabbage averages 85 grams or 3 ounces. You'll need to double check though as I've only ever used fresh cut cabbage.
CUTTING THE CABBAGE FOR COLESLAW
Here's how to cut and shred the cabbage with ease-
Remove one layer of the outer leaves.
Cut the cabbage into quarters, and then cut the core bottom stub off.
Cut the rest of the core out by slicing down at an angle. (shown in photo)
Then cut that quarter into thirds and slice into shreds of desired thickness.  I try for about a 1/8" thick.
You could also use your food processor with a shredding attachment.
A CREAMY YOGURT LOSO COLESLAW DRESSING
This low sodium coleslaw dressing alternative is quick to make and uses simple ingredients. It's creamy, flavorful, and fresh. I came across this soy yogurt in a search for mayonnaise alternatives and gave it a try. I'm happy I gave it a chance. Soy yogurt plain is the base and makes a creamy dressing alternative to mayonnaise.  It really is good, go ahead and give it a try as it only adds 9mg sodium per serving.  If your heart is set on the classic mayonnaise coleslaw though, use my homemade low sodium mayonnaise (at 7 mg per serving) that is quite good also.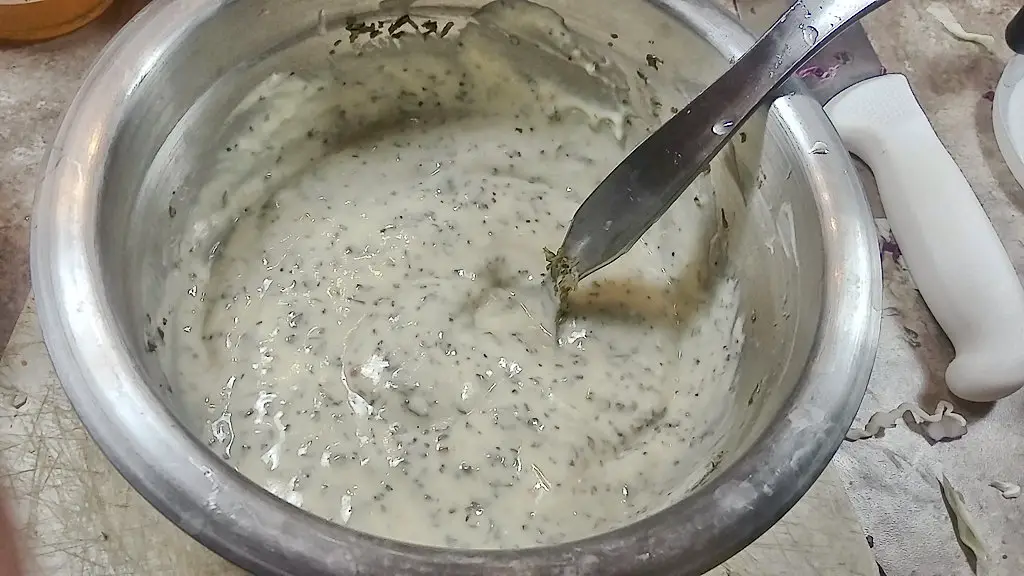 DRESSING INGREDIENTS
Apple cider vinegar adds a fresh zing to the dressing. You can substitute other kinds of vinegar like rice vinegar, red wine vinegar or even balsamic vinegar.
Dry mustard provides and little background mustard taste without adding the sodium of a processed mustard. 
Sweet paprika infuses a little for a delayed zing.  Add this bit by bit to your desired level.
Parsley leaves I used the dried flakes.  Most recipes call for fresh and chopped. For me the prep time and storage isn't worth any difference in taste.  But by all means use fresh if you desire.
Celery seeds are essential. They add taste just like celery and really add that "something" to the dressing that would be missing without them. Give them a quick pounding between two hard surfaces to release some extra flavor.  Celery flakes could also be used.
You may wonder about adding sugar? I don't add any sugar even though some coleslaw recipes call for it. I feel it is just an unnecessary increase in our daily sugar in this case. For me the taste of the cabbage, carrots and either yogurt or mayonnaise dressing is sweet enough. If you desire, add a teaspoon of sugar at a time to your taste. Add this while preparing the dressing before combining with the cabbage and carrot.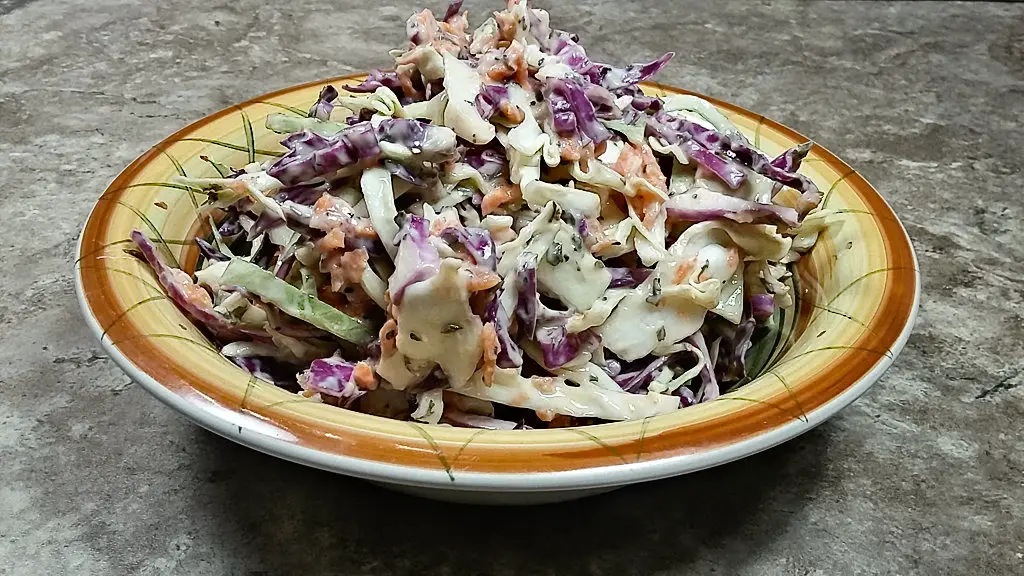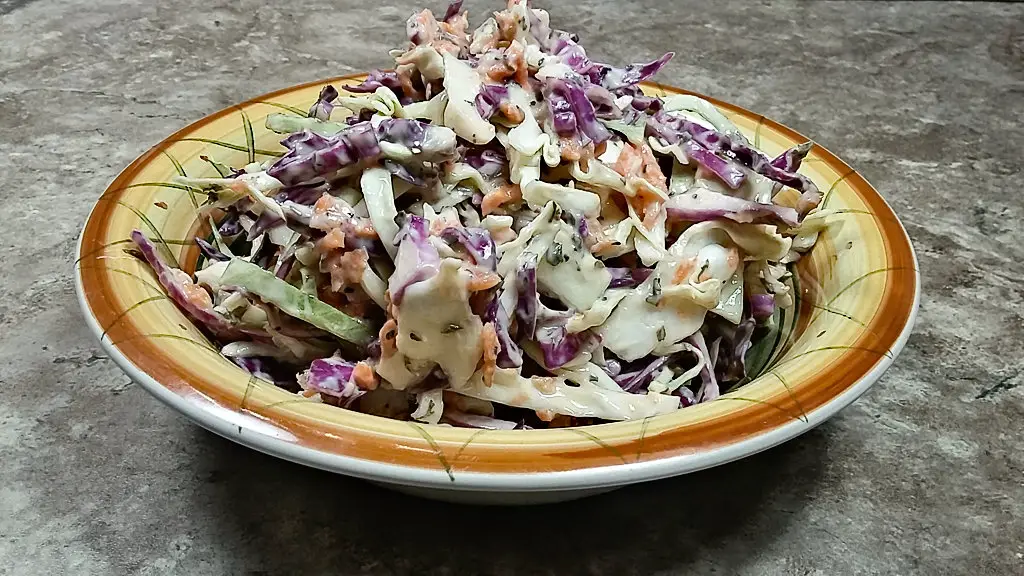 ADDING THE DRESSING
When you're ready to mix with the cabbage start with about two-thirds, give everything a toss and then see just how much more dressing you feel your coleslaw may need. I had about 8-9 cups cabbage and I ended up using the whole amount of dressing as called for. Coleslaw should not be drenched in dressing. So make sure to add it slowly to your taste in a nice even coating.
If you have extra leftover yogurt coleslaw dressing don't discard it! It can keep in the fridge (lasting for days, or a couple weeks). Use it for sandwiches or for a sauce on roasted or grilled vegetables.
The longer the coleslaw is covered in the dressing, the softer and less crunchy it will become.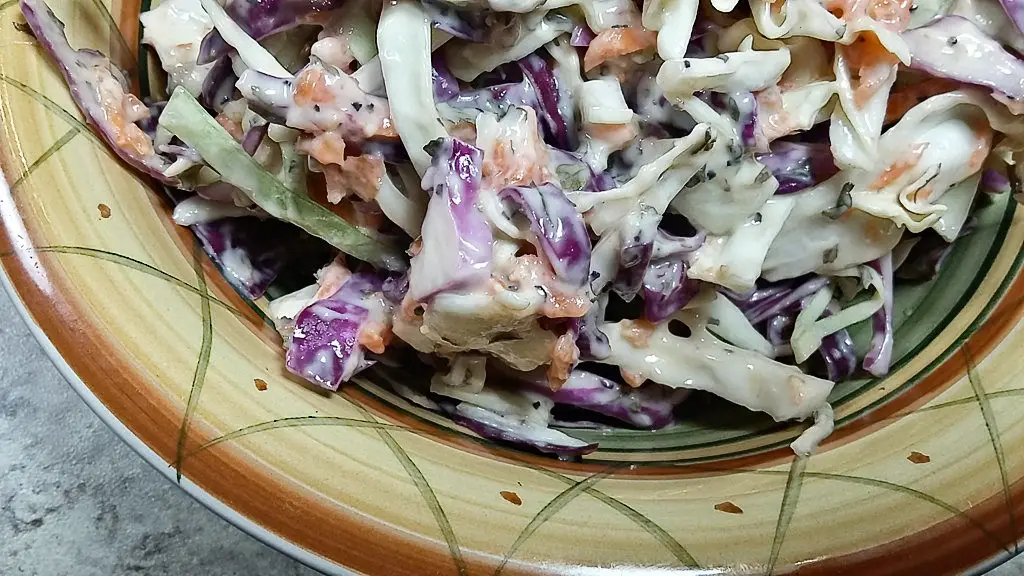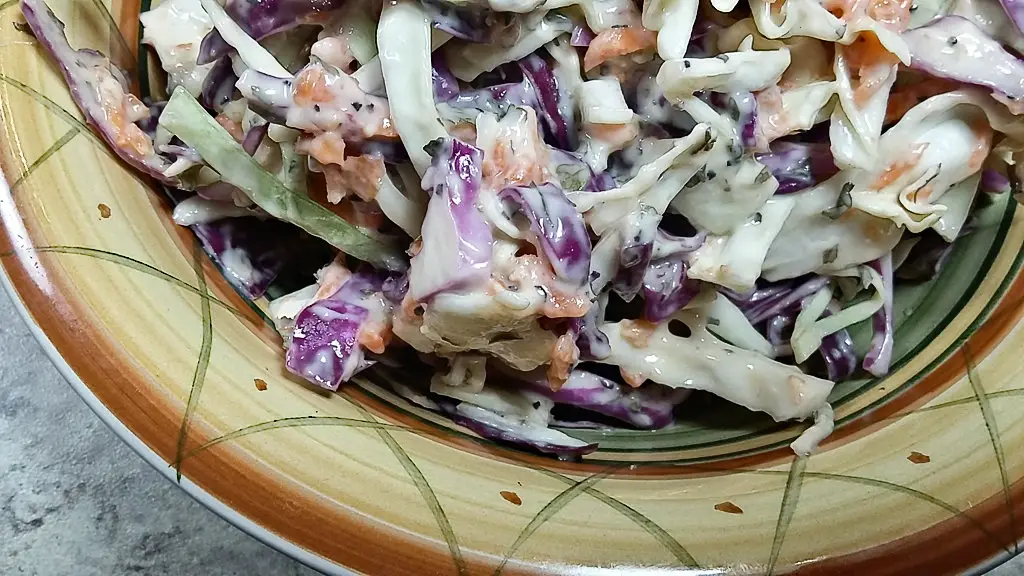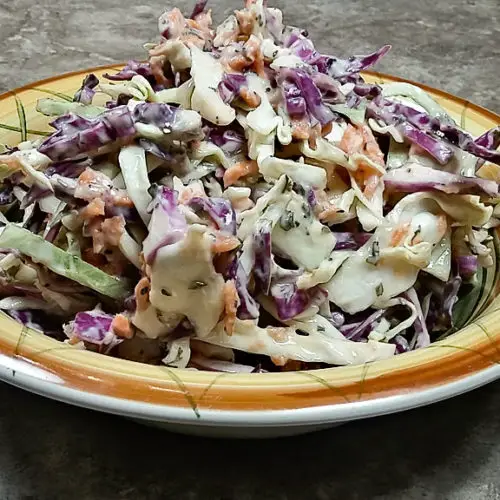 Low Sodium – Low Sugar Coleslaw
Check out this low sodium coleslaw with a creamy cool, colorful and crunchy bite. It is almost a required recipe for the summer cookout season. It's the perfect side to have with burgers, BBQ or chicken.
Ingredients  
1

medium cabbage red and/or green

about 6″ diameter 8-9 cups req'd

3

medium carrots

1/2

cup

parsley leaves

1

cup

soy yogurt plain

2

tbsp

apple cider vinegar

2

tbsp

dry ground mustard

½

tsp

sweet paprika

adjust as desired

1

tsp

celery seeds

1

tsp

ground black pepper
Instructions 
Cut and quarter the cabbage through the core, and then cut out the core. Cut each quarter crosswise in half and finely shred. Place the shredded cabbage in a large bowl (you should have 8 to 9 cups).

Peel and shred carrots


Add the shredded carrot and to the cabbage and toss to mix.

In a separate bowl, stir the soy yogurt, parsley, vinegar, mustard, paprika, celery seeds, and pepper together. Always taste and then adjust if desired.

Pour two-thirds of the dressing over the cabbage and carrot then mix well.

If the coleslaw seems dry, add a little more of the dressing.

Eat right away or let it sit in the refrigerator for about an hour to let the flavors mingle.
Notes
Do not add all the dressing at once. Then add more depending on the "fluff" of the shred and how doused in dressing you want it.
Save any leftover dressing for individuals to add more on or for other use such as sauces and dips.
Nutrition
https://tastyhealthyheartrecipes.com/a-la-cart/appetizers-sides-snacks/low-sodium-coleslaw-with-yogurt-dressing/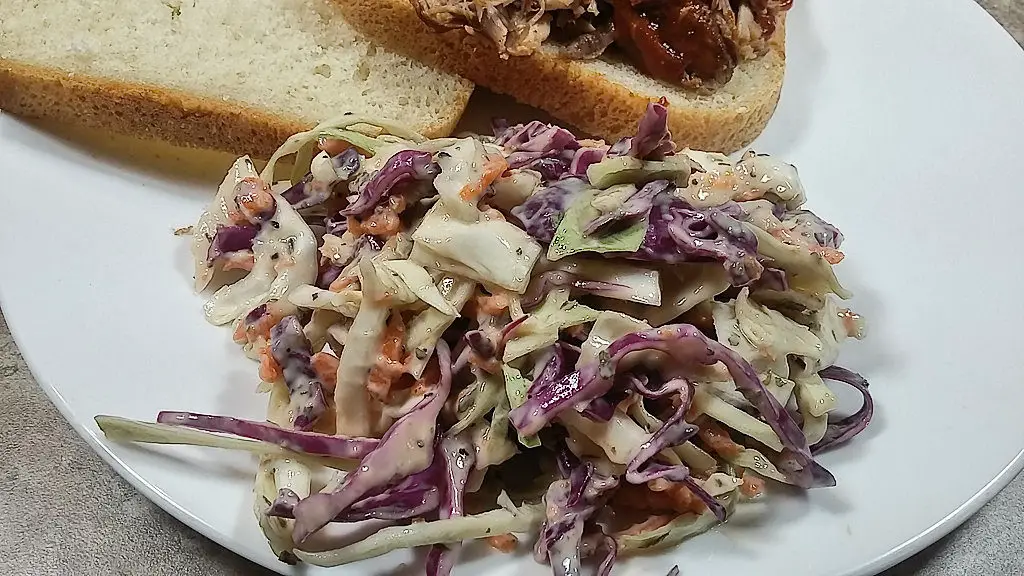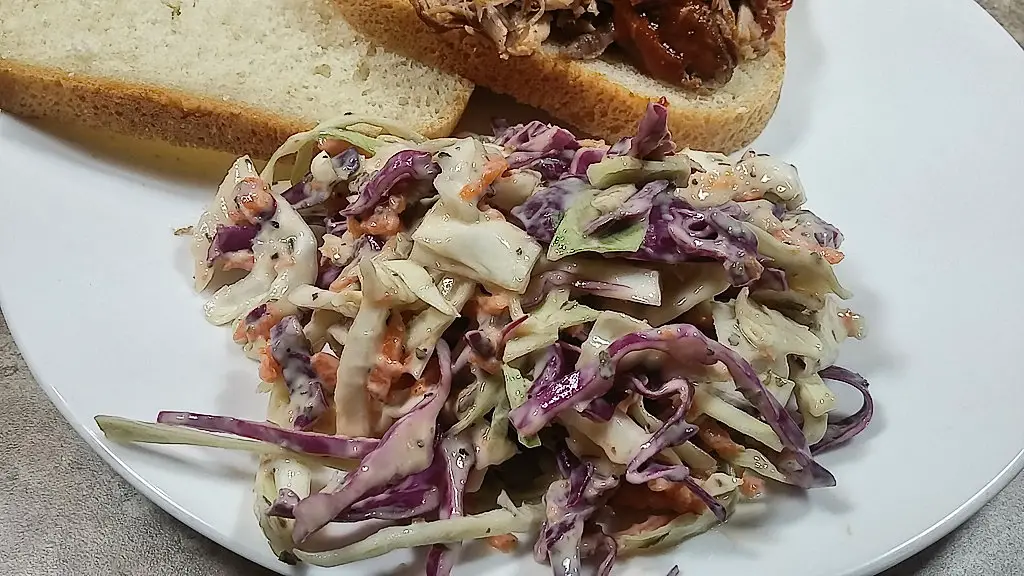 As always, please let me know how you like this recipe in the comments! I get motivated to hear from you and am interested on how you serve your Low Sodium Coleslaw with a twist. And please share any tips you might have.