The simple low sodium guacamole recipe is made easy just by leaving the salt out. Store brands can vary in sodium amounts from low to as high as 240 mg per serving. You can make this fresh guacamole and use as much of any ingredient as you want and not have to worry. The fresh ingredients more than make up for what the salt must be covering up.
LOW SODIUM GUACAMOLE
Sodium Total  72 mg   –   Sodium / Serving 9 mg    –    Calories / Serving  166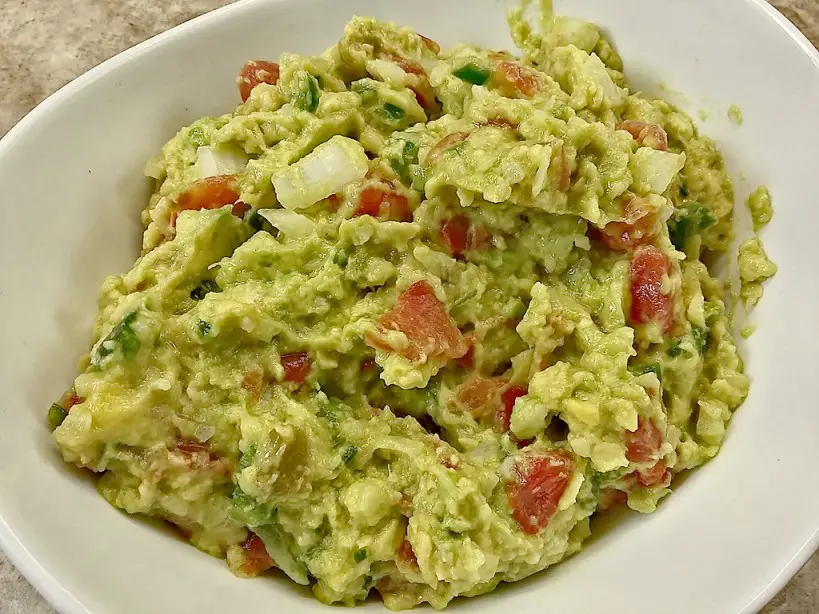 Tortilla chips, tacos, burritos, baked potatoes, almost everything is enhanced with guacamole. This simple guacamole is made with ripe avocados, jalapenos, garlic, cumin and tomatoes. It's your choice to make this avocado salad chunky or smooth depending on your taste. It is essential to use avocados at their peak of ripeness.
PICK RIPE AVOCADOS FOR THE PERFECT GUACAMOLE
The best guacamole starts with the fresh ingredients. Look for avocados that are ripe, but firm. You should pick avocados that are firm to the touch yet have a very sight yield. You don't want avocados that are already soft and mushy. They usually will have brown spots and are turning overly mushy inside. Avocados that are too firm may be ripened at home and encouraged along by placing in a brown paper bag.
HOW TO PREPARE LOW SODIUM GUACAMOLE
Slice the three ripe avocados in half by slicing down to the pit and around once then twist the two halves apart. Remove the pit and scoop the meat out of the skins into a mixing bowl and gently mash them to your desired texture of chunky or smooth. Add in the onions, tomatoes, cilantro, jalapeno pepper, garlic, cumin, and lime juice and then gently stir to combine.
Ingredients for low sodium guacamole

Cutting avocado for low sodium guacamole
When using tomatoes for this low sodium guacamole, you can dice your own fresh tomatoes or use canned. I hate dicing tomatoes so I use a can of no salt added diced tomatoes, so much easier. Take note though, you do need to drain the tomatoes well after slicing them or from the can, or else the guacamole mix will be too watery and runny. I prepare them first and then let them drain in a strainer while I cut the rest of the ingredients.
That's all there is for a quick and easy, delicious low sodium guacamole.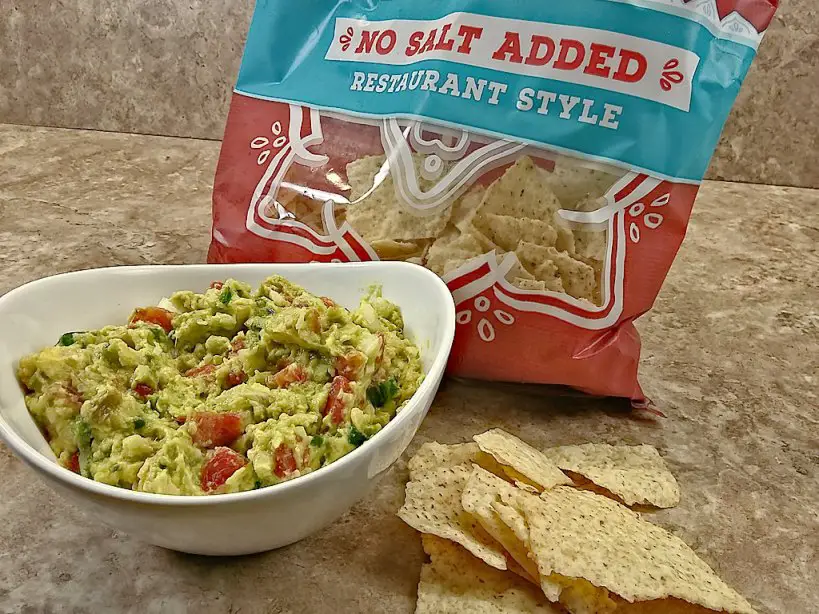 STORING LEFTOVER GUACAMOLE TO KEEP IT GREEN
Guacamole turns brown from oxidation pretty quick. The lime juice helps to slow the process, but it's inevitable that any leftover guacamole will quickly start to brown.
A common way to store guacamole is to cover with plastic wrap directly in contact with the guacamole. Or add a layer of water to prevent oxidization. Either way, find the skinniest storage container you can and that exposes the least amount of guacamole at the top and then add your plastic wrap or about 1/2 inch of cold water on top. Snap the lid on the storage container and place it in the fridge. When you're ready for more guacamole, just drain the water off the top and give it a stir.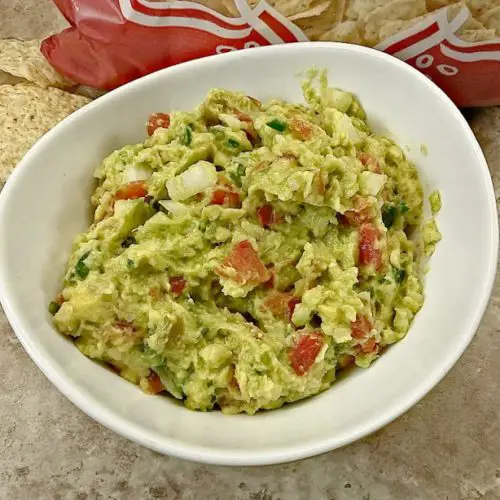 Low Sodium Guacamole
A low sodium authentic guacamole doesn't contain unnecessary ingredients fillers or salt!. All you need is avocados, onion, tomatoes, a jalapeno pepper, lime juice, and garlic. Easy and delicious!
Ingredients  
3

avocados

2

tablespoons

minced garlic

1

jalapeno finely diced

1/2

cup

onion finely diced

1

tablespoon

lime juice

1/4

teaspoon

ground cumin

1

10 oz. can Ro*Tel diced tomatoes no salt added

drained

2

Tablespoon

cilantro

finely chopped leaves

1/2

teaspoon

Mrs. Dash Original Table Blend no salt added
Instructions 
Mash avocados with hand masher and then stir in, jalapeno, onion, lime juice, cilantro, Mrs. Dash Original Table Blend no salt added, cumin until well mixed. Stir in tomatoes in at the end to prevent over crushing.

Serve immediately. Or using a skinny container to expose the least amount of guacamole, cover with plastic wrap so that the plastic is in contact and touching the entire top layer of the guacamole. Or add a layer of water and refrigerate for up to a day before serving.
Nutrition
https://tastyhealthyheartrecipes.com/a-la-cart/appetizers-sides-snacks/low-sodium-guacamole/
Nutrition Information – The information shown is provided by an online nutrition calculator. It should not be substituted for a doctors or nutritionist's advice. Please understand that not everyone's sodium requirements are the same, therefore some recipes may be higher than you're allowed. Always consult with your doctor for your recommended daily sodium allowance.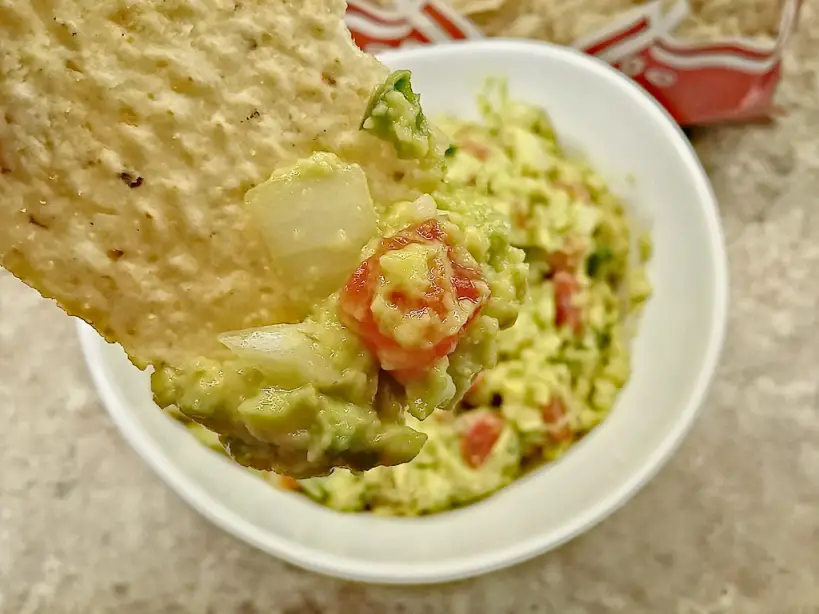 Use guacamole in place of mayo or with:
Tortillas
Southwestern wrap
Baked potatoes
Burritos
Tacos
Blackened Chicken
Naan Flatbread
What can't it go on?
As always, please let me know how you like this recipe in the comments! I get motivated when I hear from you and am interested on how you liked and served your low sodium guacamole. And please share any tips you might have.