If you're a salsa lover, fear not, this low sodium chunky salsa recipe will get you back in the game. This low sodium mild salsa really does taste so much better than store bought salsas and is missing nothing and so good you'll never think to go back. Serve it with low sodium tortilla chips as a classic party dip or savory addition to punch up a meal.
Sodium Total  90 mg   –   Sodium / Serving 3 mg    –    Calories / Serving  6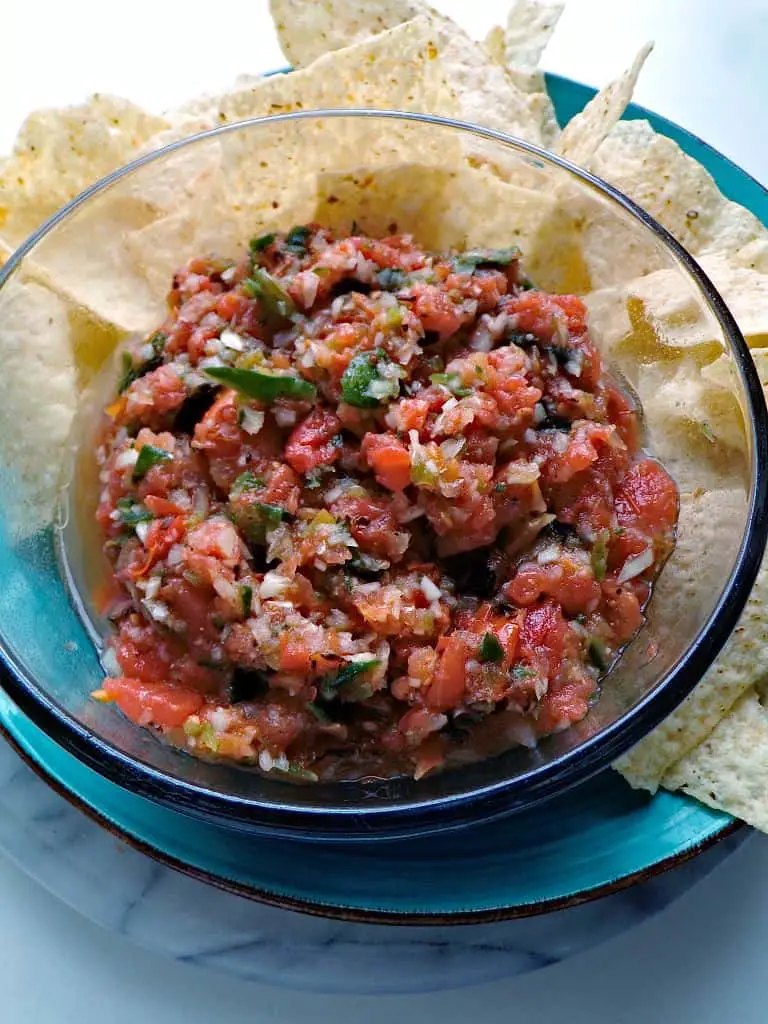 How Much Sodium in Salsa
The sodium content in store brand processed salsa is tremendous! With an average of 230 mg of sodium per two tablespoons it is just way too high for such a small serving. Heck, I probably couldn't count the times I had at least a tablespoon on a single chip. Let alone when I used it on my "healthy" baked potato or salad. Sometimes I get so frustrated with the amount of sodium in our foods.
ARE THERE ANY LOW SODIUM SALSA BRANDS?
Sadly, I have not been able to find any, what I would consider to be an acceptable low sodium content salsa brands. There might be some specialty brand hidden away out there but certainly no name brand off the shelf low salt salsa. There are a couple that claim to be low sodium but I think the reduction is minimal. The closest I found would be Trader Joe's No Salt Added Fire Roasted Tomato Salsa at 30 mg per two tablespoons. And even that would add up quickly for a low sodium appetizer. But luckily this recipe is so easy to make with just a few mg's per serving you really don't need to fret about it.
THE RIGHT CANNED TOMATOES IS THE KEY TO TASTY SALSA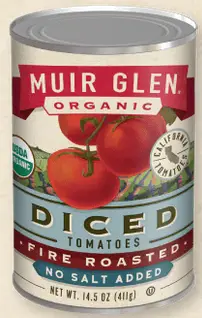 The absolute key to a great low salt salsa is to buy the right tomatoes. Again this is a time you can use a canned diced tomato. And what you really want is fire-roasted canned tomatoes which offer a distinct roasted tomato flavor. Muir Glen has so far been the only one that I can find that offers it with no salt added. And while the brand is great my local store is sometimes flaky in its ability to stock it, so I'll buy a whole flat when they're on the shelf. They are also available online if you can't find them locally. I will round out and balance the quantity of tomatoes with Ro*Tel dice tomatoes and green chilies no salt added. With no sacrifice in taste and not having to dice and roast tomatoes you can whip up the best homemade low sodium salsa recipe in about 10 minutes.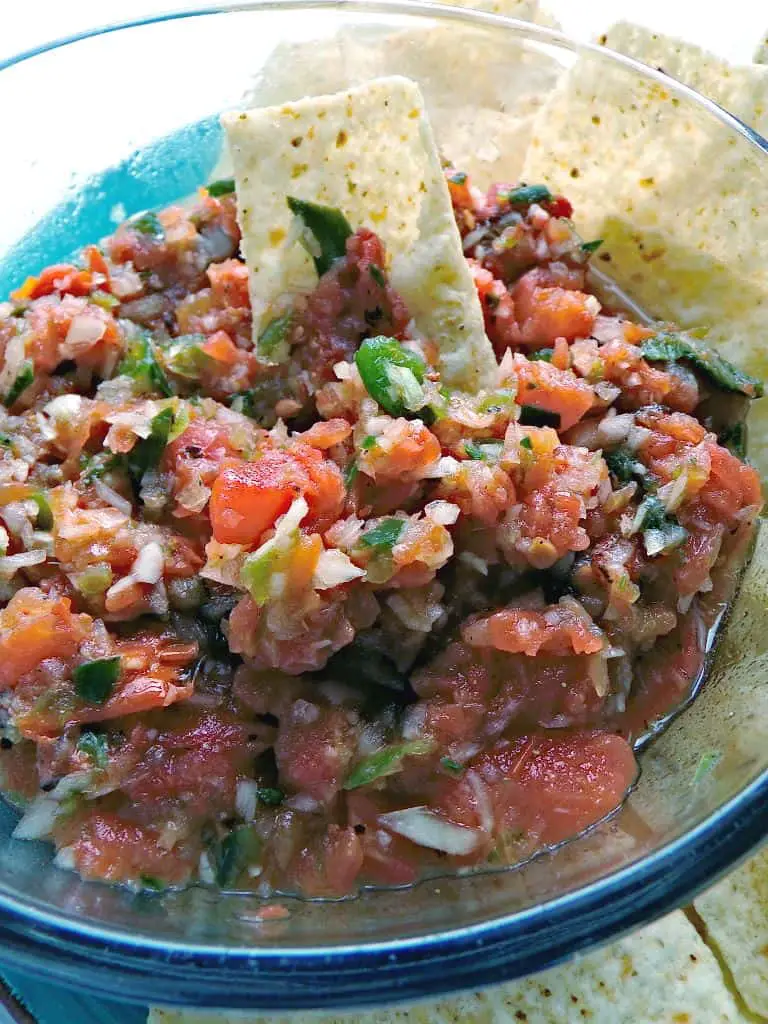 HOW TO MAKE THE BEST HEART HEALTHY LOW SODIUM CHUNKY SALSA
Drain off some of the tomato juice in the can into a bowl. This will ensure that you won't end up with watery salsa and it blends better without it. I usually end up stirring about half the juice back in when finishing.
This is one of the few times I will use raw garlic, because it's eaten raw, the taste should really be fresh. Any other time if the garlic is in any way cooked I will use pre-minced garlic from a jar. The exception being for roasted garlic, of course. So anyway, you want to blend the garlic in the food processor first. This way, you can make sure it is finely diced without chopping everything else into oblivion.  And you don't have to chop it by hand and get your fingers all sticky.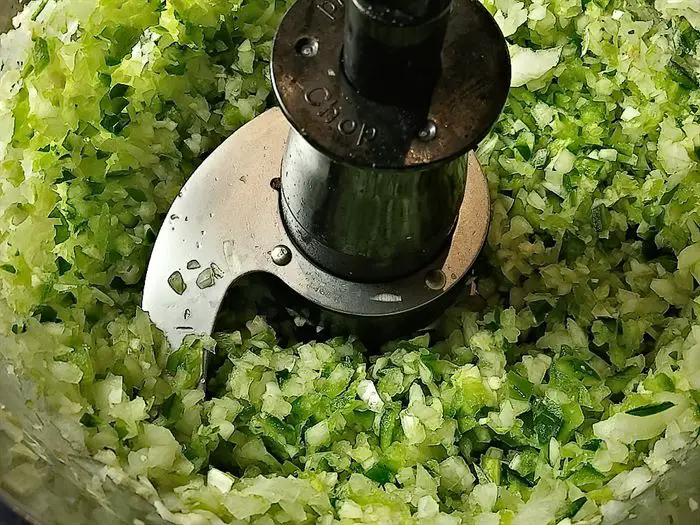 Rough chop the onion and jalapeño to about 1/2″ pieces. This ensures that you won't end up with big hunks of onion or pepper and over blend some parts of the mix.
Add the onion and peppers to the garlic in the food processor. Blend until you reach your desired consistency. I like my salsa to have some "crunch" texture to it, so I blend until the ingredients are broken into fairly tiny pieces, but not completely smooth.
Stir in by hand the remaining ingredients: Canned tomatoes, cilantro, and lime juice. This way the tomato, which is already soft, will retain some shape and not be a watery mess.
Adjust to taste if necessary. You might want some more lime juice or pepper. This salsa is spectacular because it offers so much fire roasted fresh flavor. You won't even notice or miss the excessively salted store bought brands.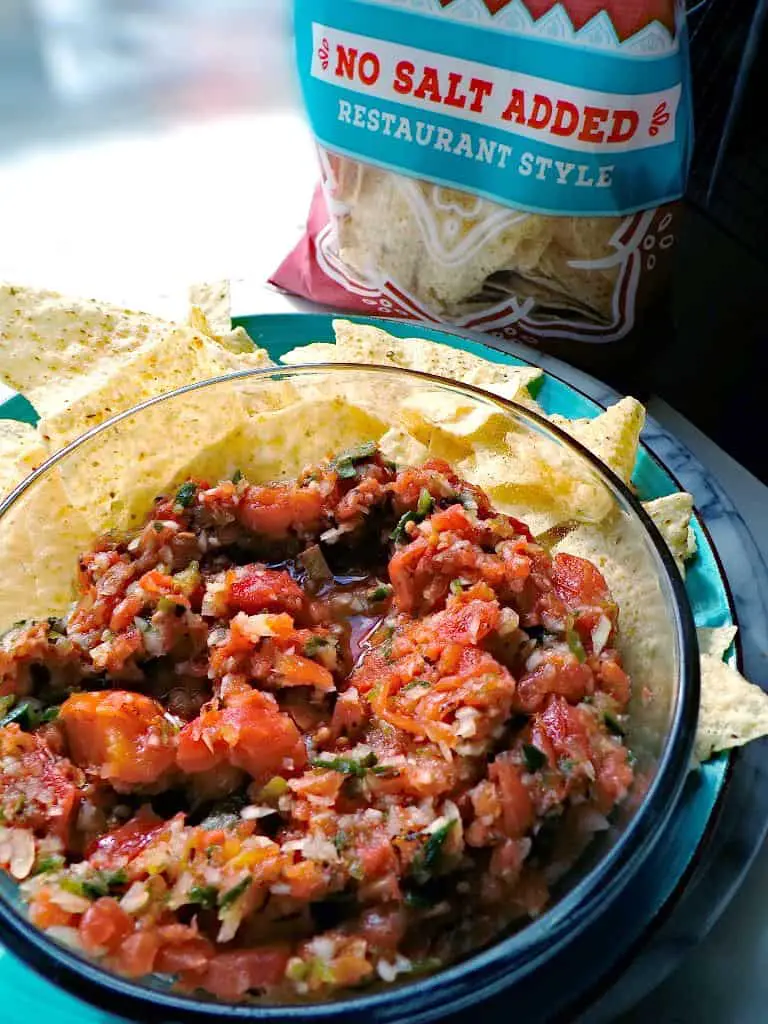 LOW SODIUM SALSA HEAT LEVEL TIPS
Use less jalapeño, or omit it, to make this salsa extra-mild. The recipe as is makes what I consider a low sodium medium salsa, producing a pleasing tingle. This depends of course on heat level of your particular jalapeño. Add all the jalapeño without ribs and seeds to make this salsa more spicy.
THIS SALSA IS FANTASTIC WITH SOME OF MY OTHER RECIPES
Tacos
Low sodium Southwestern tortilla wrap
Baked potato
Any salad
Low sodium Black Bean and Corn Salsa Dip
Hamburger topping
Omelets
Nachos
Low sodium naan flatbread
And so much more!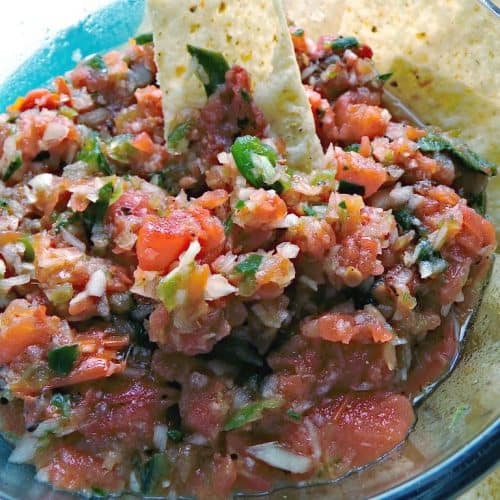 Low Sodium Chunky Salsa
This low sodium salsa recipe is bursting with fresh authentic salsa flavor. It's so easy to make and takes only 10 minutes.
Ingredients  
1

can

15 oz. diced fire-roasted tomatoes, Muir Glen no salt added recommended

1

can

10 oz. Ro*Tel diced tomatoes and green chilies, no salt added

4-5

clove

garlic

roughly chopped (1 ½ Tbsp preminced)

1/2

cup

roughly chopped white onion

1/4

cup

dried or fresh cilantro leaves

1

tsp

cumin

1/2

medium jalapeño

seeds and ribs removed, and roughly chopped

1

poblano pepper or green pepper

1

tablespoon

lime juice

more if needed

1

can

8.75 oz. whole sweet corn no salt added (optional)
Instructions 
Drain the tomato juice from the can in a bowl and set aide.

In a food processor, pulse the garlic and chop it finely. Add the onion, poblano or green pepper, cilantro, jalapeño, and lime juice.

Process the mixture to desired consistency and no big chunks of onion or greens remain, scraping down the sides as necessary. Season to taste with additional lime juice or more pepper, if necessary.

Stir in the tomatoes by hand and add the set aside juice to desired level.

You can serve the salsa immediately or store it for later. This salsa can be kept in the refrigerator, covered, for about 10 days.
Notes
You can use just regular no salt added diced tomatoes, but I strongly recommend a no salt added fire roasted tomato. Your salsa won't have the same outstanding flavor that makes it rock without it.
Use whole jalapeno for more heat or leave ribs and seeds to really bring the heat.
Nutrition
https://tastyhealthyheartrecipes.com/a-la-cart/appetizers-sides-snacks/low-sodium-chunky-salsa/
Nutrition Information – The information shown is provided by an online nutrition calculator. It should not be substituted for a doctors or nutritionist's advice. Please understand that not everyone's sodium requirements are the same, therefore some recipes may be higher than you're allowed. Always consult with your doctor for your recommended daily sodium allowance.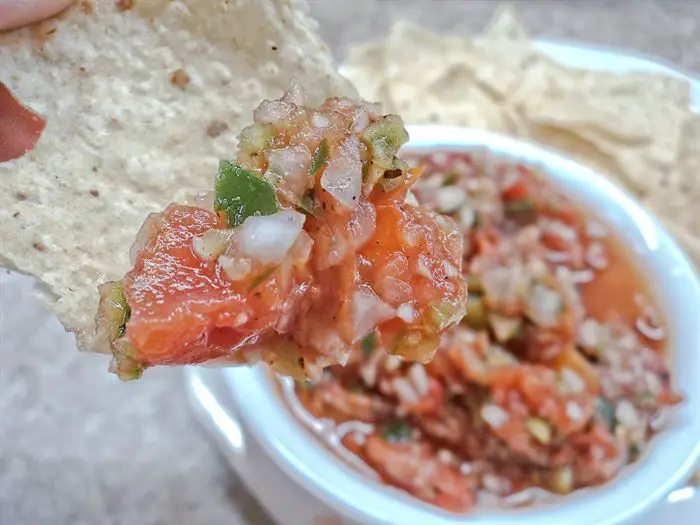 As always, please let me know how you like this recipe in the comments! I get motivated when I hear from you and am interested to learn about how you liked and served your low sodium chunky salsa. And please leave a comment or rating and share any tips you might have.