This Low Sodium Black Bean and Corn Salsa dip is a great replacement for one of my favorite tortilla chip dips of all time. A few years ago I fell in love with the Aldi Black bean dip and used to buy it all the time as I liked it even better than a tomato based salsa. Then having started my new low sodium diet I'd have to walk by it every time I went into my Aldi and give a forlorn sigh. But no more, I endeavored to make a low sodium copycat version and I think I just about have it now. This recipe has a thicker consistency than most recipes, which to me, are more like a bean salad. Or even the many jarred brands that can have a watery consistency. This has a wonderful thick beany, pasty consistency that can crack your chip!
This is almost a dump and mix salsa like so many others but different in that it is simmered for a short while to soften the beans and really let everything meld together. I consider this a medium heat version but you can make it as spicy as you want by adding more jalapeno or a touch of cayenne. You can enhance the flavor even more by taking a few minutes and charring the corn. See below.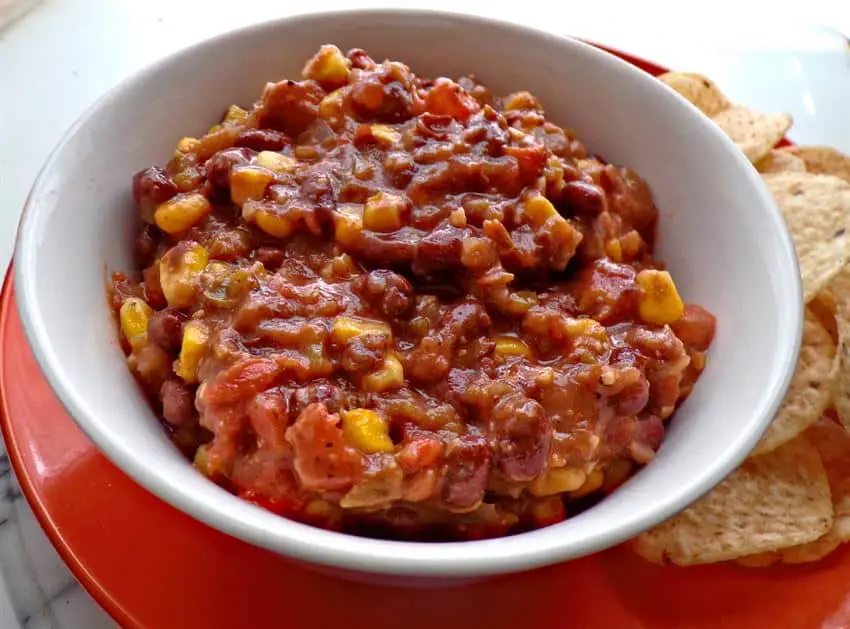 | | |
| --- | --- |
| Typical sodium amount per serving | 130+ mg |
| Sodium per serving for this recipe | 2 mg |
| Calories per serving | 19 |
Store bought black bean salsa is not the worst sodium offender out there as a dip but starting at 130+ mg of sodium per two tablespoons it adds up quick. I can easily get a tablespoon on one chip, I mean… Come On! So, tell me, how does 2 mg of sodium per 2 tablespoons sound?
Now you can enjoy as much as you want but watch how many so-low sodium tortillas chips you use. However, this dip actually can be used in many other Mexican dishes or just with some rice. Let your imagination run with it.
CANNED BLACK BEANS NO SALT ADDED
My store has begun carrying no salt added black beans full time lately and it is so convenient. I hated cooking black beans from scratch just to get a low sodium version. So, for a recipe like this it is really quick to pull together. This isn't a black bean salsa (salad) that you see in so many recipes but more of a thick dip. It is also simmered for a few minutes to soften the beans, let the flavors meld and to thicken almost to a refried bean consistency. Enjoy warm or cold, it is great either way! If your store does not carry no salt added black beans ask them to, I've noticed they seem to fly pretty quickly off the shelf. Hopefully manufacturers will take note of this for other canned products.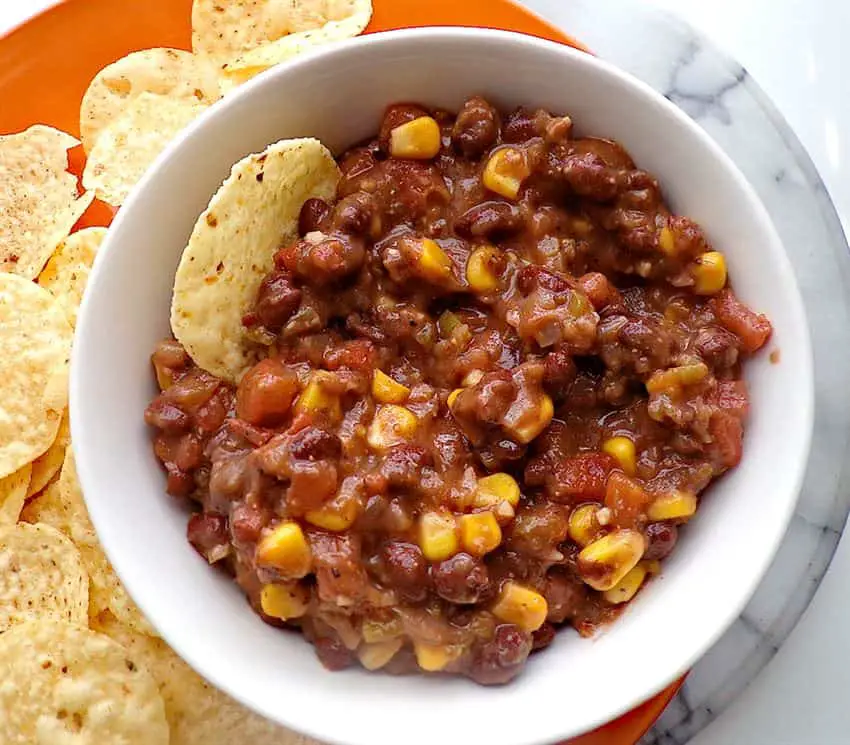 TO REALLY ENHANCE YOUR DIP FLAVOR CHAR CORN IN A SKILLET
Sweet corn is always good but charring it in a hot cast iron skillet enhances its natural sweetness delivering smoky sweet corn much like charred corn on the cob. Make a little extra because you will be nibbling away at it. The few extra minutes it takes to char your corn will be worth it.
Heat one tablespoon olive oil in a cast iron skillet over high heat.
Add the corn and cook, stir occasionally, until corn starts to char, approximately 5 minutes.
Transfer corn to a bowl to stop further cooking until ready to add to final mix.
MANY USES FOR LOW SODIUM BLACK BEAN AND CORN SALSA
I have used this low sodium black bean and corn salsa recipe many times and it is always a win at a gathering! It can be used as a side dish by itself. I also like to put it in corn tortillas (which are normally very low sodium from the store), add meat, lettuce and you are ready for a quick meal. Or wrap it burrito style with a low sodium flour tortilla, top it with my lo-so enchilada sauce and a little sour cream for a healthy filling meal. YUM!
A few other recipes you may enjoy!
Please let me know how this Low Sodium Black Beans and Corn Salsa turns out for you in the comments and a rating! I'm always eager for your feedback and hope my recipes turn out amazing for you. You can follow me on Facebook and Pinterest also, to hear about new recipes.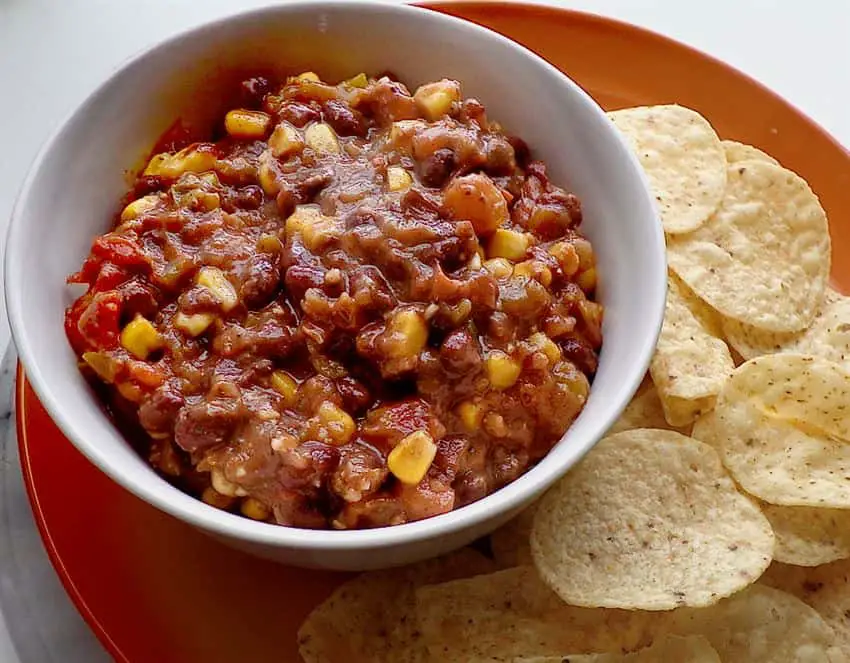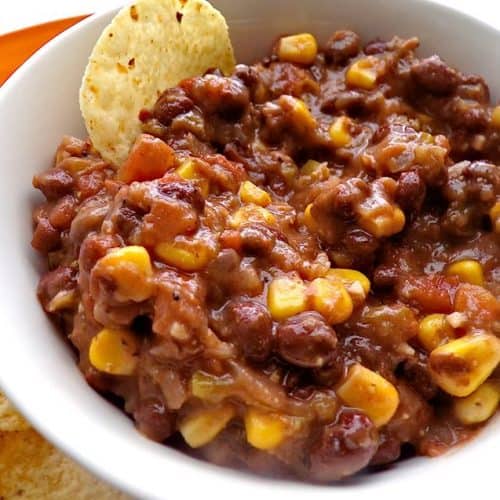 Low Sodium Black Bean and Corn Salsa Dip
Low sodium Black Bean and Corn Salsa has a thick black bean sauce with crunchy corn, tomato and onion. Perfect for an appetizer or even with a taco or wrap.
Ingredients  
1 15

oz.

can black beans no salt added

whole can not drained

1 10

oz.

can RO*TEL Mild Diced Tomatoes and Green Chilies no salt added

drained

1

cup

sweet whole kernel corn canned no salt added

drained

1/2

red or green bell pepper

cored and finely diced

1/2

cup

finely diced onion

2

tsp

ground cumin

1

tsp

smoked paprika

1

tsp

Mrs. Dash Table Blend

1/3

cup

water

2

Tbsp

lime juice

2

Tbsp

olive oil

ground black pepper

to taste
Instructions 
In a medium sauce pan add black beans un-drained. Mash about ¼ of the beans in the pot to a mush consistency. This will help thicken and add bean flavor.

Add remaining ingredients and mix.

Bring to a quick boil and stir. Immediately reduce heat to a low simmer, stirring occasionally for about 15 to 20 minutes.

Serve warm or chill to serve cold, it is great either way. Serve with your favorite low sodium tortilla chips, corn tortilla wrap or other Mexican dish.
Notes
For even better flavor try charring the corn before adding to mix.
Nutrition
Serving:
2
Tbsp
Calories:
19
kcal
Carbohydrates:
2.2
g
Protein:
0.6
g
Fat:
1
g
Saturated Fat:
0.1
g
Sodium:
2
mg
Potassium:
18
mg
Fiber:
0.7
g
Sugar:
0.5
g
Calcium:
7
mg
https://tastyhealthyheartrecipes.com/a-la-cart/appetizers-sides-snacks/low-sodium-black-bean-and-corn-salsa/
Nutrition Information – The information shown is provided by an online nutrition calculator. It should not be substituted for a doctors or nutritionist's advice. Please understand that not everyone's sodium requirements are the same, therefore some recipes may be higher than you're allowed. Always consult with your doctor for your recommended daily sodium allowance.