Making Low Sodium Pickled Banana Peppers is a quick, easy way to add a little pizzazz to many meals. My favorite is to add them to my sandwiches, which sometimes may be a little bland without a spicy kick. They are perfect for sandwiches, burgers, tacos, salads and pizza to name a few.
Low sodium banana peppers are so easy to make it's almost ridiculous. Just slice some peppers up, bring some vinegar and spices to a boil, then pour over sliced peppers in a large jar and you're done!
| | |
| --- | --- |
| Typical sodium amount per serving | 350 – 460 mg |
| Sodium per serving for this recipe | 9 mg |
| Calories per serving | 74 |
16 – 1 oz serving size
Most store bought jarred banana peppers average 350 mg of sodium per 1 oz of peppers. Some of the specialty jars are even up to 460 mg per ounce! So even using half an ounce (a typical amount for a sandwich) you would be adding 175 mg of sodium minimum to your sandwich.
Fortunately, with this recipe you only add 9 mg of sodium per ounce or almost nothing for a half ounce on your sandwich! Eliminating the sodium has no discernable taste difference because of the vinegar and spices. It is just not needed!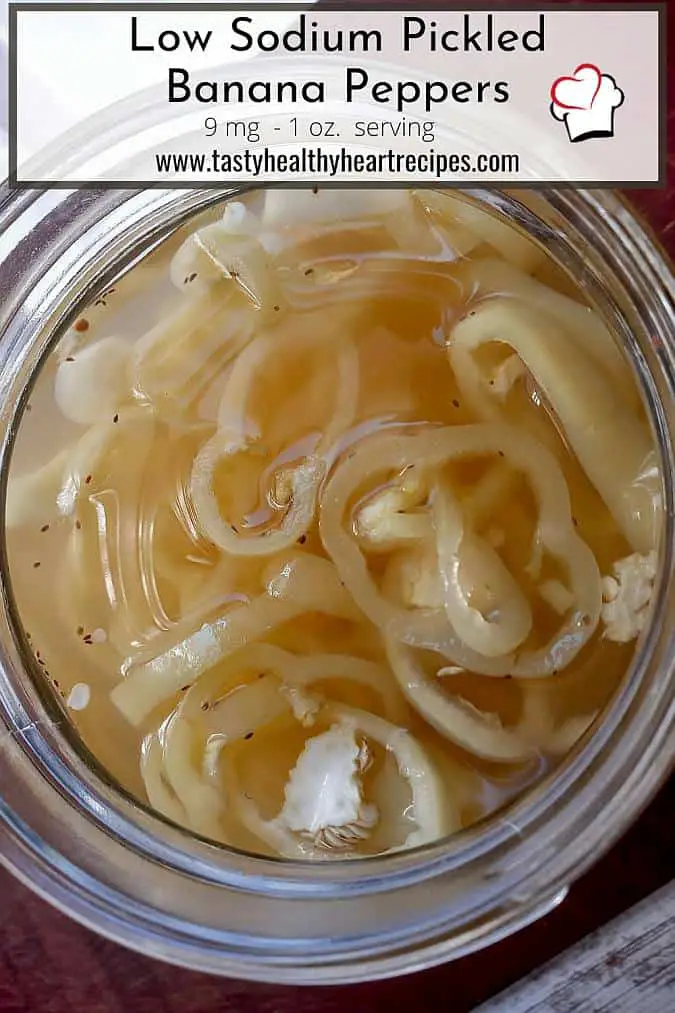 YOU CAN USE DIFFERENT PEPPER TYPES WITH THIS RECIPE
I used Hungarian peppers for the recipe I made that is shown in the pictures. The recipe will work for both banana and the Hungarian peppers. The Hungarian pepper creates a spicier version for the pickled peppers, which I prefer. This recipe is very similar to my Low Sodium Dill Pickles also, if your looking for a true pickle experience.
MY TIPS FOR LOW SODIUM PICKLED BANANA PEPPERS
I usually push out the core at the thicker end of the pepper slice after I have sliced all of them. But other than that, I do not worry about excessively de-seeding or removing the core. It all adds to the flavor in the vinegar mix.
The peppers will be better when they "pickle" in the fridge a few days and are best to eat after a week. For the first few days give the jar a quick shake or turn over so the spices and seed mix into the peppers.
Your low sodium pickled peppers should last at least 3 months in the fridge. After that, they will slowly diminish in their spicy bite and heat.
By pickling these peppers with this method they should last a few months in the fridge, but it is not considered canning. I know nothing about canning and actually have no desire to get into that aspect of food preparation.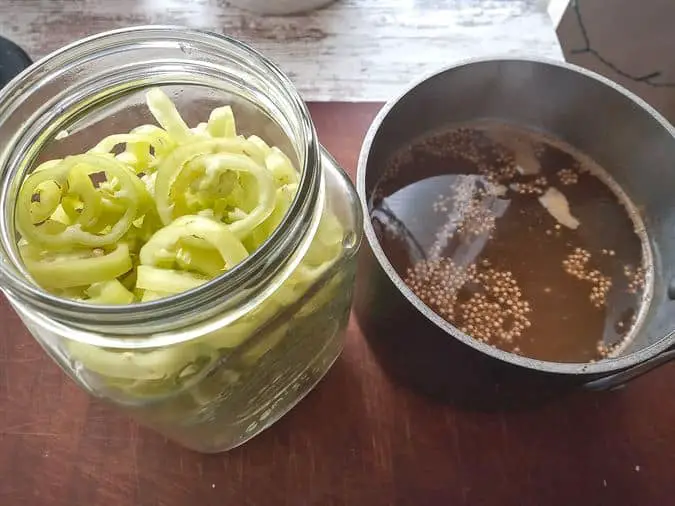 The serving size of 1 oz. of pickled peppers is actually quite a bit. Particularly if used on a sandwich or salad, but would probably work well for a pizza. So I suspect you will get many more than 16 servings from this recipe. I used a one ounce serving size for a direct comparison to the commercial jarred peppers.
Allow the pickling liquid to cool, but still warm, before pouring over the top for crisper pepper rings.
As with any pepper be careful to wash your hands and what you touch while handling before or after pickling.
A few of my other great dishes to enjoy!
---
As always, please let me know how you like this recipe in the comments! I get motivated when I hear from you and interested to learn about how you liked and served your Low Sodium Pickled Banana Peppers.
So please, leave a comment or rating and share any tips you might have. You can follow me on Facebook and Pinterest also, for new recipes.
---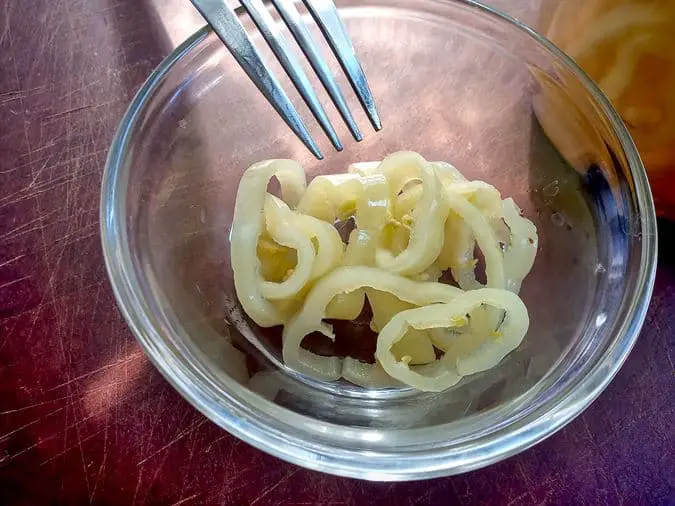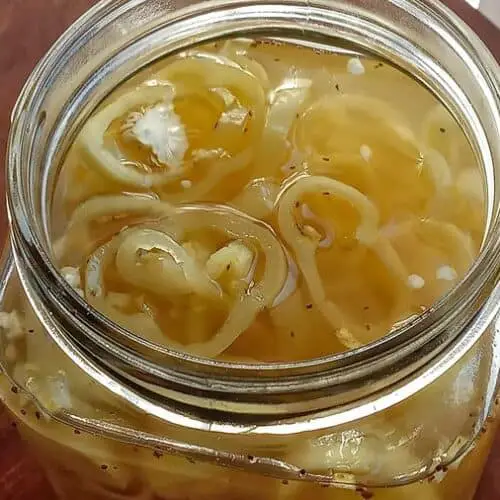 Low Sodium Pickled Banana Peppers
Low Sodium Pickled BananaPeppers are simply Awesome! Spicy, tangy, pickled peppers add to any low sodium meal. So easy and good there is no need for store bought again.
Ingredients  
1

lb

banana peppers seeded & sliced into rings

2

cups

white vinegar

2

cups

apple cider vinegar

1

cup

sugar

1

tsp

mustard seed

1

tsp

celery seed

1/2

tsp

cumin seed
Instructions 
Bring the vinegar, sugar, mustard seed and celery seed to a boil. Slice pepper rings about 1/8" thick. Remove large interior membranes and excessive seeds.

Boil until the sugar has dissolved then remove from heat. For crisper pepper rings let the liquids to cool a bit before pouring over top.

Pour pickling liquid over peppers to within ½" of the top.

Wipe off the rim and put lid and ring on or screw cap on.

Leave for 1 week or longer before eating to let peppers marinate for best results, but not required. Peppers will last up to 3 months in the fridge.
Notes
9 mg of sodium per serving
Recipe Equipment & ingredients
3 – 1 pint mason jars or 1 – 6 cup jar with screw tops
Nutrition
Serving:
1
oz
Calories:
74
kcal
Carbohydrates:
15.7
g
Protein:
1.9
g
Fat:
0.3
g
Sodium:
9
mg
Fiber:
1.6
g
Sugar:
13.7
g
https://tastyhealthyheartrecipes.com/a-la-cart/appetizers-sides-snacks/low-sodium-pickled-banana-peppers/
Nutrition Information – The information shown is provided by an online nutrition calculator. It should not be substituted for a doctors or nutritionist's advice. Please understand that not everyone's sodium requirements are the same, therefore some recipes may be higher than you're allowed. Always consult with your doctor for your recommended daily sodium allowance.
*Tasty Healthy Heart Recipes is a participant in the Amazon Services LLC Associates Program, an affiliate advertising program designed to provide a means for sites to earn advertising fees by advertising and linking to amazon.com.