Yes, I am back, making sour pickle faces with these Low Sodium Dill Pickles! For the longest time I was in a "pickle" about eating pickles on a low sodium diet. I thought for a long time pickles had to go through a fermentation process and then a drawn out, meticulous canning procedure. Seemed like way too much work to do on my schedule for a pickle.
Pickles had to be off my menu for quite a while because of the sodium content. Regular pickles are 220mg of sodium for 2/3 of a spear. Seriously, who eats 2/3 of a spear? So just one whole spear of a pickle is 330mg of sodium? That's more than my sodium level goal for a whole meal.
| | |
| --- | --- |
| Typical sodium amount per 2/3 spear | 220mg |
| Sodium per 1 whole spear | 3mg |
| Calories per serving | 48 |
Even the round "chip" pickles are 260mg of sodium for just 5 pieces. And the low sodium pickle spears are 150mg again for 2/3 of a spear. There may be no or very low sodium branded pickles out there but, they are not in my store and I hate ordering what should be basic food stuff online.
But then I found out how to make simple "refrigerator" pickles without the fermentation and canning process. Now I can enjoy a tasty, simple to make pickle that only has 3mg of sodium for a whole spear of the pickle. Eat them to your heart's content.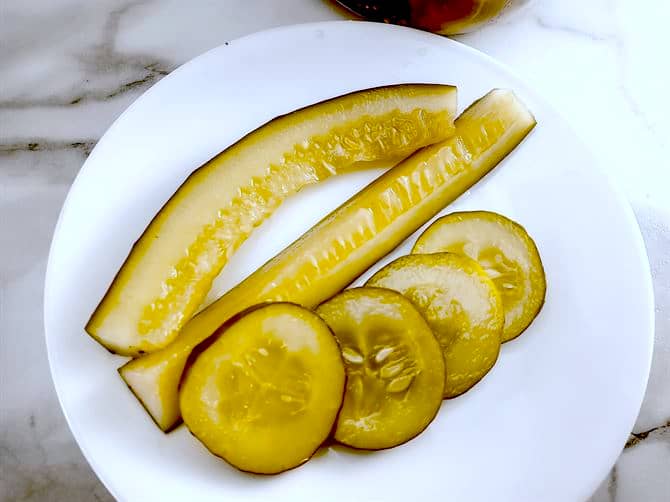 Best ways to slice cucumbers for pickles
Before slicing the pickles, cut a good heavy 1/4″ off the end of the pickles so the rounded end is cut off. In the pickling circles I've read, the flowering end contains an enzyme that can cause the pickles to soften during storage.  Plus, it makes it easier to cut.
Thin slices will pickle sooner than thicker spears, so rounds or sandwich slices are what I prefer. They provide more surface area for the juices to soak in. Though tasty in a few hours, they are best after a day or two when the cucumbers turn from bright green to the typical dull pickle green.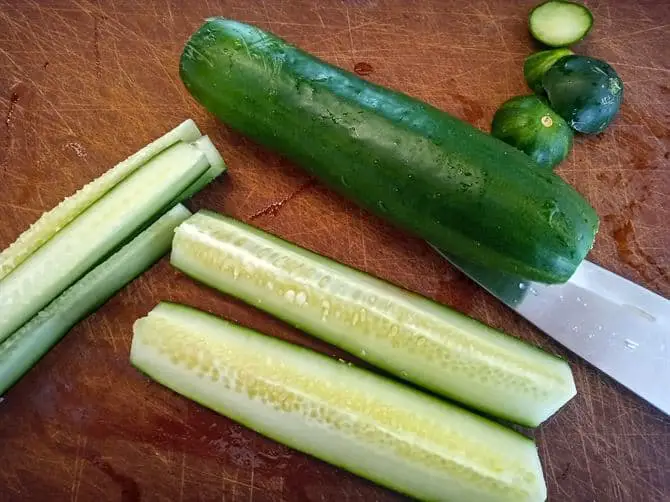 For pickle rounds or "chips" just cut the cucumbers into thin slices 1/8 to 1/4 inch thick .
A little trick to cut the thin, wide and long sandwich slices:  Slice off a strip of cucumber running the length of its long side to create a flat spot. Then cut from each side ending with the middle part last. This will help it stay safely on the flat side without wobbling when cutting slices. Then slice the cucumber lengthwise into 1/4-inch thick slices.
To cut pickle spears, slice the cucumber in half lengthwise, then slice the halves into quarters. Slice the quarters in half again so you have 8 wedge shaped spears per cucumber. If you have a long cucumber, you may need to cut the slices in half so they fit into your jar. Hold a spear up to the jar to determine if it will fit without bending.
Pickle Serving Ideas
Besides having the low sodium dill pickles as a snack by themselves, try these pickles with burgers and other sandwiches. Or pair with a vegetable (tomato, carrots, celery, etc.) party tray along with my Low Sodium Ranch Dip or Lo So French Onion Dip. I may even make some low sodium fried pickles!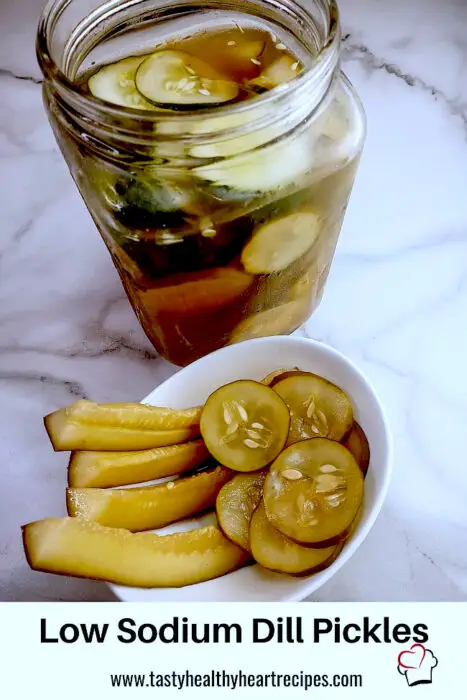 Don't dispose of leftover Pickle Juice!
When you eat the last of the pickles you can reuse the juice one more time, simply add in new sliced cucumber and top off with more vinegar if required. Or, you can always use the juice to pickle almost any sliced veggie.
What container to use to store pickles in?
I would use a glass container if possible. But you can use an appropriately sized plastic container too. Plastic can tend to hold the vinegary pickle taste and smell, but if you don't care, that's fine. You do want something with a screw top lid because you will need to shake the jar once in a while to mix the spices up. And you don't want that lid popping off! I get good deals on screw top jars from the thrift store.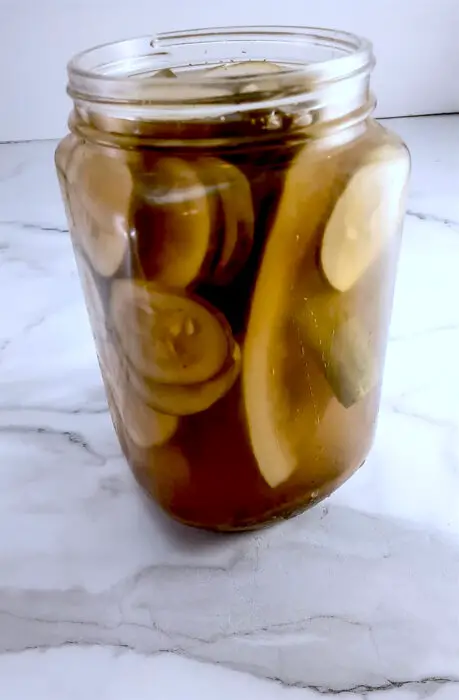 I also like using a bigger container than average, around a six cup container. That way you don't have to make them as often, even though it is super easy making them. They keep for a long time, so save yourself some time.
Which vinegar is the best for pickling?
The most used pickling vinegar is basic distilled white vinegar because it's clear and has a mellow flavor. But any vinegar can be used as long as it has at least 5% acidity, allowing foods to be preserved properly and not be diluted by the moisture content of the produce.
You can read more about vinegar for pickling here:  Best Vinegars for Pickling. 
Some easy variations for pickling.
Try throwing in some sliced onions or red, green, yellow bell peppers. You could also slice up a jalapeno if you like it on the hot side. Not too many though, it can make your pickles hot quick. Don't ask me how I know.
Onions are awesome to use. I used to put any extra chopped onion in a jar of left over pickle juice. On top of a burger or hot dog (hot dogs are out for me now) you would get a delicious onion and a pickle taste in one!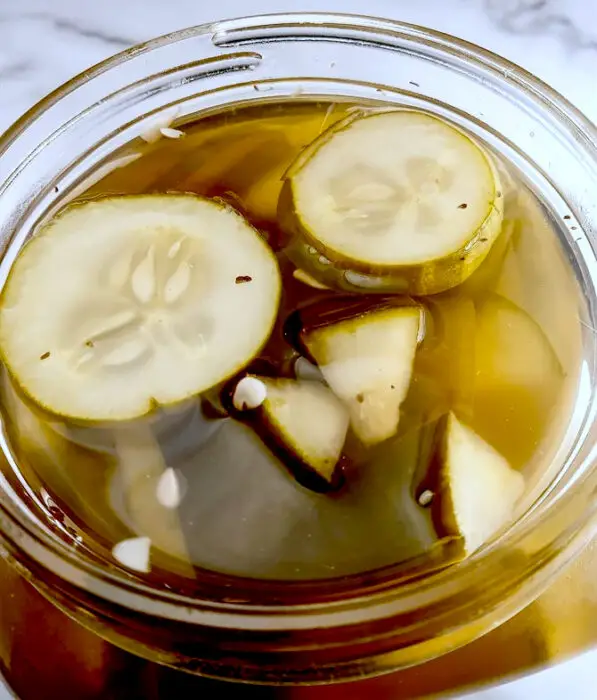 My tips for Low Sodium Dill Pickles
These pickles will need to "marinate" several hours before there is any pickled taste to them at all. They will be best when they have pickled after several days. What I look for to know when they are ready, is when they turn a dullish green, then they are perfect.
I like to cut the pickles in round slices. It gives the most surface area for the juices to absorb and transfer quickly. They will still be great on or with sandwiches. And if you're eating them separately who really cares if it is a spear or a "chip"?
Many recipes call out for a hot brine poured over the cucumbers. I think high heat ends up making the cucumbers too soft. You do need to boil the mixture to infuse the sugar in the vinegar. When it is cooled down enough and you can comfortably stick your finger in the brine, it is ready to pour over the cucumbers. Having a cooler brine helps the pickles to turn out crisper in the end.
Be sure to use preferably a glass container with a screw top. You want to turn the jar end over end to mix the spices throughout. This should be done the first few days of brining for best taste.  Think of it as a snow globe, haha.
**This is not a canning recipe.**
A few of my other great dishes to enjoy!
---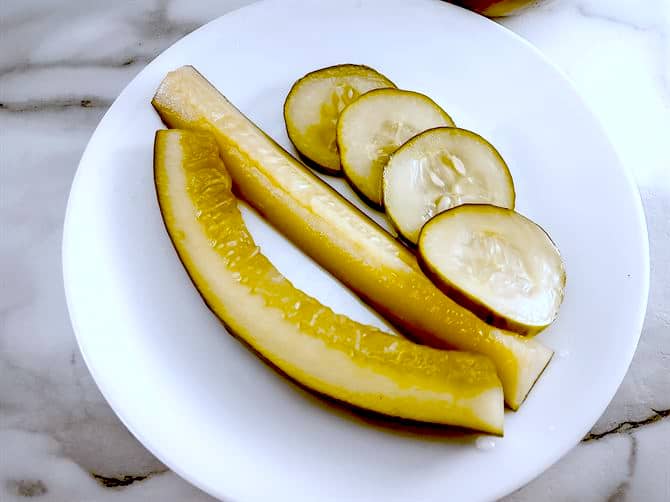 As always, please let me know how you like this recipe in the comments! I get motivated when I hear from you and interested to learn about how you liked and served your Low Sodium Dill Pickles. So please, leave a comment or rating and share any tips you might have. You can follow me on Facebook and Pinterest also, for new recipes.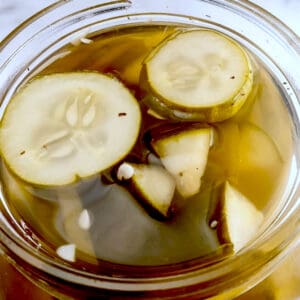 Low Sodium Dill Pickles
These are really great easy to make homemade Low Sodium Dill Pickles! These dill refrigerator pickles are as good as any store brand with barely any sodium.
Ingredients  
3

medium-to-large cucumbers

ideally 1 ¼ lb. each*

2

cups

white vinegar

2

cups

apple cider vinegar

1

cup

sugar

2

tsp

ground black pepper

2

Tbsp

cloves pre minced garlic

1

bay leaf

1

tsp

mustard seed

1

tsp

celery seed

1

tsp

dill weed

1/2

tsp

cumin seed

1

tsp

liquid smoke

¼

tsp

crushed red pepper flakes

optional
Instructions 
Cut at least a 1/4" off all the ends. Then choose how to cut your cucumber. For pickle rounds, slice the cucumbers no thinner than about ⅛-inch thick. For spears, slice in half lengthwise, then keep cutting each in half till you have eight spears per cucumber. Depending on the size jar, you may need to slice the spears through the middle so they're not too tall for your jar. (This is especially why I like the rounds.) 3*

Place the cucumbers into a wide-mouth jar about 3 to 4 inches in diameter. Add fresh dill if desired. 5*

In medium pot bring all ingredients except cucumbers to a boil.

Boil until the sugar has dissolved then remove from heat, just a minute or two. For crisper pickles let the liquids cool till you can comfortably stick your finger in the mix before pouring over top of cucumbers in the jar.

Pour pickling liquid over pickles close to the top of jar, leaving as little air space as possible. Scoop out any spices in the pot into the jar. Save any remaining liquid in a sealed container to add in later.

Let cool completely before covering. Wipe off the rim and put lid and ring on or screw cap on.

Let "pickle" for a couple days for best taste. Try to rotate the jar to mix the spices like a snow globe once a day. When cucumbers turn a dull green they will be pickles and be perfect. Pickles will last up to 2 months in the fridge.
Notes
*This is not a canning recipe*
If using Ball brand jars this recipe will fit (1) 16 oz. and (1) 32 oz. jar.
If you use rounds you don't need to particularly worry about the size of the jar. I found my jars at a thrift store (6 cups) and not exactly the standard Ball brand size. So you may have to experiment with the jar size with whatever size you use. As long as the cucumbers fit and are covered with the brine it will be good to go.
For whatever size jar you have, just top off with equal amounts of vinegar, if required.
You may sub 2 leafy sprigs of fresh dill, roughly chopped for the dill weed. Put fresh dill in with the cucumbers, do not boil them.
Nutrition
Serving:
1
spear
Calories:
48
kcal
Carbohydrates:
10.6
g
Sodium:
3
mg
Sugar:
9.1
g
https://tastyhealthyheartrecipes.com/a-la-cart/appetizers-sides-snacks/low-sodium-dill-pickles/
Nutrition Information – The information shown is provided by an online nutrition calculator. It should not be substituted for a doctors or nutritionist's advice. Please understand that not everyone's sodium requirements are the same, therefore some recipes may be higher than you're allowed. Always consult with your doctor for your recommended daily sodium allowance.