Call them latkes or potato pancakes, easy, deliciously golden low sodium – low fat vegetable potatoes pancakes with crunchy flavor pack more veggies into your diet.
Low sodium vegetable, potato pancakes helps you easily save sodium, extra fat and time with this recipe. I originally wanted to save time when I made these delicious veggie potato pancakes. At nearly four minutes per side, I was spending nearly an hour and a half to cook 12 pancakes while adding a lot of extra fat by frying in oil.
Well, no more, this sheet pan version lets you cook it all in one go without having to tediously stand over the stove watching each cake fry up. And you can still get a nice crunch in each bite. Get the best of all three savings, less sodium, less fat and less time with this recipe.
| | |
| --- | --- |
| Typical sodium amount per serving | 300mg |
| Sodium per serving for this recipe | 60mg |
| Calories per serving | 134 |
Recipe makes 15 – 4″x4″ pancakes
Although generally not crazy high in sodium, most recipes range from 180-300 mg of sodium.  With the fats and calories saved that are generally triple and double respectively, there is so much tasty, healthy vegetable goodness packed in this pancake. I have also made it so it is a breeze to make without the mess. What could be better?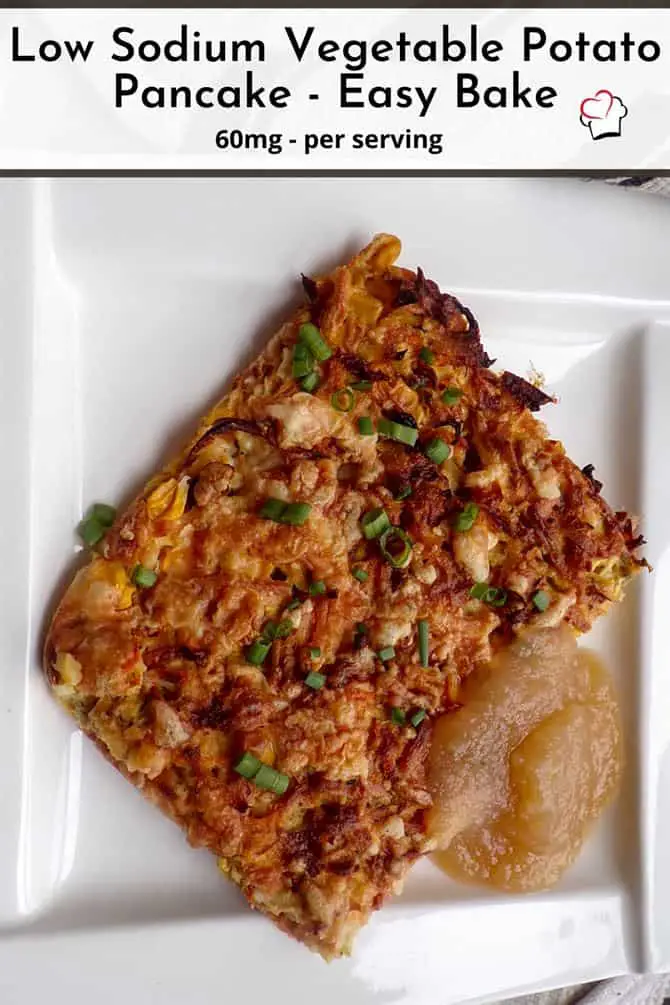 Easy low sodium vegetable potato pancakes
One of the biggest pains and also creating the most mess for me was preparing the potatoes. The one key to a crispy pancake, whether using this method or frying, is reducing the moisture content of the potato. Otherwise the pancake just steams and never really achieve any level of crispiness.
Thus I now use prepared frozen hash brown potatoes. Just set them out to defrost on a paper towel and you don't have to spend the time grating and squeezing the moisture out of them.
While most hash brown potatoes don't have much sodium content, look for the lowest amount between a few brands.  I used the Kroger® Country Style Hash Browns brand that has about 20 mg per cup.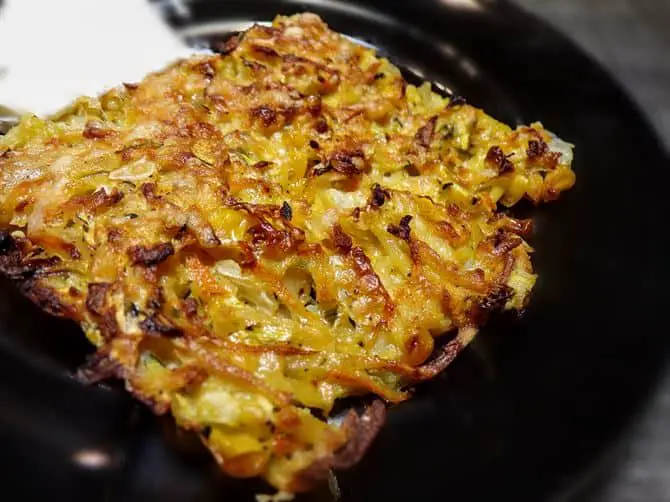 Benefits of using this low sodium baked pancake recipe
Packed with multiple nutritious vegetables!
No more grating and removing moisture! Just use frozen grated potatoes (hash browns). Less work and mess making these low sodium low fat vegetable potato pancakes.
Make one giant pancake on a sheet pan. It is one and done so no frying for hours.
No more greasy kitchen! Everything cooks in the oven so no oil splattering!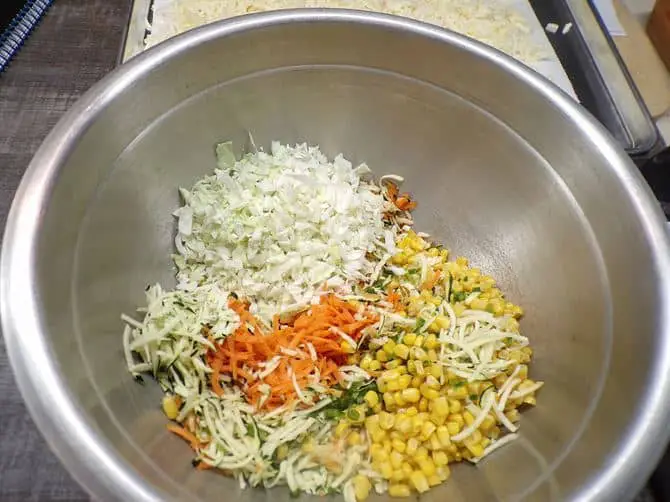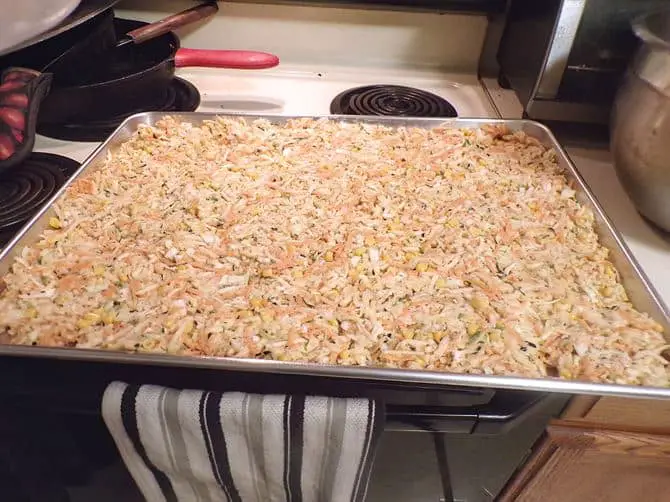 Common questions about the pancakes
Can it prepared in advance? You can prepare the vegetables and batter mix a day ahead of time.  Just store in a large air tight container in the fridge and then proceed with baking when ready.
How to store the potato pancakes:  The easiest way to store is to cut the sheet pan vegetable potatoes into squares with a pizza cutter then place in an airtight tight container in the fridge.  Place a paper towel in the container to catch any excess moisture and it should be good for up to a week.
How to freeze the pancakes:  The pancakes also freeze very well for up to 2-3 months. Just put the squares in a container separated by a piece of wax paper.
Reheating the pancakes:  To retain the crispiness it is best to reheat in the oven or toaster oven at250 F for 10-15 minutes.   It can also be reheated in the microwave for about 1 minute on high but while still tasting good may not be as crispy.
A few of my other great side dishes to enjoy!
Recommended Equipment & Ingredients For This Recipe
---
As always, please let me know how you like this recipe in the comments! I get motivated when I hear from you and interested to learn about how you liked and served your Low Sodium Vegetable Potato Pancakes. So please, leave a comment or rating and share any tips you might have. You can follow me on Facebook and Pinterest also, for new recipes.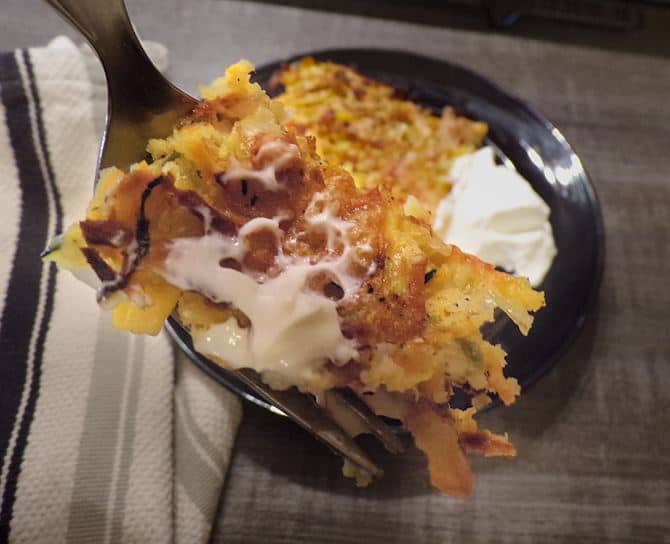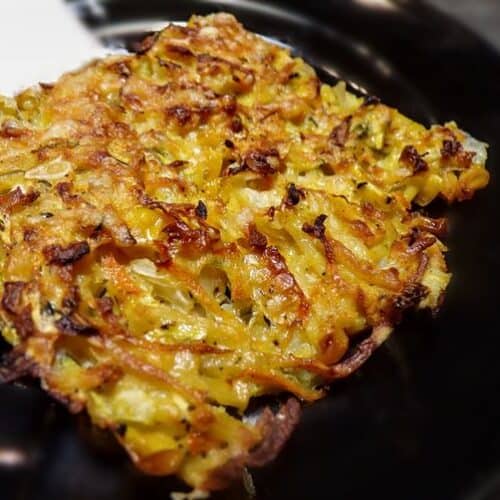 Low Sodium Vegetable Potato Pancake – Latke
Call them latkes or potato pancakes, easy, deliciously golden low sodium – low fat vegetable potatoes pancakes with crunchy flavor pack more veggies into your diet.
Ingredients  
4

large eggs

3/4

cup

2% milk

1

cup

all-purpose flour

2

tsp

coarse ground pepper

4

tsp

Mrs. Dash Table Blend

1

30 oz. bag hash brown shredded potatoes

Look for lowest sodium mine was 20mg per cup

1

medium zucchini

grated

1

large onion

finely chopped

3

medium carrot

grated

2

cups

cabbage fine chopped

1

jalapeno seeded and finely chopped

1

15oz

can sweet corn no salt added

1

cup

shredded Swiss+Gruyere cheese

Olive oil cooking spray

sour cream or apple sauce optional
Instructions 
Defrost frozen potato hash browns on paper towel.

Drain the corn in a strainer while cutting vegetables up. Grate zucchini and carrots, a food processor is great to save time. Finely chop onion, jalapeno and cabbage. If you have time spread out the cut vegetables on the sheet pan to dry out a bit for about an hour.

Preheat oven to 400 degrees. Also, add sheet tray so it heats up while mixing batter.

Now, in a large bowl whisk together the eggs and milk first. Then mix in the flour, pepper and Mrs. Dash Table Blend. Mix all the above ingredients to a pancake batter consistency. Add more milk or flour if required to balance.

Add the vegetables to the bowl of batter and mix until well coated using your hand.

Next, take the large sheet pan out of oven (use oven gloves it will be hot) and spray well with olive oil cooking spray. Add all the potato mixture, smooth and tamp down to evenly cover the entire sheet pan.

Give a quick cooking spray all over top of potatoes and place in oven on middle rack for 30-40 minutes.

Remove pan and sprinkle cheese over top along with another quick spray of olive oil spray. Move rack to top and place pan on the top rack, raise heat to 500 degrees. Cook for 10-15 minutes or until top browns to desired crispiness.

Remove pan and cut (pizza roller cutter) into 3 x 5 rows to make 15 cakes about 4" square.

Use sour cream or apple sauce for garnish
Nutrition
Serving:
1
square
Calories:
134
kcal
Carbohydrates:
19
g
Protein:
5
g
Fat:
4.7
g
Saturated Fat:
1.8
g
Cholesterol:
52
mg
Sodium:
60
mg
Fiber:
1.9
g
Sugar:
3.1
g
https://tastyhealthyheartrecipes.com/a-la-cart/appetizers-sides-snacks/low-sodium-vegetable-potato-pancakes/
Nutrition Information – The information shown is provided by an online nutrition calculator. It should not be substituted for a doctors or nutritionist's advice. Please understand that not everyone's sodium requirements are the same, therefore some recipes may be higher than you're allowed. Always consult with your doctor for your recommended daily sodium allowance.