Low Sodium Scalloped Potatoes is an easy classic recipe, perfect for any holiday dinner and weeknight leftovers. In this low sodium side dish, thinly sliced potatoes with a creamy onion and garlic sauce are layered and then baked until tender, bubbly with a crisp golden top. An old comforting potato classic to go along with nearly any main entree!
I used to make scalloped potatoes all the time until several years before my stroke. Unfortunately, most of the time it was the high sodium store box version instead of the superior tasting scratch version. I'm not really sure why they faded away because they went with any entree from a hamburger, meatloaf, steak, pork chop, or fish. 
But now I can confidently put low sodium scallop potatoes back in my dinner rotation as a low sodium side dish to complement almost any main entree.
| | |
| --- | --- |
| Typical sodium amount per serving | 1500mg |
| Sodium per serving for this recipe | 159mg |
| Calories per serving | 611 |
4 servings
Sodium in Low Sodium Scalloped Potatoes compared
When comparing store-bought mixes for a potato side dish, the sodium levels are quite high. Famous name brand and other scalloped potato mixes contain 470mg of sodium per ½ cup serving. That's a lot of sodium for a pretty small serving, Ouch!
Many other from scratch recipes are at least equal to or way above the store-bought sodium levels too.
This recipe only has approximately 23mg per 1/2 cup serving or 207mg of sodium for the entire 8 x 8 baking dish! If you were so inclined, you could eat the entire 8 x 8 baking dish of this low sodium scalloped potatoes and not equal even half the sodium level in just one ½ cup serving of a store boxed mix!
The Main Ingredients
Potatoes – I like using russet potatoes because they yield a bigger slice of potato. I usually give them a light peeling, removing about 75% of the skin. You could also use Yukon gold potatoes that have a thin skin and don't require peeling.
Onions and Garlic – Sautéed onions and garlic add a lot of flavor to this recipe and are always a classic ingredient. Onions can be sliced very thinly or diced. I use pre-minced garlic since it will be sautéed.
Cream Sauce – A roux makes a quick cream sauce and is made with flour, no salt added butter, milk* and no salt added chicken broth.
The Basic Seasonings – Seasonings in this recipe include pepper, onion and garlic. My personal favorite additional seasonings include smoked paprika, Mrs. Dash Original Blend no salt and ground mustard. You could also mix and match with some parsley and rosemary or your own favorite.
** I've made this recipe using 2% milk, soy milk and coconut milk versions. I liked using the regular 2% milk the best. It has a bit higher sodium content but it is only about 5mg of sodium higher on a per serving basis.The soy and coconut milk just had kind of an odd taste to me. But it can be done.
| 2% milk | 1% milk | Soy milk | Coconut milk |
| --- | --- | --- | --- |
| 120mg | 105mg | 75mg | 45mg |
Sodium levels in milk per 1 cup serving
If you wish to use some cheese, melt 1 cup of shredded Swiss cheese by stirring it into the hot sauce. Shredded Swiss that can be found in the grocery store has an average of 85mg per ¼ cup. Adding 1 cup to the sauce would add 37mg sodium per serving for a total of 63mg per serving.
How to Make Scalloped Potatoes
Making low sodium scalloped potatoes from scratch can take time if you're slicing potatoes by hand. Otherwise, it is really quick and easy but for the baking time.
Thinly slice the potatoes, about 1/8" thick. The easiest way is to use a food processor or mandolin. Then chop and dice the onions. Measure out the remaining ingredients.
Make homemade sauce starting by sautéing no salt butter, onions and garlic. This will become the base for making your roux. Sprinkling in flour with the vegetable sauté will thicken into a creamy sauce when milk and no salt added chicken broth is stirred in.  (See full recipe below)
Layer potatoes and lightly ladle in the onion and garlic sauce between layers of potatoes. Cover lightly with foil and bake in a 350°F oven for 45 minutes.
Remove foil and bake for 45 minutes more. This will create the delicious golden brown top on the scalloped potatoes.
If you would like a browner top you may place it under the broiler for 2-3 minutes. Also, you could add some salt free breadcrumbs or a sprinkle of shredded parmesan cheese.
Let cool 15 minutes on a baking rack before serving, allowing the sauce to thicken.
Leftover potato slices? Make oven baked potato chips.
Instructions: Preheat the oven to 400°F.
In the bowl that the leftover potato slices are in, add 1 tablespoon of extra-virgin olive oil and mix till coated.
Add your favorite seasoning, mine is Mrs. Dash Southwest Chipotle or Extra Spicy Blend. You could also use black pepper, paprika powder, red chili flakes, or whatever you feel like!
Place the potato slices on a baking tray lined with parchment paper. Lay them flat on the parchment paper without overlapping each other.
Bake the potato slices in the oven for about 15-20 minutes or until golden to desired crispness.
My tips for perfect scalloped potatoes
This recipe will make an 8 x 8 dish of potatoes. I highly recommend making this size for one or two people. You will still have plenty of leftovers. If you need to make for more people, double the recipe and use a 9 x 13 baking dish.
Use a food processor to make slicing potatoes extra quick, evenly and safely. I think I cut all of mine in under a minute and a half.
Uniformly sliced potatoes ensure the scalloped potatoes will cook evenly.
Lay a cover of foil over the dish during the first half of the baking time. This allows it to steam, helping the potatoes to cook a bit faster and the top will not burn by the end.
Lightly season the potatoes between layers with your favorite Mrs. Dash seasoning blend and pepper.
---
Frequently Asked Questions
Storing leftover Scalloped Potatoes
Store potatoes in a covered container, they will keep in the fridge for about 4 days. Reheat portion sizes for 1 1/2 to 2 minutes in the microwave. They can also be reheated in the oven or in a frying pan. I love them in the frying pan, chopped up with a spatula, and some easy over eggs!

For a longer storage time, scalloped potatoes can also be frozen. Once thoroughly cooled, portion into single servings and place a square of wax paper or plastic wrap between portions. Place in zip-loc freezer bag and then in the freezer. To reheat, simply thaw and reheat per above.
A few of my other great dishes to enjoy!
---
Recommended Equipment & Ingredients For This Recipe.
See my whole Recommended Equipment & Ingredients shop page here
This section contains affiliate links to products I use and recommend.
Please let me know how these Low Sodium Scalloped Potatoes turn out for you in the comments and a rating! I'm always eager for your feedback and hope my recipes turn out amazing for you. You can follow me on Facebook and Pinterest also, to hear about new recipes.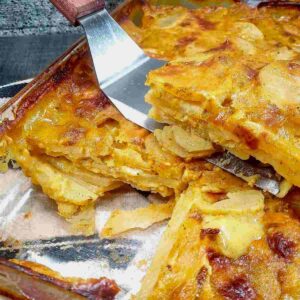 Low Sodium Scalloped Potatoes
Easy Low Sodium Scalloped Potatoes classic recipe, bubbly with a crisp golden top. A filling side dish for any holiday dinner or weeknight leftovers.
Ingredients  
3

large russet potatoes sliced about ⅛" thick

3-4

tablespoons

butter unsalted

1

large onion diced

1

Tablespoon

garlic pre-minced

add extra if you like garlic

¼

cup

all-purpose flour

1 1/4

cups

2% milk

1

cup

no salt added chicken broth

½

teaspoon

paprika

preferably smoked

1

teaspoon

Mrs. Dash Original blend no salt

1

teaspoon

ground mustard

¼

teaspoon

poultry seasoning

optional

1

teaspoon

black pepper

or more to taste
Instructions 
Preheat oven to 350˚F.

Slice potatoes to about 1/8" thickness. A food processor or mandolin will make quick work of this. Chop the onion.
Making the Sauce:
In a large sauce pan, melt butter and add onion over medium heat. Saute until onions are softened, about 3-4 minutes. Add garlic and saute for 1-2 more minutes. Add flour and cook stirring well for 1-2 minutes.

Reduce heat to medium low. Combine milk and unsalted chicken broth. Pour in a small amount at a time, whisking to thicken. The mixture will shortly begin to thicken, continue adding a little bit of liquid at a time whisking until thickened and smooth.

After all of the liquid has been added, add in remaining spices, paprika, ground mustard, Mrs. Dash Original no salt blend and pepper. Bring to a boil slightly over medium heat while continuing to whisk and let boil 1 minute.
Casserole Assembly:
Grease or spray an 8" X 8" casserole baking dish. Lay single layer of the potatoes in the bottom. Ladle the cream sauce over the top and lightly spread around to just cover, season with more pepper if desired. Repeat layering with a final topping of cream sauce.

Cover lightly with aluminum foil and bake for 45 minutes.

Remove foil and bake for another 35-45 minutes or until golden brown and potatoes are tender. You may broil for 2-3 minutes to obtain desired golden crispier top.

Allow to rest for 15 minutes on cooling rack to allow the sauce to thicken, before serving.
Notes
If you wish to use some cheese, melt 1 cup shredded Swiss cheese in the sauce. Shredded Swiss should have an average of 85mg per ¼ cup. Adding 1 cup would add 37mg sodium for a total of 63mg per serving.
Recipe Equipment & ingredients
1 casserole baking dish 8" x 8"

for this recipe as written

1 casserole baking dish 9" x 13"

when doubling recipe for large dinner or many people
Nutrition
Calories:
139
kcal
Carbohydrates:
19.1
g
Protein:
3.9
g
Fat:
5.9
g
Saturated Fat:
3.6
g
Cholesterol:
16
mg
Sodium:
23
mg
Potassium:
365
mg
Fiber:
1.5
g
Sugar:
2.5
g
Calcium:
52
mg
Iron:
1
mg
https://tastyhealthyheartrecipes.com/a-la-cart/appetizers-sides-snacks/low-sodium-scalloped-potatoes/
Nutrition Information – The information shown is provided by an online nutrition calculator. It should not be substituted for a doctors or nutritionist's advice. Please understand that not everyone's sodium requirements are the same, therefore some recipes may be higher than you're allowed. Always consult with your doctor for your recommended daily sodium allowance.