Well, Thanksgiving is almost here and it is time to get ready to make this awesome Low Sodium Thanksgiving Stuffing. This recipe is also great to use during the Christmas season or really just about any time. Everybody loves the herby, savory aroma that comes from a great stuffing. 
Typical sodium amount per serving

up to

1500mg

Sodium per serving for this recipe
80mg

Calories per serving

245
2 1/2 cup serving size for this recipe
By the way, I call it stuffing because my parents used to do the stuffing in the turkey and all the marketing surrounding it seems to call it stuffing. So stuffing is kind of ingrained and stuck in my brain that way. But I think this recipe would technically be called a dressing as it baked in a pan separate from the turkey. 
I personally find stuffing a turkey just to be a lot of extra work. Plus I don't have that nagging question in the back of my head if it's finished cooking in the turkey or not. Either way, the recipe should work equally well as a true turkey stuffing, though I recommend and detail the baked style here.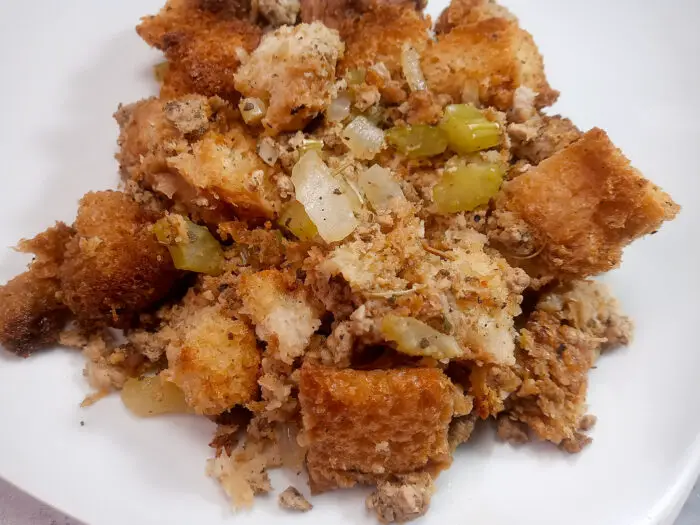 The sodium in standard stuffing
Sodium in stuffing varies wildly in the recipes I looked at, from 420mg up to 1030mg of sodium. Frankly, I don't trust the numbers looking at the ingredients in many recipes unless the portion size is so small to get a number below 700mg. Speaking of which I could not find an actual portion size in any recipe.
The bread stuffing just by itself, bagged or boxed from the store can be up to 430mg per ½ cup.
Add in some store-bought sausage (330mg) and broth (382mg) per serving. You could easily be up around 1500mg of sodium to equal the serving size in my recipe.
With this recipe, you know your amount per serving is a generous 2 ½ cups per serving at just 80mg of sodium.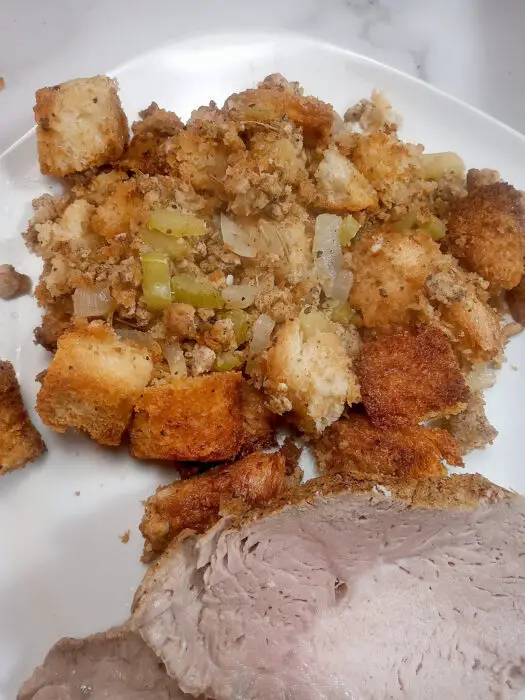 What makes this recipe low sodium?
This particular Low Sodium Stuffing is made low sodium mainly by virtue of my low sodium bread recipes (white bread or artisan bread) and my Low Sodium Italian Sausage. Using each will save an incredible amount of sodium while still producing a great texture and a delicious savory tasting dressing.
The bread:
This particular Low Sodium Stuffing is made by virtue of using one of two of my previous bread recipes. One is my Low Sodium White Bread-Bread Machine which I used for this particular recipe. This is the easiest to use and make using a bread machine. The whole loaf adds only 36mg of sodium to the whole recipe or 4mg per serving.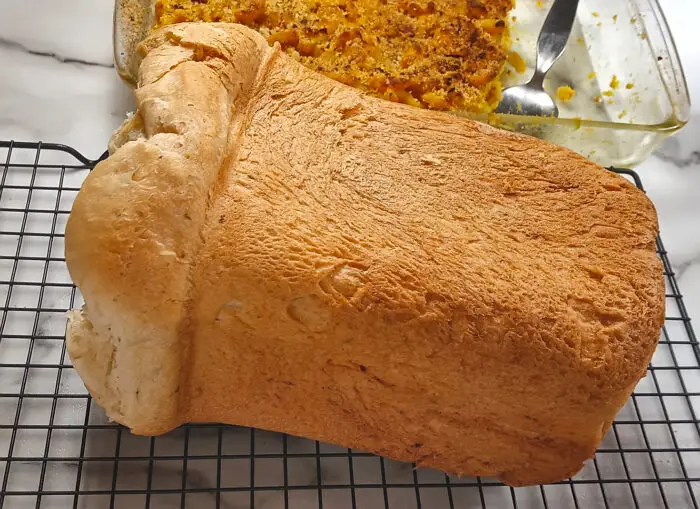 Alternatively, my Low Sodium Artisan Bread also has great taste and an especially great texture to hold all the savory flavors. Artisan bread adds only 30mg of sodium for the whole recipe or just 3.5mg per serving of stuffing.
You can use any low sodium or no salt added – heavier, hearty bread that you like if you can find it in a store-bought brand.  I seem not to have good luck finding lo-so bread locally and just make my own now. This recipes nutrition value is based on using either of my two bread recipes.
The Sausage:
The sausage is made from an altered version of my Low Sodium Italian Sausage recipe. It's different in that you will cook it in a crumbled version rather than patties and you do not have to let it "marinate" as long.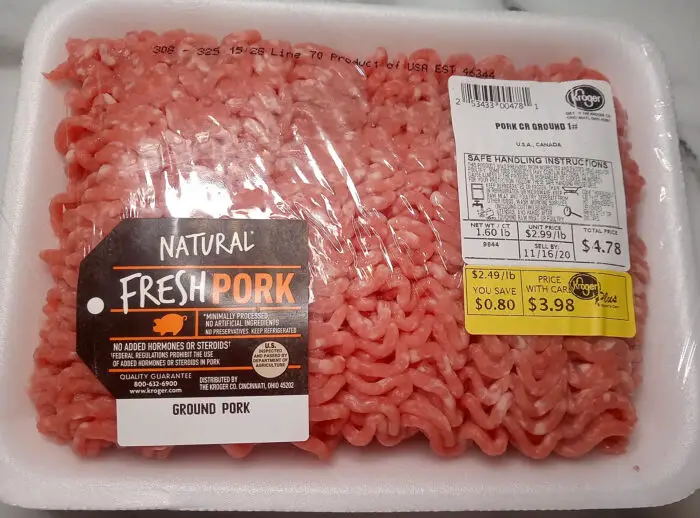 You can save time by not having to let all the spices meld because it will be mixed in with the many other flavors. Because it's mixed it won't require the spice infusing time to get that perfect taste as it would by itself. I would give at least a half hour though. That being said, it will be even better to make ahead of time while making the bread or let the flavors meld in the refrigerator overnight.
Main spices used in stuffing
Besides the trifecta of vegetables this recipe has just a few key seasonings responsible for the all the savory flavor throughout this dish.
ground dried parsley leaves
ground dried sage leaves
ground thyme
rosemary spice dried chopped
ground black pepper, to taste
I also use a poultry seasoning that I mix into the unsalted Chicken broth to really supercharge the savory taste when it soaks into the bread. Widely available in the spice aisle at the grocery store. It has finely ground sage, rosemary, thyme, marjoram, nutmeg, and black pepper.
There are other spices used in making the sausage but if you choose to leave the sausage out these would be required to make your Low Sodium Stuffing complete.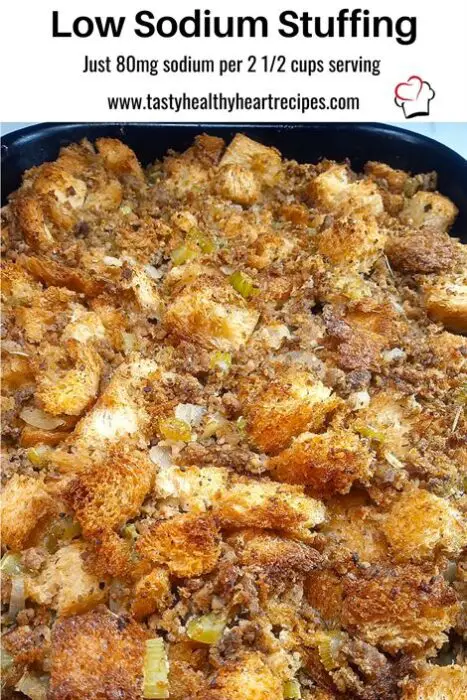 Tips and how to make your low sodium stuffing?
If you haven't made Thanksgiving turkey stuffing before or low sodium style, you may think this is long and difficult. But don't worry overall it does not take that long and a couple of pre-steps really is where the low sodium aspect all comes together. There are two steps that need to be made a day or two ahead though as I explained above for the bread and sausage. Since we can't just whip out some store-bought bread and a tube of breakfast sausage. They need to be made ahead of time but only take a few minutes each. 
If you're making the bread you'll want to start this recipe one or two days beforehand. Cut bread into 3/4″ cubes and put them on a large cookie sheet. Spray cubes liberally with olive oil cooking spray, mix and spray again. Sprinkle with no salt garlic and herb for extra flavor if desired. Be sure to use a heavier low sodium white bread so that it can soak up the broth and not fall apart. 
Place into a pre-heated 400°F oven for 10-15 minutes or until lightly golden brown. Transfer to a large mixing bowl.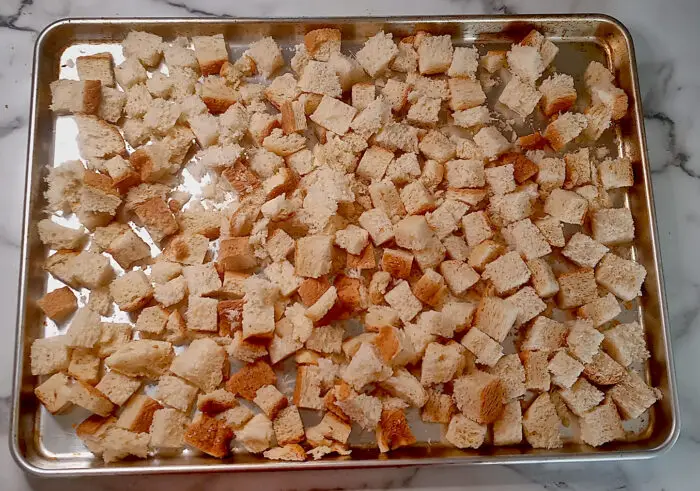 Meanwhile, mix the ground pork and ingredients described below and let set for ideally no less than half an hour. Wrap in plastic wrap up to a couple of days ahead of time for even more taste giving the spices time to work into the meat.
Heat a large skillet over medium heat until hot. Cook mixed pork for 8 to 10 minutes, breaking into small crumbles and stirring occasionally. When done transfer to mixing bowl with bread.
In the same heated skillet, the stuffing really starts coming together when you sauté, in unsalted butter, the onions and celery stirring in the garlic for the last minute, over medium heat until the veggies are tender. This is the trifecta of the best aroma to fill your kitchen ever, anytime. When your veggies are done place in the large mixing bowl with bread and cooked pork and mix all together.
---
Quick extra tip cutting your vegetables:
When cutting the celery cut in half lengthwise down the rib then holding as a bunch chop into about 1/8" pieces. Likewise chop the onion into 1/4″ pieces using your favorite method. Since the garlic will be sautéed I like to use the pre-minced garlic it is just so much easier.
---
OK, wipe the drool off and let's get back to work.
After mixing the three main components together, drizzle in the unsalted chicken broth, whisked egg, and spices while stirring the stuffing up from the bottom.  Use three (3) cups of the broth mix for a drier stuffing or all 4 cups or 32oz. box of broth for a stuffing that is moister.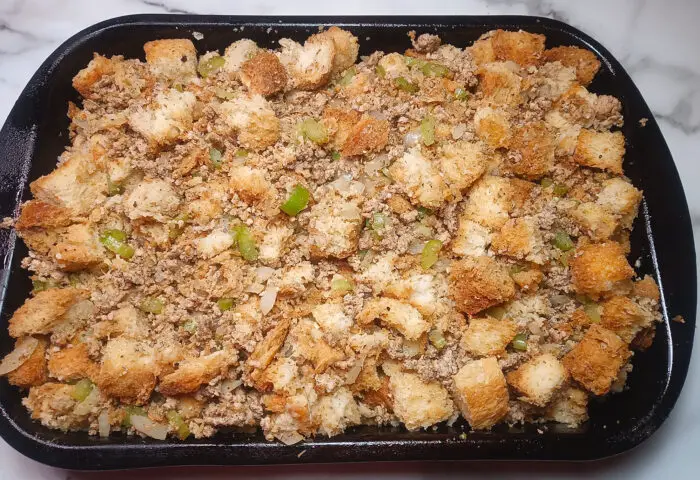 Let sit for 5 or 10 minutes to let the broth mix soak into the bread.  Transfer stuffing from bowl evenly into a 10 x 14 baking pan. (lasagna pan?) Place pan on the middle rack of a pre-heated 350°F oven. Bake stuffing for 30 minutes and the top is nicely browned. Time will vary according to moisture content. Let stand 10 minutes before serving.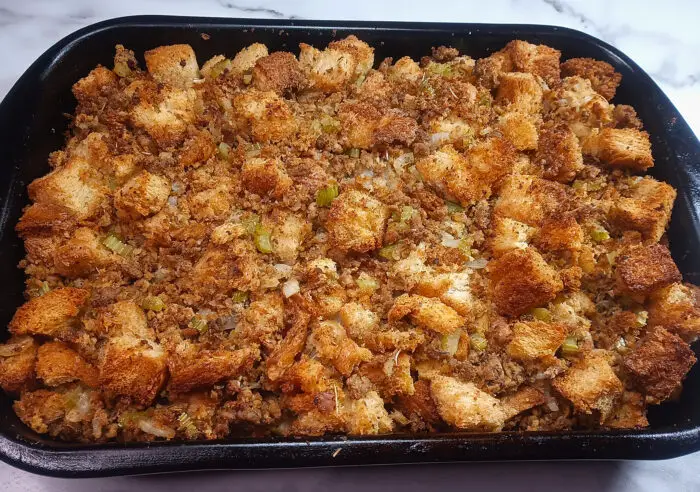 The dressing can be mixed and in the baking pan ready to go and be refrigerated overnight or up to 24 hours. If you are baking the stuffing pre-made and uncooked from the refrigerator, add about 10 extra minutes to the initial bake time.
A few of my other great dishes to enjoy!
---
Recommended Equipment & Ingredients For This Recipe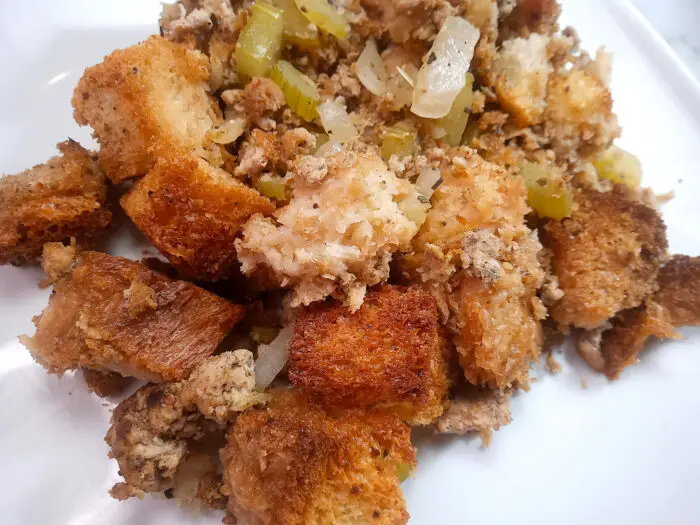 As always, please let me know how you like this recipe in the comments! I get motivated when I hear from you and interested to learn about how you liked and served your Low Sodium Stuffing for Thanksgiving. So please, leave a comment or rating and share any tips you might have. You can follow me on Facebook and Pinterest also, for new recipes.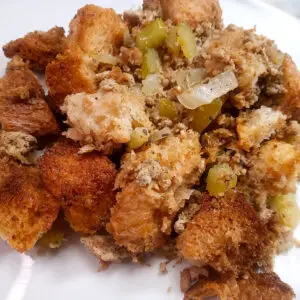 Low Sodium Stuffing for Thanksgiving
Low Sodium Stuffing for Thanksgiving crunchy top, moist inside with celery, onion, garlic, herbs. Save over a thousand mg sodium per 2 1/2 cup serving
Ingredients  
1

loaf low sodium or unsalted bread

cut into ¾ inch cubes Use my low sodium bread recipe.

1

tablespoon

olive oil

1 1/2

lb.

low sodium sausage see below from my Low Sodium Breakfast Sausage

2

tablespoons

unsalted butter

1 1/2

Tbsp

garlic pre minced

1

onion medium or large diced

about 1 1/2 cups

3

celery ribs diced

1 ½

Tbsp

ground dried parsley leaves

2

Tbsp

ground dried sage leaves

1

Tbsp

ground thyme

2

tsp

rosemary spice dried chopped

freshly ground black pepper

to taste

3-4

cups

chicken broth unsalted

1

tsp

poultry seasoning
Low Sodium Sausage
1 1/2

lb

ground pork

2

tbsp

olive oil

2

tbsp

red wine vinegar

1/2

tsp

fennel seed ground

1/2

tsp

smoked paprika

1/2

tsp

garlic powder

1/2

tsp

ground black pepper

1/2

tsp

red pepper flakes add more if you like spicy

1/2

tsp

oregano

1/2

tsp

ground sage

1/2

tsp

dried basil

1/2

tsp

dried thyme

1/8

teaspoon

mace-spice
Instructions 
Preheat oven to 350 degrees F.

Spread bread cubes in a single layer on a baking sheet. Give a light spray with olive oil cooking spray and sprinkle with herbs if desired. Place into oven and bake until crisp and golden, about 10-13 minutes; scrape into a large mixing bowl.

Cook sausage according to instructions below making sure to crumble the sausage as it cooks. Add to bread in the large mixing bowl.

Melt butter in the skillet. Add onion and celery, and cook, stirring occasionally, until tender, about 4-5 minutes. Stir in garlic, parsley, sage, thyme and rosemary about 1 minute. Add to bread and sausage in large mixing bowl.

Mix unsalted chicken broth and poultry seasoning then drizzle over stuffing while mixing until absorbed and well combined. Let stand 5 minutes, stirring occasionally, until liquid is absorbed.

Lightly oil a 10 x 14 x 2 baking dish or coat with nonstick spray. You can use 2 smaller baking pans but this fits perfectly. Spread bread mixture into the prepared baking dish. Place into oven and bake until top is browned, about 30-35 minutes.
Sausage Intructions
Grind the "leafy" basil, sage, oregano, pepper flakes and fennel seed in a spice grinder or mortar and pestle until ground or they are lightly powdered.

Mix the ground spice in with all the other spices in a small bowl and whisk well to remove any clumps.

Sprinkle the spice mixture and remaining ingredients over the ground meat and knead well until the spices are evenly distributed throughout the meat.

Ideally refrigerate overnight to let the spice flavors infuse into the meat but, let sit at least ½ hour if not

Cook over medium heat breaking into small crumbles and stirring occasionally until outside surface is light to medium brown. About 8 to 9 minutes total and there is no pink remaining. Since it is lean do not overcook or the meat will turn out very dry.
Nutrition
Calories:
245
kcal
Carbohydrates:
5.3
g
Protein:
14.7
g
Fat:
18.4
g
Cholesterol:
56
mg
Sodium:
80
mg
Fiber:
1.6
g
Sugar:
2.1
g
https://tastyhealthyheartrecipes.com/a-la-cart/appetizers-sides-snacks/low-sodium-stuffing-for-thanksgiving/
Nutrition Information – The information shown is provided by an online nutrition calculator. It should not be substituted for a doctors or nutritionist's advice. Please understand that not everyone's sodium requirements are the same, therefore some recipes may be higher than you're allowed. Always consult with your doctor for your recommended daily sodium allowance.