---
Low Sodium Smashed Red Potatoes with garlic and rosemary is an outstanding and easy low sodium side dish. Yes, they're smashed not mashed! Imagine a creamy, buttery potato inside that melts in your mouth and crispy skin and edges. All with mouthwatering goodness thanks to a lightly sautéed garlic, butter and rosemary topping.
Easy low sodium side dishes should be a staple to finish off your low sodium entrée. But many times your side dishes may seem frustratingly limited for a low sodium diet. The fact is, grabbing a can of no salt added vegetables all the time can get very boring.
| | |
| --- | --- |
| Typical sodium amount per serving | 200+mg |
| Sodium per serving for this recipe | 8mg |
| Calories per serving | 134 |
Low Sodium side dishes can often be the most challenging part of putting an entire low sodium meal together. This was not a high sodium recipe to begin with, but with a few simple tweaks and additions, it still tastes fantastic at only 8mg of sodium per serving.
The question will be with a side dish like these potatoes is, what main entree dish would they not pair with? Personally, I often eat any leftover potatoes as a snack or meal by themselves with some sour cream and low sodium salsa.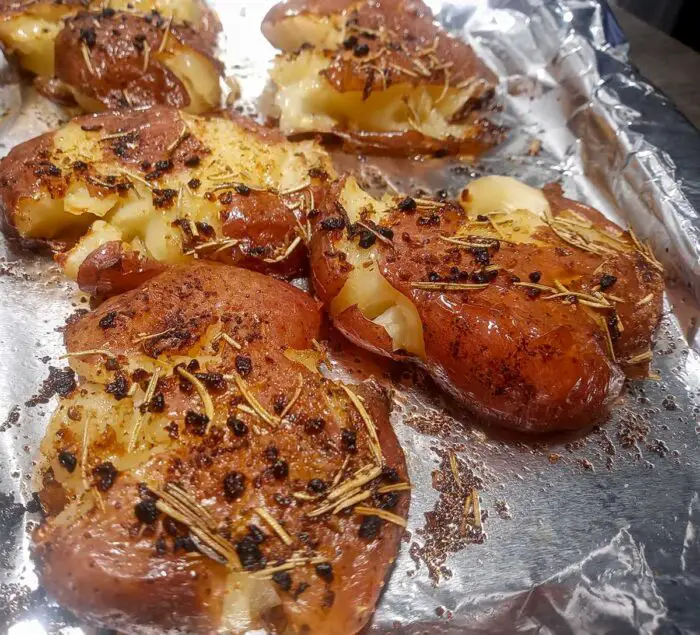 Why I like smashed instead of mashed?
I love the skin on potatoes and these have the perfect inside with a crispy outside that is smothered in flavor.  You don't have to work as hard to get the entire pot of potatoes to the perfect consistency as with mashed potatoes. 
Also, I am a huge garlic fan and there is less butter used and no milk required. Plus, the ingredients list is minimal for this low sodium garlic rosemary smashed potatoes recipe. You just need…
Small red potatoes (6-7)
Unsalted butter
Minced garlic
Dried or fresh rosemary
Anise Seed
Mrs. Dash Original Table Blend no salt
Black pepper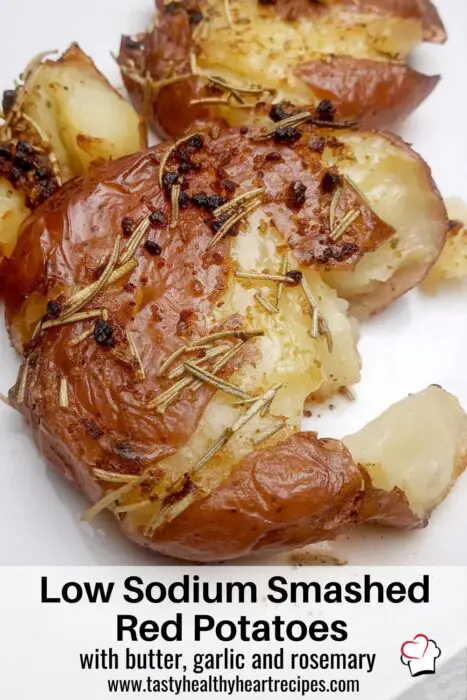 What Are the Best Potatoes for Smashed Potatoes?
I have always loved small red potatoes due to their light and fluffy texture when cooked whether in a soup, a pot roast, or a single side dish. Here, not only tasting delicious, they are the perfect size to easily and cleanly smash down to a perfect serving size.
But Yukon golds potatoes would always work well too. I just like the thicker skin of the red potato comparably. A large russet is really too large to smash down cleanly into a nice portion size.
Making the low sodium smashed red potatoes
Boil whole red potatoes to fork-tender to soften them for smashing. Meanwhile, combine remaining ingredients and simmer in a small skillet or sauté pan.
Place tender potatoes on an olive oil sprayed foil-covered baking pan.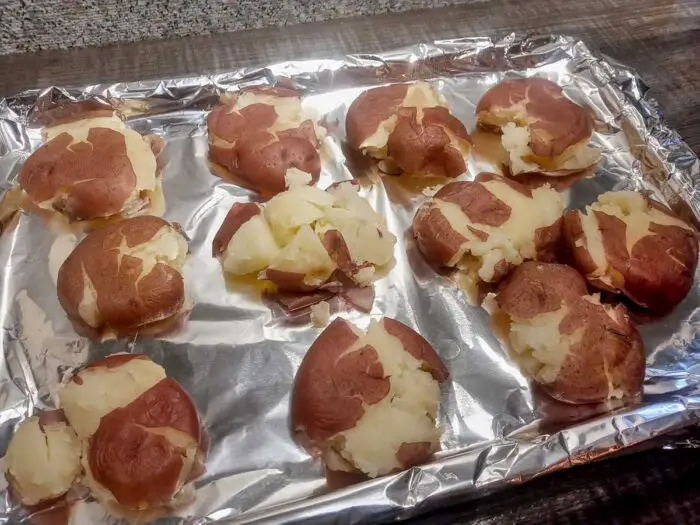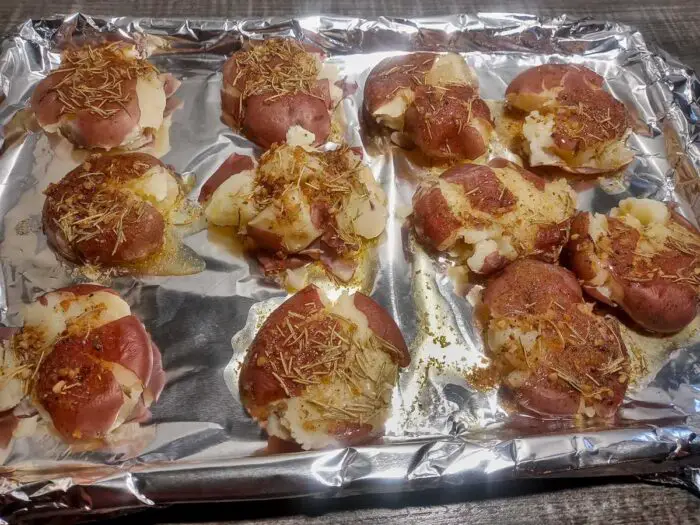 Smash the potatoes down, try to keep the potatoes as whole as possible. You want to press down about halfway so the potatoes don't break apart and fall to pieces. You want them to crack but not fall apart but, don't worry if they do, just continue on.
I use a heavy glass or coffee cup with a curved edge bottom. I give it an initial smush, then just tamp down a few times on it. Each one is a little different so it's kinda a touchy-feely process.   
Season the smashed potatoes with the low sodium melted butter mix. Spoon the butter mixture over each potato, then roast in a preheated 425°F oven for 15 minutes or until the potatoes become crispy around the edges.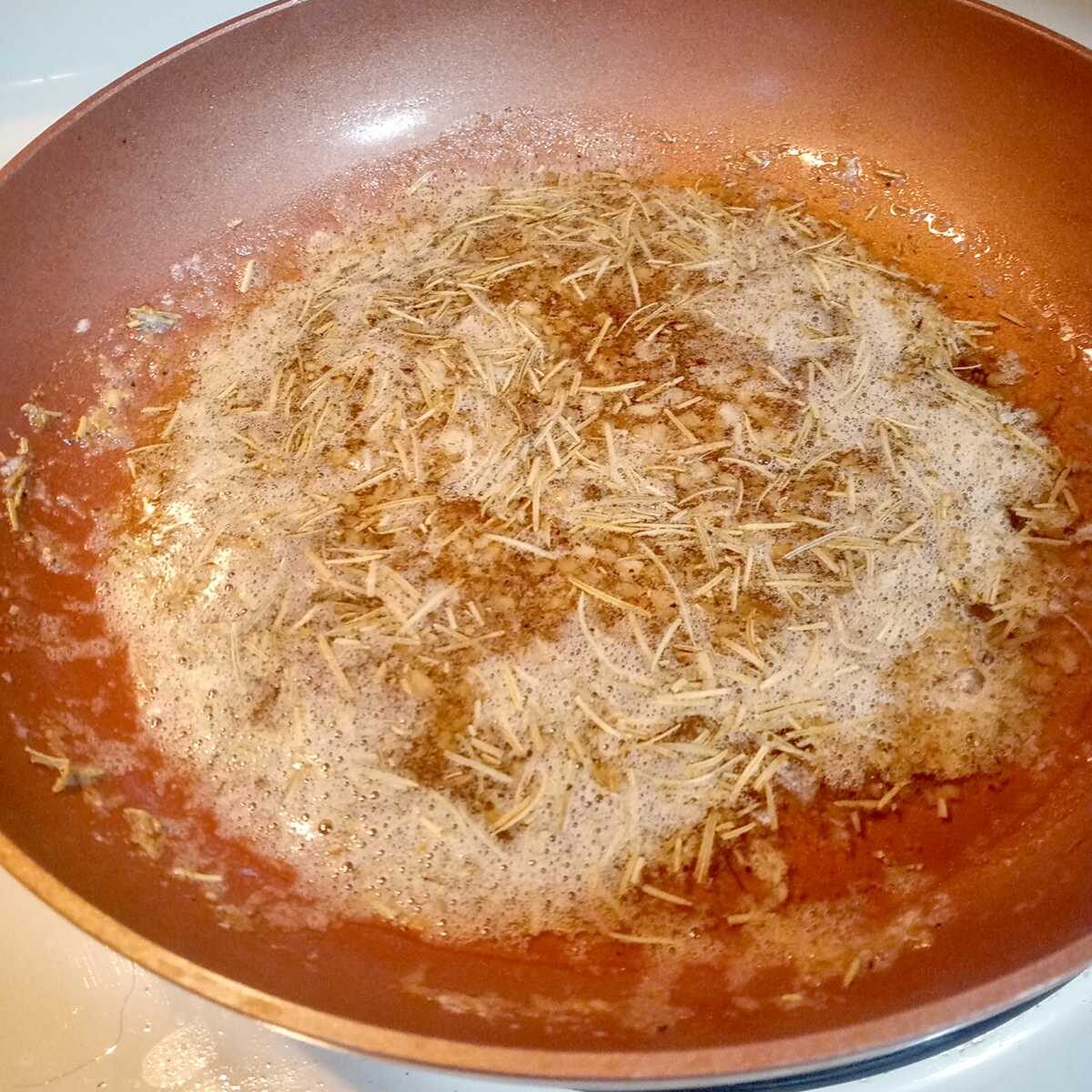 Can I use other herbs in this recipe?
Yes, you may. I use rosemary as my foolproof herb of choice when making this as my quick go-to recipe. But you could use thyme, marjoram, sage or tarragon. I am still trying something new every time mixing and matching, so don't be afraid to experiment with your own favorites.
Can I use fresh herbs instead of dried?
Certainly, though I generally use dried herbs all the time. Even with all the cooking I do, fresh herbs just don't seem to stay fresh for long enough to use them up. Just be aware that dried herbs can be more potent than fresh. So don't let them burn.
My garlic actually crisped up when in the oven and…well, now my mouth is watering again. But the Rosemary was just fine.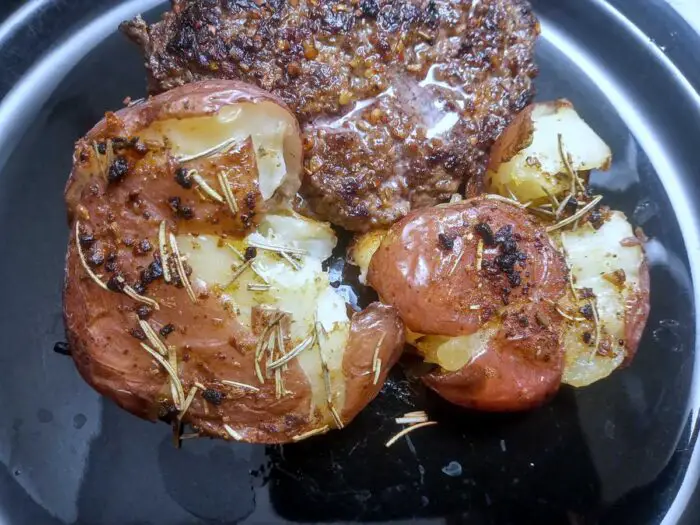 My tips for Low Sodium Smashed Red Potatoes
By adding the garlic, rosemary and remaining spices to the butter as it melts and then giving it a short simmer to infuse it will really enhance the flavor. With this mouthwatering concentrated flavor, you definitely will not need any additional butter or sour cream. Sour cream is good with them though!
I always like using the jarred pre-minced garlic when it will be sautéed, such a great time saver. You can absolutely use fresh minced garlic, I just prefer the ease of use when garlic is sautéed or cooked.
A touch of shredded Parmesan or even a small amount of shredded cheddar can make a tasty addition to your potatoes without much added sodium.
A few of my other great low sodium side dishes to enjoy!
---
Recommended Equipment & Ingredients For This Recipe.
See my whole Recommended Equipment & Ingredients shop page here
This section contains affiliate links to products I use and recommend.
Please let me know how this Low Sodium Smashed Red Potatoes with garlic and rosemary turns out for you in the comments with a rating! I'm always eager for your feedback and hope my recipes turn out amazing for you. You can follow me on Facebook and Pinterest also, to hear about new recipes.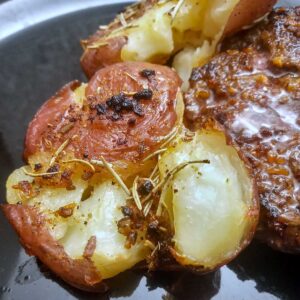 Low Sodium Smashed Red Potatoes
Boiled, smashed then baked Low Sodium Smashed Red Potatoes with Garlic & Rosemary Butter are buttery creamy on the inside and crispy outside.
Ingredients  
1 1/2

pounds

small red potatoes

(6-7=1 1/2lbs)

3

tablespoons

butter no salt added

1 1/2

teaspoon

garlic

pre-minced

1

tablespoon

minced fresh rosemary

1/4

teaspoon

anise seed

1/2

teaspoon

Mrs. Dash Original Table Blend N.S.A.

1/4

teaspoon

freshly ground black pepper
Instructions 
Preheat the oven to 425°F.

On medium low heat, melt the butter in a small saucepan with the garlic, cooking for 2-3 minutes until nicely fragrant. Stir in the rosemary, Mrs. Dash, anise seed and pepper. Simmer while potatoes are boiling.

Add the red potatoes to pot of boiling water for 10 minutes or until a fork easily slides in and out of the potatoes and the skin is barely beginning to split. Drain potatoes into a colander and set aside.

Place the potatoes on a olive oil sprayed, foil-lined baking sheet and use the bottom of a heavy glass, or a flat potato masher to gently smash the potatoes to an even flat size. Spoon the butter mix over the potatoes until nicely coated.

Bake for 12-15 minutes or until the potatoes skins (outsides) are crispy. Be careful the garlic and herbs don't burn. Sprinkle with a bit of shredded Parmesan and serve.
Notes
I use rosemary as my herb of choice with these smashed potatoes but you could use parsley, marjoram, thyme, sage or tarragon. Adding shredded Parmesan, Swiss + Gruyere or even a bit of cheddar would make a tasty addition with minimal added sodium.
Nutrition
Serving:
1
potato
Calories:
134
kcal
Carbohydrates:
18.7
g
Protein:
2.3
g
Fat:
6
g
Saturated Fat:
3.7
g
Cholesterol:
15
mg
Sodium:
8
mg
Fiber:
2.2
g
Sugar:
1.1
g
Calcium:
22
mg
Iron:
1
mg
https://tastyhealthyheartrecipes.com/a-la-cart/appetizers-sides-snacks/low-sodium-smashed-red-potatoes/
Nutrition Information – The information shown is provided by an online nutrition calculator. It should not be substituted for a doctors or nutritionist's advice. Please understand that not everyone's sodium requirements are the same, therefore some recipes may be higher than you're allowed. Always consult with your doctor for your recommended daily sodium allowance.