If you're from Cincinnati or the surrounding Midwest area and on a low sodium diet you're probably missing your Skyline Chili by now. With my low sodium Cincinnati style chili, you'll be once again enjoying at least in part some of your favorite meals and cravings.
If you haven't been to Cincinnati and tried this then let me introduce you to our local passion. Cincinnati style chili is traditionally served on a platter of spaghetti or on a hot dog in a bun, along with onions and finely shredded mild cheese.  
This chili may be different from what you're used to like with a stew or thick robust chili. This is much more like a meat sauce or soup and the spices may taste a little different. In fact, it may have some ingredients that may surprise you. If you don't like it at first I can almost guarantee you that it will grow on you and once you get the taste for it, you'll be hooked.
I grew up in the Cincinnati area and probably ate this Cincinnati style chili meal at least once a week. Seriously! So, I was really craving my old high sodium favorite meal addiction and just had to come up with a Low Sodium Cincinnati Style Chili version. And I think I did pretty well here. 
| | |
| --- | --- |
| Typical sodium amount per serving | 2040mg |
| Sodium per serving for this recipe | 91mg |
| Calories per serving | 201 |
Serving size 1 1/2 cup of chili
Sodium in Cincinnati style chili vs my low sodium style 
Sodium in a can or tub of famous brand Skyline chili that you can buy at the grocery has 1360mg of sodium per 1 cup. Which is about the amount you would use on a standard size platter maybe a touch more.
Plus, unless you live here, you most likely won't find these cans or tubs in your grocery store. Besides being loaded with sodium now everyone will be able to enjoy this fabulous Low Sodium Cincinnati Style Chili recipe, no matter where you live!
But with my low sodium Cincinnati style chili, sodium is just a meager 91mg per 1 1/2 cups. Also, by letting the spices mingle in the refrigerator after cooking it will have a much lower in fat content after you skim it off. So now I can enjoy my old favorite meal just about anytime I want, once more. 
One thing you need to watch is how much of the finely shredded mild cheddar cheese that you put on. The restaurant version is really piled on and accounts for a lot of added sodium by itself.
Generally, a light sprinkle of cheese is enough to satisfy me. But be aware that the cheese generally has 170 mg of sodium per 1/4 quarter cup. I can still put a good bit of cheese on and stay below my sodium meal limit.
You could potentially use Shredded Swiss and Gruyere Cheese blend with 55 mg 1/4 quarter cup. But it obviously would not have quite the same original taste overall.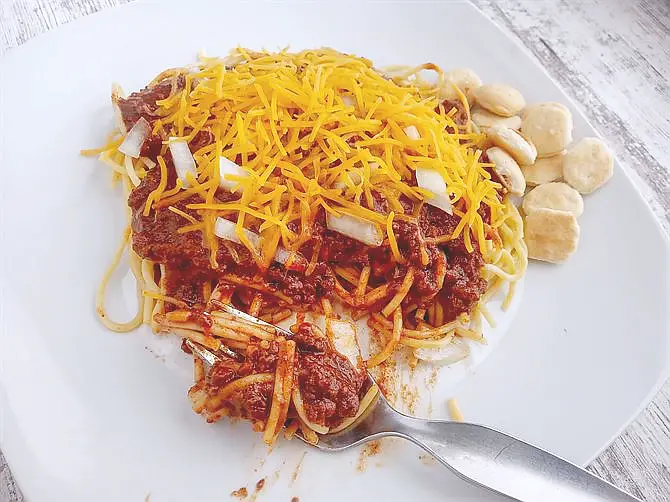 Sodium in Cincinnati style Chili from a restaurant in the common ways to order your meal. 
Cincinnati chili 2-5 ways:
          2-way = spaghetti and chili – 1490mg sodium
          3-way = spaghetti, chili, cheese – 2040mg sodium
          4-way = spaghetti, chili, cheese, onions – 2180mg  
          5-way = spaghetti, chili, onion AND beans, cheese 2310mg sodium
Cincinnati chili coneys:
          Bun, hot dog, chili – 840mg sodium
          Bun, hot dog, chili, cheese – 1020mg sodium
So what Is Cincinnati Chili?
Cincinnati style chili that is served over a base of spaghetti, or optionally a hot dog and bun. Though the hot dog and bun will likely put you out of your low sodium diet goal range. One of each combined would add 800mg of sodium just by themselves.
Both are then topped with a meat sauce blend of ground beef, tomato paste, and an offbeat blend of aromatic spices like cinnamon, nutmeg, allspice, clove, cumin, chili powder, and more. 
And surprise, an unsweetened baker's dark chocolate is also added for a unique taste that really bonds the flavors together.
Usually, a mountain of grated cheddar cheese tops it off. But a fairly light sprinkle of cheese is sufficient for our low sodium diet. No salt added red kidney beans, diced onions and low sodium oyster crackers add additional essential flavors and texture.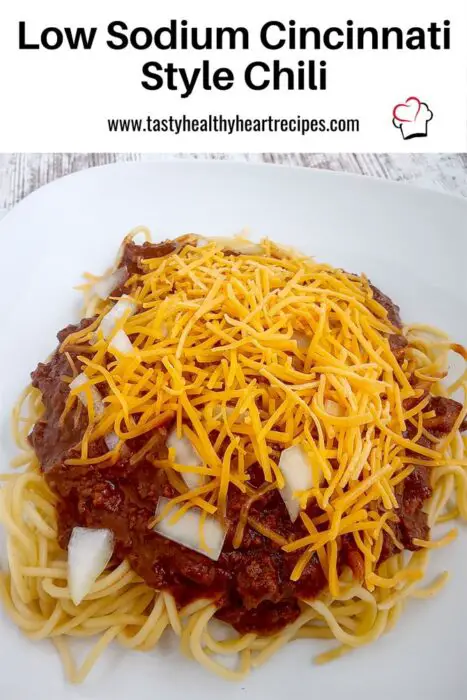 Oyster crackers with your chili "ways" or soups are essential
Oyster crackers are like an obsession that goes hand in hand with your Cincinnati style chili around here. When you first sit down at the restaurant the server slides you a bowl of crackers and swiftly takes your order. Which when you're a regular customer ordering has its own language, lingo, and no menu needed.
 During the brief wait to be served we would snack on the crackers one by one with a drop of hot sauce on top. Yeah, we put hot sauce on everything, little did I think about the sodium bombs we were inhaling for lunch or dinner.
The crackers also served two other purposes beyond that though. One, it would quickly cut down on the spicy flavor in your mouth if need be. And second, the best part, was throwing a handful of crackers on your chili plate, crunching them with a fork, and sopping up any leftover chili liquid.
I swear I've seen no salt-added oyster crackers in the store at one point but, I'll be darned if I can find them anymore or even online. So now I have to get the reduced sodium brand at Kroger's, they have their own reduced sodium name brand. The crackers have 80mg compared to the regular average of 170mg of sodium per serving. I also love them with regular chili and all kinds of soup too!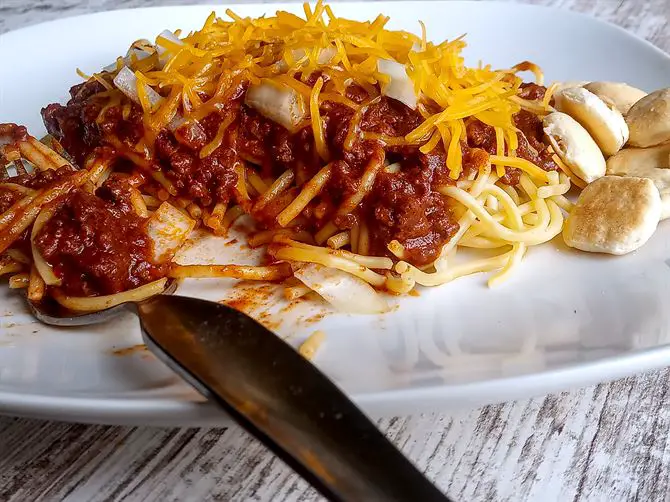 What hamburger can I use to make low sodium Cincinnati style chilli?
One of the great things about this recipe is that you can use just about any fat level hamburger that you'd like. While not totally necessary one of the aspects of this recipe is to let the flavors meld overnight in the refrigerator. This not only allowing the flavors to meld but it most significantly brings up all the fat to the top. Solidified fat can then be easily skimmed off and discarded in a hardened state.
I've calculated this recipe using a 85-15% fat hamburger which is about a medium level fat content. Your fat content should be lower than what is shown with just about any type of hamburger chosen after you have skimmed the fat off. There was no way to get the nutrition calculator to show fat after it has been skimmed off.
You could even use ground turkey if you're worried about fat levels. Though, you should be aware that ground turkey is almost twice the amount of sodium for equal portions compared to hamburger.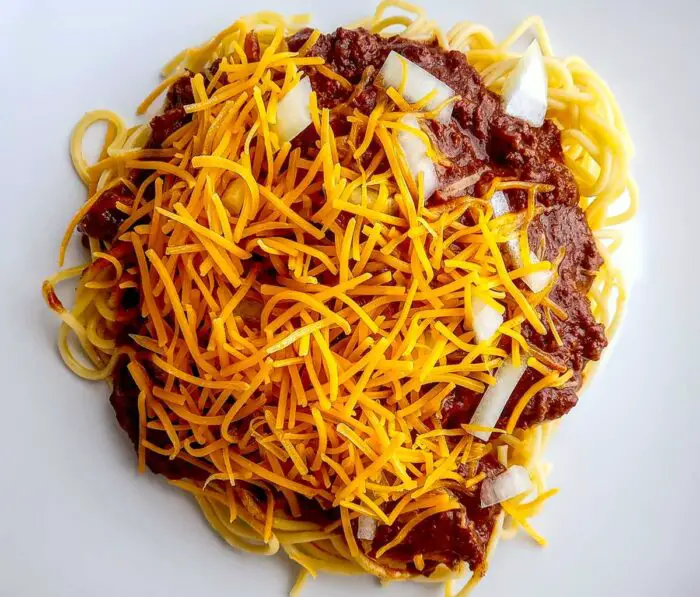 How to serve Low Sodium Cincinnati Style Chili
Chili is primarily and traditionally served over a bed of spaghetti with the options of red kidney beans, onions, and finely shredded mild cheddar cheese. 
At the restaurant it can also be ordered over a hot dog and bun with cheese. Unfortunately, those two items will probably put you way above your low sodium limit.
Low sodium Cincinnati style chili also makes a great party dip for your no salt tortilla chips. Or, try it as a great filling in my Low Sodium Flour Tortillas.
This chili also goes great over french fries, baked potato, rice, or even add some to your next skillet of scrambled eggs to make a chili omelet.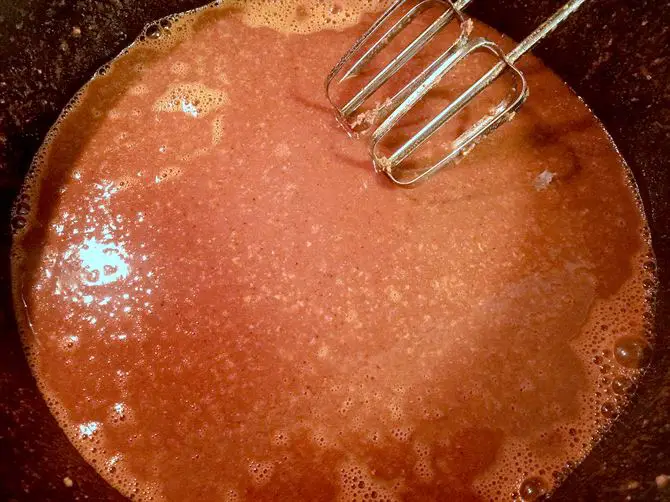 My Tips for Low Sodium Cincinnati Chili
When you're eating your chili with spaghetti we mid-westerners cut it with a fork to bite size pieces to eat. No twirling allowed!
While you can certainly eat the chili right after cooking, it is best to let it refrigerate overnight. Not only does it let the flavors mingle and gives a much better flavor by the next day. It also allows for easy removal of any fat.  So, as a bonus besides being low in sodium, it is also very low fat.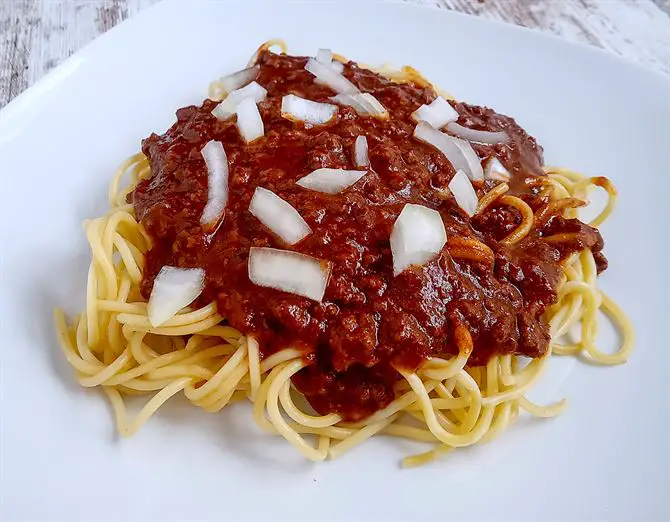 Very small hamburger pieces are required for this chili. The easiest way is to take a hand blender after you have added the liquid, simmered for about 15 minutes and let'er rip. You want to have about BB size, pasty bits of the burger.
One of the variations that we have when ordering Cincinnati style chili is to add red kidney beans – known as a 5 way. Beans are primarily added separately when ordered on the spaghetti platter. If you like beans go ahead and add a can of drained and rinsed red kidney beans when starting the pot to simmering for 1 ½ hours.
While we can't go gung-ho on the finely shredded mild cheddar cheese because of the sodium content. It is the best option when used in moderation. Just be aware of the sodium content for the portion size that you use.
When making a pot of chili I make the choice ahead of time of whether I want to add the red kidney beans or not. I just like to do it all at one time and not have to add them as an extra as they do in the restaurant.
 A low sodium brand oyster cracker or a no salt added "Saltine" type cracker is almost essential when eating your plate of Chili. One of my favorite parts of the meal is crunching the crackers down to soak up the remaining sauce and slurping it down.
There is no chili season for this low sodium chili – make it anytime!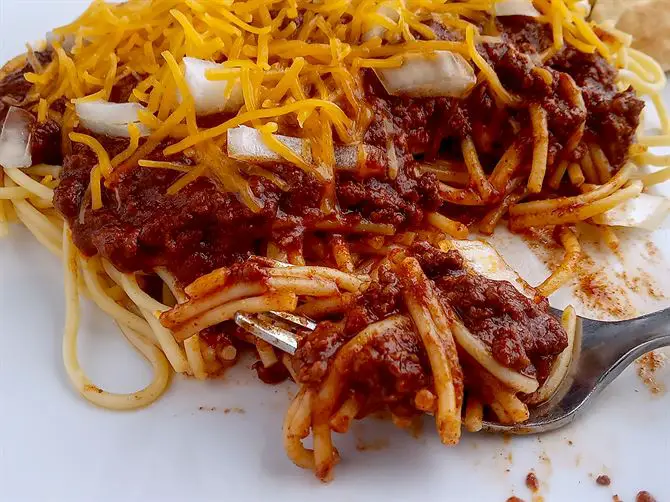 Storing the chili
Chili can be stored in an airtight container in the fridge for up to 5 days. A glass container may be preferable, as it tends to stain plastic ware.
This recipe also freezes very well. I like to portion out and freeze in a jumbo muffin pan. Then pop out and place in a heavy duty freezer zip-loc bag. This makes for perfect portion sizes without having to thaw the whole pot.
---
A few of my other great dishes to enjoy!
---
Please let me know how this Low Sodium Cincinnati Style Chili turns out for you in the comments and a rating! I'm always eager for your feedback and hope my recipes turn out amazing for you. You can follow me on Facebook and Pinterest also, to hear about new recipes.
Low Sodium Cincinnati Style Chili
An edgy Skyline Substitute – Low Sodium Cincinnati Style Chili. Uniquely flavorful, this is a regional favorite! Super easy to make and will have your mouth watering and hooked in no time!
Ingredients  
2 1/2

lb

lean ground beef*

10

cups

water

12

oz

can of no salt added Tomato paste

2 – 6oz. cans

1

oz

baking chocolate unsweetened – Bakers brand

1/2

cup

chili powder no salt added

2

teaspoon

cinnamon

2

teaspoon

garlic powder

2

teaspoon

cumin

1/2

teaspoon

allspice

1/2

teaspoon

ground cloves

1/2

teaspoon

red pepper flakes –

I like to grind them down in my spice grinder

1/2

teaspoon

black pepper

1

teaspoon

sugar

4

Tablespoon

apple cider vinegar

2

bay leaves

1/8

teaspoon

nutmeg optional

¼

teaspoon

mace spice optional
Instructions 
Add the 10 cups of water in a large pot or dutch oven.

Add the tomato paste and heat over medium heat stirring to combine for about 5 minutes.

Add chili powder, cinnamon, garlic powder, cumin, allspice, cloves, red pepper flakes, black pepper, sugar and vinegar. Add optional spices.

Next, break up and crumble the raw ground beef into the pot with your fingers. Use preferably a hand blender or whisk to break up the meat into very fine pieces. It may look sludgy and kinda gross at this point but don't worry.

Add chocolate and bay leaves. Turn heat to high to bring to a boil. Once boiling, turn the heat down to med-low to a simmer.

Simmer uncovered, for 1 to 1 1/2 hours, at a low boil. Stir occasionally. Sauce will thicken a good bit. More water may be added if necessary. It should be thin and soupy.

Remove bay leaves and serve immediately and / or refrigerate overnight and skim off accumulated fat.
Notes
Any fat level hamburger may be used. Hardened, floating fat will be removed after refrigeration.
Nutrition calculation is based on 85% lean ground beef.  Fat level should be much lower though as most of the fat is removed after refrigeration.
Optional toppings include finely shredded mild cheddar cheese, diced white onion, red kidney beans, oyster crackers and low sodium hot sauce. Not included in Nutrition calculation.
Nutrition
Calories:
201
kcal
Carbohydrates:
7.4
g
Protein:
18.9
g
Fat:
11
g
Saturated Fat:
4.4
g
Cholesterol:
56
mg
Sodium:
91
mg
Fiber:
1.9
g
Sugar:
4
g
Iron:
3
mg
https://tastyhealthyheartrecipes.com/main-dishes/entrees/low-sodium-cincinnati-style-chili/
Nutrition Information – The information shown is provided by an online nutrition calculator. It should not be substituted for a doctors or nutritionist's advice. Please understand that not everyone's sodium requirements are the same, therefore some recipes may be higher than you're allowed. Always consult with your doctor for your recommended daily sodium allowance.