This Low Sodium Sweet and Sour Chicken recipe is a delicious way to recreate the Chinese take-out experience you used to get down the street. We have all more than likely heard about how much sodium is in Chinese food probably even before you were on a low sodium diet.
So it seemed many of the Chinese type meals were automatically put out of reach. Which really hurt as my favorite take-out was really, really good. So far this recipe is the easiest to recreate, not to worry though; I'll have more in the future. This is a very easy recipe to make but does take a bit of time due to initial frying "crisping" of the chicken.
| | |
| --- | --- |
| Typical sodium amount per serving | 800 – 1700+ mg |
| Sodium per serving for this recipe | 78 mg |
| Calories per serving | 223 |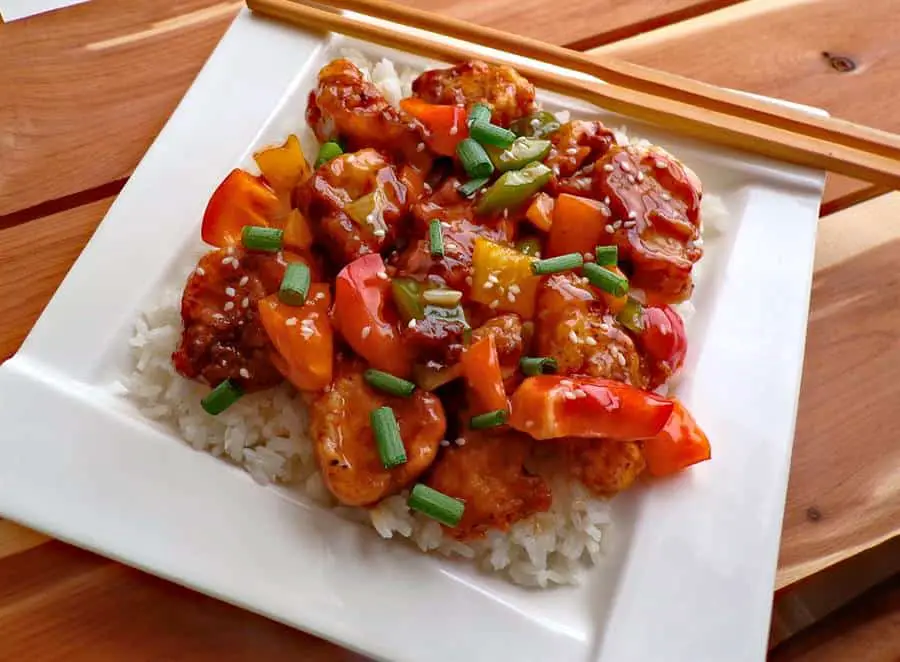 Sodium in Sweet and Sour Chicken
From researching online it seems the average sodium level from a typical sweet and sour chicken Chinese take-out is about 1,750 mg of sodium. While the average recipe contains anywhere from 800-1700 mg of sodium per serving and is just as bad. Wow, definitely no more take-out and I'm betting sweet and sour chicken is probably on the lower side of some of the dishes available.
For this low sodium sweet and sour chicken the sodium clocks in at just 78 mg per serving. It is so low you will have plenty of room to decide what starch to serve your chicken over. Traditionally this dish is served over rice or noodles, either one adding negligible amounts of sodium as long as they're cooked without unneeded salt. I did not include either in the nutritional value as one or the other may be used.
Also if you use my Low Sodium Sweet and Sour Sauce you will only be adding 2 mg of sodium per 2 tablespoon serving to your dinner. Compared to 120 mg of store bought bottled sauce that you might typically use.
I had only made stir fry at home before but never any other type of Chinese take-out style meals. So after not having a take-out meal since starting my low sodium diet, I couldn't be happier with how this turned out and plan to enjoy it on a regular basis.
You may like to try these dishes too!
MY NOTES LOW-SODIUM SWEET AND SOUR CHICKEN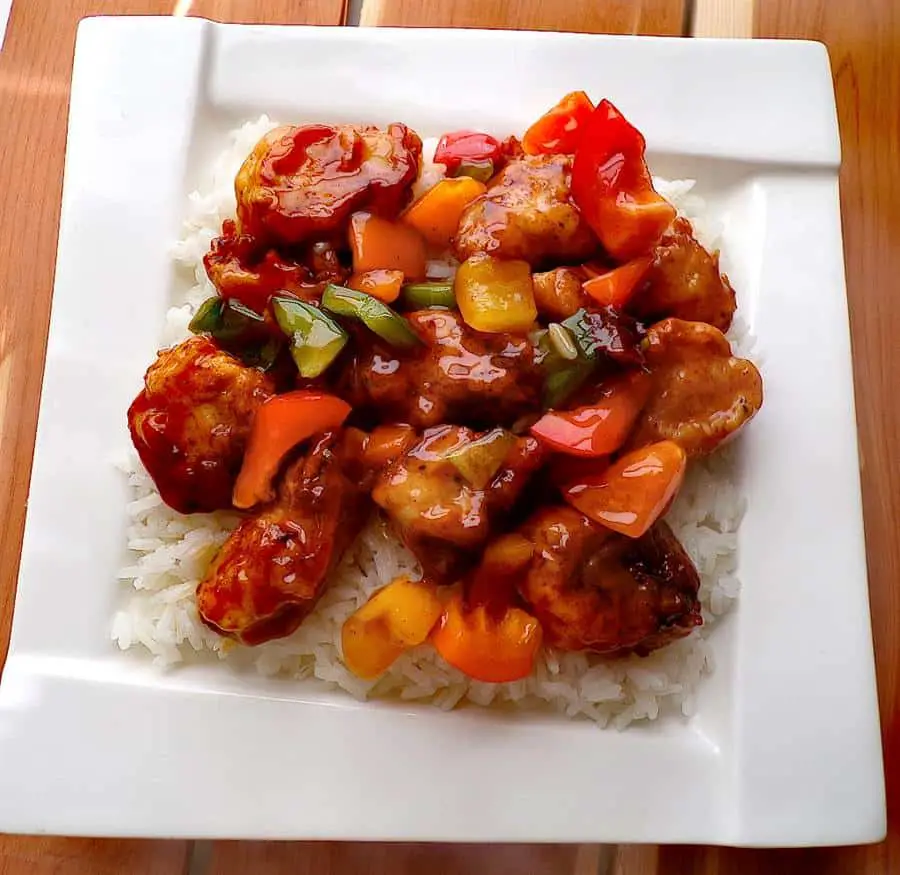 No Wok is needed to make this recipe I generally just use a large cast iron skillet. Though if you have a pot with higher sides you will greatly reduce spatter mess on the stove.
When you don't want to spend an hour right frying up the chicken right before dinner you can fry it up ahead of time. And then later throw it on a baking sheet and heat it up at 350°F in the oven for about 15 min. and it will still be crispy and ready to go!
When frying the chicken I try to do about half a chicken breast amount at a time. It's just a guesstimate. This lets the pieces be separated from each other and doesn't initially cool the oil too much letting, it crisp up quicker.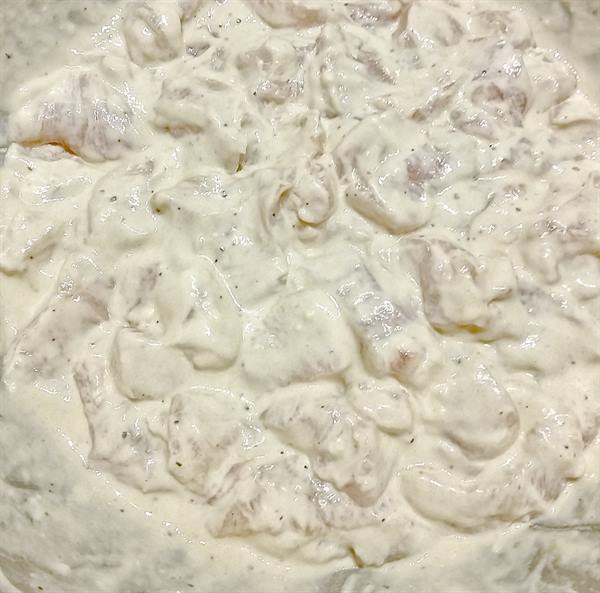 Use the largest baking sheet you can get to put the chicken on when baking. You don't want them all piled up but spread out as much as possible so the heat can evenly reach all the chicken. And this recipe makes a lot of chicken!
As always, please let me know how you like this recipe in the comments! I get motivated when I hear from you and am interested to learn about how you liked and served your Low Sodium Sweet and Sour Chicken. And please leave a comment or rating and share any tips you might have.
A few other recipes you may enjoy!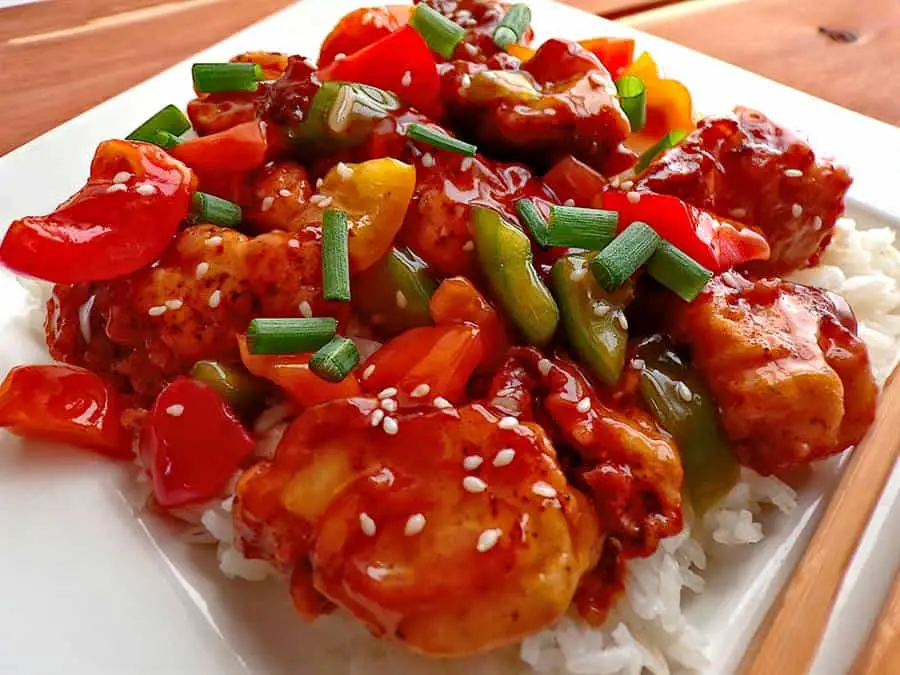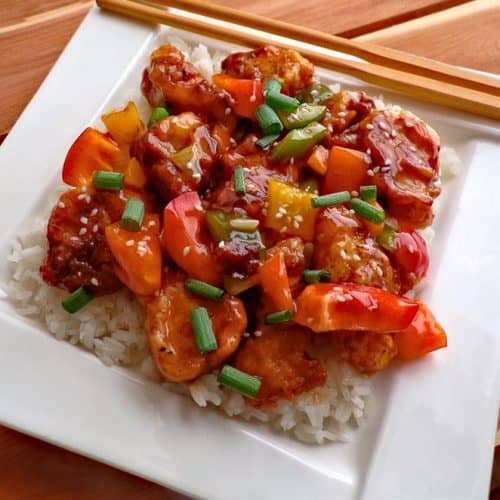 Low Sodium Sweet and Sour Chicken
With just 78 mg sodium – tangy, crispy delicious Low Sodium Sweet and Sour Chicken covered in sticky sauce you don't have to give up the Chinese classic.
Ingredients  
4

skinless boneless chicken breast

halved and cut into 1 inch cubes

2 ¼

cups

all purpose flour

2

Tbsp

vegetable oil

2

Tbsp

cornstarch

2

tsp

garlic powder

2

tsp

onion powder

2

tsp

ground pepper

1/2

tsp

ground white pepper

1

egg beaten

1 ½

cups

milk

1

quart

vegetable oil for frying

2

green pepper chop about 3/8" pieces

I like to use the red, yellow and orange ones too

1/2

medium onion

rough chop
Instructions 
Combine flour, oil, cornstarch, white pepper, garlic powder, onion powder, black pepper and beaten egg. Add 1 1/2 cups milk slowly to make a thick pancake like batter. Add chicken pieces, and stir until chicken is well coated.

Heat oil in skillet or wok to 360 degrees F. Fry chicken pieces in hot oil about 5 minutes, turning as needed, or until lightly golden. Remove chicken, and drain on paper towels then place on baking sheet.

When ready to serve, sprinkle the peppers, onions and cooked chicken pieces over rice or noodles on a plate. Pour sweet and sour sauce over top.
Notes
Neither rice or noodles are included in nutrition label but neither are a significant source of sodium as long as salt is not included in the cooking process.
If using Low Sodium Sweet and Sour Sauce cook in between frying batches of chicken to save time.
Nutrition
https://tastyhealthyheartrecipes.com/main-dishes/entrees/low-sodium-sweet-and-sour-chicken/
Nutrition Information – The information shown is provided by an online nutrition calculator. It should not be substituted for a doctors or nutritionist's advice. Please understand that not everyone's sodium requirements are the same, therefore some recipes may be higher than you're allowed. Always consult with your doctor for your recommended daily sodium allowance.