Low Sodium Tzatziki Lemon Dill Chicken is a great cool summer time lunch served as a sandwich on my low sodium pita bread or on a salad, not that it wouldn't be good for dinner also. There's just something about those hot summer days that a nice refreshing creamy chicken really hits the spot.
Not all meals are particularly high in sodium and this isn't one that is extremely high to begin with.  With just a few simple changes we can still dramatically reduce your daily sodium budget for this recipe.
| | |
| --- | --- |
| Typical sodium amount per serving | 450+ mg |
| Sodium per serving for this recipe | 91 mg |
| Calories per serving | 240 |
I used low fat yogurt for this because the difference in the sodium levels was quite minimal for the serving size. The difference in the fat content was quite dramatic between low-fat and regular yogurt. You might find it a little more satisfying to use the regular plain yogurt but that will be up to you, the difference in the sodium level is almost negligible.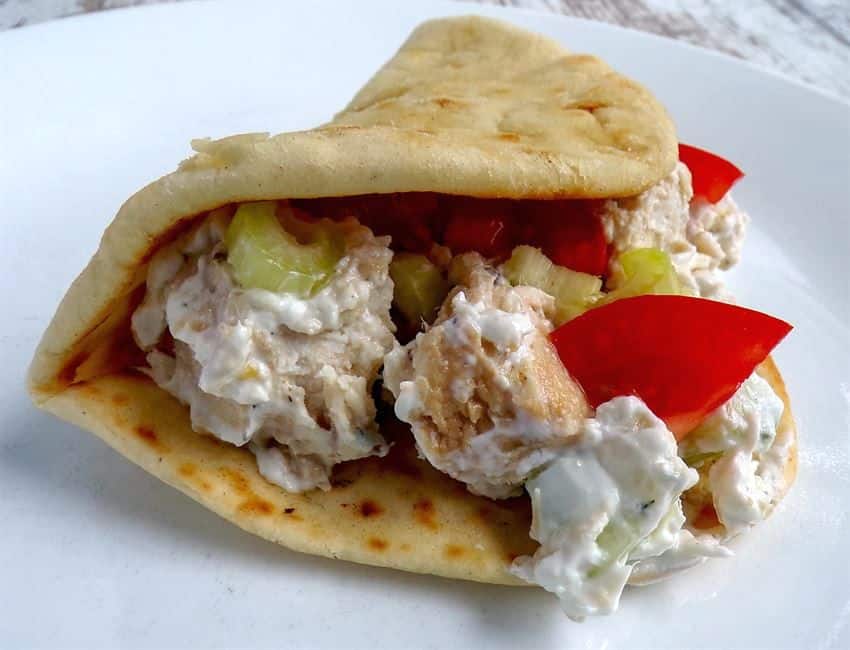 How to Serve Low Sodium Tzatziki Lemon Dill Chicken
Once you have the low sodium dill chicken made, you can top and garnish it with red onion, diced celery, chickpeas, and diced tomatoes.  Or a minimal sprinkle of feta cheese or grated Parmesan cheese for extra taste.  It also makes an excellent meal by itself with rice and or vegetables for a late evening meal.  Try it combined with lettuce for a salad that needs no dressing.
This goes especially well with my low sodium pita bread, be sure to check it out. A soft warm pita and the cool Tzatziki covered lemon dill chicken makes for an excellent refreshing summertime meal. Or you could also try combined with pita chips and my low sodium hummus.
You may also use chicken thighs, but I prefer the breast because they're the easiest to work with and have more meat per weight.  You can also dice or shred your chicken, it really makes no difference.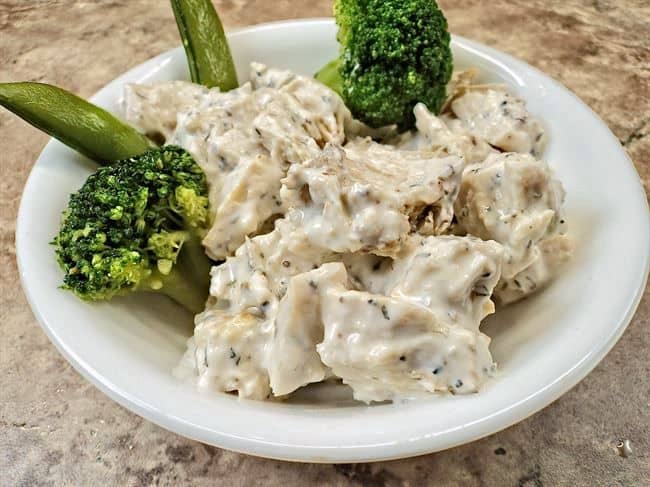 When you're making the yogurt tzatziki sauce you may want to double up on it.  It can also be used as a refreshing vegetable or appetizer dip for summer time snack.
Cooking Lemon Dill Chicken in Crock Pot
Low Sodium Tzatziki Lemon Dill Chicken may also be cooked in a slow cooker, the only difference being it having to cook 4 to 6 hours as compared to the instant pot. In the instant pot the whole meal can all done and on the table in under an hour. The following steps are the same except for the time difference and setting the temperature on low with a slow cooker.
Add lemon juice, broth, vinegar, onion and chicken to the slow cooker. Sprinkle the garlic, dill, and lemon pepper on top of the chicken.
Cover and cook on low for 4-6 hours.
Use tongs to remove chicken to a cutting board and let cool.  You may either shred or cube the chicken.
The remaining broth and onions is not used any further in this recipe. But may frozen and / or used later for another recipe, but it will have a distinct lemony taste.
A few of my other great dishes to enjoy!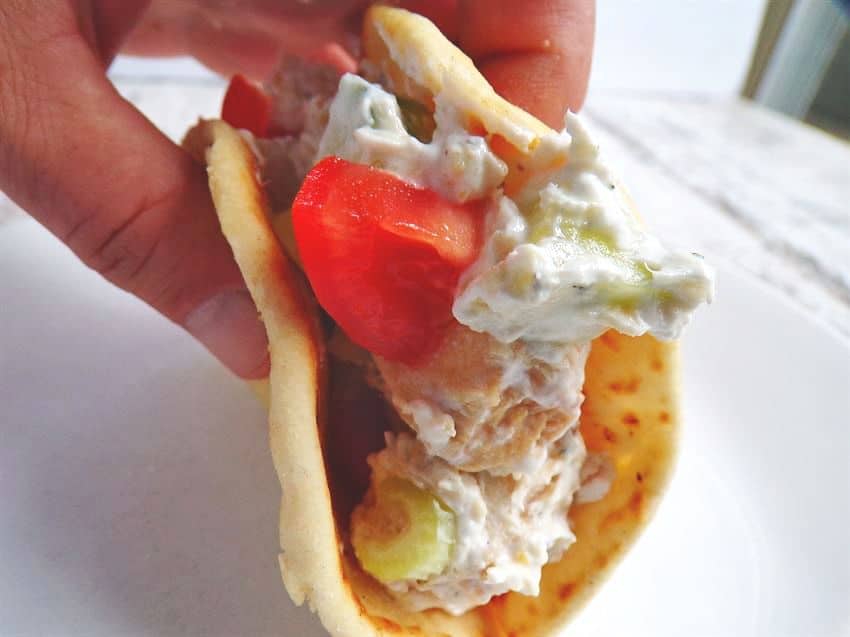 As always, please let me know how you like this recipe in the comments! I get motivated when I hear from you and am interested to learn about how you liked and served your Low Sodium Tzatziki Lemon Dill Chicken. Please leave a comment or rating and share any tips you might have to share.
Low Sodium Tzatziki Lemon Dill Chicken
Low Sodium Tzatziki Lemon Dill Chicken – Lemony chicken with garlic and dill mixed with a traditional Tzatziki creamy yogurt sauce. A refreshing summer meal!
Ingredients  
For the chicken
1 ½-2 lbs

boneless skinless chicken breasts

You may use frozen too

¼

cup

lemon juice

¼

cup

chicken broth no sodium added

¼

cup

red wine vinegar

1

medium yellow onion

chopped into large pieces

2

Tbsp

minced garlic

2

tsp

dried dill

2

tsp

lemon pepper no salt added

1

tsp

paprika
For Tzatziki sauce
1

cup

Non-Fat Greek Yogurt

1

cucumber

peeled and diced into tiny pieces

Dill, minced garlic and pepper to taste
Instructions 
Add lemon juice, broth and vinegar along with chopped onion into the Instant Pot. Place the chicken on top of the onion in one layer, as much as possible. Combine and then sprinkle the garlic, dill and lemon pepper spice mixture over the chicken.

Cover and secure the lid. Make sure the valve is set to sealing. Set the manual-pressure cook button to 12 minutes for thawed chicken breasts. Or 15 minutes frozen chicken. When the time is up let the pressure release naturally for 5-10 minutes and then release the valve to venting. Remove the lid when vented.

Place chicken on a cutting board. Shred the chicken or cut it into small cubed pieces. Discard the onion and the juices left in the pot.

When chicken is cool stir in the greek yogurt and cucumber so chicken is coated. Add in dill, garlic and pepper to your taste.
Notes
Personally I like cucumber, but it does not like me anymore.   I replace cucumber with finely chopped celery.   Cucumber is traditional to authentic Tzatziki sauce.
Nutrition
https://tastyhealthyheartrecipes.com/main-dishes/entrees/low-sodium-tzatziki-lemon-dill-chicken/
Nutrition Information – The information shown is provided by an online nutrition calculator. It should not be substituted for a doctors or nutritionist's advice. Please understand that not everyone's sodium requirements are the same, therefore some recipes may be higher than you're allowed. Always consult with your doctor for your recommended daily sodium allowance.