Low Sodium Savory Honey Baked Chicken Thighs is an easy weeknight dinner ready in just over 30 minutes with a mouthwatering savory, honey glaze that almost has a soy sauce undertones without the sodium.
Boneless and skinless baked chicken thighs are easy to make in one pan. And if you line the pan with foil, cleanup is a breeze. It is a perfect, quick weeknight or weekend meal with a rice and / or vegetable side.
| | |
| --- | --- |
| Typical sodium amount per serving | 520+ mg |
| Sodium per serving for this recipe | 106 mg |
| Calories per serving | 254 |
Most recipes use high sodium soy sauce for the recipe, usually in large quantity, resulting in very high sodium levels. Even when using low sodium soy sauce a serving may reach 520 mg of sodium per serving. Along with ditching any added salt and using a minimal amount of low sodium Worcestershire sauce I have reduced this recipe to more acceptable level for a meal while delivering great taste.
Surprisingly the chicken itself accounts for nearly 3/4 of the amount of sodium per serving!
Low sodium Worcestershire sauce may hard to find on your local store shelves. I have not found a reliable source around locally that stocks it continually. So, I have taken to ordering it online several bottles at a time to stock up.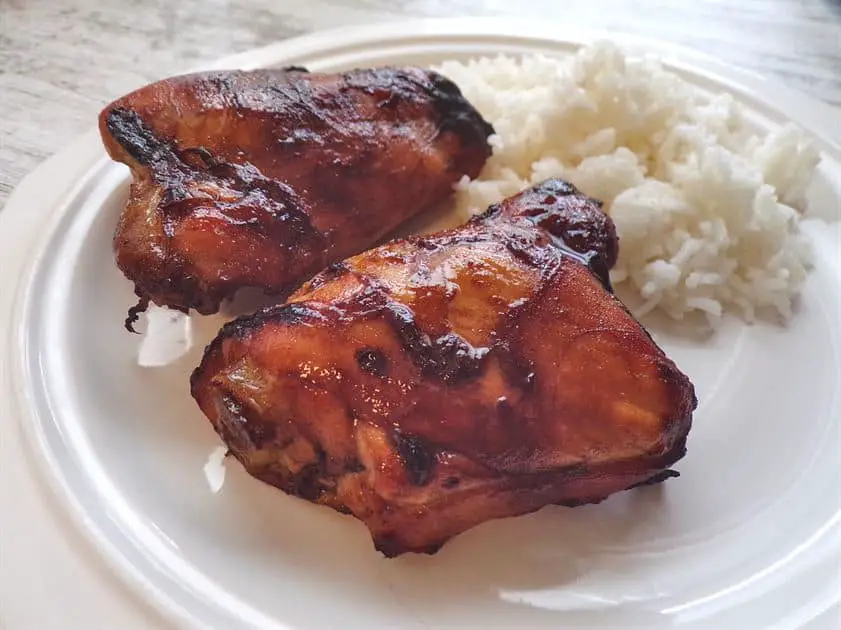 I love chicken thighs, they are full of so much juicy flavor and usually they are very good price at the grocery store. And they are perfecto for this low sodium marinade.
BEST CHICKEN THIGH FOR BAKING?
I like using the bone-in chicken thighs personally because I like using my fingers or chewing the meat off the bone. Although you can use boneless skinless chicken too, it's just my personal preference. When using the bone-in chicken, you need to cook about 5 or 10 minutes longer than the boneless.
It would also be your choice if you want to use skin-on chicken as it develops a delicious crispy, sweet and savory bark to it that is almost a treat. Depending on how much you're watching your fat and cholesterol, you can typically save on both by removing the skin.
SKIN ON OR OFF FOR BAKING?
Using the online nutrition calculator, I found it difficult to draw any reliable numbers that I could state here. So it would be your choice to keep the skin on. But here is an interesting article about leaving the chicken skin on. It boils down to it may not be as bad as once thought, at least on an occasional basis along with a well-balanced diet.
In the past, I usually used a cooling rack to set the skin-on chicken so that the fat could drip down and away. Lately since I've been eating more chicken without the skin on to avoid extra fat, I think I may need to change and let it cook right down in the juices.
For this recipe I cooked four without skin and two with skin to see what the differences might be. Both were equally good but if I wasn't worried about extra fat I would go with skin-on.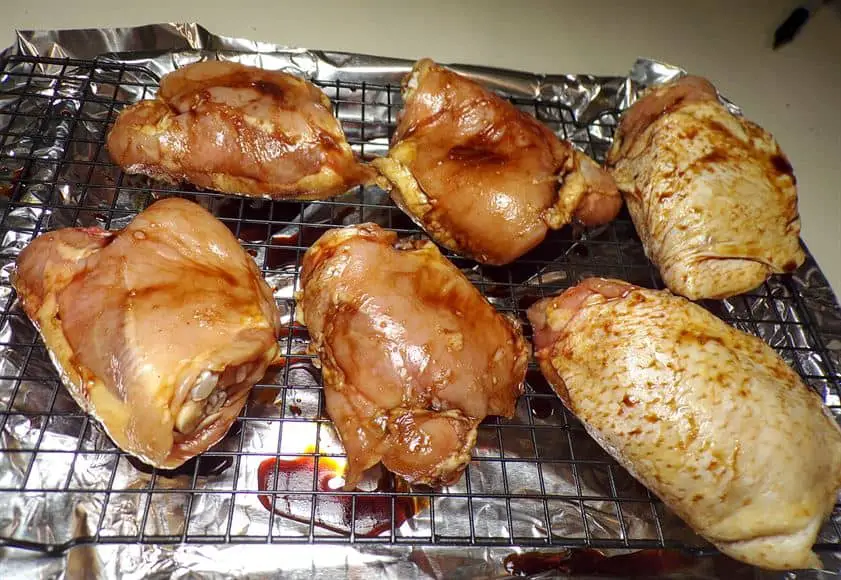 The next time I cook this I'll use a 12" inch cast iron skillet lined with tin foil and set the chicken directly down in it as long as it's skinless.
MARINADE FOR LOW SODIUM CHICKEN THIGHS
When making the marinade, you may decide to double up on it and reserve half of it for use as a dipping sauce for the chicken or to drizzle over your rice or vegetables. It is really that good. Do not use uncooked marinade that has had raw chicken in it.
For this particular recipe I just gave the chicken a quick dunk in the marinade and spooned a small drizzle of marinade on towards the end of cooking. When I have more time next time I prepare this, I'm going to let the chicken soak in the marinade for at least 30 minutes. I imagine the results would be spectacular.
Mix the marinade ingredients together before adding your chicken, and marinate for 30 minutes or overnight. If you don't have time to marinate, don't worry too much. The sauce has so much flavor, you can get away with baking them right away.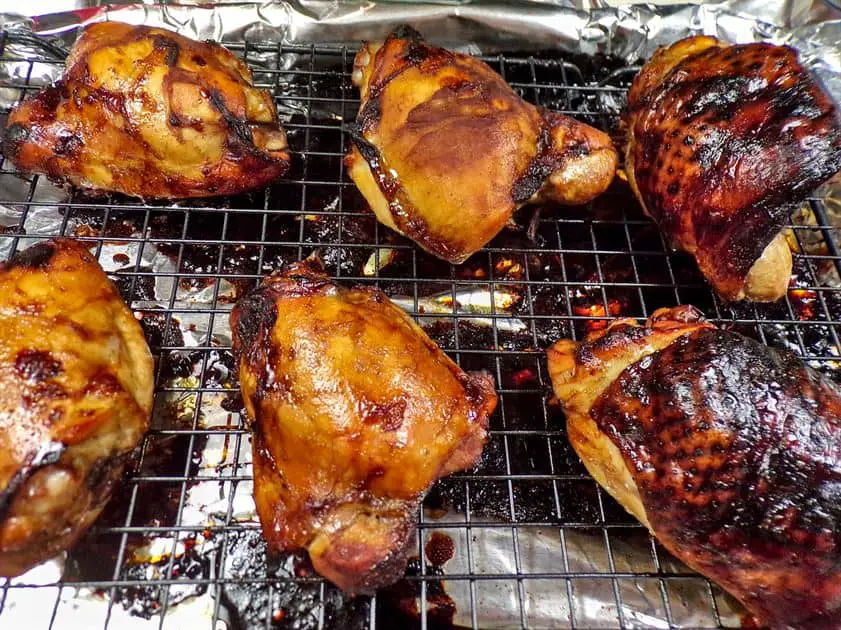 HOW TO BAKE CHICKEN THIGHS WITH SAVORY HONEY
You can marinade ahead of time but this recipe also cooks in its own marinade so everything is super easy. Use a foil lined cast iron skillet, baking dish or broiler pan to cook them in, arrange chicken thighs in a single layer and pour marinade over the chicken.
Bake chicken thighs at 425°F for 20-25 minutes, turning them twice while baking to cover in sauce and stay juicy while baking. If using boneless thighs reduce cooking time 5-10 minutes. Chicken should have an internal reading of 165°F.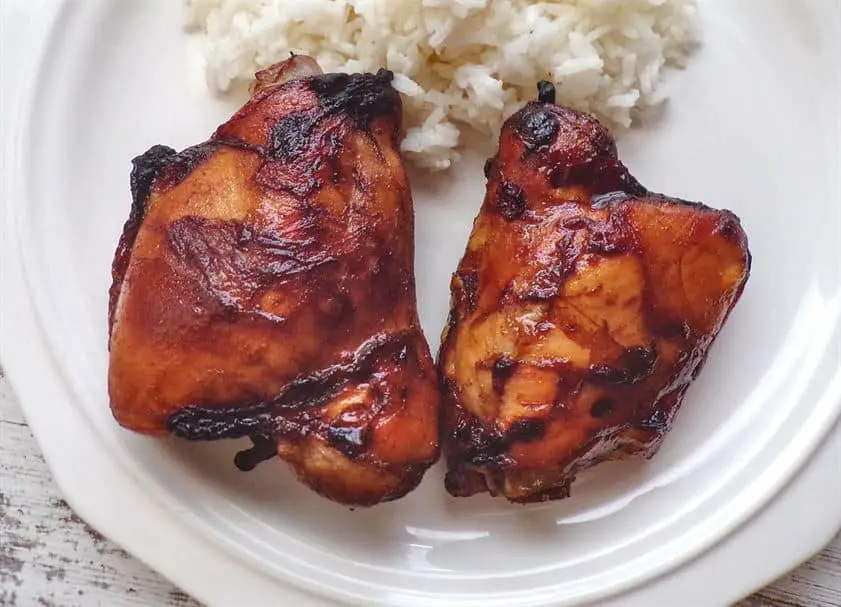 As always, please let me know how you like this recipe in the comments! I get motivated when I hear from you and am interested to learn about how you liked and served your Low Sodium Savory Honey Baked Chicken Thighs. And please leave a comment or rating and share any tips you might have.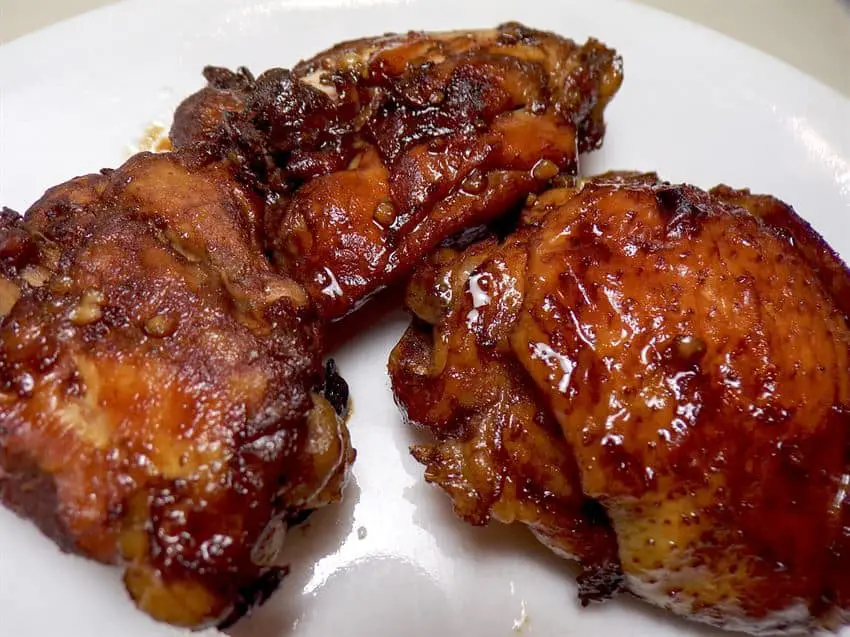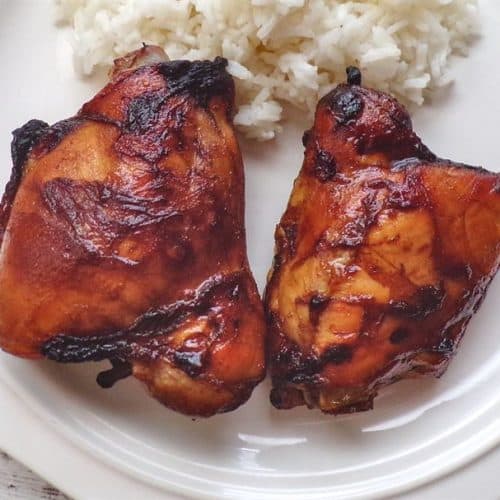 Low Sodium Savory Honey Baked Chicken Thighs
Tender and juicy Low Sodium Savory HoneyBaked Chicken Thighs is another easy, quick and cheap weeknight meal that only needs a basic marinade.
Ingredients  
6

chicken thighs skinless

about 2 1/2 lbs

1/3

cup

honey

1

Tbsp

cooking oil vegetable oil

1 1/2

Tbsp

garlic pre-minced

1 1/2

Tbsp

apple cider or rice wine vinegar

1

tsp

sesame oil

1

tsp

liquid smoke

3/4

tsp

fresh minced ginger

1

tsp

onion powder

1

tsp

pepper to season
Instructions 
In a medium size mixing bowl, combine honey, low sodium Worcestershire sauce, onion powder, cooking oil, garlic, browning sauce, liquid smoke, vinegar, sesame oil, ginger and pepper. Mix well – Warm up honey if it has crystalized.

Rinse and pat chicken dry with paper towel. Trim off any excess fat or skin from chicken. Place chicken in bowl with the marinade and coat well. Cover and marinade chicken for at least 30 minutes if your time allows (or overnight).

Preheat the oven to 425°F.

Place chicken in a single layer along with the marinade to a foil lined cast iron skillet or baking dish. Bake for 25-30 minutes, turn over twice while baking to ensure the chicken stays well coated with marinade.

You may broil for 5 minutes until golden browned, if desired, and slightly crispy on the edges. Chicken should have an internal temp of 165°F .

Garnish with green onion and / or sesame seeds. Use remaining cooked marinade for additional sauce for rice or vegetables.
Notes
I use foil lined pans because the honey when cooked may become caramelized and can be tough to remove easily.
Low Sodium

Worcestershire sauce

can be touch and go at my local grocery stores, I now order a few bottles online to bypass the aggravation.
You can also buy thighs with the skin on – it is very easy to remove.
Nutrition
https://tastyhealthyheartrecipes.com/main-dishes/entrees/low-sodium-savory-honey-baked-chicken-thighs/
Nutrition Information – The information shown is provided by an online nutrition calculator. It should not be substituted for a doctors or nutritionist's advice. Please understand that not everyone's sodium requirements are the same, therefore some recipes may be higher than you're allowed. Always consult with your doctor for your recommended daily sodium allowance.