Easy Instant Pot Low Sodium Refried Beans let you savor the classic Tex-Mex dish again with no worries about high sodium or fat. This distinctive Mexican recipe quickly comes together fast with no need for hours of soaking and simmering beans. A famous basic Mexican dish that tastes great and is a perfect complement as a side dish with rice or tacos, enchiladas, wrapped in a burrito or even as a dip.
I have been trying to include beans (in one form or another) in more of my meals as they are great sources of fiber and low calorie-fat protein. I am happy to now add refried beans to my list besides the various whole beans.
Have you ever wondered why refried beans are called refried? They're not fried twice, they are not fried at all! In Spanish they're called frijoles refritos, which translates to fried beans. Somehow in time, refritos must have been translated it incorrectly to refried! Refried beans aren't and never have been refried so, they are super easy to make and made quickly in an Instant Pot.
| | |
| --- | --- |
| Typical sodium amount per serving | 480 – 580mg |
| Sodium per serving for this recipe | 25mg |
| Calories per serving | 166 |
serving size = 1/2 cup
Sodium in refried beans
Canned refried beans vary between 480mg all the way up to 580mg of sodium per 1/2 cup. Reduced sodium refried beans aren't really all that much better at 350mg sodium per 1/2 cup.
At those levels, anything you have with the refried beans to will likely put you over your sodium level goal just by itself. My goal per meal is between 250-300mg sodium for the whole meal.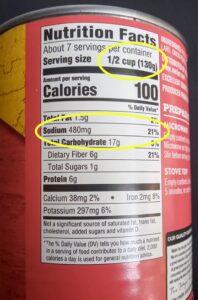 By making this low sodium refried beans recipe, you can enjoy nearly as much as you want with this low sodium recipe having just 25mg of sodium to a comparable 1/2 cup!
One of the largest sodium reduction changes for this recipe is using no salt added chicken broth at 40mg sodium per 1 cup. Most recipes use vegetable stock which has 210mg per 1 cup.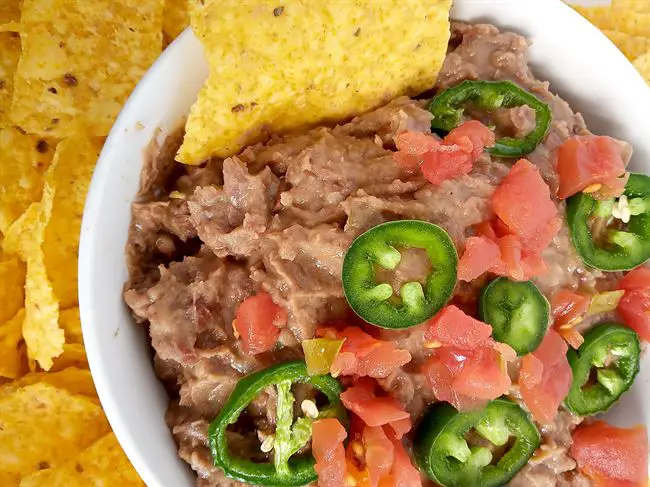 Basic ingredients needed
Nothing special is needed for this refried bean recipe, all should be staples in your pantry.
Dry pinto beans (rinsed and drained)
Olive oil
Yellow onion
Garlic – add even more if you love it!
Chicken broth unsalted
Water
Ground cumin
Chili powder
Oregano
Bay leaf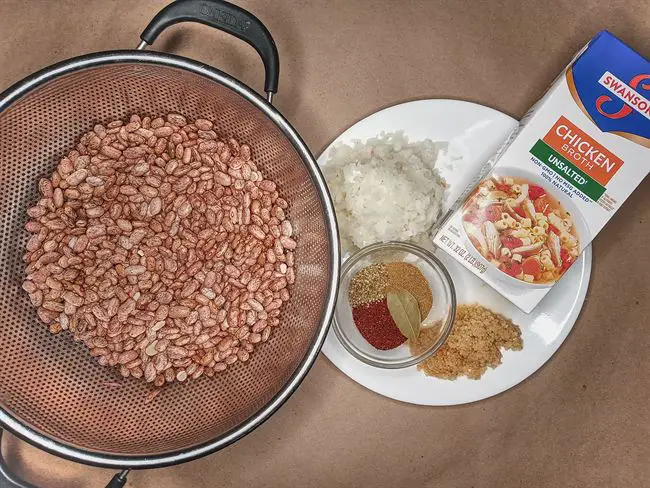 How to make Instant Pot refried beans
The Instant Pot cuts hours of time when preparing beans. It negates the need for hours of soaking and cooking time of your beans. The time savings by using the Instant Post for cooking beans is one dish where it, really truly shines.
Start by rinsing and draining your beans, clearing out any small pebbles or bad beans. Soaking your beans is not required to make them in the Instant Pot. But soaking the beans supposedly helps make them easier in the digestion process.
Either way, I usually end up soaking for about half an hour while I'm cleaning up the kitchen and getting the other ingredients together and cooking. But do at least rinse them to get any dust and bad beans out.
Cooking the beans
To get started using the Instant Pot, turn your Instant Pot to Saute mode and select high heat. When it gets HOT add the oil, and onion. Sauté for about 2 minutes or until they become translucent. Then add garlic and stir for one more minute.
When the onions and garlic are ready, add the cumin, chili powder, oregano, bay leaf, pepper, unsalted broth, and water. I use a cheap wood flat end spatula to scrape the bottom and sides to scrape any browned bits from the bottom of the inner pot.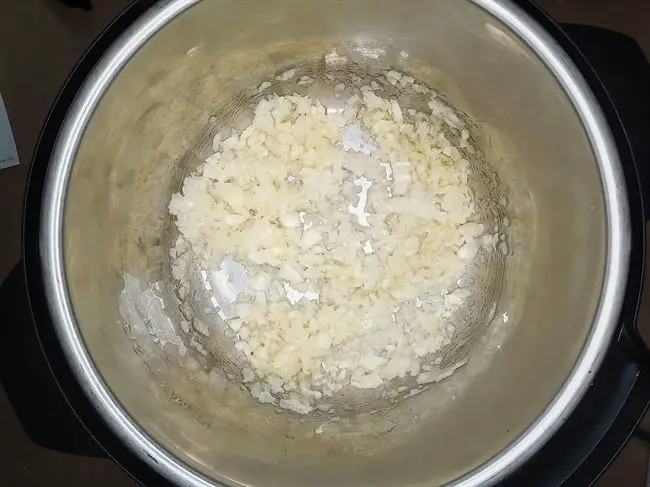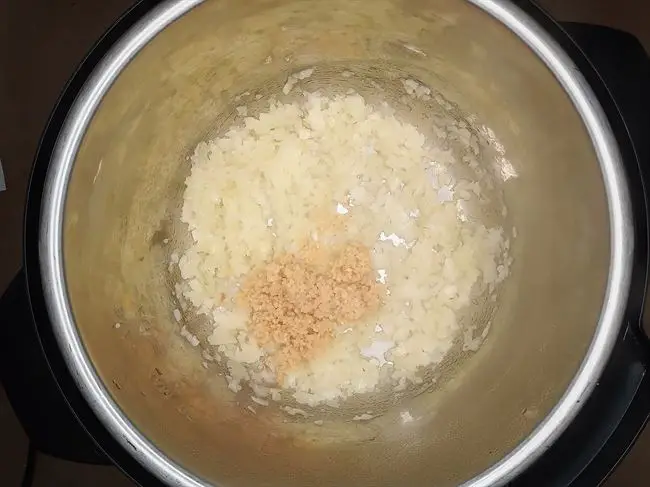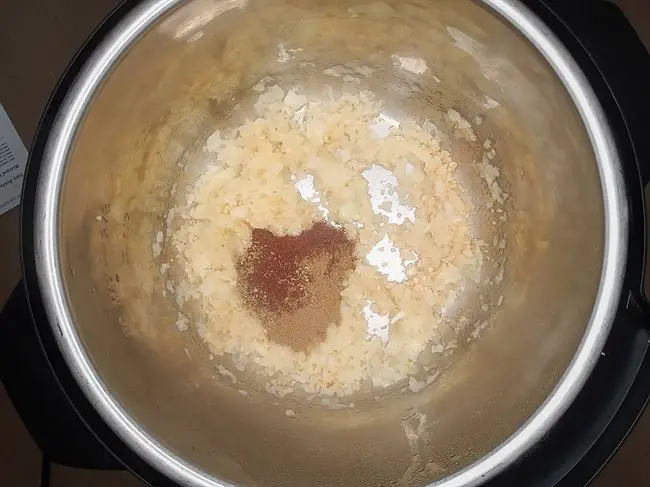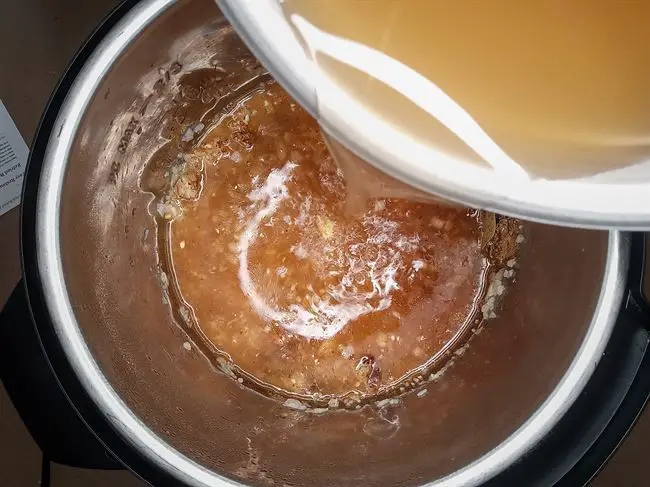 Next, add in the beans and stir to combine. Hit Cancel to stop the Sauté mode. Cover and secure the lid and set the valve to sealing. Next, select manual pressure cook and set it to 45 minutes on high pressure.
When time is expired, allow the pressure to release naturally. Once the pin drops, remove the lid and drain the beans while saving the liquid. You will need the liquid when blending to get the right consistency for the refried beans. Find and discard the bay leaf.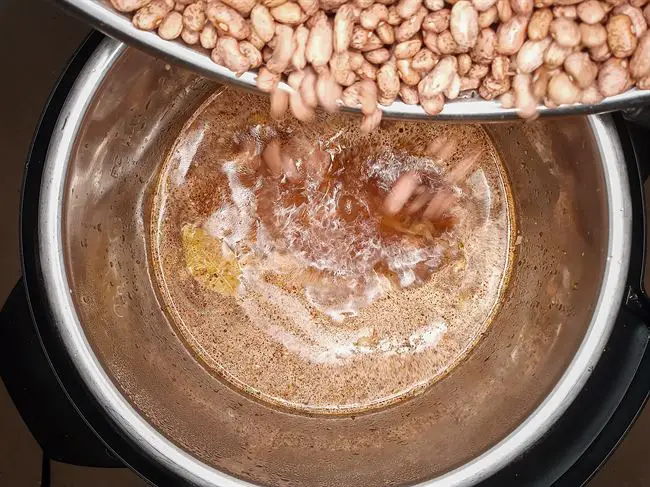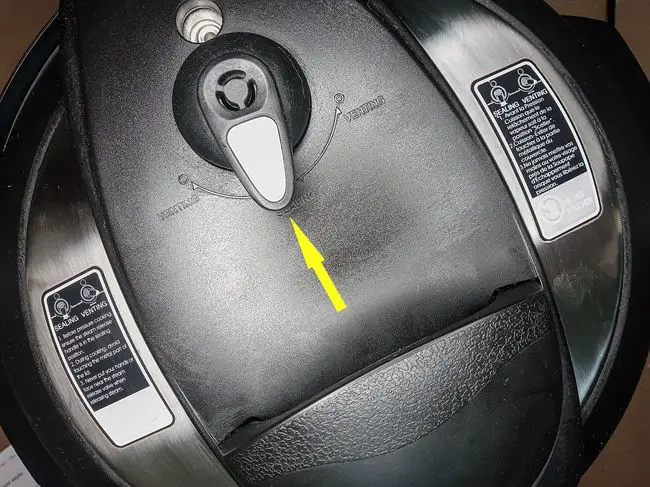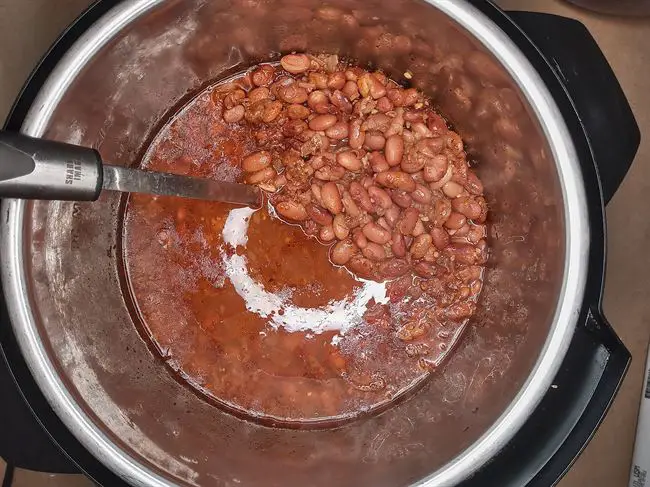 Use a potato masher or an immersion blender (check on Amazon) to mash the cooked beans until they are smooth. Start blending after adding a ½ cup of the reserved liquid. The beans should be a mostly smooth consistency but you may still want to have some lumps. You can mix the beans as much or as little as you prefer to get the consistency you like.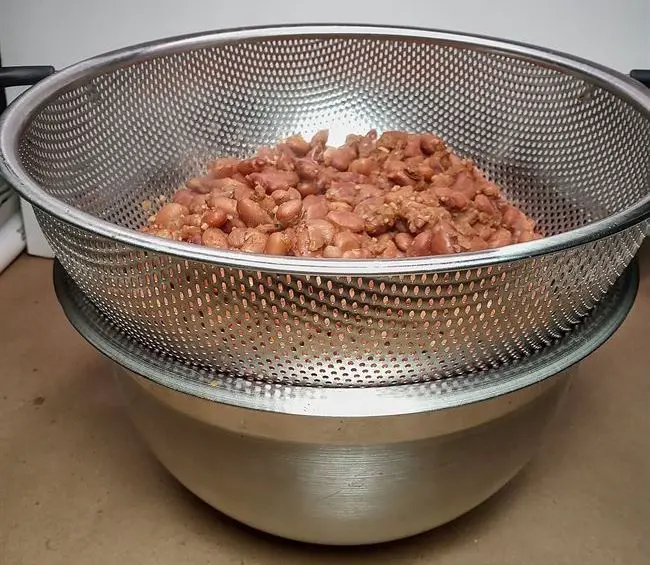 Serve with garnish or add to your favorite Mexican dish.
How to make in a crock pot
If you don't have an Instant Pot, you can follow these instructions to make the beans in a crock pot.
Start by rinsing and soaking your beans. Soaking the beans helps make them easier on the stomach digestion and reduces their cooking time some.
In a medium pan, heat up the oil, onions, and garlic. Sauté over medium heat for about 2 to 5 minutes or until the onions begin to soften and become fragrant and add to the crock pot. In the crock pot, pour 6 cups unsalted chicken broth and add the spices and beans to the pot and give them a quick stir. Cover and cook the beans on the high setting for 5-6 hours or on the low setting for 10 hours.
When the beans have cooked, turn off the heat, drain them reserving some of the water and use a potato masher or immersion blender. Add about ½ cup of the cooking water to help make the beans smooth. Mix until you reach a desired level of smoothness. You can add more water as needed.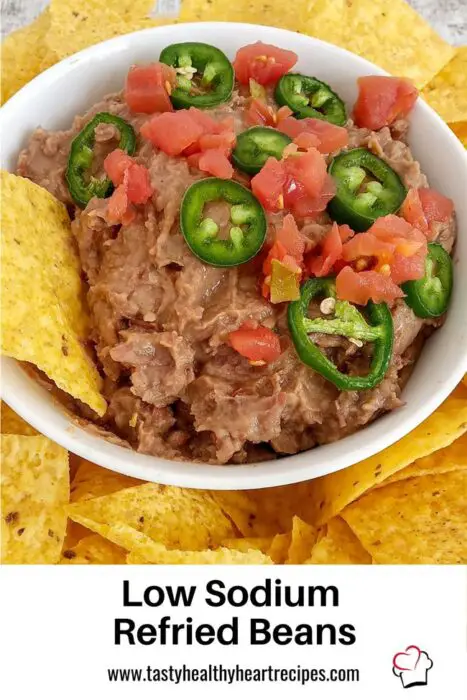 My tips for the best Instant Pot pinto beans
Use more and as much garlic as you like. I love garlic so I always use more than called for in this recipe. (Between the beans and the garlic it will keep what ails'ya away!)
Soak your beans for a half hour in cool water. You can skip this step, but it supposedly helps with digestion.
Though you can smush – mash the beans by hand using a potato masher, using an immersion blender is so much easier. I was late to the game getting a stick blender but, I am continually amazed how much I use it. See my immersion blender on Amazon.
Start the blending process with a cup of the reserved (poured off) liquid, beans are still sucking up moisture. Add more liquid a bit at a time to the beans as you blend them for your desired level of smoothness. Mix them less for more whole beans or chunkier refried beans.
Eaten just plain low sodium refried beans are great, but you can add chopped hot peppers, salsa or hot sauce to the finished beans for added kick.
Storing refried beans
Refried beans can be stored in the refrigerator after letting them cool to room temperature. Scoop them into an airtight container. Store them for up to 5 days in the refrigerator.
To reheat, add a spritz of water, place in the microwave and heat for a few minutes. Stir the beans about halfway through as they cook to get consistent heating throughout.
Can you freeze refried beans?
Yes, you can store the refried beans in an air-tight container in the freezer for up to three months. Depending on how you plan on using them, freeze in a larger container or smaller serving size portions. You don't want to thaw and refreeze them.
You will need to thaw the beans and then reheat in the microwave.
Serving suggestions
Refried beans are perfect for tacos, burritos, chalupas, a layered dip, enchiladas and Spanish rice. You can also serve it with tortilla chips or make nachos. Try adding it to my Low Sodium Southwestern Beef Tortilla Wrap.  Mmmm…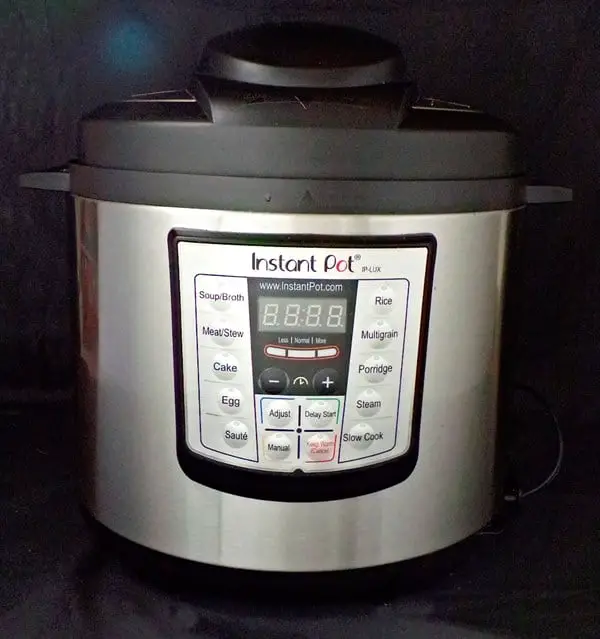 My Instant Pot
To make this awesome Instant Pot Low Sodium Meal I used my 6 quart Instant Pot LUX60V3 6 in 1. (Amazon link) The Instant Pot multi-cooker, combines 6 kitchen appliances in one; pressure cooker, slow cooker, rice cooker, sauté, steamer, and warmer. This Instant Pot is one of the very few appliances that stays on my counter since I use it several times a week. It's super easy to use and clean.
---
A few of my other great dishes to enjoy!
---
Please let me know how the Low Sodium Refried Beans turns out for you in the comments and a rating! I'm always eager for your feedback and hope my recipes turn out amazing for you. You can follow me on Facebook and Pinterest also, to hear about new recipes.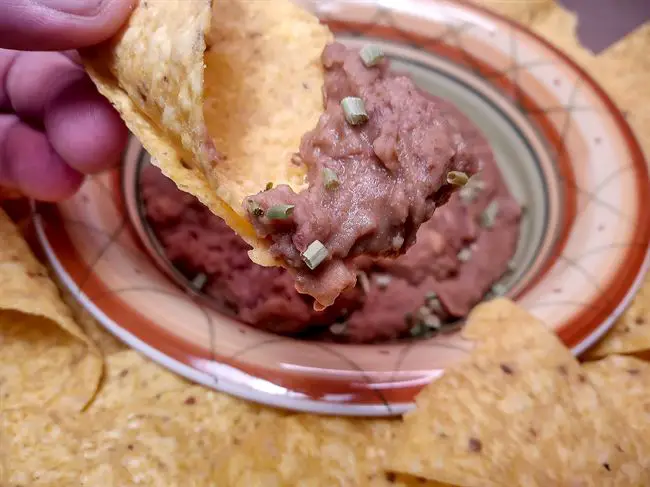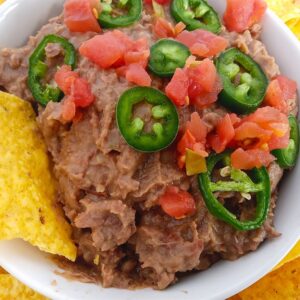 Low Sodium Refried Beans
A simple side dish for Taco Tuesday or any Tex-Mex meal, my EASY Instant Pot Low Sodium Refried Beans are the perfect recipe.
Ingredients  
1

pound

dry pinto beans rinsed and drained

about 2 ½ cups

1 1/2

Tablespoon

olive oil

1

yellow medium onion minced

1 1/2

garlic pre-minced

4

cups

unsalted chicken broth

2

cups

water

2

teaspoons

ground cumin

2

teaspoons

chili powder

1

teaspoons

oregano

1

bay leaf

1

jalapeno diced optional
Garnish with
tomatoes diced

onions or chives diced

jalapenos

also good with rice
Instructions 
Rinse the beans in water and remove any small stones, pieces of dirt, or bad beans. Soak for ½ hour if desired but not required. (supposed to help with digestion.)

Set Instant Pot to Sauté – High. When hot, add oil, onion, and sauté for 3 minutes until fragrant then add garlic and sauté for 1 more minute.

Add cumin, chili powder, oregano, bay leaf, pepper, broth and water.

Scrape to remove any browned bits from the bottom of the pot to deglaze.

Add in the beans. Stir to combine.

Cover Instant Pot and secure the lid. Make sure valve is set to sealing. Set the manual/pressure cook button to 45 minutes.

When done, allow the pressure to release naturally. (about 20 minutes)

Remove the lid and drain the beans in large colander, keeping the liquid. Remove the bay leaf.

In a mixing bowl add beans and ½ cup of the reserved liquid, using a potato masher or immersion blender to mash the cooked beans until smooth. Add more liquid as needed, finish to desired texture as you like.

Garnish with chopped onion – chives, diced tomatoes, jalapeno, cheese. Serve it with tacos, burritos, rice or enjoy it with tortilla chips
Notes
Refrigerate leftovers, after cooling, for up to 5 days, or store in the freezer for up to three months.
In a pinch you can use 2 canned unsalted pinto beans. Rinse and drain the beans. Follow the steps above but make it in a pan, with 1 cup unsalted chicken broth simmering beans for about 15 minutes. Skip adding the water and just add some unsalted broth while blending it, if needed.
Nutrition
Serving:
12
-1/2 cups
Calories:
166
kcal
Carbohydrates:
28.3
g
Protein:
9.5
g
Fat:
1.9
g
Saturated Fat:
0.3
g
Sodium:
25
mg
Fiber:
6.8
g
Sugar:
1.7
g
Calcium:
64
mg
Iron:
3
mg
https://tastyhealthyheartrecipes.com/a-la-cart/appetizers-sides-snacks/low-sodium-refried-beans/
Nutrition Information – The information shown is provided by an online nutrition calculator. It should not be substituted for a doctors or nutritionist's advice. Please understand that not everyone's sodium requirements are the same, therefore some recipes may be higher than you're allowed. Always consult with your doctor for your recommended daily sodium allowance.