A Low Sodium Mac and Cheese? I really struggled to officially call it that as it is still much higher in sodium than I would like for a side dish. But I think that this is about the lowest Mac and cheese you can make and still be the real thing while still being true to its name. So let's just call it low sodium compared to any other Mac and cheeses.
| | |
| --- | --- |
| Typical sodium amount per serving | 600+ mg |
| Sodium per serving for this recipe | 152 mg |
| Calories per serving | 294 |
1 cup serving
A Low Sodium Mac and Cheese?
Mac and Cheese from a box seems to come in two levels of sodium per cup, 570mg for the regular or 910mg for the deluxe version. Of course, neither one having any real cheese, just what is that really?
For most regular recipes, sodium levels vary widely from just under 600mg up to 1000mg for just one cup. Most of the sodium amount depends on how much and the type of cheese used.
This Low Sodium Mac and Cheese is right at the bleeding edge of what I would consider acceptable for my low sodium diet. This recipe comes in at 152mg of sodium per one cup. Still way lower than the boxed version or most recipes but, much higher than I like to have for a side dish. Thankfully it is not a side dish I eat often to really worry about.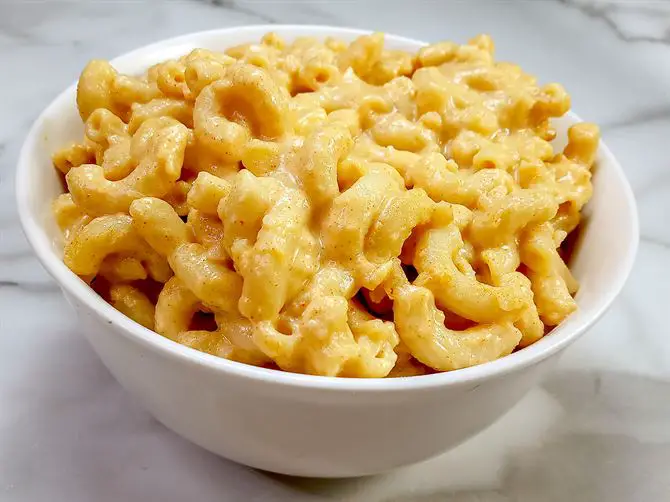 Is it really low sodium?
We will call it low sodium for a once in a while, comparative sense. While it may be lower sodium for a Mac and cheese, you will more than likely still be pairing it with another main meal entree. In the end that could potentially put you over your sodium per meal goal.
Unfortunately the main ingredient besides the pasta is cheese. And most cheese is just not our friend in a low sodium diet world.
Mac and cheese has never been a side dish I've eaten very often. I would mainly have it when at a cookout or around a holiday. But when I do, I like it a little saucier rather than just a clump of dry, sticky cheese covered noodles. Either way, it is probably not a side dish that you really should be eating every day, but it does hit the spot once in a while.
I had to make and eat four different versions of Mac and cheese to achieve what I thought was a decent mix between low sodium and for it to still have a cheesy taste. I am officially Mac and cheesed out for a while.
So it was a push-pull process getting a moderate amount of cheese and balancing that with a dish that you really don't eat every day but would still taste good. I had to reduce the cheese to the bare minimum but still taste like Mac and cheese. Then I cooked the pasta in unsalted chicken broth and milk in a low boil, reducing the amount of cheese and calories to give it more flavor and extra creaminess.
 Also, fortunately, for us real Mac and cheese is not made up of a day-glow orange "stuff" from a box. How can that even be real cheese?  Some of the best Mac and cheese I've ever had has a distinct white color to it. This is good actually as lower sodium cheeses have a white color and two of the best fit into this category, Mascarpone "cream" cheese and shredded Swiss Gruyere cheese. Both melt very nicely and I will detail below.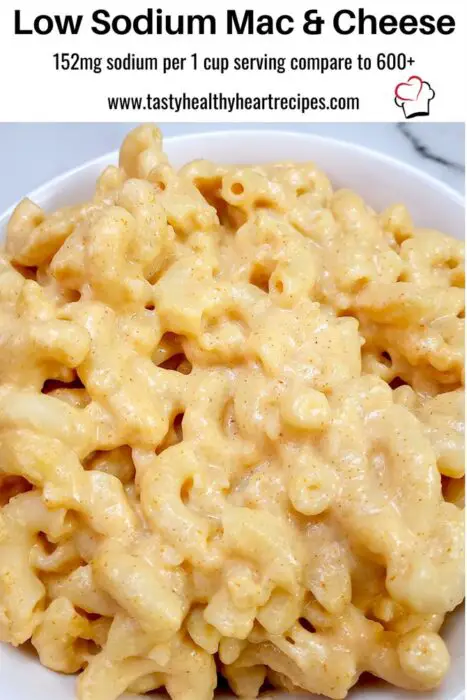 Best Cheeses to Use
Cheese based recipes can be some of the most difficult meals to make low sodium.  There are very few alternatives and is generally not something you can make at home. Plus, it seems that salt is just one of those things that make cheese well, cheese.
I had to find a cheese that would melt well while providing that velvety gooey goodness, but not be out of this world in sodium content. They are both white cheeses, but at the end of the recipe still yield a nice yellowish look that I believe Mac and cheese should be. Not that hideous day glow orange color from a box.
I am using 2 kinds of the lowest sodium cheeses that I can find locally.  Mascarpone "cream" cheese and a Swiss – Gruyere shredded cheese. Even with these two cheeses, I used the least amount possible that still makes it seem cheesy.
Mascarpone cheese has only 5mg of sodium per tablespoon and adds only 8mg of sodium per serving for this recipe. Mascarpone really fills out a lot of the needed smooth, creamy, cheese taste for very little sodium. I use it in many recipes now. You could add a little more for a creamier Mac and Cheese but mascarpone tends to be high in fat too.  You can see my Mascarpone – cream cheese alternative review here.
Swiss – Gruyere shredded cheese is one of the lowest sodium shredded cheeses that I can find without too much effort.  It has only 55mg sodium per ¼ cup, but does contribute 88mg per serving for this recipe. The best place to find it is at Trader Joe's or Aldi.
The next best shredded cheese to use is just plain Swiss that I can easily get at Kroger that is 85mg of sodium per ¼ cup. It does contribute 48mg of sodium per serving, more compared to above, so it's worth getting the Swiss – Gruyere cheese if possible.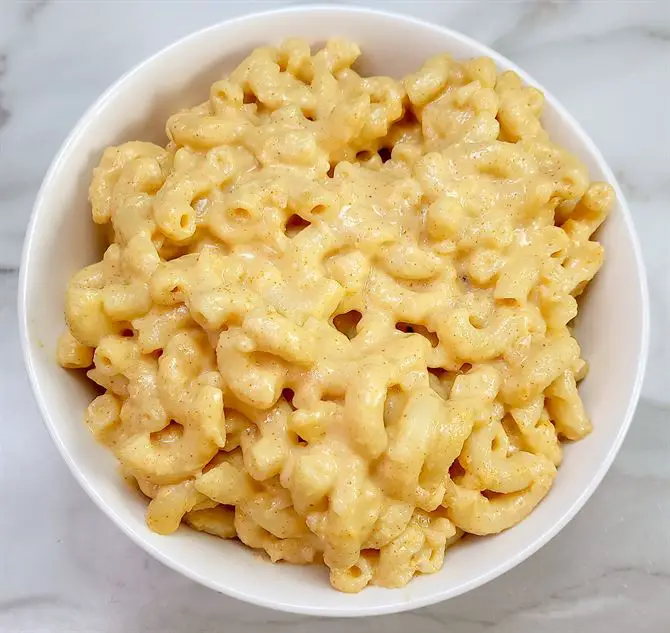 Pasta Options
Why elbow macaroni of course, duh! But if need be, any small pasta such as shells, farfalle (bow tie), rigatoni, rotini etc. can be used in the same amount.
Tips for Low Sodium Mac and Cheese
Shredded Swiss cheese has 85mg per 1/4 cup as compared to Trader Joe's Swiss – Gruyere cheese 55mg per ¼ cup. It will add 48mg more sodium per serving. Do try to get the lower sodium cheese as there is little to no difference in taste.  
It really stinks that a recipe as quick and easy as Low Sodium Mac & Cheese couldn't also be totally healthy and great for us. But when you do make it, get all your ingredients measured out and ready to go. Once it starts cooking it all needs to come together quickly. Have some extra milk ready to go to if it needs it.
Mix pasta with liquid at a low boil. You want it barely boiling, the milk in the mixture will thank you as it can have a tendency to curdle in high heat, so heat and boil gently.
Stir pasta often while cooking as it really tends to stick to the bottom if you don't stir. Especially towards the end as the liquid is absorbed by the macaroni.
Stir in cheese in small portions so it melts evenly with the heat on very low or off.
If you want your pasta on a little bit creamier side or it seems dry, add 1/4 cup of milk at a time.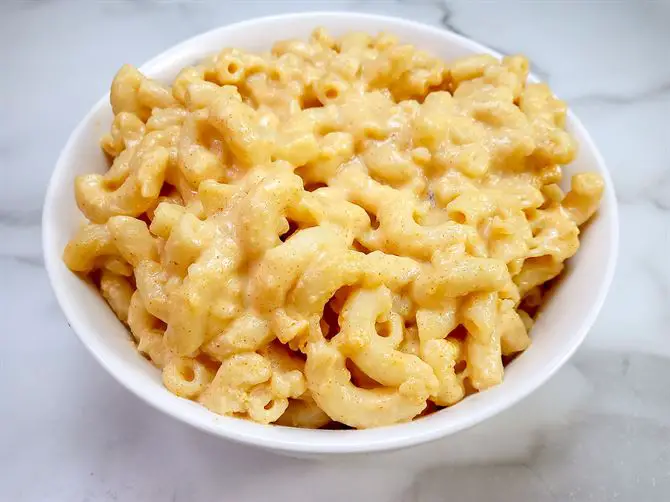 Serving
Mac and cheese will be best when served immediately. That's when the sauce will be the most creamy and macaroni still has an al dente bite to it. The pasta will continue to absorb any liquid quickly and can make Mac and cheese dry and sticky. This is why I am not a fan of baked Mac and cheese, as it seems to always dry out even more.
If you really want a baked on topping
Though I am not a fan of baked Mac and cheese if you really want a topping and for it to be done right it will have to go in the oven. Pour Mac and Cheese mix into an appropriately sized oven safe dish. Sprinkle Matzo meal and any additional spices as desired over top, then a heavy spray of olive oil cooking spray.
Bake in a pre-heated 425 degree oven for about 15 minutes until the topping just browns. Then remove and let cool for 10 to 15 minutes.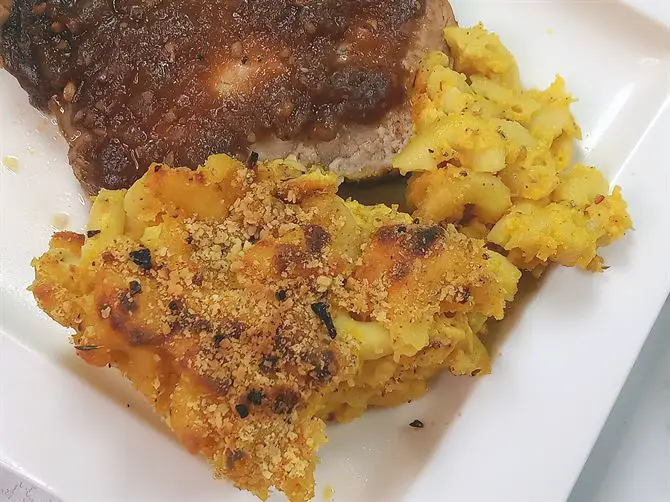 Reheating your low sodium mac and cheese
This dish is easily reheated in the microwave in about a minute and a half. If it seems dry from the pasta absorbing every last bit of moisture, add a splash of milk and mix halfway through heating.
A few of my other great side dishes to enjoy!
---
As always, please let me know how you like this recipe in the comments! I get motivated when I hear from you and interested to learn about how you liked and served your Low Sodium Mac and Cheese. So please, leave a comment and rating or share any tips you might have. You can follow me on Facebook and Pinterest also, for new recipes.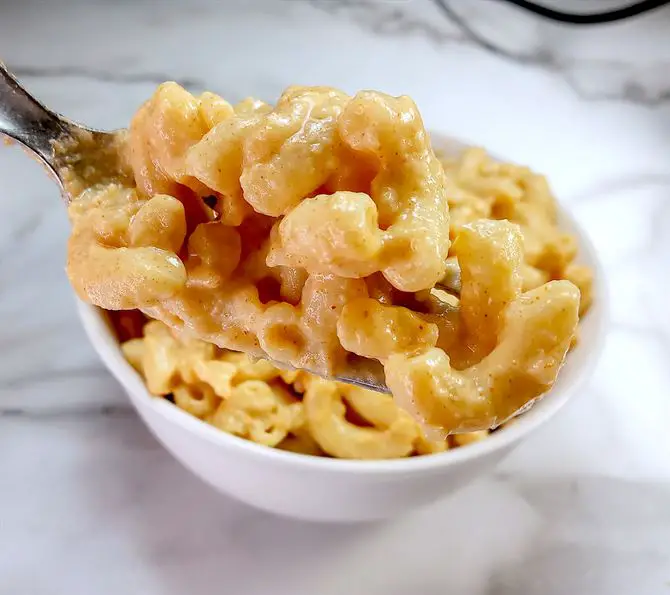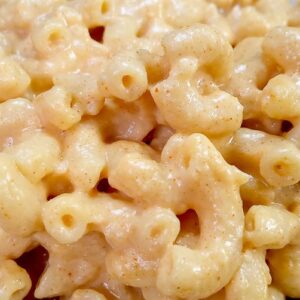 Low Sodium Mac & Cheese
Low Sodium Mac and Cheese in one pot in about 15 minutes. Creamy, cheesy, flavorful and as low sodium as it gets. And no weird day glow orange ingredients.
Ingredients  
8

oz.

elbow macaroni uncooked

3

cups

chicken broth unsalted

1 1/2

cup

milk

2

tbsp

butter unsalted

2

Tbsp

onion flakes dried

2

tsp

smokey paprika

1 1/2

tsp

garlic powder

1

tsp

ground yellow mustard

Ground black pepper to taste

6

oz.

Swiss+ Gruyere cheese shredded

about two cups

4

oz.

mascarpone "cream" cheese
Instructions 
In a medium soup pot, add unsalted chicken broth, milk, unsalted butter, onion flakes, paprika, garlic powder, mustard, ground black pepper and bring to a low boil.

Add elbow macaroni and cook for 8-10 minutes, stirring every few minutes to prevent clumping and sticking on bottom. Cook until al dente or your desired firmness.

Turn heat to very low. Add Mascarpone and Swiss – Gruyere cheese in small portions and stir between each until melted. Turn off heat. For an even creamier version add more milk and stir.

Serve immediately as mac and cheese tastes best when first made.

Store: Refrigerate leftovers for up to 1-2 days. Reheat in the microwave for about a minute and a half. Add a splash of milk half way thru and stir.
Nutrition
Serving:
1
cup
Calories:
288
kcal
Carbohydrates:
22.1
g
Protein:
10.5
g
Fat:
16.4
g
Cholesterol:
48
mg
Sodium:
152
mg
Fiber:
1.3
g
Sugar:
5.2
g
https://tastyhealthyheartrecipes.com/a-la-cart/appetizers-sides-snacks/low-sodium-mac-and-cheese/
Nutrition Information – The information shown is provided by an online nutrition calculator. It should not be substituted for a doctors or nutritionist's advice. Please understand that not everyone's sodium requirements are the same, therefore some recipes may be higher than you're allowed. Always consult with your doctor for your recommended daily sodium allowance.