You'll love these quick Low Sodium "sun-dried" Roasted Tomatoes with garlic and Italian-style herbs. You can even experiment with your own favorite herbs such as thyme, rosemary, etc. The tomatoes are roasted in a high-heat oven until mostly dry and tender, developing an intense, concentrated flavor.
Many of my recipes call for tomatoes and roasting them always makes the dish taste extra special and flavorful. Plus, the types of dishes to use them in are nearly endless or as simple as an appetizer of tomatoes on toast points with olive oil.
| | |
| --- | --- |
| Typical sodium amount per serving | 30mg |
| Sodium per serving for this recipe | 8mg |
| Calories per serving | 50 |
6 servings = 2-3 X larger than from a jar.
In the summer there are few things as good as a fresh ripe tomato. I like to slice a few tomatoes and sprinkle with a bit of garlic powder, Italian herb and a drizzle with extra virgin olive oil or balsamic glaze. So good!
Even without salt, low sodium "sun-dried" roasted tomatoes have an intense, sweet flavor, and are a great way to get your tomato fix any time of the year even when they may not be as fresh.
What Are Sun-Dried Tomatoes?
Sun-dried tomatoes are tomatoes that have lost 80-90+% of their original weight through the process of drying in the sun. Roasted tomatoes are basically the same process only done much quicker. 
Tomatoes lose or evaporate most of their water but retain their sugar, and nutrients along with the delicious dried tomato flesh that has an incredible and intense, concentrated tomato flavor. They're perfect for use in dishes where you really want tomato flavor to pop!
Why make your own low sodium "sun-dried" roasted tomatoes?
The number one reason obviously, is you can save a significant amount of sodium that is added to the entire dish. While not outrageously high. it all adds up plus they are so easy to do.
Oven-roasted tomatoes really concentrate and create an intense flavor that can really enhance any dish using tomatoes. And I am always looking to enhance flavor in our low sodium recipes.
It really adds flavor to your store-bought winter tomatoes or you can easily freeze your overabundance of summer garden tomatoes for the winter.
I have also read that research shows that cooking tomatoes increase their health benefits. Heat adds to the nutritional value of tomatoes as it increases the availability of lycopene, a main antioxidant in tomatoes. I suppose every little bit helps.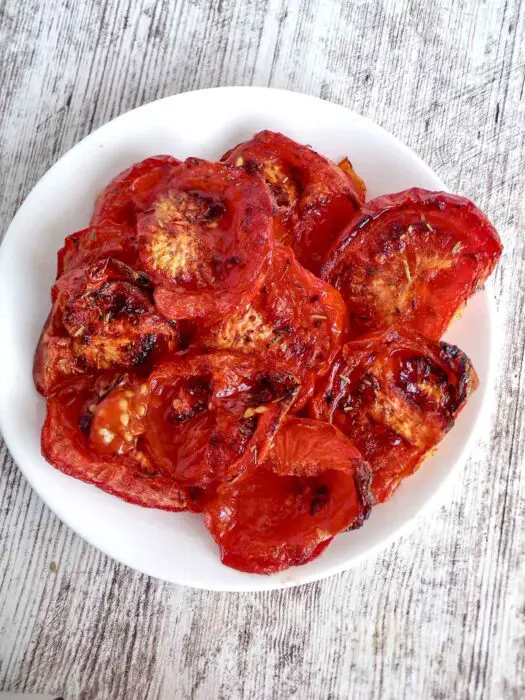 Add some additional flavor to "sun-dried" oven roasted tomatoes?
I generally use garlic powder and a no-salt Italian herb, but you can also sprinkle your tomatoes with any dried herbs or dried spices of your choice. Experiment with one of your batches trying different spices on a couple of tomatoes each in a batch to find what you like.
Why quickly roast tomatoes?
Some of the purists follow a low-and-slow process for roasting tomatoes. It can take a whole day to dry the tomatoes into a more chewy tomato that can almost taste like candy. 
Personally, I don't have time for that and I am not striving for a super sweet tomato. I want to get 80-90% there with a tomato that has a smokey, deeper flavor as I will be primarily adding to enhance another dish. Plus, when I use it as an appetizer, I like a little moisture content so it is not as chewy as a fully dried tomato, but has lower sodium and still has lots of flavor.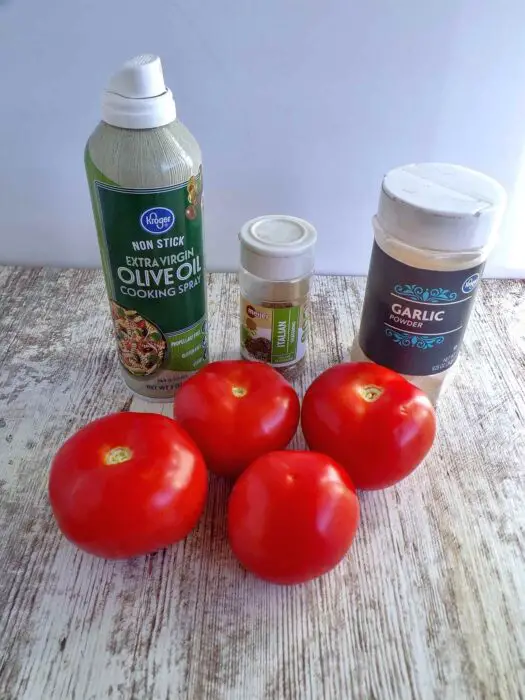 How to make fast roasted tomatoes in the oven
Set your oven on high at 450 degrees F.
Depending on the size, cut the tomatoes in halves, quarters, or 3/8"+ slices. I used tomatoes on the vine here, so I just cut them into thick slices.
You can toss them in a large bowl with a good drizzle of extra virgin olive oil. For less mess, I just spray them with olive oil cooking spray after placing them on the baking sheet and then season by hand. Add your favorite herbs and black pepper. I personally like garlic powder, no salt added Italian herb mix and black pepper.
Place the tomatoes skin side down if sliced in half or just place slices on a baking sheet or wire baking rack on a sheet. I prefer using a rack to dissipate the moisture more rather than sitting in it.
Roast for 30 minutes until the tomatoes are tender and done to your liking.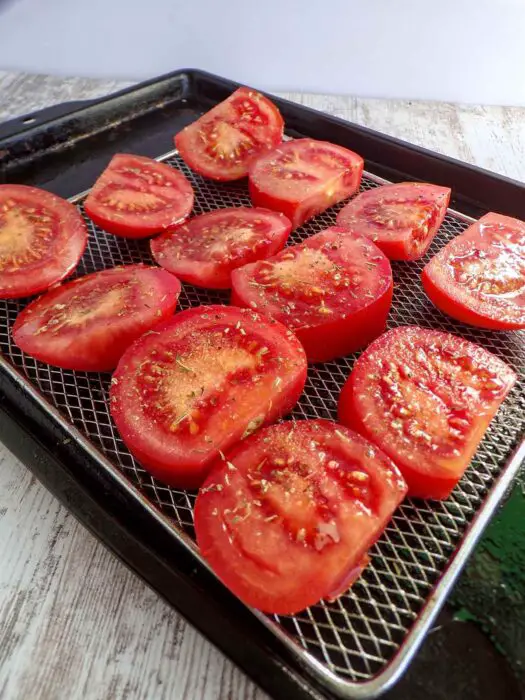 How to air fry roasted tomatoes
I like using the air fryer for smaller batches of tomatoes, typically for one dish. Prepare the tomatoes in the same manner as above and place tomatoes skin side down on pan or open holed rack.
Some air fryers have a dehydrating function as mine does. It "cooks" the tomatoes at 130° F for 8 hours. I don't know about you, but I don't have that amount of time for simple tomatoes.
So I set mine to bake at 390° F for 25 minutes. Of course, time will vary according to the size of the slices so keep an eye on them your first time. Carefully remove the roasted tomatoes from the air fryer and enjoy.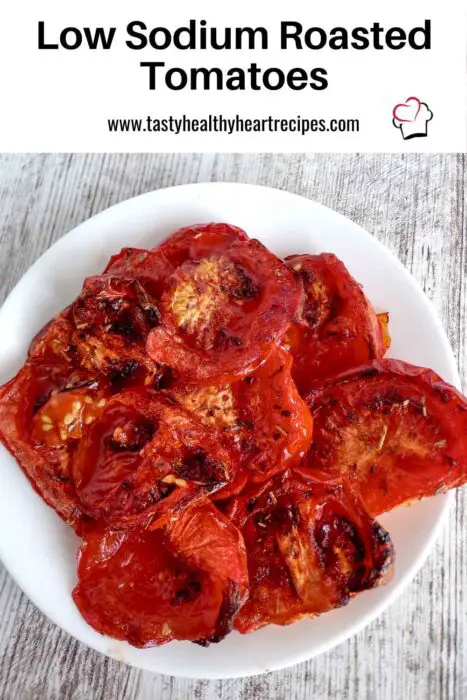 What kind of tomatoes are best for roasting?
Just about any type of tomatoes can be roasted as they will all benefit from the enhanced flavor.
The main thing is to slice uniformly sized tomatoes in your roasting batch so that they dry more likely at the same rate and uniform time.  Otherwise, you can use any variety of tomato and any size of tomato you like.
The other thing to remember is to try to slice so the skin side is always down. For smaller tomatoes, you may simply slice them in halves or quarters. If using a larger tomato, slice the tomato in thick slices as thin slices really tend to dry out more quickly. They may not be as flavorful either as the concentrated flavor is escaping with any dripping moisture.
Smaller tomatoes will dry more quickly, larger tomatoes will take longer. You may have to check the tomatoes halfway and adjust the time so they don't burn.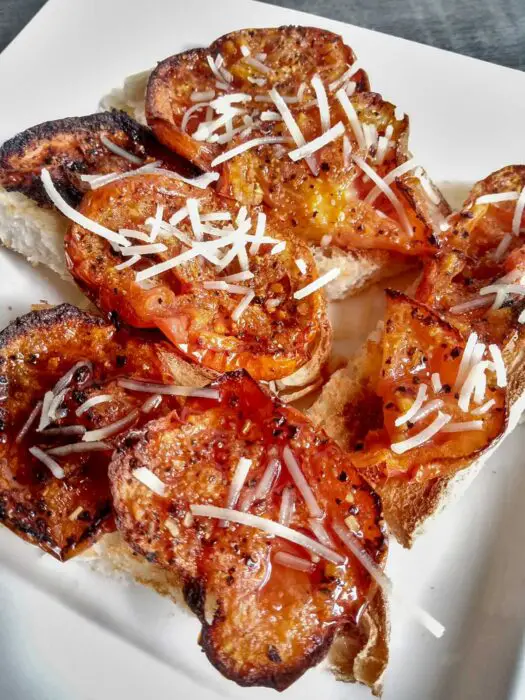 Cooking Tips
Do not use aluminum baking pans. It is highly reactive with acidic foods such as tomatoes, vinegar and citrus. Cooking acidic foods in aluminum can alter the food's flavor and ultimately ruin the pan.
You can substitute other spices for any of the listed spices like rosemary, no salt Za'atar spice, Italian seasoning blends or thyme. Roast a batch and add different spice combinations to two or three slices to find your favorite.
Keep tomato slices the same size so they all cook evenly at the same time.
A coating or spray of olive oil adds taste and keeps slices from burning and sticking to the pan or baking rack.
If you cut slices with no skin on the top or bottom, it is best to slice them thicker. Try about 3/8" or slightly larger, they lose most of their moisture and will be very thin otherwise.
How to store roasted tomatoes
Typically I like making roasted tomatoes when needed for a recipe or appetizers. They are so good fresh out of the oven. But, when my neighbors are overly generous at the end of the season, I will make and freeze some to add to recipes where they don't necessarily need to be fresh.
If using as an appetizer, I think they are best when right out of the oven. They just seem to hold together and have a better bite.
But, if you're using them soon in a recipe, store them in the fridge in an air-tight container for 3 to 5 days. You may also portion size them and freeze tomatoes into small freezer bags for up to 4 months.
Like I said, If you have a ton of garden tomatoes or a generous neighbor as I do, roasting several batches to freeze to use during the winter months may be a great option! You could even pack them in oil but that is beyond my current scope.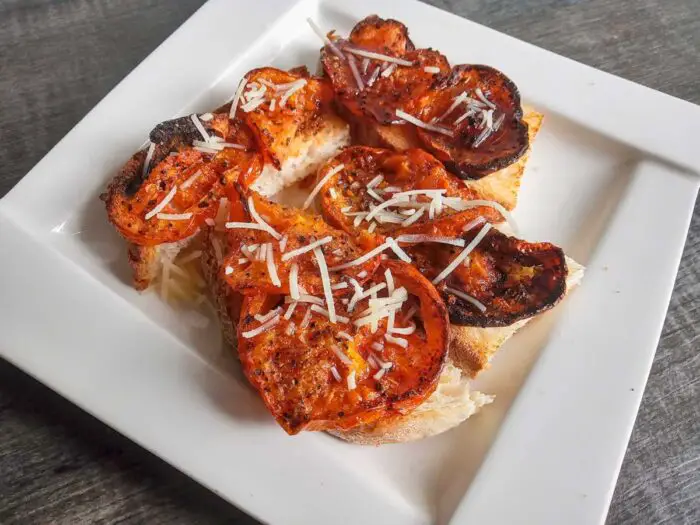 How to use roasted tomatoes
The possibilities are almost without end! I love them served hot out of the oven on toast points as an appetizer with a drizzle of olive oil, balsamic glaze or Low Sodium Pesto. You could toss them in a pasta dish, tacos, any salad or a hearty stew.
I just made this Low Sodium Creamy Cajun Chicken with them and it was spectacular. I am definitely going to use some in my Low Sodium Salsa when the season starts to draw to a close.
You can use them in just about any recipe that calls for tomatoes, so let your imagination go wild.
---
Try these tomatoes in a few of my other great dishes!
---
Recommended Equipment & Ingredients For This Recipe.
See my whole Recommended Equipment & Ingredients shop page here
This section contains affiliate links to products I use and recommend.
Please let me know how this Low Sodium "sun-dried" Roasted Tomatoes turns out for you by commenting and a rating! I'm always eager for your feedback and hope my recipes turn out amazing for you. You can follow me on Facebook and Pinterest also, to hear about new recipes.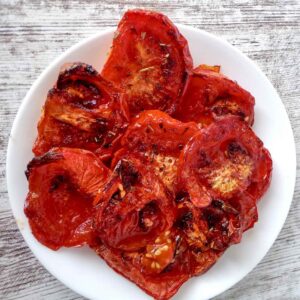 Low Sodium Oven Roasted "Sun-Dried" Tomatoes
Low Sodium Roasted Tomatoes "sun-dried" alternative, olive oil, garlic, your choice of spices and herbs roasted until  tender with intense, concentrated flavor.
Ingredients  
2

lb

Tomatoes see notes for slicing

2

tsp

garlic powder

2

tsp

Italian herbs with no salt

black pepper to taste

Extra virgin olive oil

I just use olive oil cooking spray
Instructions 
Preheat the oven to 450 degrees F.

Slice tomatoes into even sizes to evenly cook.

Transfer the tomatoes to a baking sheet or baking rack on sheet with a rim. Spread the tomatoes in one single layer, flesh side down.

Roast in your heated oven for 30 to 35 minutes or until the tomatoes have dried and crisped to your desired doneness.

Remove from heat. If you are planning to serve it soon, feel free to garnish with more spices, balalmic glaze or olive oil and a small sprinkle of feta cheese or shredded Parmesan.
Notes
The main thing is to slice uniformly sized tomatoes in your roasting batch so that they dry more likely at the same rate and uniform time. Otherwise, you can use any variety of tomato and any size of tomato you like.
The other thing to remember is to try to slice so the skin side is always down. For smaller tomatoes you may simply slice in half or quarters. If using a larger tomato, slice the tomato into thick slices as thin slices really tend to dry out more quickly.
Make extra to store! You can easily double this recipe if you plan on using the roasted tomatoes for future recipes.
How to store. If using soon, store in fridge in an air tight container for 3 to 5 days. You may also portion size them and freeze tomatoes in a small freezer bag for up to 4 months!
Nutrition
Serving:
1
g
Calories:
50
kcal
Carbohydrates:
6.6
g
Protein:
1.5
g
Fat:
2.6
g
Saturated Fat:
0.4
g
Sodium:
8
mg
Fiber:
1.9
g
Sugar:
4.2
g
https://tastyhealthyheartrecipes.com/a-la-cart/appetizers-sides-snacks/low-sodium-sun-dried-roasted-tomatoes/
Nutrition Information – The information shown is provided by an online nutrition calculator. It should not be substituted for a doctors or nutritionist's advice. Please understand that not everyone's sodium requirements are the same, therefore some recipes may be higher than you're allowed. Always consult with your doctor for your recommended daily sodium allowance.