I had two cracked taco shells left for Taco Tuesday, it was sleeting, and I was not going to the grocery store. So Low Sodium Taco Spaghetti to the rescue! This spicy meal can be done any weeknight in just a little over 30 minutes in one pot or skillet.
With the addition of mascarpone cheese as a cream cheese substitute you won't miss any cheesy flavor in the meal if you desire a creamier result. You could even sprinkle on a little shredded mozzarella at the end for just a minimal addition of sodium.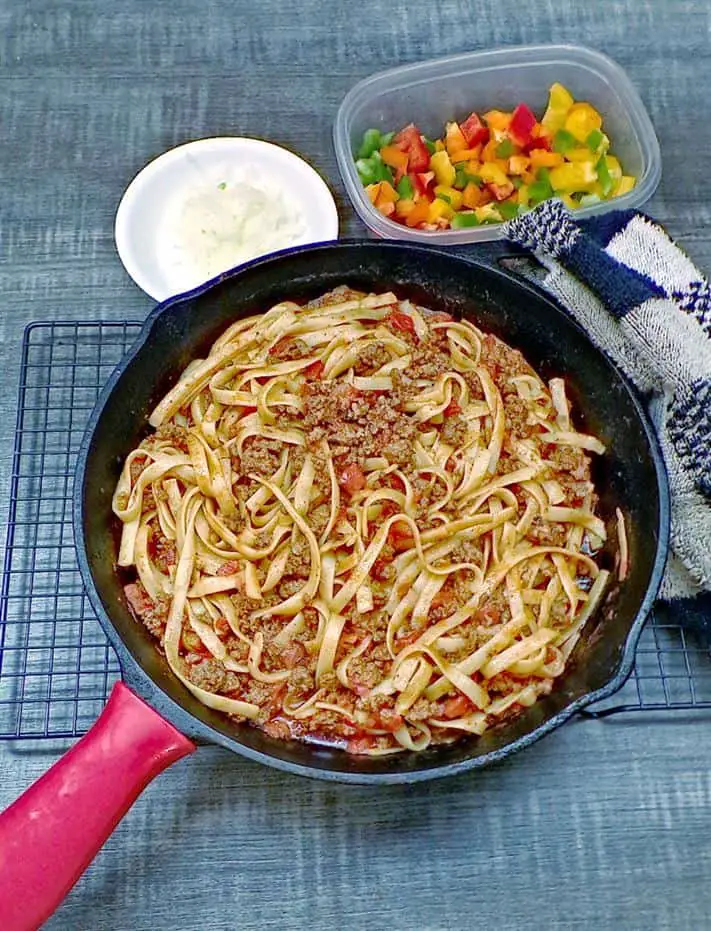 Sodium in Taco Spaghetti
| | |
| --- | --- |
| Typical sodium amount per serving | 950 mg |
| Sodium per serving for this recipe | 80 mg |
| Calories per serving | 247 |
Most recipes are nearly 950 mg of sodium per serving, once again way too much for our low sodium diets. This is due to the fact of using a store bought taco packet and regular canned products plus adding salt on top of all that. Come on!
My recipe has only 80 mg of sodium per serving! Technically this recipe should make about 5 servings but when I get to chowing down it comes out to about 4. And it's still only 100 mg of sodium per serving.
Depending on your sodium allowance you could add a sprinkle of shredded cheese as desired. I did not include in nutrition value as that is a personal preference of how much you use.
Enjoy with a nice side salad and your Taco Tuesdays are taken care of with Low Sodium Taco Spaghetti. With sodium this low, go ahead and throw in a touch of sour cream on the side!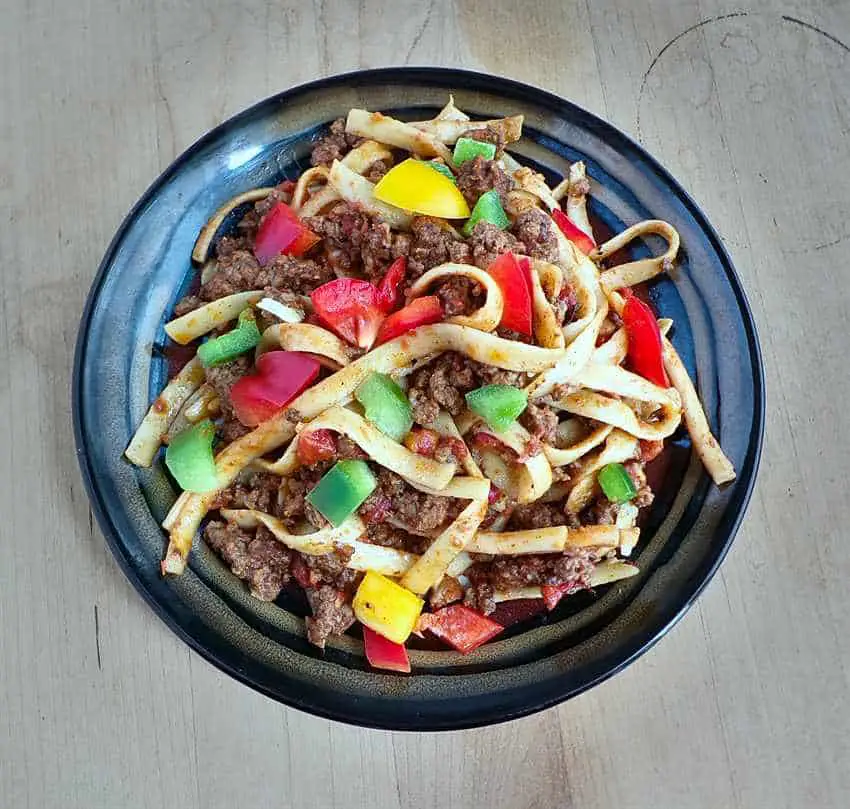 TOPPINGS AND MIXINGS FOR YOUR LOW SODIUM TACO SPAGHETTI
If you want to have a more cheesy and creamier final dish, add and stir in mascarpone cheese during the last couple minutes of cooking. The amount is up to your taste, but at only 10mg of sodium per ounces you can put the whole 8 ounce in and only add 16 mg sodium per serving.
I like adding some green, yellow, orange and red bell peppers chunks along with the onion on top after putting on the plate. I find the crunchy, zesty flavor more invigorating than it getting mushy and dull when cooked. Kinda like a real handmade taco.
COOKING TIP FOR EASY TACO SPAGHETTI
When adding the spaghetti, scootch the meat over to the side so the noodles can be placed on the bottom. I usually break them in half to fit better in the pan. Then push the meat back and add the rest of the ingredients. This lets the noodles absorb the liquid better than just sitting on top. After they have softened a bit, then go ahead and give it a stir.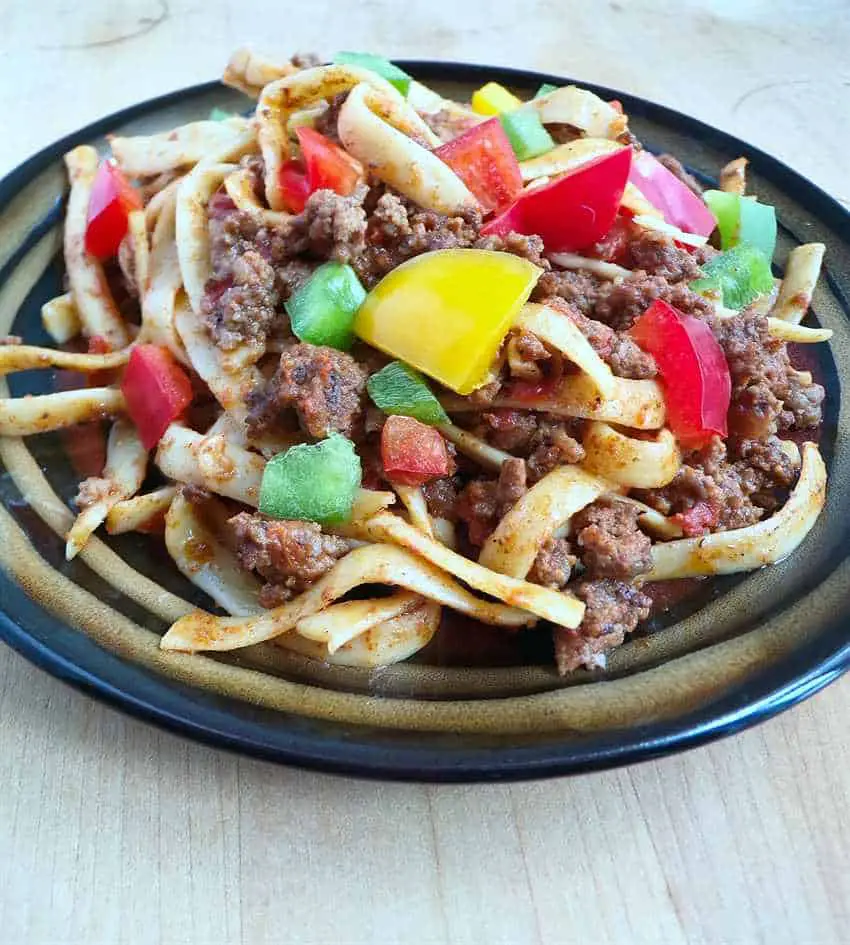 A few other recipes you may enjoy!
As always, please let me know how you like this recipe in the comments! I get motivated when I hear from you and am interested to learn about how you liked and served your Low Sodium Taco Spaghetti. And please leave a comment or rating and share any tips you might have.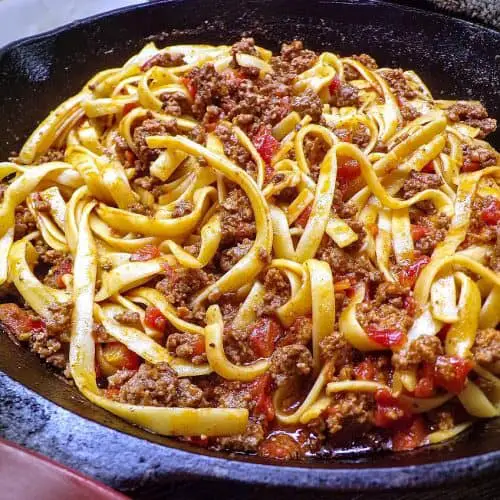 Low Sodium Taco Spaghetti
Don't miss Taco Tuesday with this spicy twist of Low Sodium Taco Spaghetti. Just 80 mg of sodium an easily made meal in a few minutes and just one pot.
Ingredients  
1

tablespoon

olive oil

1

pound

ground beef

1

10-ounce can Ro*Tel® Mild Diced Tomatoes & Green Chilies no salt added

2

tablespoon

tomato paste no salt added

8

ounces

spaghetti

2 ½

cup

beef broth no salt added

1/2

Tbsp

chili powder

1/2

Tbsp

chipotle chili powder

1/2

Tbsp

cumin

1/4

Tbsp

smoked paprika

1/4

Tbsp

cornstarch

1/4

tsp

garlic powder

1/4

tsp

dried onion flakes

1/4

tsp

oregano

1/4

tsp

black pepper

1/2

cup

shredded cheddar cheese or 1/2 cup shredded mozzarella cheese

optional
Instructions 
Heat olive oil in a large skillet or Dutch oven over medium high heat. Add ground beef and cook until beef has browned, about 5-8 minutes, be sure to crumble the beef as it cooks. Drain excess fat and stir taco seasoning into the meat.

While meat is cooking, measure spices into a bowl and whisk to combine and remove any lumps.

Stir in Ro*Tel®, tomato paste, spaghetti and 2 1/2 cups no sal added beef broth. Bring to a boil; cover, reduce heat and simmer until pasta is cooked through, about 13-16 minutes.

Serve immediately, garnish with green – red pepper, onion, shredded cheese if desired.
Nutrition
https://tastyhealthyheartrecipes.com/main-dishes/entrees/low-sodium-taco-spaghetti/
Nutrition Information – The information shown is provided by an online nutrition calculator. It should not be substituted for a doctors or nutritionist's advice. Please understand that not everyone's sodium requirements are the same, therefore some recipes may be higher than you're allowed. Always consult with your doctor for your recommended daily sodium allowance.