When first making this dish it was going to be my first rendition of a Low Sodium Beef Stir Fry. I wanted to meld the stir fry with the recent Korean spicy noodle fad to reduce sodium content. I was using a few new ingredients and had not made any serious attempts at a low sodium stir fry yet. So I was expecting to do some major tweaking of the recipe. After my first bite right from the pan Boom I knew I had a winner! What an explosion of different flavors up front, a perfect silky slow burn on the back-end it was hard to not have dinner right from the pan.
It's kinda sad looking back how unaware I was about sodium consumption back in the day. Having a Chinese takeout at the corner of my street I was eating take home at least 3 or 4 times a month. Plus, ordering enough food for lunch the next day at work also.
AVERAGE SODIUM IN BEEF STIR FRY
| | |
| --- | --- |
| Average typical sodium amount per serving | 2,800 mg |
| Sodium per serving for this recipe | 206 mg |
| Calories per serving | 619 |
A casual perusal of the average sodium in take-out food is anywhere from 2,100 – 3,800mg of sodium per order. You of course also ordered egg rolls with it too. Right? Recipes seem to be about 600mg per cup. Either way it all works out to almost 3 or even 4 days' worth of sodium that I try to limit myself to per day. Wow!
As of late, Asian dishes have not been a high point of my meals lately. Even though Asian cuisine ranks up there in my favorite meals along with Mexican or "Tex-Mex" dishes. Asian sauces usually contain a lot of soy sauce and even a low sodium soy sauce is too much for my personal goals. Cracking the soy sauce barrier seems to be a tuff nut as I have not found a good substitute or a satisfying mimic. For this recipe, since I was going more for the Korean spicy noodle vibe, I thought I would zig zag around the typical stir fry. This is what I did.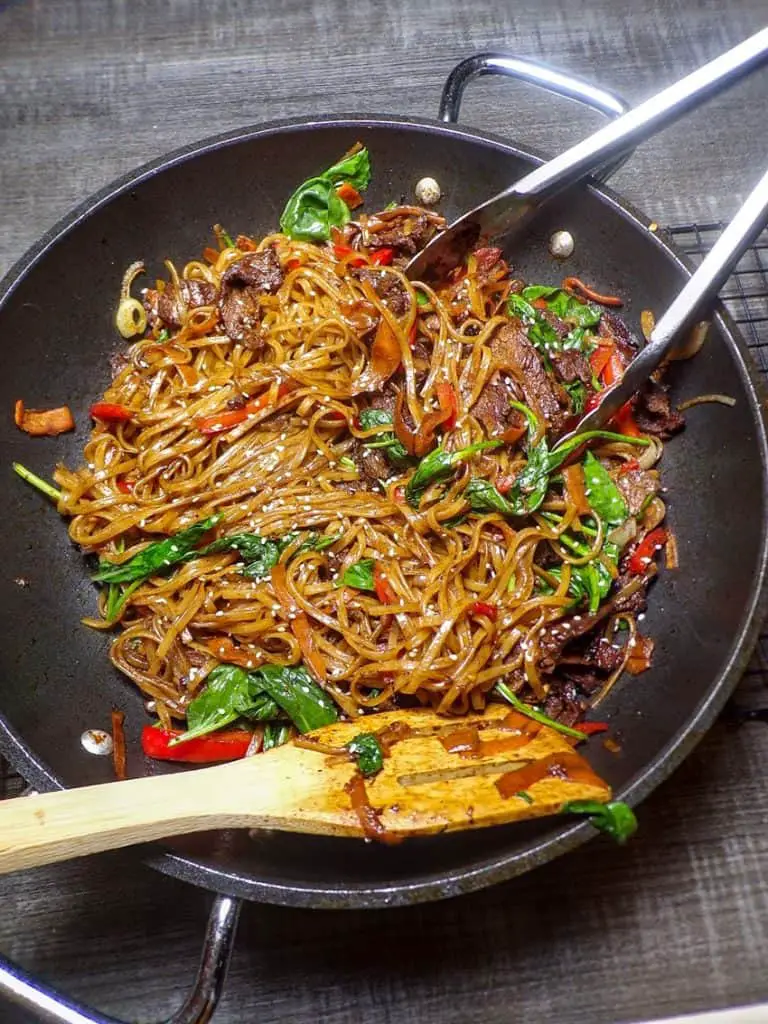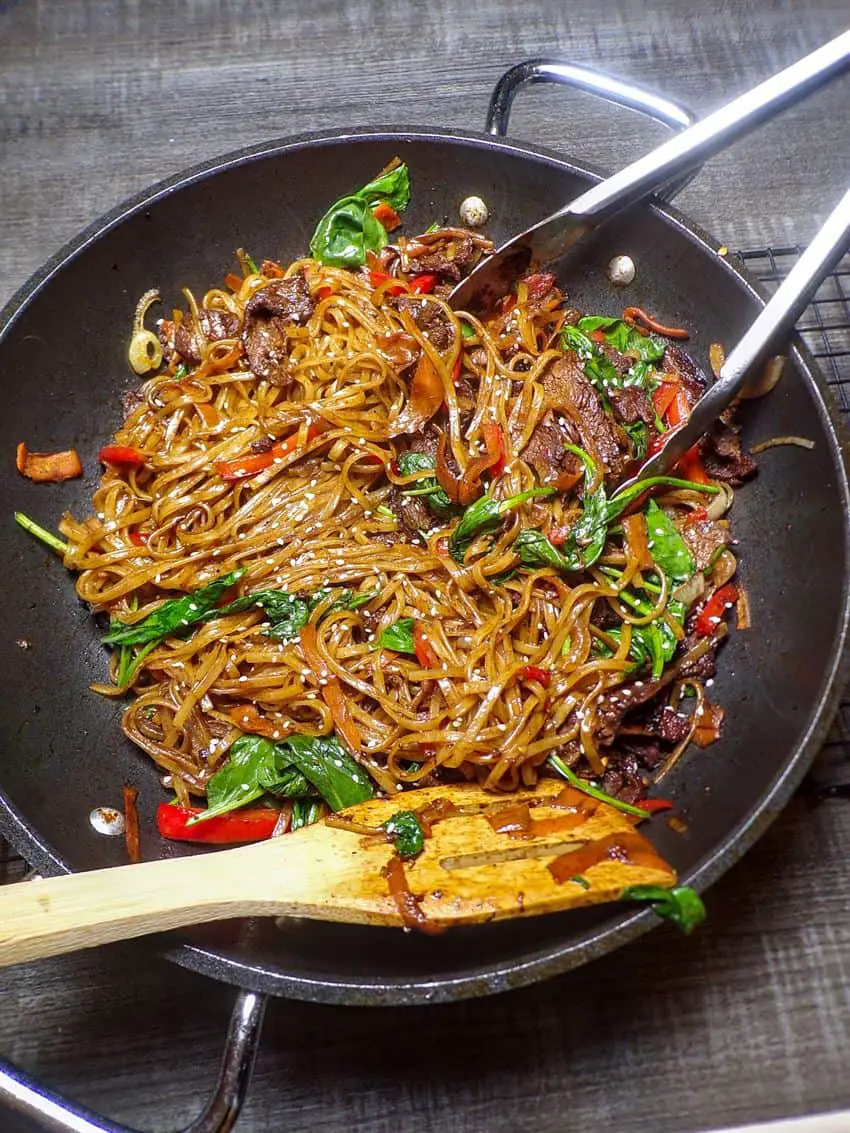 HOW MUCH SODIUM IN SOY SAUCE AND MY REPLACEMENT
Since I have eliminated any soy sauce at my house I had to call up my sister to get a pic of an actual label. Regular soy sauce has 1340mg and low sodium soy sauce shows at 960mg of sodium per tablespoon. That's a ton of sodium either way. Having been on this low sodium diet, it now seems a minimal taste enhancer for that amount of sodium. To make this dish fit into a viable low sodium stir fry, I knew I had to change up the sauce.
I decided to replace the soy sauce with Worcestershire sauce. To me it is enough of a similar savory flavor with a greatly reduced sodium level. Make sure to compare a few brands and pick the lowest one. The one I used is French's Reduced Sodium Worcestershire Sauce having 45mg per teaspoon and Lea & Perrins also has a low sodium version. Spread out over the serving quantity of the meal it will not add an undue amount of sodium.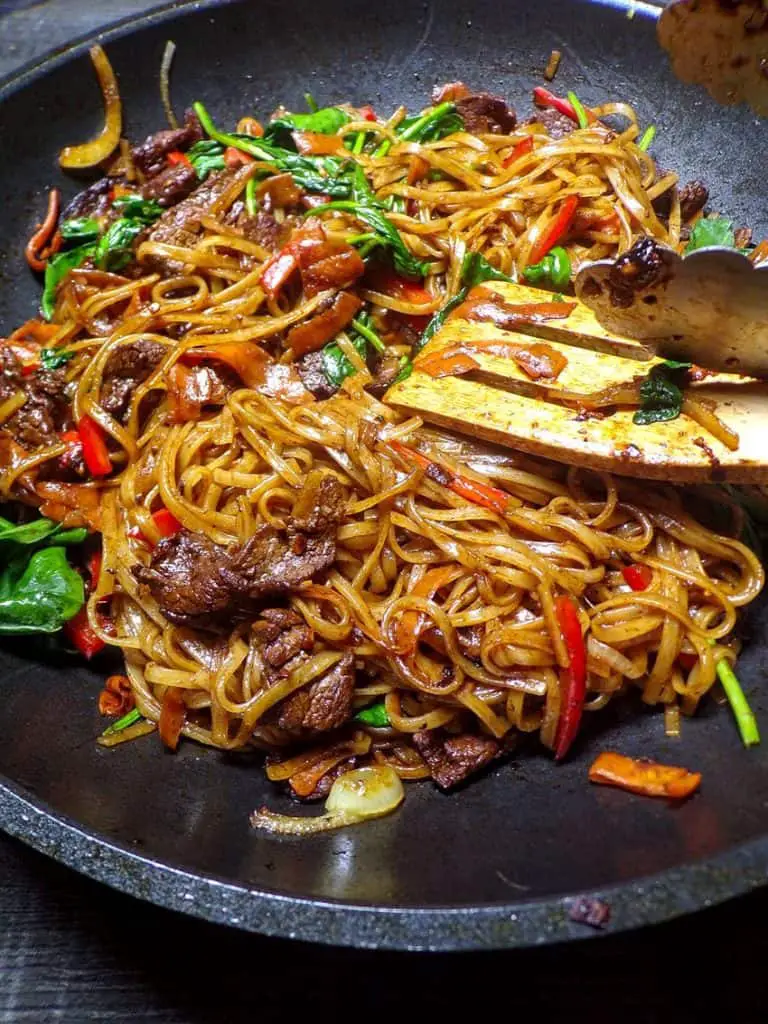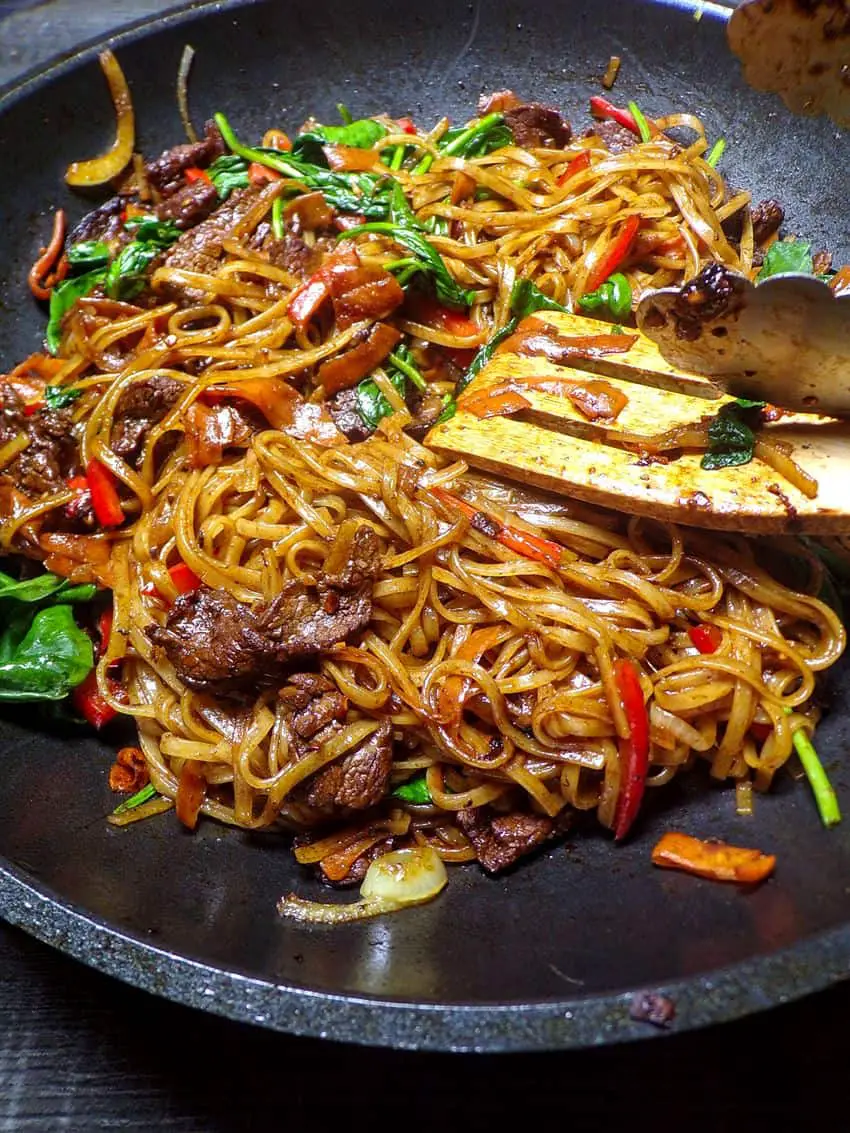 HOT CHILI OIL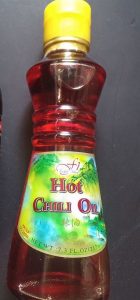 I stumbled upon this hot chili oil while perusing the International aisle of the grocery store. I thought it sounded rather interesting and decided to give it a try. After I got home and tasted it I knew this was going to be a staple ingredient of my stir fry. It has such a zestful taste and feel in your mouth without being at all over powering in spicy heat.
Since it contains no sodium whatsoever, you could always add more chili oil to give it a boost of heat. My experience with hot chili oil is that it has a silky liquid warm taste, but it won't make your eyes water and I look forward to using in many more dishes.
I USE PAD THAI RICE NOODLES
I'm sure this low sodium beef stir fry would taste great with any pasta noodle. But why not go a little more authentic? It will be worth it
Rice noodles come in a few different varieties and shapes. The type I like look like a long almost clear fettucine. Rice noodles are generally available in the international aisle of the grocery store. From what I have seen it is not located with the regular pasta noodles.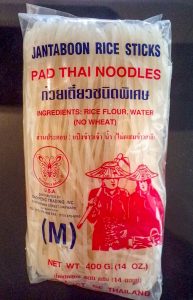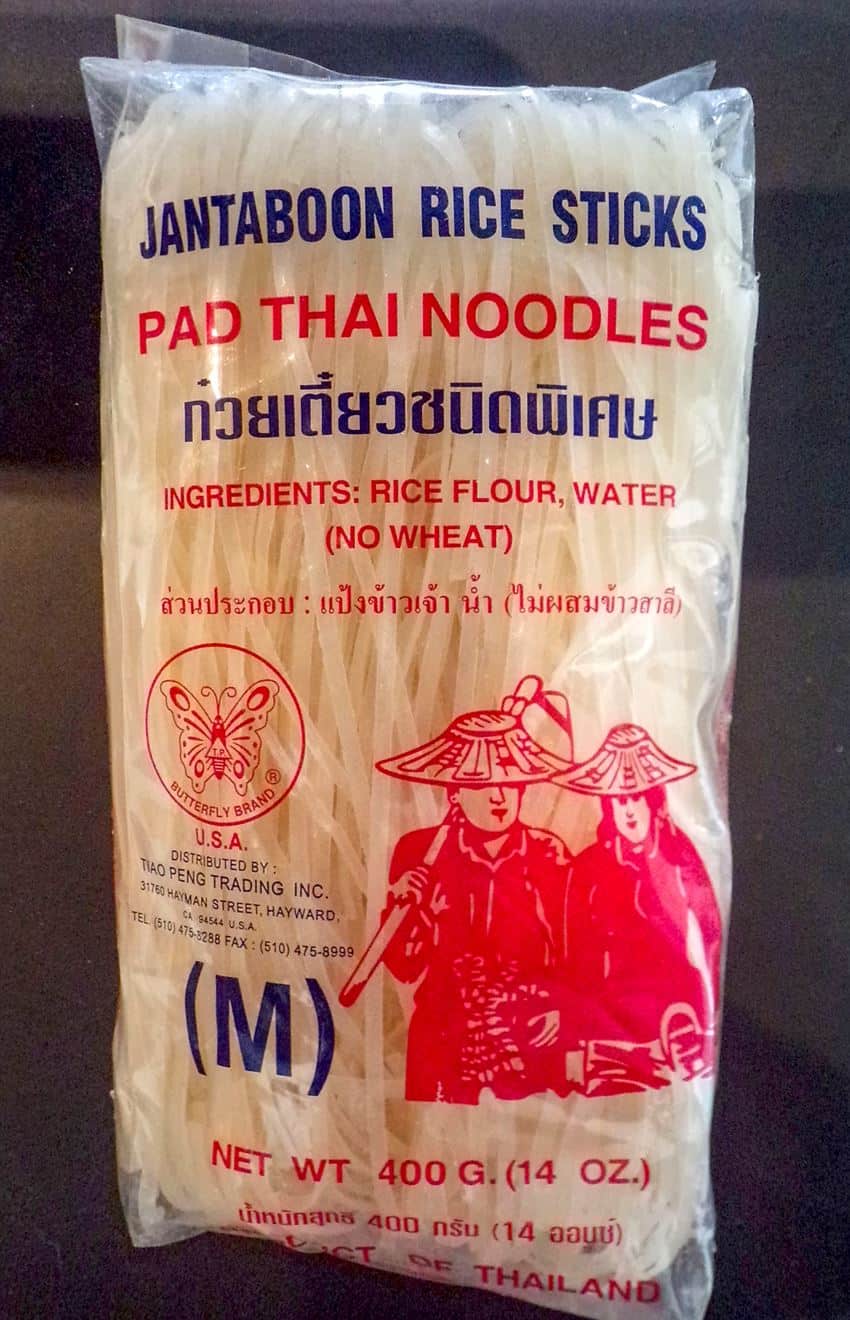 HOW DO I COOK PAD THAI RICE NOODLES FOR MY LOW SODIUM STIR FRY?
Rice noodles are boiled like traditional pasta noodle. But rice noodles will need less than half the amount of time to cook, usually only 2-3 minutes. They should be soft and pliable. Noodles will finish cooking when mixed with the stir fry and soaking up the delicious sauce.
Pad Thai Noodles come in very long strands, so you may want to break them in half before boiling and adding to your stir-fry.
After boiling rinse and then drain the rice noodles in cold water to remove the excess starch and to stop them from cooking. Once again they don't need to be totally soft, as they will soften and absorb sauce as you sauté them. If needed you can add a touch of water while stir frying if more sauce is needed.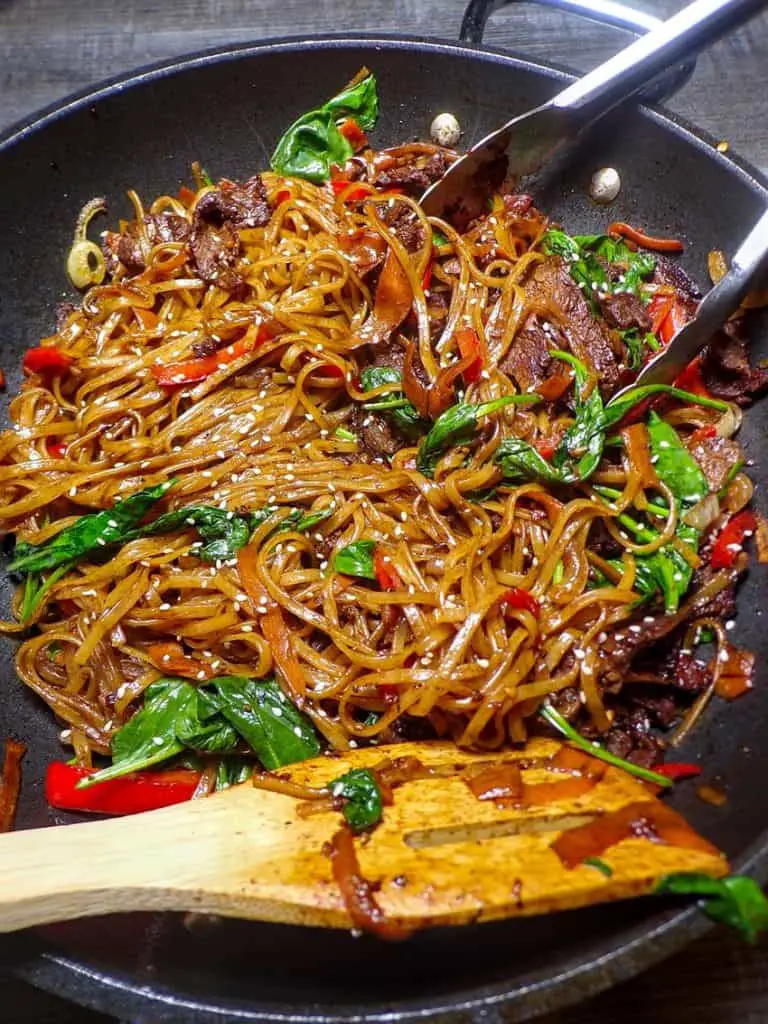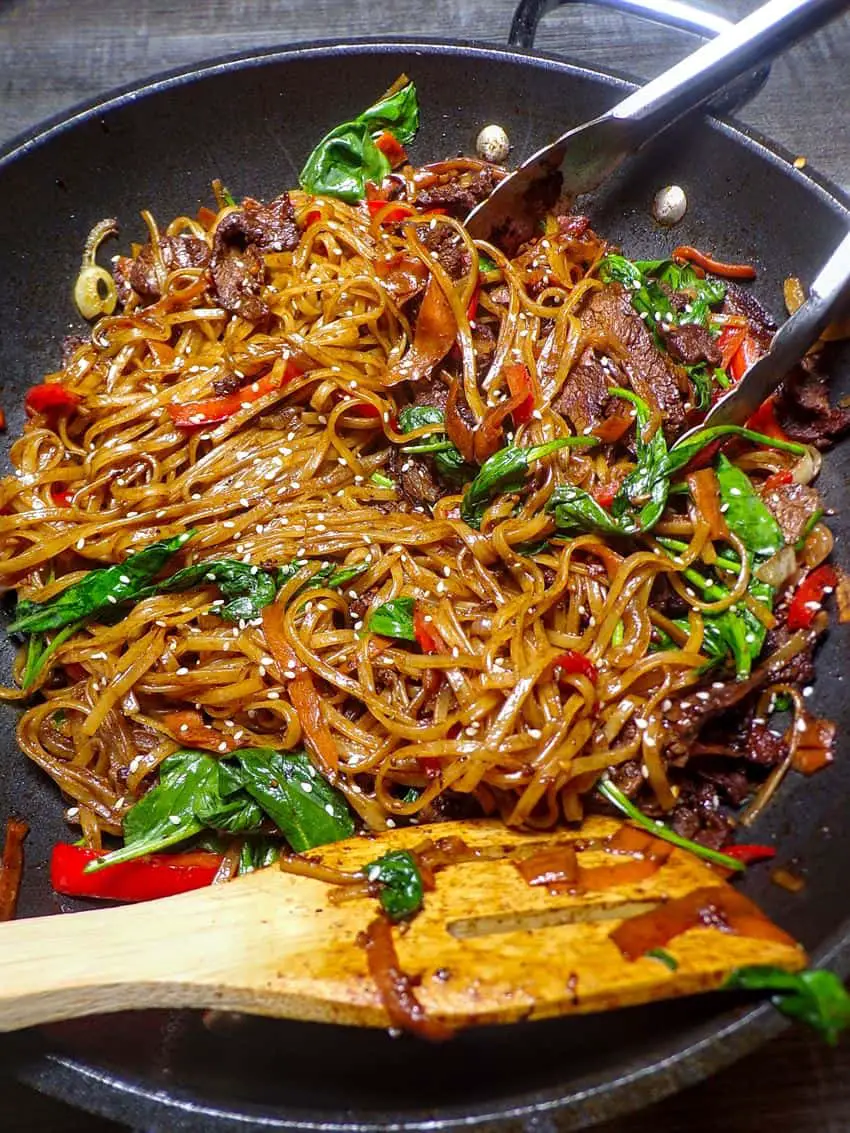 WHAT KIND OF BEEF IS USED FOR LOW SODIUM BEEF STIR FRY?
I like to use the more economical flanks steak but a rib eye cut will work as well. Flank steak is a leaner cut of beef. Flank steak has less marbling is typically known to be somewhat tougher, but still a flavorful cut of beef. Its flavor is enhanced from the benefits of the tenderizing effects of a marinade and by slicing it very it thin. You may choose any type of steak that is lean and non-fatty or marbled.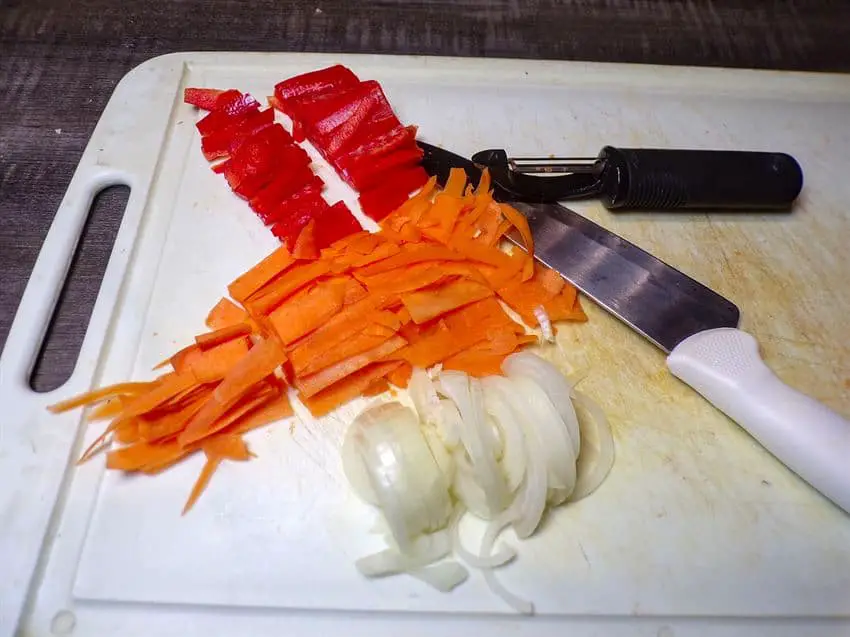 In the future I plan to try a carefully sliced rump roast as it is very lean. It will need careful slicing but should produce even more meat at the same price point. I will update my results in the future.
HOW TO TENDERIZE BEEF FOR YOUR STIR FRY?
One of the great things about making a low sodium beef stir fry is that you can use very economical cuts of beef. All it takes is the method of slicing and a little bit of time in a tenderizing marinade. Super simple and it makes it a velvety almost melts in your mouth tender with tons of beefy flavor.  Here's how:
SLICING YOUR BEEF EASILY AND PROPERLY FOR STIR FRY
Your flank steak will be melt in your mouth tender and wrapped in flavor using this simple marinade. The remaining marinade also serves double duty as the final sauce. Tenderizing with this method is harder to achieve with larger cuts of beef since it is not as thinly sliced. Large cuts have much less actual meat surface area in contact with the marinade.
The first step to make everything work is to slice the meat very thin to about 1/8" thick. Start by putting in the freezer for about an hour, it should be very firm and barely indent when you "poke" push on it. This will allow slicing the beef very thin without bulging out as a completely thawed steak would do. Slice 1/8" strips across the grain as shown in the picture below, for the whole 1 lb. steak. Then you can slice those in half or even thirds if the steak is wide.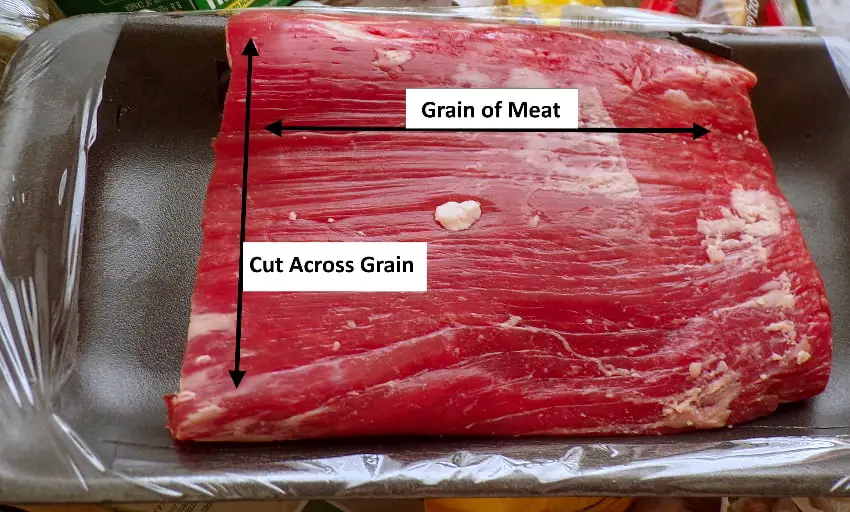 Meat sliced against the grain shortens the muscle fiber and makes each bite easier to chew. Kind of like a stack of 2×4's lumber when cut across you would end up with a bunch of little pieces. This will also create a large surface area on the meat for the marinade to reach and do it's magic.
EASILY VELVET YOUR BEEF FOR STIR FRY
Next is velveting the meat which conveniently happens while the beef marinates. Velveting is a Chinese method of marinating. It helps thin meat stays moist and tender while cooking at high heat, creating a texture like the Chinese restaurant meats. Transforming into a bite of meat that is almost tongue chewy tender that has a luxurious, silky softness. There is a longer "correct" process to it but I cut some corners for ease and time and found it hard to tell the difference.
My " velveting" approach is very easy and I think gives produces amazing results and taste. The two ingredients to the marinade to achieve this are cornstarch and a rice wine.
Using cornstarch in the marinade creates a protective coating on the meat. It helps seal in moisture when cooking quickly at high heat and from becoming tough. This is why a large lean cut of beef which usually requires slow cooking. Slow cooking gives it time to break down the tough muscle fibers, as done for stew meats.
Cornstarch will thicken the sauce along with the time cooking that your dish contains. You can always add a touch more wine or even water if you desire. I found the ratio in the recipe be just about perfect.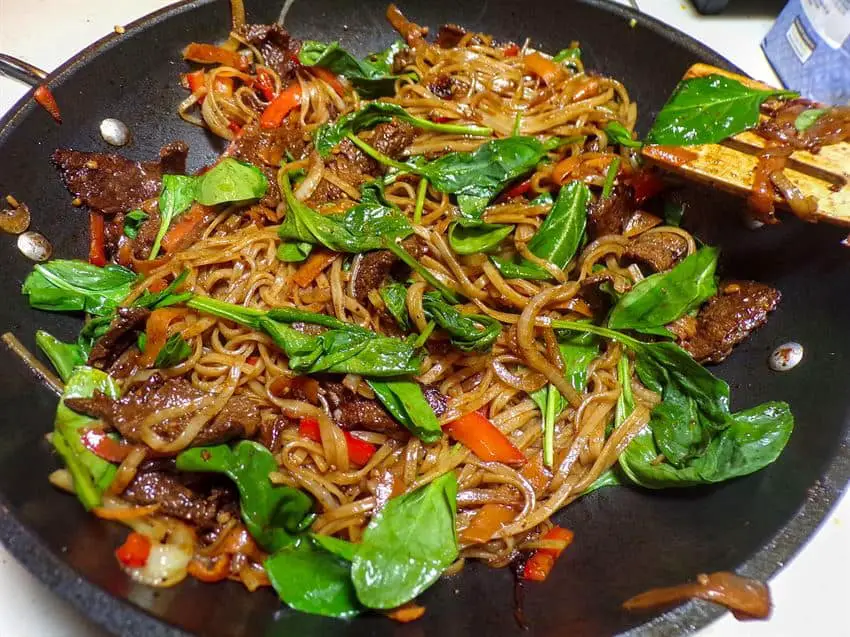 USE A WINE TO FURTHER TENDERIZE STIR FRY BEEF
Finally there is the wine. Being an acidic ingredient it helps to break down lean muscle fibers on the meat surface. Since it is sliced that's a lot of surface to be in contact. If you want to stay authentic you may use a rice wine (not rice vinegar!), but I used a regular cooking wine. Any white wine should be fine.
You may either marinate your beef at room temperature in a covered bowl 30 minutes. Or up to 8 hours in the refrigerator and let the magic happen.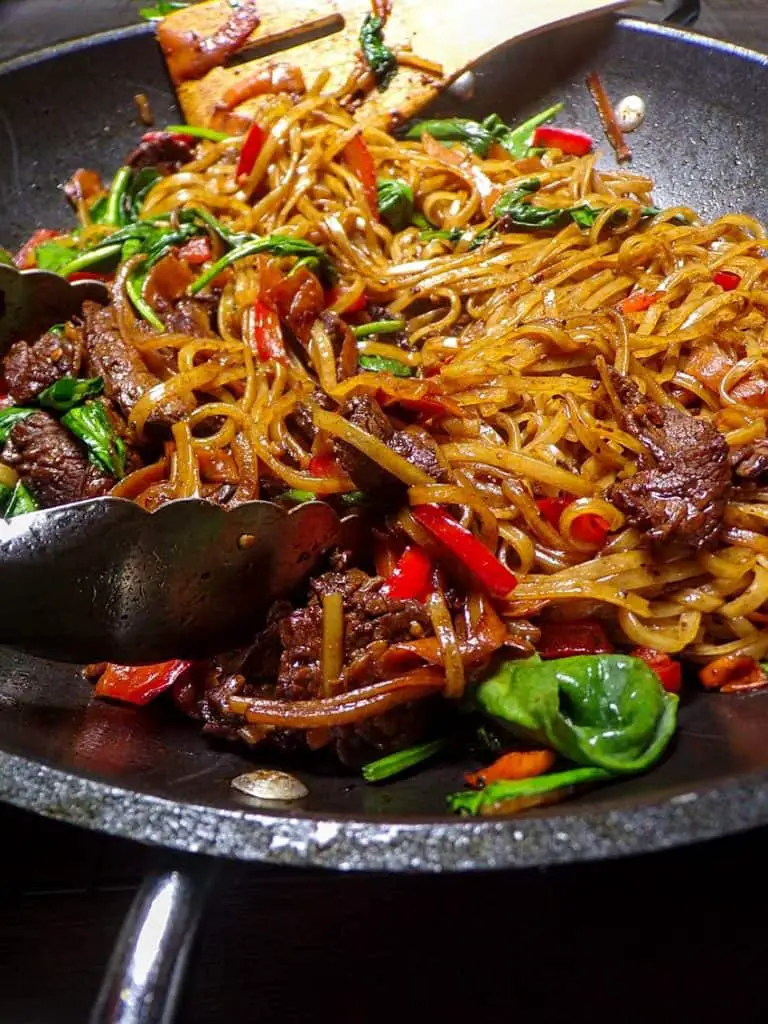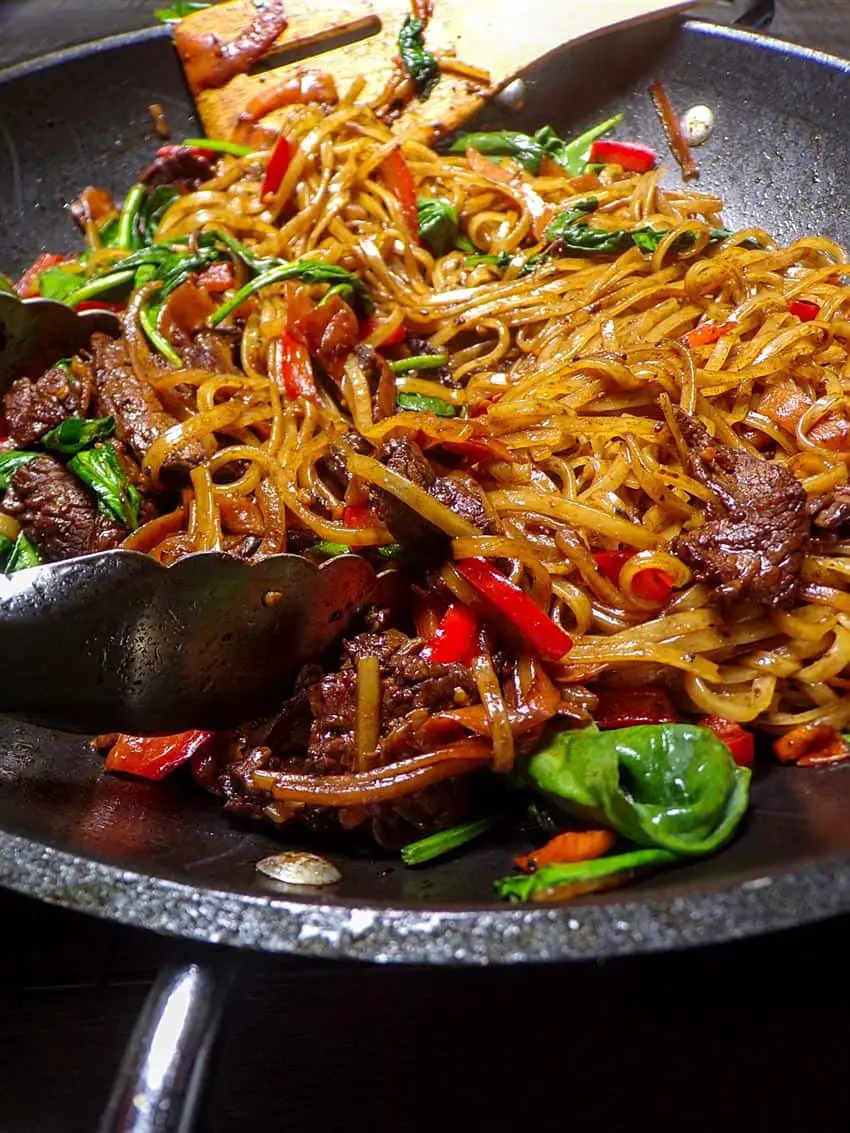 A few of my other great dishes to enjoy!
As always, please let me know how you like this recipe in the comments! I get motivated when I hear from you and am interested to learn about how you liked and served your Low Sodium Beef Stir Fry. And please leave a comment or rating and share any tips you might have!
recipe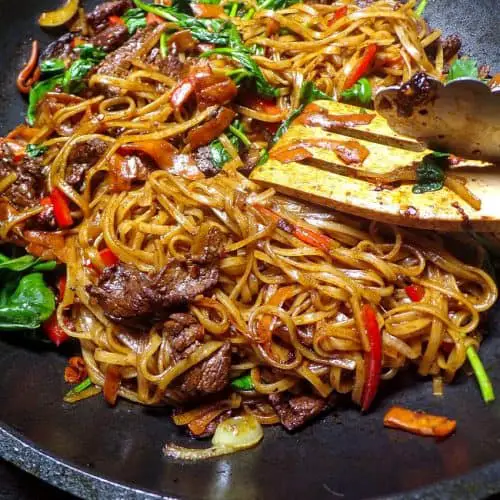 Low Sodium Beef Stir Fry (Spicy Noodles)
Low Sodium Beef Stir Fry (Korean Spicy Noodles) has rice noodles with tender beef and your favorite vegetables all bathed in a spicy oil, ginger, garlic and toasted sesame oil sauce. 
Ingredients  
1

pound

flank steak cut across the grain into thin 1/8" slices then cut into about 1" length pieces

1-2

Tbsp

vegetable oil

1

Tbsp

sesame oil

8

oz.

Pad Thai noodles

1

yellow onion sliced thin

then cut into 1" lengths

3.5

oz.

favorite mushrooms sliced about 1 small carton

1

cup

carrots

take deep cuts with peeler from about 3 medium carrots

1

red bell pepper sliced and about 1" long

2

cups

spinach
Marinade and Sauce
3

tablespoons

brown sugar

2

tablespoons

rice wine or a regular white cooking wine

2

tablespoons

Hot chili oil or more if desired*

1/2

teaspoon

pepper

1

tablespoon

pre-minced garlic

1

teaspoon

ground ginger

1

tablespoon

cornstarch

1 1/2

teaspoons

Herb Ox beef bouillon no sodium granules
Garnish
3

green onions chopped

1

tablespoon

sesame seeds
Instructions 
Mix together marinade ingredients in a medium container that can be covered. (Tupperware bowl). Add beef slices and coat in marinade. Marinate at room temperature for 30 minutes or cover and refrigerate until ready to use if marinating longer than 30 minutes.

Cook the noodles according to package directions or to basically just loosen up. They should take just a couple of minutes. Take care not to overcook as you want the noodles to soak up sauce during final cooking. Noodles come packaged curled over you can break them at the fold for an easier length to work with.

Heat 1 ½ teaspoons vegetable oil in a large nonstick skillet over high heat until hot and shimmering. Add enough of the beef slices to the skillet to cook in a single layer, cook without stirring for 1 minute, then flip beef over and sear just until browned, about 1-2 minutes. Do not overcook, it will still cook some more later, or it won't be as tender! You're just looking to brown it a bit here. Transfer beef into a bowl or plate and cover. Repeat with remaining beef slices as necessary.

Once beef is removed to the now empty pan add 2 teaspoons sesame oil over medium high heat. Add the onions, carrots and mushrooms and sauté for 3 minutes while stirring often. Add the bell peppers just at the end and stir-fry until crisp tender. I like the peppers crisp therefore I barely cook them.

Reduce heat to medium low. Add the noodles, beef and remaining sauce and cook while stirring to mix well and until noodles are warmed and sauce has thickened slightly, 4-5 minutes. Add spinach toss and cook and stir one minute, or just until spinach begins to wilt.

Taste and add additional hot chili oil if desired for more heat.

Garnish on top of serving with green onions and a sprinkle of sesame seeds.
Notes
The easiest way to cut thin beef slices is to freeze the beef so it is very firm but not frozen. Check after about an hour in the freezer. Then cut slices to about 1/8" across the grain
Don't cook beef all at once. Cook your steak in 2 batches so the pan is not overcrowded. You want the beef to sear your beef not to steam.
Have all of the ingredients ready the veggies need to be sliced before you start your stir fry. It goes quickly.
You can use almost any favorite veggie of your choice as long as it is not watery.
If you use Rice Wine make sure it is Rice wine and NOT rice vinegar. The best substitute for rice wine is white dry cooking wine, which is what I used.
When cutting carrots: I just use my peeler to make long deep cuts and then cut the strips into thirds. Very easy.
Nutrition
https://tastyhealthyheartrecipes.com/main-dishes/entrees/low-sodium-beef-stir-fry/
Nutrition Information – The information shown is provided by an online nutrition calculator. It should not be substituted for a doctors or nutritionist's advice. Please understand that not everyone's sodium requirements are the same, therefore some recipes may be higher than you're allowed. Always consult with your doctor for your recommended daily sodium allowance.