It surprised me that Caesar dressing is America's #2 salad dressing right behind Ranch dressing. I never really had it other than occasionally ordering it at a restaurant but, now on a low sodium diet I need to experiment and expand my options. So, I am pleased to add this tangy Low Sodium Caesar Dressing recipe to my list. All made without any extra sodium and some substitutions that blow away the high sodium levels of store-bought dressings and most homemade recipes!
My personal love is still Blue Cheese dressing but, I am just not seeing any way to improve the sodium level in it. So I have had to broaden my salad dressing repertoire lately while also discovering how easy most dressings are to make at home. As is the case for most common dressings this Low Sodium Caesar Dressing is another easy one. Caesar dressing is traditionally served simply on Romaine lettuce with croutons known as a Caesar salad in whole.
| | |
| --- | --- |
| Typical sodium amount per serving | 300+mg |
| Sodium per serving for this recipe | 44mg |
| Calories per serving | 176 |
2 Tablespoon serving size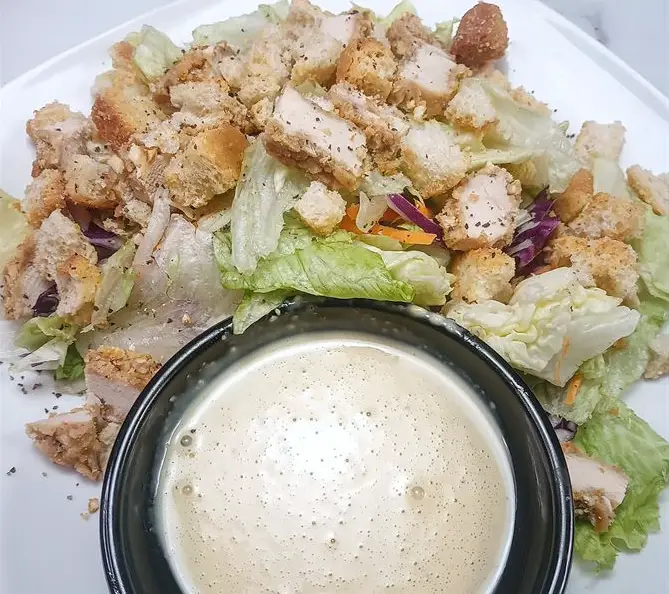 Caesar dressing was first created by an Italian-American restaurateur Caesar Cardini as a dressing and salad in 1924 in Tijuana, Mexico. It was originally made tableside in restaurants and made without anchovies. This is great because we are going back to basics here and no anchovies means an easy win for reducing sodium.
Sodium in regular Caesar dressing
Nearly all commercial brand salad dressings and mixes are loaded with sodium. All but one top name store dressing was below 300mg sodium usually ranging anywhere from 300 to 380mg sodium per 2 tablespoons. This simple condiment can easily blow your sodium budget for an entire meal, mine being between 250-300mg per meal goal. So being Americas #2 and a dressing I use, more and more I wanted to find a way to make it lower in sodium and I did.
Most of the common foodstuffs that we use such as condiments, bread, and cheeses sometimes seem abnormally high in sodium. This is why I endeavor to create low sodium recipe versions of some of the "basics" that we consumed before we really (had to) cut back on sodium. I've been able to reduce this recipe down to a low sodium version of only 44mg per two (2) tablespoons.
And when combined with lettuce, my Low Sodium Croutons, and some sliced chicken I can make a whole meal that is perfectly within or way lower than my limits. This is what I did here, so don't make fun of my regular "garden salad blend" lettuce. LOL!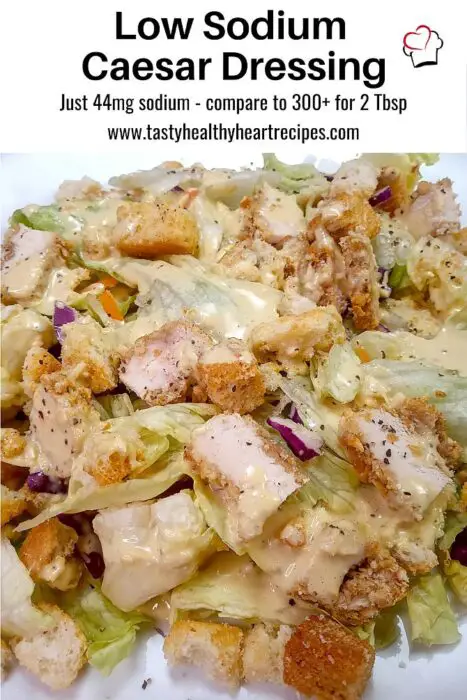 The six biggest changes to make Low Sodium Caesar Dressing
Just eliminating added salt… I've seen it up to ¾ teaspoon or 1725mg sodium per recipe.
Removing Anchovy paste at 660-940mg sodium per tablespoon.
Using low sodium honey mustard at 15mg per 1 teaspoon instead of Dijon mustard at 109mg per teaspoon.
Substituting Parmigiano Reggiano Cheese which has just 30mg per tablespoon instead of regular parmesan.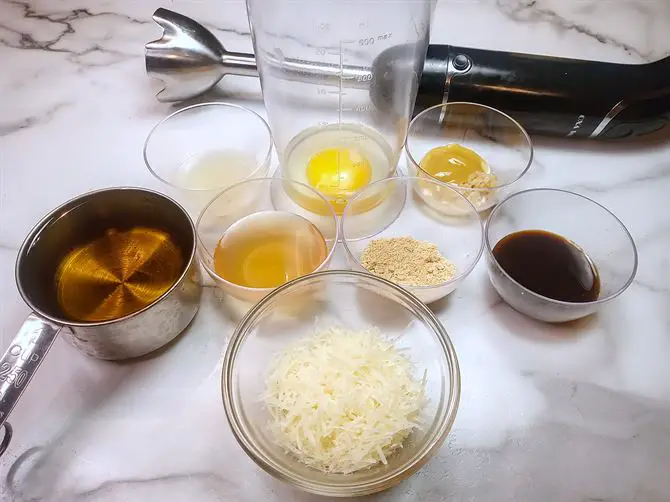 This recipe also incorporates part of my Low Sodium Mayonnaise recipe which replaces store bought mayo from many standard recipes.
Using a low sodium Worcestershire sauce makes a difference also, eliminating 20mg sodium per teaspoon.
Blending technique to make Caesar dressing
The blending is very similar to my Low Sodium Mayonnaise as it basically the same recipe with some added ingredients. Just add your egg first, dry and solid ingredients, and then the remaining liquid ingredients. I made a short video of how easy it is. Or video here:
Storing Caesar Dressing
This dressing will store well in the fridge for up to one (1) week when using a fresh egg. I like to use a screw-top mason jar that can be screwed on tightly. You can also give it a quick vigorous shake to mix up any settling and be ready to go when needed.
A few of my other great dessert dishes to enjoy!
---
Recommended Equipment & Ingredients For This Recipe.
See my whole Recommended Equipment & Ingredients shop page here
This section contains affiliate links to products I use and recommend.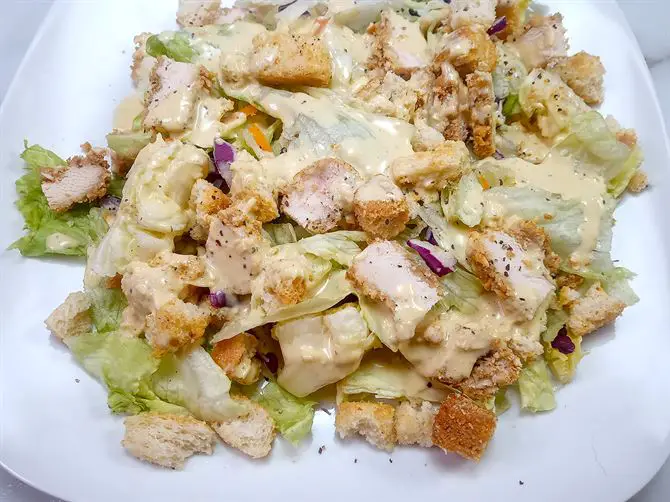 As always, please let me know how you like this recipe in the comments! I get motivated when I hear from you and interested to hear about how you liked and served your Low Sodium Caesar Dressing. So please, leave a comment or rating and share any tips you might have. You can follow me on Facebook and Pinterest also, for new recipes.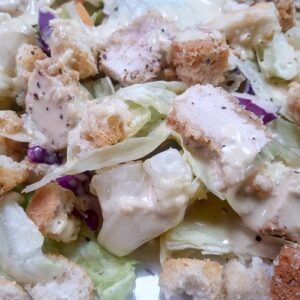 Low Sodium Caesar Dressing
Low Sodium Caesar Dressing version of America's #2 favorite dressing. Made in minutes with no anchovies. Make for classic Caesar Salad great, on any salad.
Ingredients  
1

fresh large egg

just room temperature

1

Tbsp

pre minced garlic

2

tsp

honey mustard

1 1/2

tsp

mustard powder yellow

2

Tbsp

white vinegar

2

Tbsp

apple cider vinegar

2

Tbsp

Nutritional Yeast – Bragg's

1/2

tsp

ground black pepper

1

cup

extra light olive oil

½

cup

shredded Parmigiano Reggiano cheese
Instructions 
Place all ingredients except Parmigiano Reggiano cheese in order listed in a narrow jar or beaker just wide enough to fit your stick blender. Allow to settle for a minute.

Place stick blender in the bottom of the jar and turn on high. A vortex will form and pull the oil down and the oil will begin to thicken and turn to a typical off-white.

Slowly move the blender head slowly up and down a little higher each time, until all the oil is incorporated, emulsified and no drizzles of oil is visible. The whole blend should take no longer than 1 minute.

Add parmesan and blend up and down for about 10 seconds more. Add and adjust ingredients to taste.

Store in a tightly sealed container (mason jar) in the refrigerator for up to one week when a fresh egg is used.
Nutrition
Serving:
2
Tablespoons
Calories:
176
kcal
Carbohydrates:
1.9
g
Protein:
2.8
g
Fat:
18.5
g
Saturated Fat:
3.2
g
Cholesterol:
18
mg
Sodium:
44
mg
Fiber:
1.5
g
Sugar:
0.3
g
https://tastyhealthyheartrecipes.com/a-la-cart/sauces-dips-spices/low-sodium-caesar-dressing-for-salad/
Nutrition Information – The information shown is provided by an online nutrition calculator. It should not be substituted for a doctors or nutritionist's advice. Please understand that not everyone's sodium requirements are the same, therefore some recipes may be higher than you're allowed. Always consult with your doctor for your recommended daily sodium allowance.